Contents
---
---
Do-it-yourself wedding bonbonnieres are souvenir bags or miniature boxes of various shapes, where they put candies, sweets, small gifts for guests. The tradition of giving small sweet surprises originated a very long time ago. With their help, the bride and groom express their gratitude to friends and relatives for being on this important day, sharing joy with them, and helping to make the celebration memorable and fun..
How to make a bonbonniere from paper: step by step instructions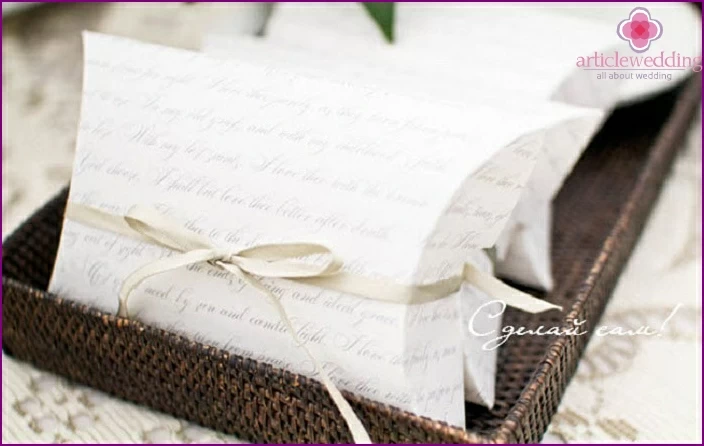 If in the near future you are planning to organize your own wedding celebration, we suggest that you go in for creativity and make do-it-yourself bonbonnieres for your wedding. So you will kill two birds with one stone: you can create and save. The following is a master class in making interesting paper boxes in the form of an envelope, inside of which, in addition to a sweet gift, guests will receive a love message. Besides the beautiful appearance, the gift should be filled accordingly. We offer several ideas:
tea;
cookies;
fruits;
sunflower seeds;
berries;
nuts
chocolate;
chewing gum;
popcorn;
dried fruits;
lollipops;
soap;
coffee.
In addition, it is necessary to decide the question of when to give a surprise to guests. You can do this anytime you see fit:
You can ask the waiters to put the boxes on the clean plates of the guests at the moment when everyone leaves the tables, for example, to dance.
The special design of surprises allows them to be used as seating cards, then this will be not only a gift, but also a way to find a place for a guest.
You can give gifts when the invitees gather home.
The boxes are easy to put in a large basket or bag, and guests themselves will come up and pick up their surprise.
When receiving gifts from the guests themselves.
You can give it at the entrance to the place where the banquet will take place.
Necessary materials
To create a do-it-yourself bonbonniere you will need the following: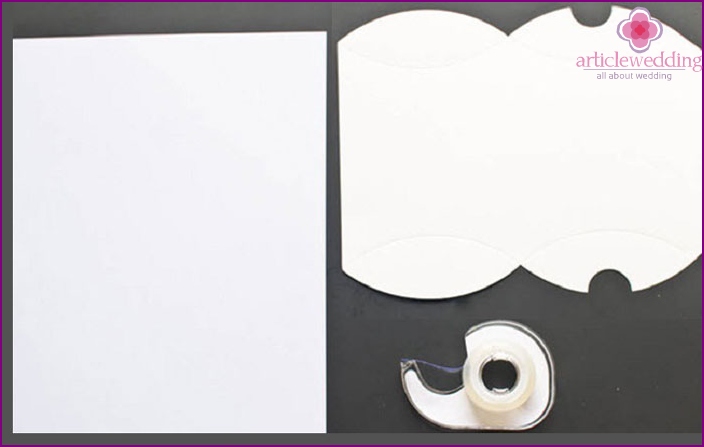 adhesive tape or glue;
a sheet of thick A4 paper;
ribbon;
template.
Scheme and stages of creation
Sketch or print the outline of the envelope.

On a blank piece of thick paper, write a love message: these may be the words of your favorite song, an excerpt of a romantic work. After xerocopy it as many times as necessary, or you can print the message in a text editor in a beautiful font.
Circle the template on the message, cut out.

We bend in those places where the dashed line is drawn. Inside, put the sweets and tie the envelope with a ribbon.
Bonbonnieres for a wedding of tulle and ribbons
The easiest way to make a bonbonniere yourself is to build a bag. The following step-by-step instructions demonstrate how to create a surprise for guests at a wedding using ribbons and tulle. A bag is made in a matter of minutes, and it looks very festive and interesting. It is recommended to put glazed sweets or nuts inside.
Necessary materials
To create a do-it-yourself bonbonniere, the following materials are required:
tulle;
satin ribbon;
scissors;
sweets;
thank you little card.
Pattern and stages of creation
Fold the tulle three or two times, cut a circle with a diameter of 23 cm.
We put the resulting circles on top of each other, put sweets in the center.

We hide a card with gratitude under the candy.
We form a bag, wrap around the ribbon, tying it on a bow. Pull the ends of tulle in different directions to fluff the pouch and give it the appearance of a flower.
Fabric bonbonniere bag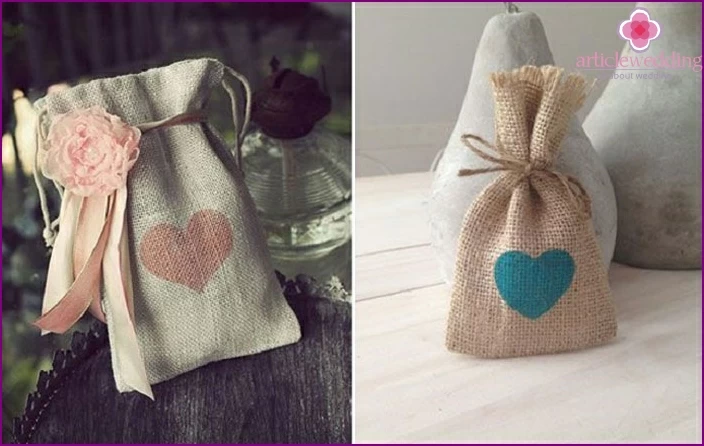 If earlier bonbonnieres were boxes, then in the modern age the imagination of wedding decorators and newlyweds has gone far ahead, and gifts to guests can look like bottles, jars, bags. In this workshop, the bag will be made using a very simple and affordable material called burlap. It is suitable for a rustic wedding. You can decorate it with whatever your heart desires: acrylics, lace, ribbons, wooden or painted beads.
Necessary materials
To create a bag with your own hands you will need: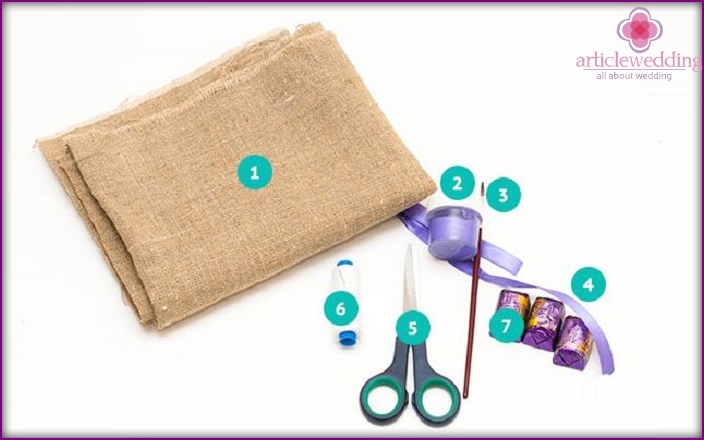 burlap cut;
ruler;
acrylic paint on the fabric;
ribbon;
brush;
scissors, thread, needle;
sweets.
Template and creation steps
Cut a rectangle of size 10x15cm from burlap.
Sew the bag and twist it so that the seams remain on the wrong side.

With acrylic paint we draw a heart on the bag, having previously outlined its contours with a simple pencil.
Fill the bonbonniere with sweets, tie with a ribbon.
Ready-made patterns for bonbonnieres
Ready-made templates are easy to use for creating DIY gift boxes. You only need to transfer the scheme to beautiful paper or cardboard of the required size, observing all proportions. During the manufacture of do-it-yourself boxes, it is necessary to cut the transferred blank into cardboard, give it a shape by bending the part along the indicated fold lines in the diagram. Glue may be required for bonding. After assembly, it remains only to decorate the gift with your own hands: write initials, glue decor elements, tie up ribbons, decorate with decoupage, paint.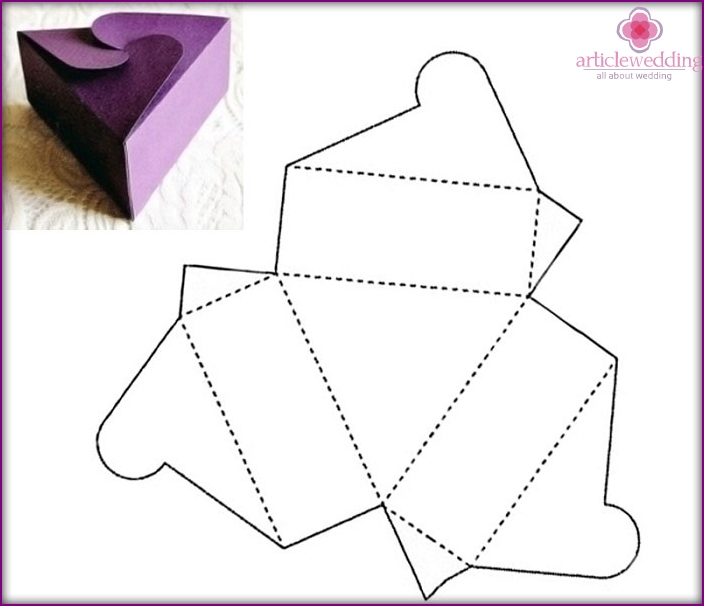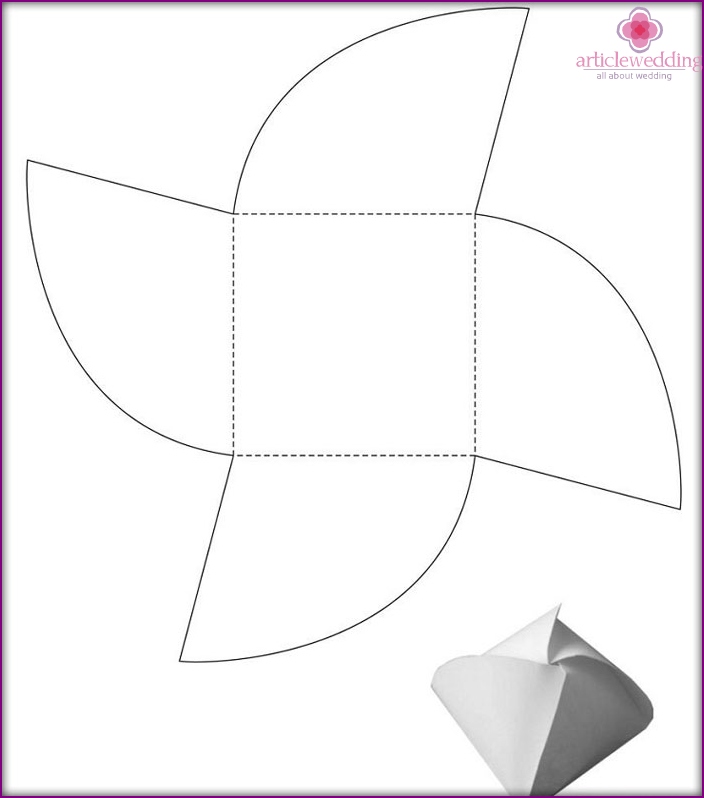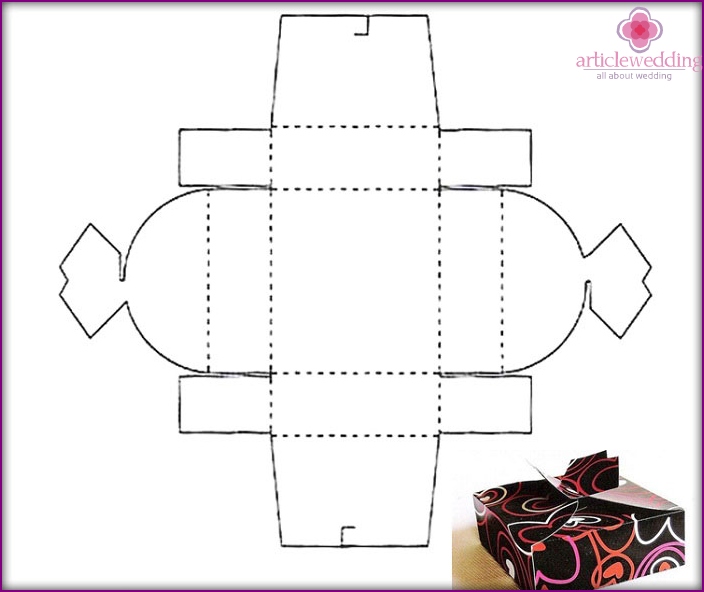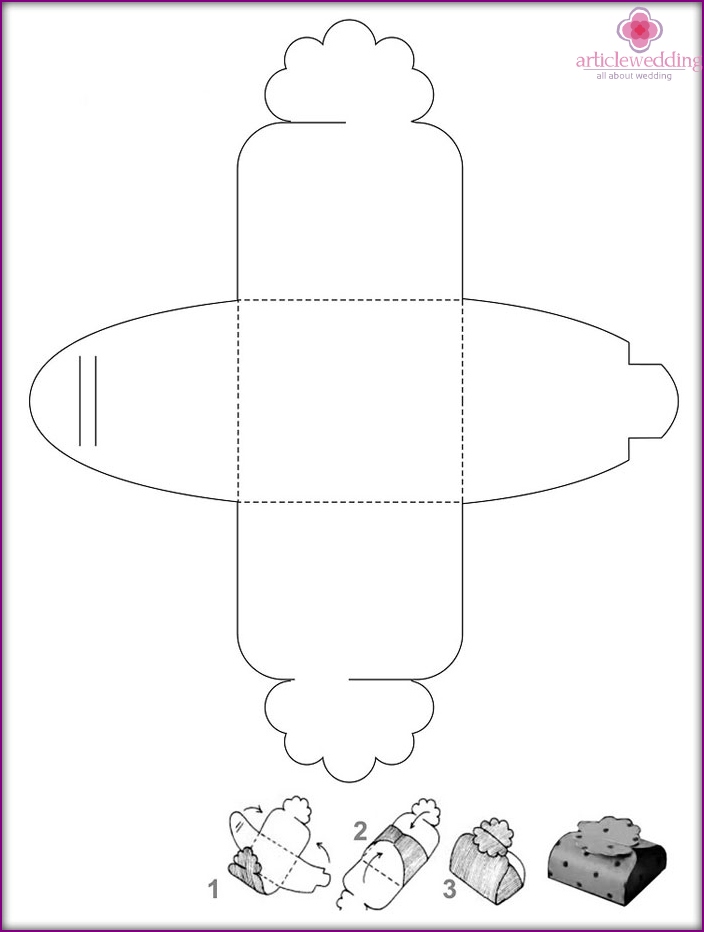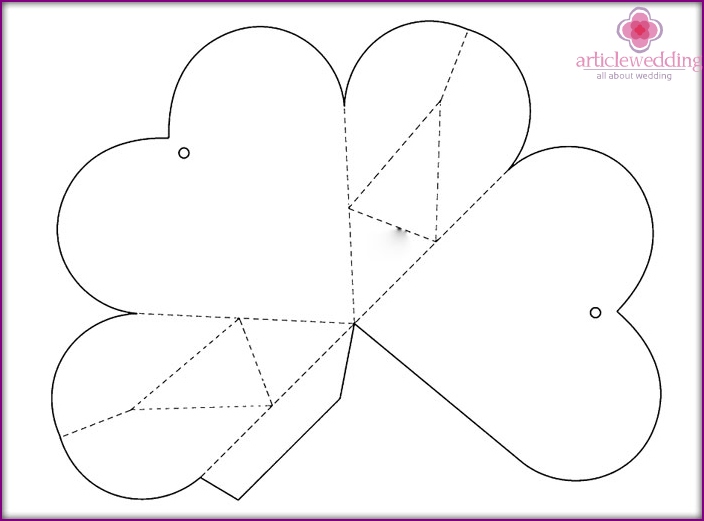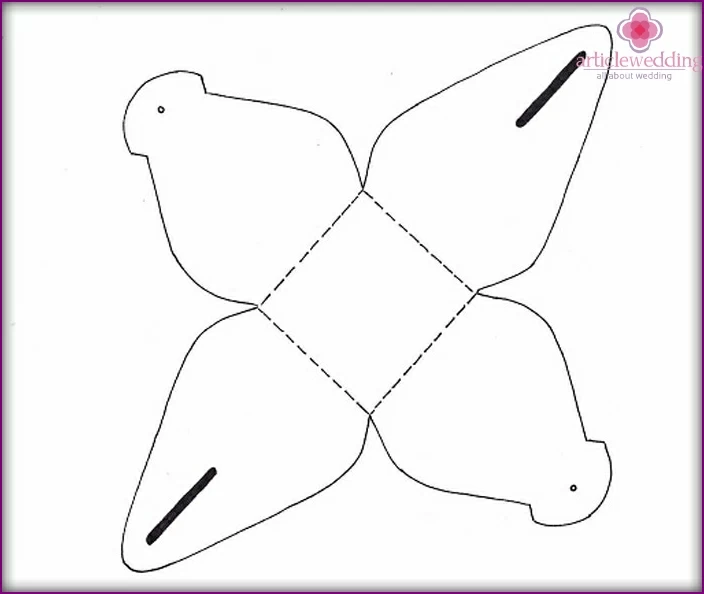 Bonbonniere video tutorial
At first glance, the bonbonnieres seem like a trifle, but they allow you to give a special mood to the wedding ceremony, because the newlyweds put a piece of the soul in such miniature signs of attention. Cute gifts can successfully complement a single wedding style, provided that they are made in a single design and color scheme with seating cards and invitation cards. To create your own boxes, you can use the given master class in the video, where the process of assembling a pastel-colored bonbonniere with butterflies is clearly demonstrated.
DIY made bonbonnieres photo
The design and size of a handmade bonbonniere can be absolutely anything, the main thing is that it harmoniously fits into the overall stylistic decision of the wedding. There are a lot of options for this gift for guests: in the form of tubes, boxes, chests, cylinders, bags. All of these options look very elegant and stylish. An original accessory with a beautiful design will impress guests.