Contents
---
---
Box bonbonnieres are small, cute surprises that are customary to give to everyone invited to the wedding. They express gratitude, the location of the bride and groom, and are filled with a variety of souvenirs or sweets. Translated from French, the bonbonniere means an elegant box for chocolates. The tradition to invite such a surprise arose in France: five candies were put in bonbonnieres, which meant the most important wishes - wealth, fertility, health, longevity and happiness.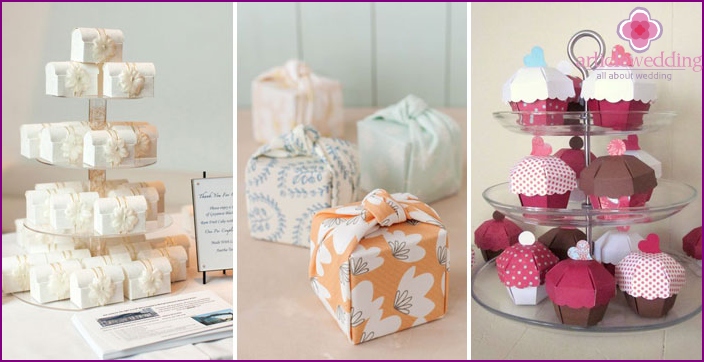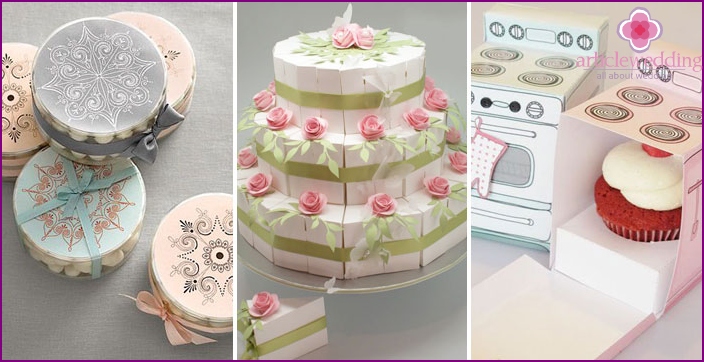 How to make a bonbonniere box: step by step instructions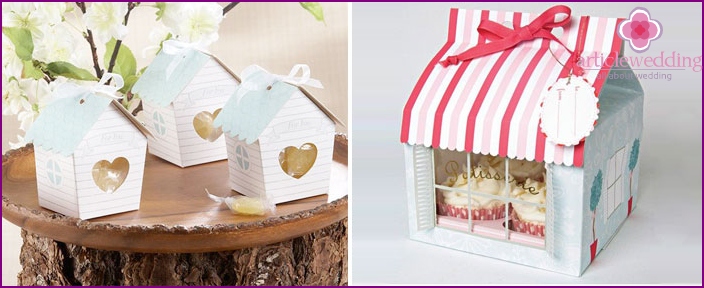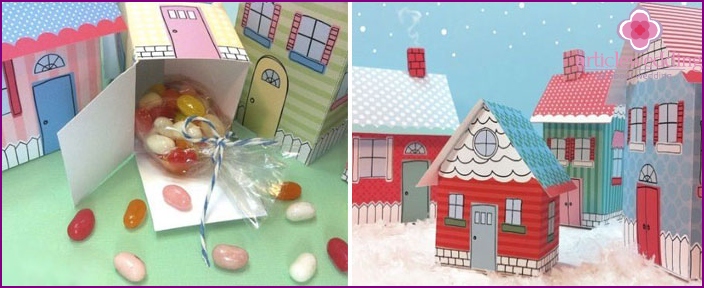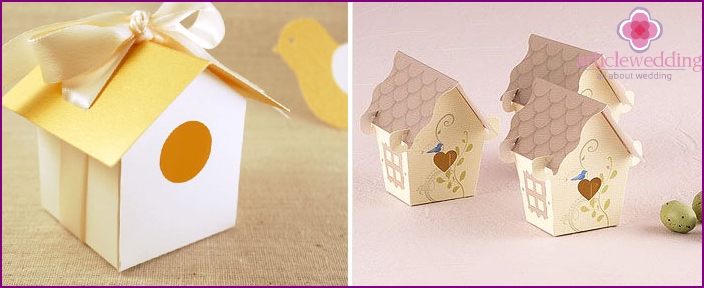 In modern times, hand-made gizmos are very much appreciated. Therefore, the bonbonniere, showing gratitude for the guest sharing the happiness of the wedding day with the newlyweds, is best done on their own. The invitees will be pleased to know that the bride and groom made a gift with their own hands. This process does not take much time, and for the manufacture of boxes you can use different materials: for example, corrugated paper, cardboard, transparent fabrics, beads, rhinestones, lace and others.
When the bonbonniere is ready, it is necessary to decide what to fill it with. According to European tradition, chocolate almonds are placed inside. But you can not stop there. We offer you several other ideas that you can beat at your discretion:
an excellent gift for guests will be small candles of various shapes;
all kinds of cookies are appropriate;
aromatic tea can be added to a sweet gift in a box of bonbonniere;
in the summer please guests with aromatic fruits;
original idea - handmade soap, bath bombs, flavored salt;
if the wedding is themed, then consider gifts that would fit well into the style of the celebration.
Necessary materials
For the manufacture you will need the following:
thick sheet of double-sided scrap paper;
ruler;
paper cutting knife;
folding stick;
Double-sided tape;
tape;
accessories for decoration boxes.
Scheme and stages of creation
We cut two strips from a sheet of scrap paper, one should be wider, since it is required to lay in the size of the allowance for seams.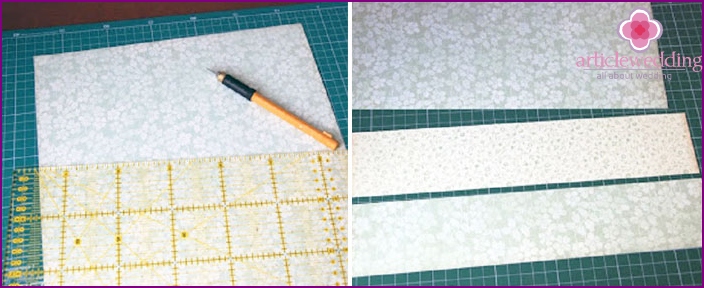 With a folding stick, it is necessary to perform 4 bends so that there are equal distances between them.
On one lane we make slots so that the bonbonniere box develops. We cut the strip, which is wider, as shown in the photo.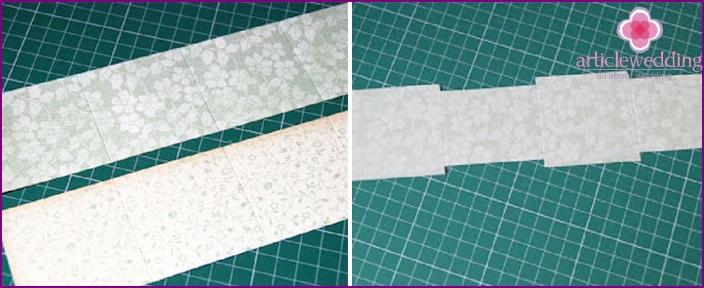 Fold two strips crosswise, glue with double-sided tape.
Tie with a ribbon on top, decorate to your liking.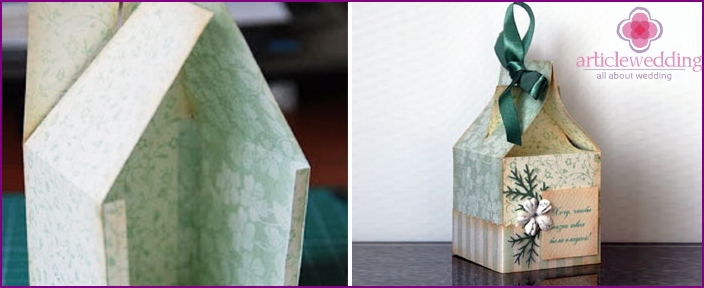 Bonbonniere box with a paper cover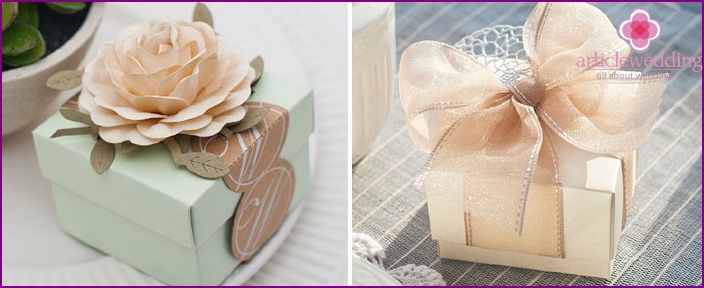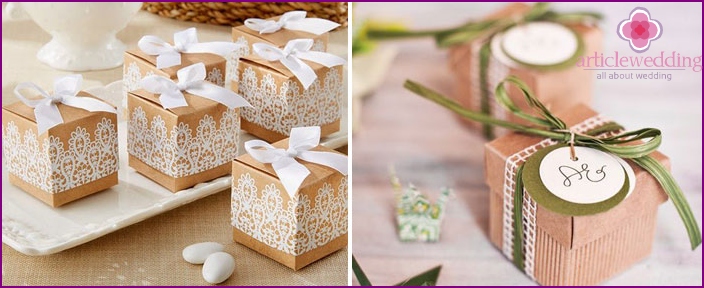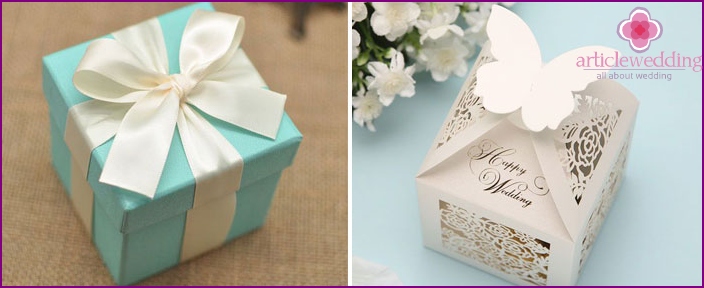 Boxes of bonbonnieres with caps are also available. You can save time and buy ready-made ones, but it's better to do it yourself, because such gifts will not look like standard ones. You can place the boxes on tables together with a name card, hand them to each guest at the end of the celebration, or put them in a basket where guests will get their own surprise. According to the master class below, you can easily make an original gift.
Necessary materials
For the manufacture of such materials will be needed:
beautiful paper;
items for decoration;
scissors.
Template and creation steps
We take paper 21.5x21.5 cm in size, draw two diagonals that intersect in the center.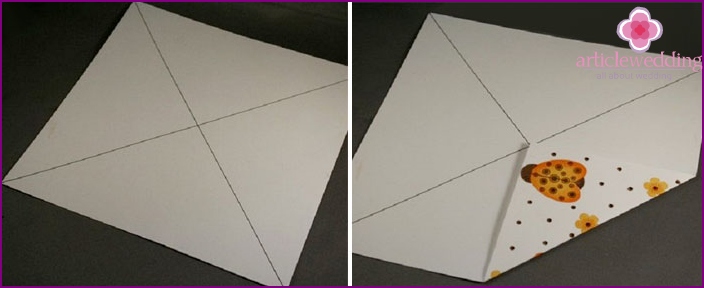 We bend one corner so that it looks in the center, then we make another bend so that its edge goes flush with the strip in the center.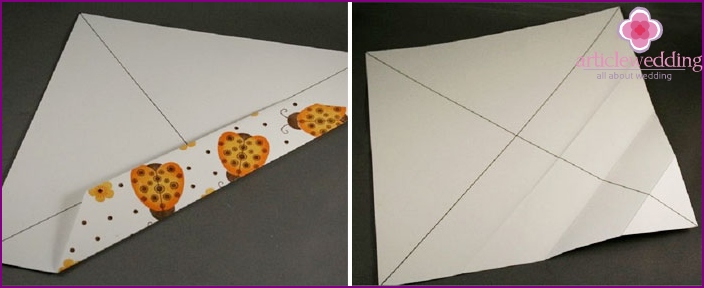 We do the same with all angles. On both sides we cut, as shown in the photo.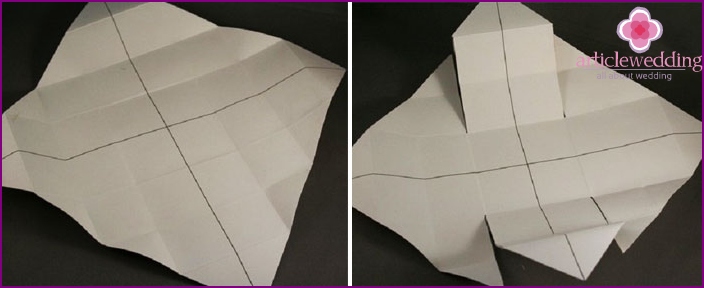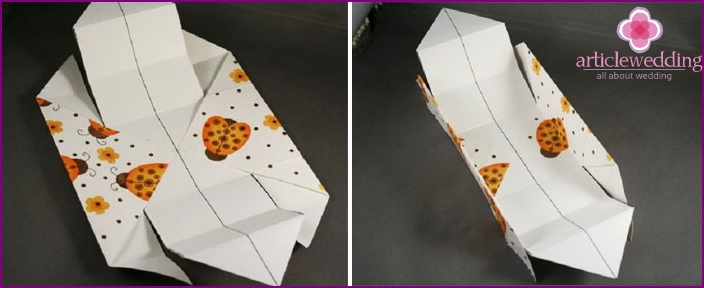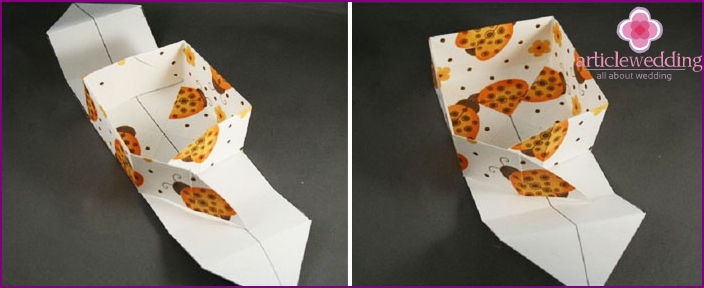 The cap is ready. In the same way, the bottom is made of paper 21.2x21.2 cm in size. Next, decorate the base of the bonbonniere box.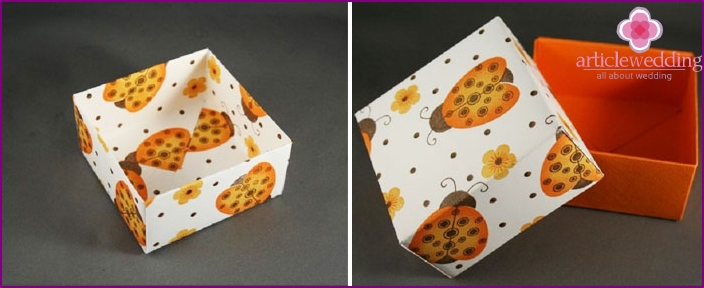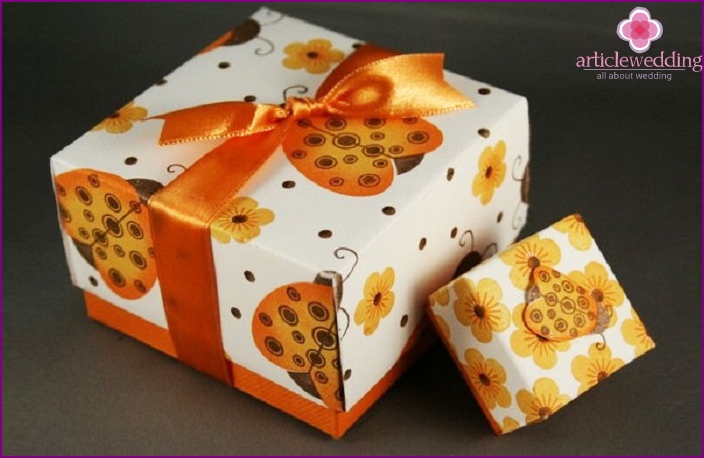 Ready-made templates for bonbonniere boxes
The presented box templates are easy to use for making surprises with your own hands. You need to transfer the scheme in compliance with the proportions on paper or cardboard of the right size. After the workpiece is cut, bent along the specified lines in the diagram. You may need additional glue to connect the parts. When the box is assembled, you will need to decorate it with various elements. You can decorate it using decoupage technique. Inside the bonbonniere, put nuts, sweets, chocolate-covered fruits or other sweets.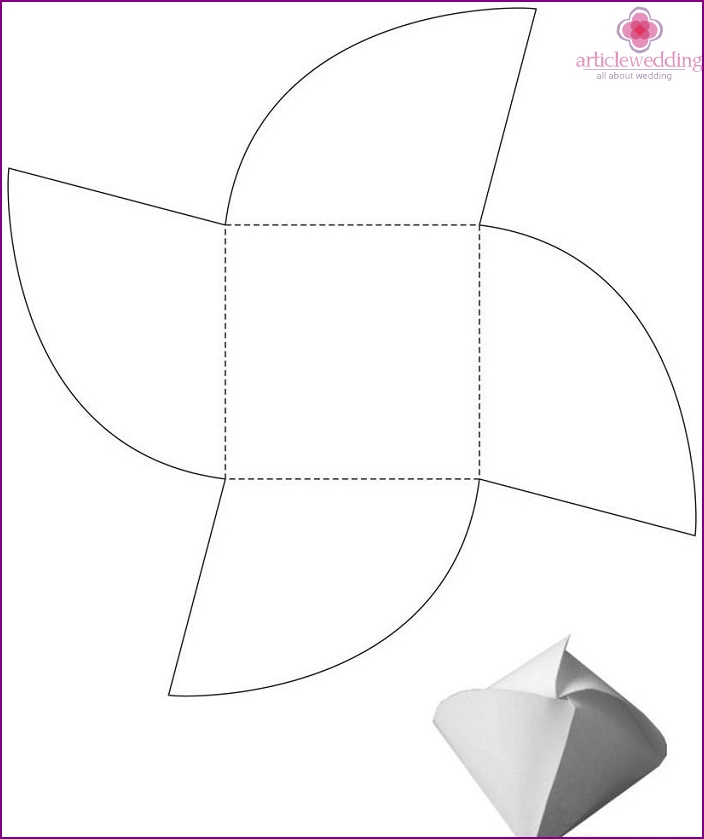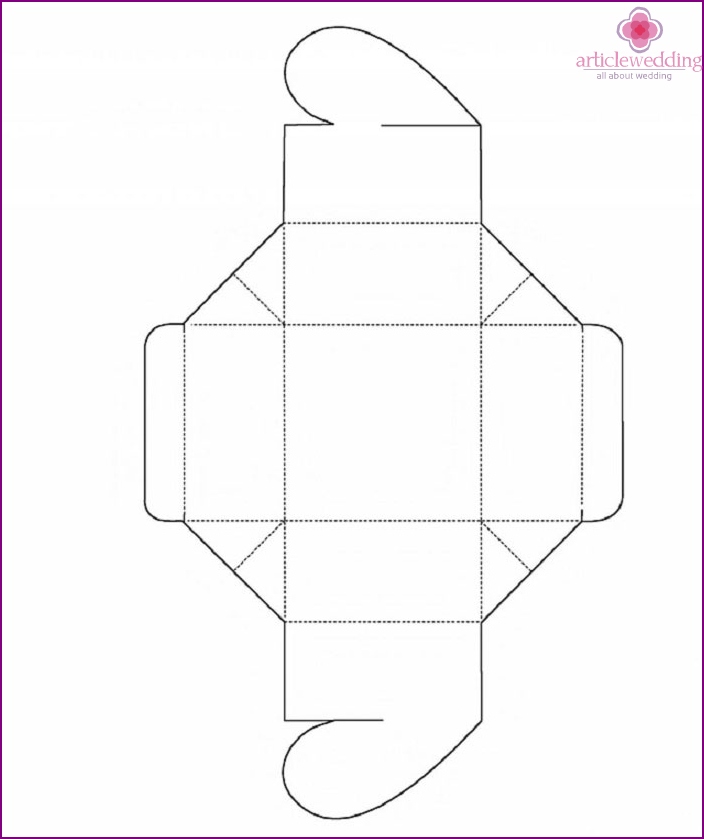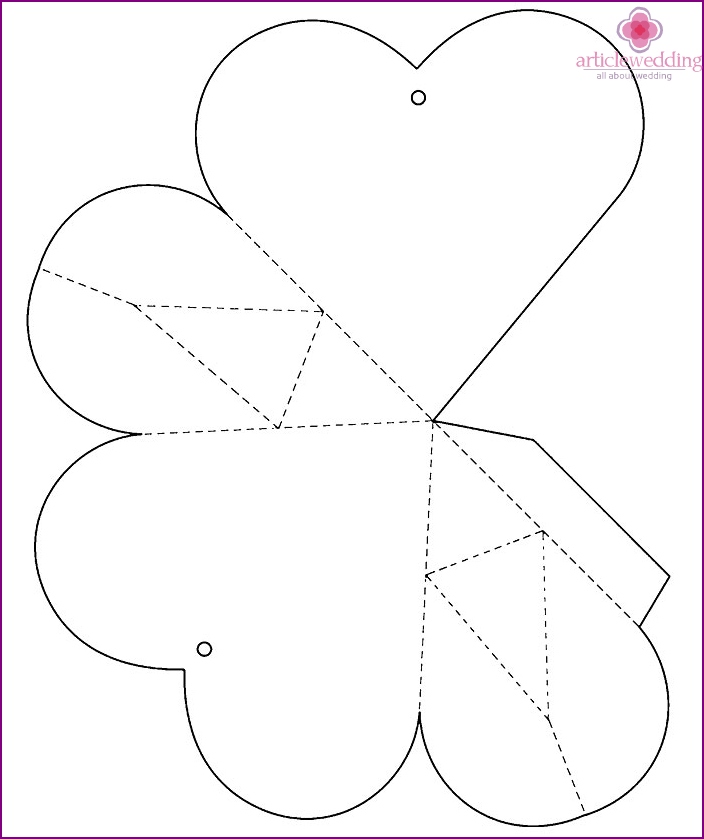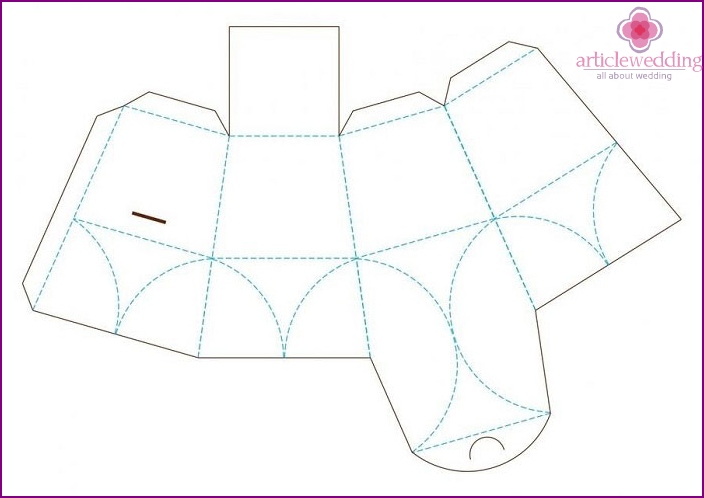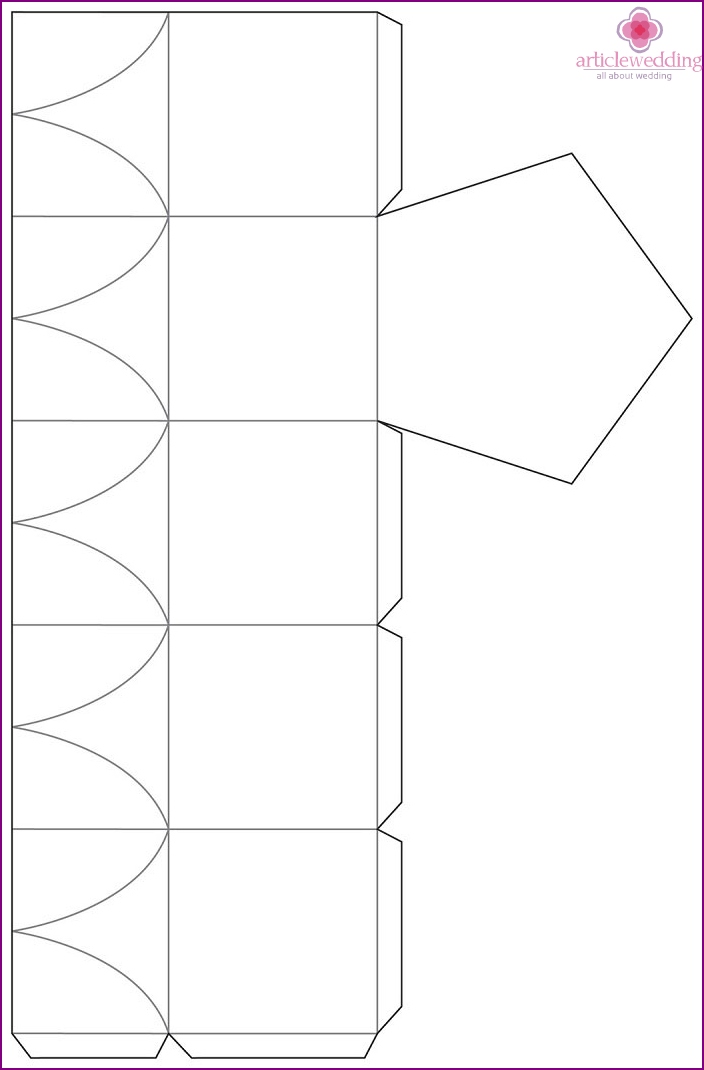 Photo of bonbonniere boxes
There are many options for the performance of boxes of bonbonnieres. Bags, chests, cylinders, tubes - these elegant, stylish options for surprises will make a positive impression on guests. On bonbonnieres you can print your initials, the date of the wedding, arrange them with artificial flowers, ribbons, lace, braid.