Contents
---
---
Preparing for the wedding is a long, laborious process. Every bride knows that all the little things need to be thought out. One of the important details of the celebration is the beginning of the banquet, where all guests will look for a place. To save time, increasingly, organizers of the celebration use special cards on which the names of the invitees are written - they are put on the table. You can buy this banquet accessory, but it's much more pleasant to make DIY cards with your own hands..
What cards can be made for seating guests
Cards can be of different sizes, shapes, colors, in the form of an accordion, origami, hanging like garlands, etc. Use all kinds of decorations to create the perfect option. A seating card can be thematic if the wedding has a certain concept. For such ceremonies, use unusual solutions: fallen leaves for an autumn celebration, seashells for a wedding in a marine style, tree bark for an outdoor celebration.
In the form of a butterfly
Delicate butterfly cards are suitable for a summer wedding. To create an ornament, you will need: white or any other pastel-colored cardboard (or thick paper), scissors, gel pens, pencils. How to do:
print stencil.
circle it with a pencil, cut it out.
step back a few millimeters from the edges, circle the contour with a pen, and then write the name, surname of the guest.
slightly cut the lower region of the beginning of the wings, bend and «plant» butterfly on a glass.
Bow
For those brides who can not devote much time to making seedling cards, this simple option is suitable. To make a banquet accessory, you will need two things - a wide satin ribbon and scissors. The ribbon needs to be tied with a beautiful bow, and along the two edges write the name, surname of the guest.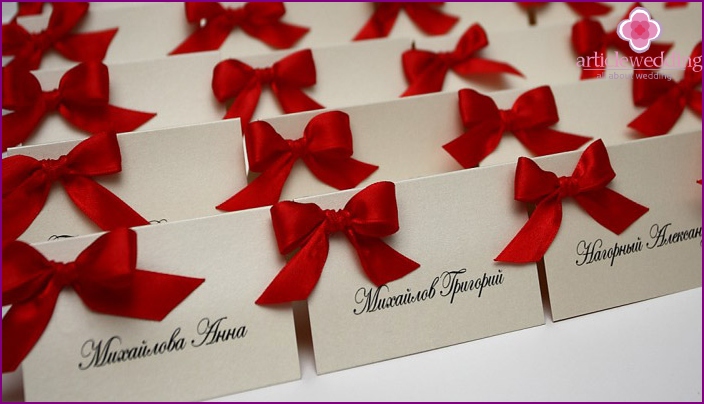 Heart
The heart symbolizes love newlyweds, so such a figured decoration is perfect for the holiday. To create an original card, you will need: a heart stencil (size - 10 cm wide), colored red paper, pen or marker, glue, pencil, scissors. Attach a stencil, circle, cut. In the upper right corner, sign the card, then cut the heart from the bottom to the center. Let the left part overlap to the right, the heart will bend, become voluminous. Cut the protruding paper. Instead of an inscription, you can use a sticker, and you can attach a heart, for example, to a glass with a thread threaded in a corner.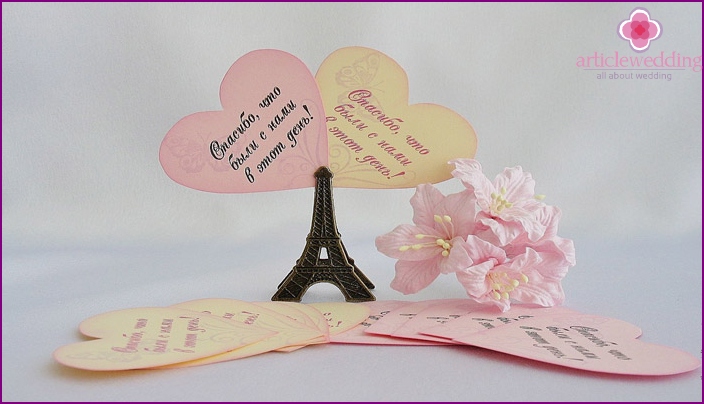 Postcards
You will be able to create such a seating card using thick paper, tape, scissors, a hole punch and a marker. Greeting card can be any size. Cut a square 10 by 10 centimeters, bend it in the middle from top to bottom to get a horizontal rectangle. From above make holes with a hole punch, write a name on the map. Pull the ribbon through the holes, tie a bow. See photos of various cards, postcards - a popular accessory for the holiday table.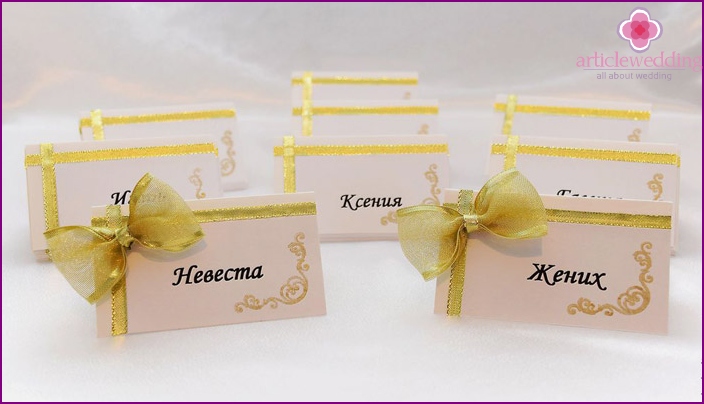 Floral
Seating cards, for the manufacture of which flowers are used, look romantic. This idea will be implemented in several ways:
Put the flower in a square box, inside which there will be a small vessel with water, so that the plant remains blooming longer, and on the box write.
Decorate your card with dry or decorative colors to create the perfect composition. It will be good if the plants are the same as those present in the bride's bouquet.
With applications
The application is the cutting out of figures, pasting them on each other to get the desired image - it can be an animal, a person, plants, curly patterns. DIY cards with applications will look interesting. Use your imagination to come up with a variety of accessory variations.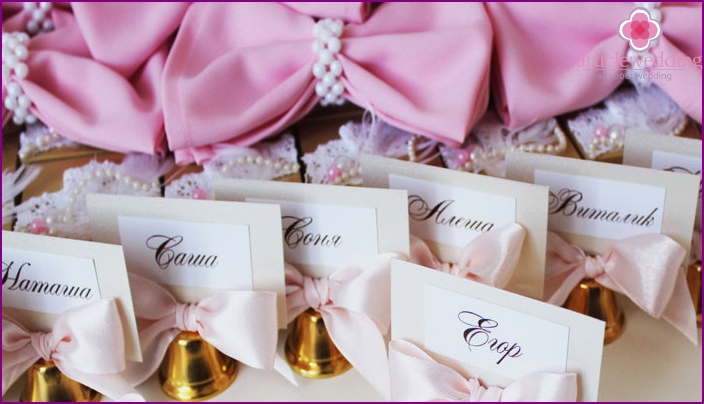 Origami figures
Elegant do-it-yourself origami cards are ideal for weddings in Chinese, Japanese styles. Making paper figures is a laborious process that requires accuracy, so ask for help in creating cards, as to decorate the entire banquet hall, you will need a large number of them. Watch the video that describes step by step how to make a paper crane:
On the wings write the name of the invited guest or use the figure as a stand for a business card with the inscription.
Stands and holders for beautiful seating cards
As stands for seating cards, various objects can act - glasses, special «legs», fruits. Below we will look at some beautiful ways to fix them..
Bonbonnieres
Bonbonnieres are not only a beautiful, but also a pleasant way to fix a card and put a guest in his place. The bonbonniere is a box where the organizers can put a pleasant surprise for the guest who has arrived - sweetness, a small souvenir.
Fruits and berries
To make an edible card holder, you need to take the fruit, make an incision and fasten the name card. Card-leaves of apples and pears look beautiful (see photo). Berries are usually poured into a vase, a toothpick is inserted there, and a piece of paper is glued to the upper tip with glue or double-sided tape, where the name of the invited guest is written.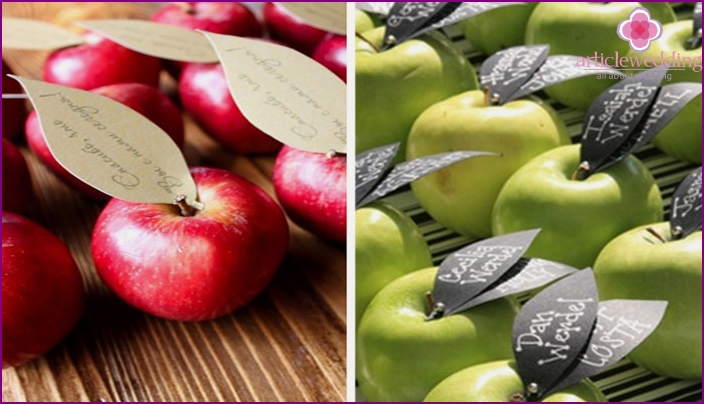 Bumps
These original coasters will perfectly decorate the outdoor celebration, which is held outdoors. You can also make a winter option - spray white, light blue paint on the edges of the cones, and fix the card on top.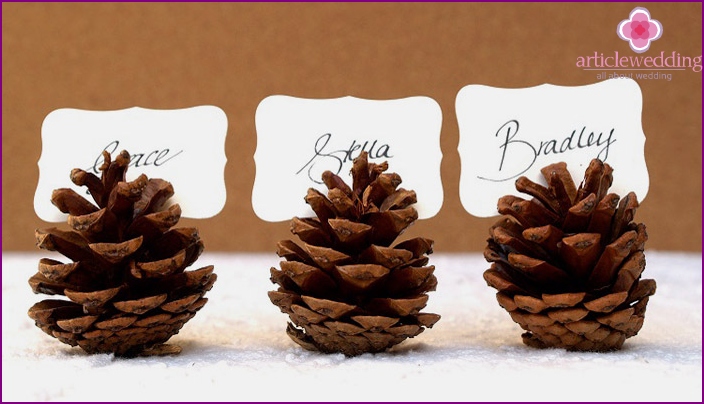 Wineglass
The popularity of fixing a seating card on a glass is the simplicity, convenience, and also the elegance of the method. To do this, a heart card, butterfly, an ordinary business card is suitable: one or more incisions are made, with their help the accessory is placed on the wall of the festive wine glass.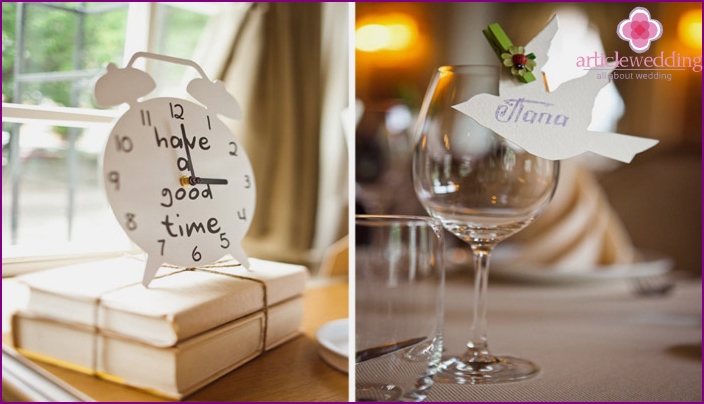 Where to find and download original layouts and templates
You can find patterns for various figures on special sites, forums where needlewomen share their secrets. See stencil of butterflies and hearts below..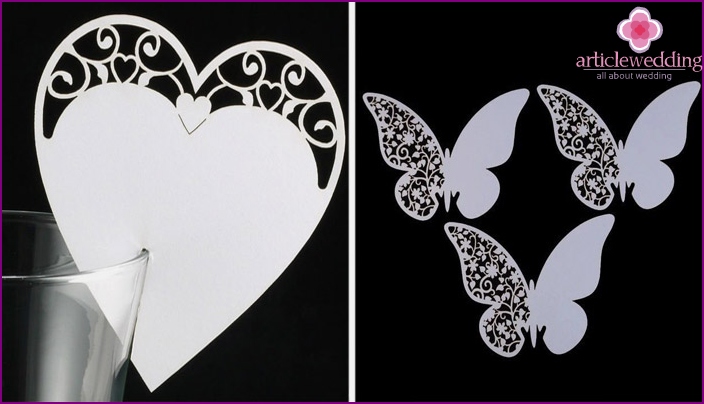 Tools and materials for making beautiful cards
The main instruments and tools that will help create beautiful accessories: scissors, a ruler, a hole punch, curly scissors, adhesive tape, glue. As a basis, use paper of different material, density: cardboard, thick sheets, thin sheets for applications, strips of bright colored paper. Rhinestones, spangles, glitters (decorative spangles), beads, satin and tulle ribbons can serve as decoration elements..
Master class: step by step with photo
To create one beautiful layout card, you will need blanks:
cardboard of any color (square with a side of 10 centimeters);
satin ribbon of a suitable shade (width - 5 millimeters);
paper for application;
glue;
high-quality thin double-sided tape;
ruler.
Step-by-step instruction for manufacturing an accessory:
Using a ruler, bend the cardboard in half, the horizontal rectangle with the side bent up - a future seating card.
Write or type the name of the person invited, stick double-sided tape to the front side.
Glue the tape as shown in the figure with glue, burn the edges with a lighter so that they do not open.
Make a bow, add a bead on top.
Done!
Beautiful DIY hand-made cards will help you quickly seat guests, support the celebration concept, and create the right mood. Be guided by your imagination, come up with an original style that will reflect your vision of the holiday.
What kind of card ideas did you like? Share your opinion in the comments.