Contents
---
---
A difficult choice faces the wedding guests; you never know how to please the newlyweds. Traditional cutlery, household appliances and various interior items do not always turn out to be necessary, but you really want to make the right gift. In this case, money will be a win-win option. All newlyweds, without exception, love to receive them as a gift for a wedding. But presenting money in an ordinary envelope is too commonplace. It is better to put a piece of love and warmth in the gift, making an original envelope for the wedding with your own hands. A good gift needs good packaging!
What materials and tools will be needed
The materials that you will use for decoration will depend only on your imagination. You can decorate envelopes for money with your own hands with feathers, lace, lacing, key chains and other items. The main thing is to choose a beautiful color base that sets the tone for the whole craft. To make a beautiful envelope with your own hands, use: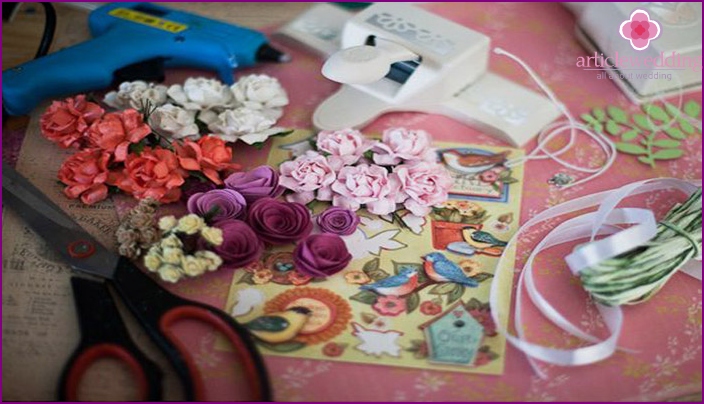 Thick stationery white paper (A4 size);
A sheet of colored double-sided paper for scrapbooking;
Glue gun or glue «Crystal Moment»;
Scissors or clerical knife;
A simple pencil;
Ruler;
Glue for paper;
Hole punch for curly edges;
Stamps with ready-made inscriptions of wishes;
Acrylic paints, ink;
For decoration, optionally choose beads, ribbons, artificial flowers, stickers.
How to make an envelope for money: step by step instructions
Prepare all the materials you need to make an envelope for the wedding money yourself. Think in advance what kind of design you will do, what the finished craft should look like. The quantity and choice of materials for creativity will depend on this. Further, following the step-by-step instructions and checking the photo, begin to prepare.
Use a beautiful double-sided sheet. Determine which side will become front and which will only be visible inside..
Fold the sheet in a diagonal line to make three neat corners. Fold the fold line with your palm.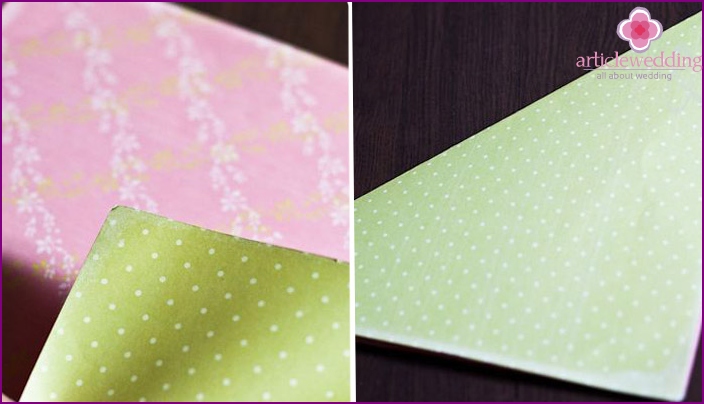 Scissors cut the sheet into two parts along the fold line so that two triangles with right angles come out. At first you will use only one of them in your work, put the second aside.
Bend the workpiece in half with sharp corners to each other. So, on the wide side you will have a fold, the middle of this line. Fold back the sides of the sheet. Bend the sharp corners of the rectangle towards each other so that they converge on the marked middle of the wide side.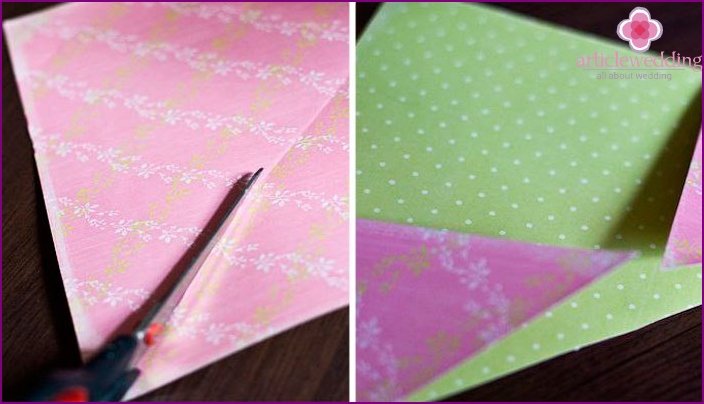 Right angle also connect to the other two corners..
At this stage, we need a second rectangle, which so far was on the side. We apply it to the workpiece and measure out the required size using a ruler. This will be the substrate, which should be on all sides a few millimeters smaller than the base of the craft. Cut out.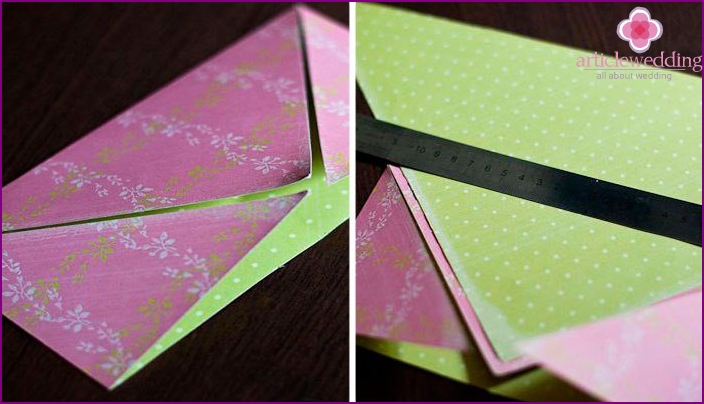 We glue the sides, lubricating with glue all the necessary sides.
Getting to the decor. With the help of a figured hole punch we make small borders. Glue them on the side to the back side.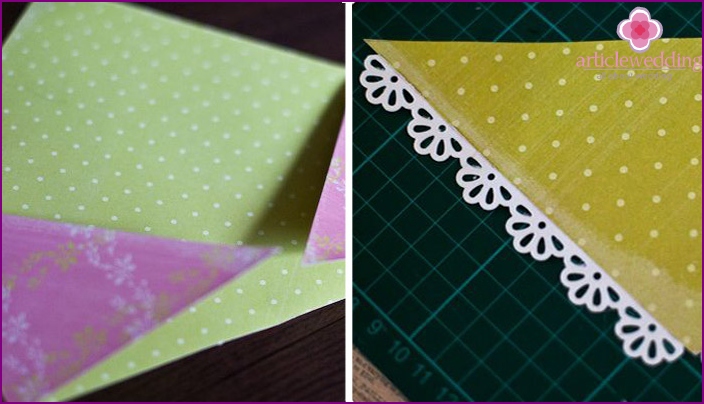 The front side is decorated with a floral arrangement.
Glue a tape of such a length to the craft so that its ends are tied in a bow.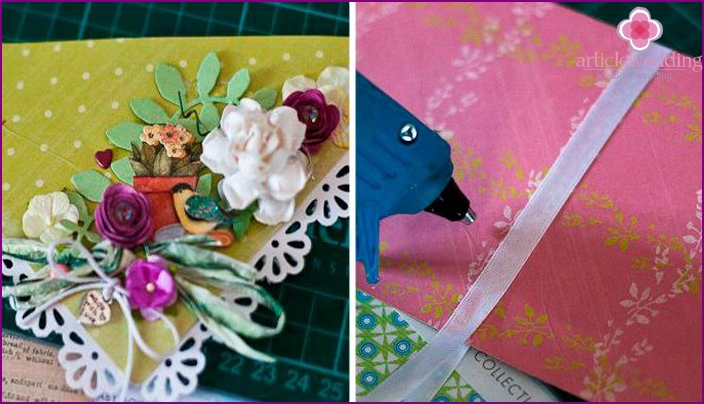 Double-sided tape or glue gun glue the substrate to the base of the product.
Tie a bow on a ribbon. Making envelopes for a wedding with your own hands is not at all difficult, you just need to show a little imagination and skill.
How to make an envelope out of paper
Most wedding envelopes are made of paper. Some people prefer to fit cardboard for this, but heavy paper does not bend as conveniently as it takes to create beautiful and smooth lines. Therefore, preference should always be given to paper as the basis for crafts. If you use colored paper for these purposes, you will run into the problem of its fineness. To seal colored paper, pre-stick it on a sheet of white stationery. Next, continue to create an envelope.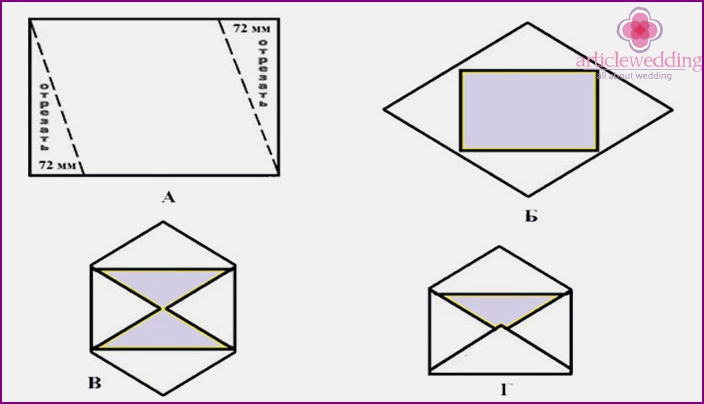 Original envelope templates for weddings will help you make exquisite crafts for all occasions. Choose the shape you like and fold the envelope according to the photo instruction. In such paper crafts there is enough space inside not only to place a cash gift, but also to write your congratulations on the inner wall.
A.
Scrapbooking gift envelope
Envelope for money scrapbooking is done simply. We offer you another technique for creating a beautiful gift yourself. Use for this a ready-made color envelope, in the center of which you need to stick a thin lace.
Diagonally Angled «plant» glue fabric flowers, next to them are small fabric petals. Choose fabric color according to the main background.

Then glue a strip of fabric stylistically matching the color onto the lace.

Tear off a small sheet with musical notes with your fingers, trying to leave uneven edges. Crumple it and glue it on a fabric strip.
Next, use a different color fabric. Cut a small heart, sew buttons to it.
Glue the finished part to the music sheet.
After cutting a thin paper strip, fold it in the shape of an accordion and glue it on a craft on top of decorative elements.
Garnish with rhinestones or beads.
To better understand the technique of self-made envelopes, watch a thematic video in which everything is readily told and shown. After listening to the story of the master, you will learn about the intricacies and nuances of manufacturing such a product at home.