Contents
---
---
A wedding is an exciting event in the life of every girl, so you should carefully consider all the details that form a harmonious, charming celebration. The decor of glasses, halls, appliances - everything should be in the same style that meets the theme of the ceremony. Do not forget about details such as a pillow for rings. We will tell you how to sew a pillow for wedding rings. On such a thing done by hand, it will be nice to photograph the rings, it will work the eye at the ceremony.
Master class: DIY pillow for wedding wedding rings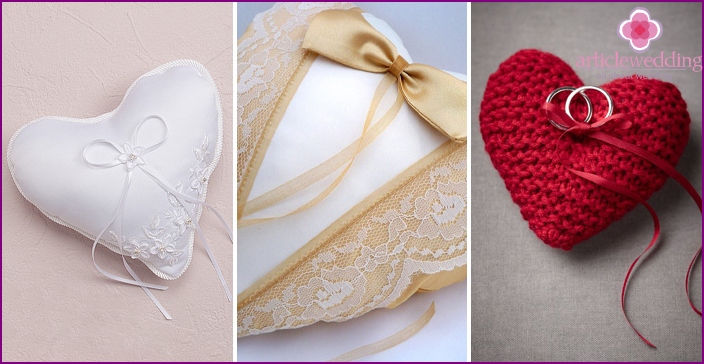 Each bride has her own idea of ​​how her wedding ceremony should be. Not a single lady will let the whole organization drift and give it completely into the wrong hands. Some may think that a pillow for wedding rings is a trifle that is not worth attention, because at the wedding it will be seen in a matter of minutes. But this is not so, because this cute little thing will be captured on the photo and be part of a single image of the whole celebration, so it should be stylish, beautiful and unique.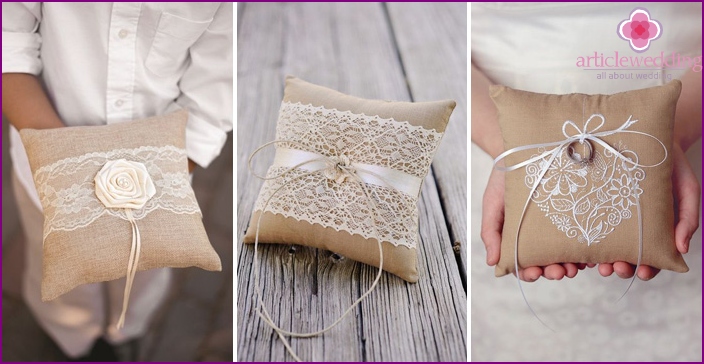 To sew an accessory for wedding rings, you first need to decide on its shape. A handmade accessory will be unique, with a twist, as opposed to a purchased one. It's better to sketch all the ideas that come to your mind in the smallest details. Show your imagination, use your creative abilities and create an original thing. There are many options for the decor of pillows for rings:
Embroidery of proper names in the place where the rings will lie. To do this, choose embroidery threads, pearls, beads, ribbons, fabric.
It is not forbidden to decorate a small pillow with your photo. To do this, in the cabin you need to print it on fabric, and then trim.
Decoration with buttonholes, appliques.
Decor frills around the edge of the product - choose a braid, lace, ribbons, make assemblies.
Embroidery on the edge of a floral ornament. In this case, it is interesting to combine several types of embroidery: for example, glass beads, beads and threads.
The heart-shaped pillow made of red satin or velvet looks very bright. It does not require additional decor, since it looks spectacular on its own.
Cushion for rings can be decorated with embroidery of the words of an oath of love.
It is not forbidden to sew a pillow in the form of shoes, toys, birds, etc..
Pillows for rings that are decorated with artificial flowers, retro lace look very interesting..
A bed for rings is not forbidden to arrange on a stand in the shape of a flower.
An interesting trick is to apply the calendar date of your celebration on the pillow.
The cushion is not forbidden to give the appearance of a nest, basket, shell, heart, flower beds.
A pillow for rings can be put in a book with a cache cut inside.
This detail should be combined with the overall style of the wedding:
Classical - a fabric is selected that matches the tone of the main color of the wedding. Fresh flowers, lace, ribbons are used as decoration.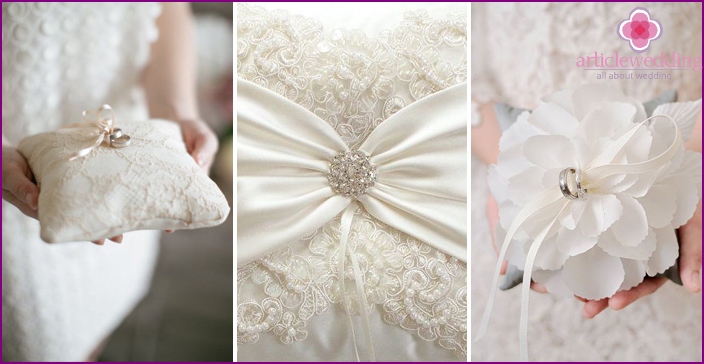 Glamorous - expensive fabrics are characteristic, with large flowers, sparkles, rhinestones, large brooches, feathers, beads.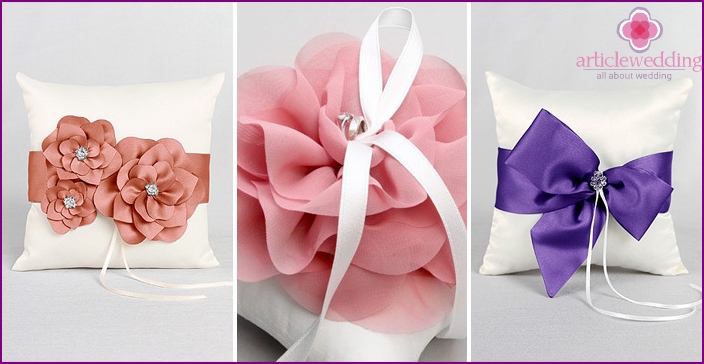 Rustic style - it is characterized by burlap or other coarse fabric, lace, ribbons, flowers, knitted fabric, the use of wooden details for decoration.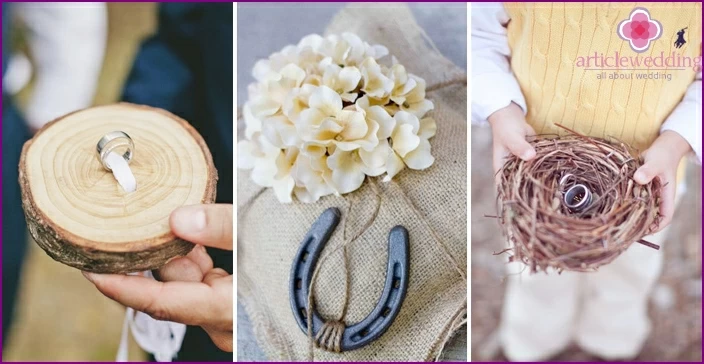 Retro - fabric of muted shades, lace, vintage brooches, beads, polka dot fabrics.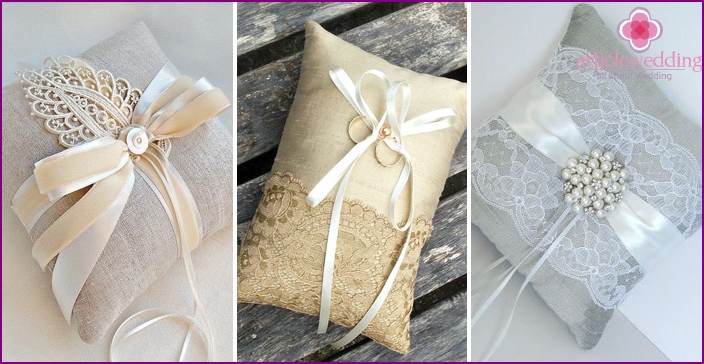 Themed wedding - if the theme is marine, then you should decorate the accessory in the same spirit, or use striped fabric.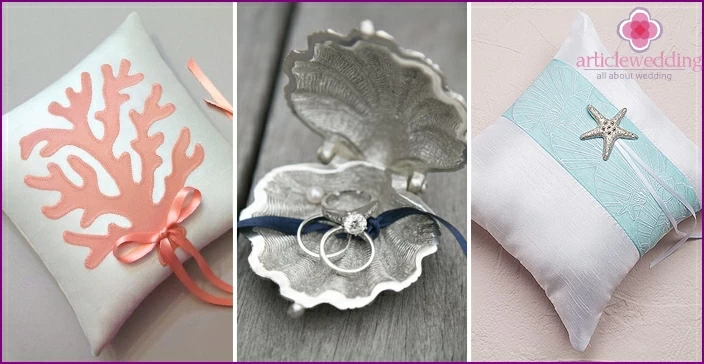 Materials and Tools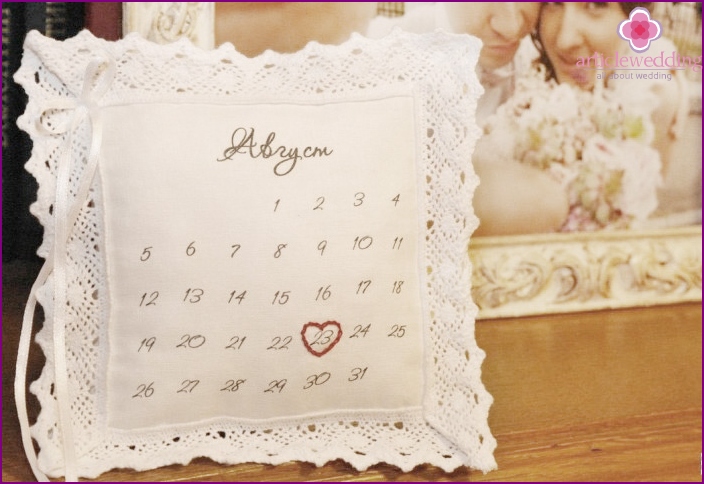 When you have decided on the design of accessories for wedding rings, it's time to start shopping. Choose fabrics and accessories that you need in the process. Most pads are sewn from white material to match the dress. Choose velvet, satin, chintz, silk, satin. It is better to stock up on a cut that is larger in size than is required for one product, because the first pancake can come out lumpy. In addition, you will need such materials:
the cloth;
scissors:
threads
needles;
synthetic winterizer, holofiber or cotton wool;
glue;
threads for embroidery;
decor items: lace, rhinestones, sequins, beads, beads, ribbons, etc..
Pad size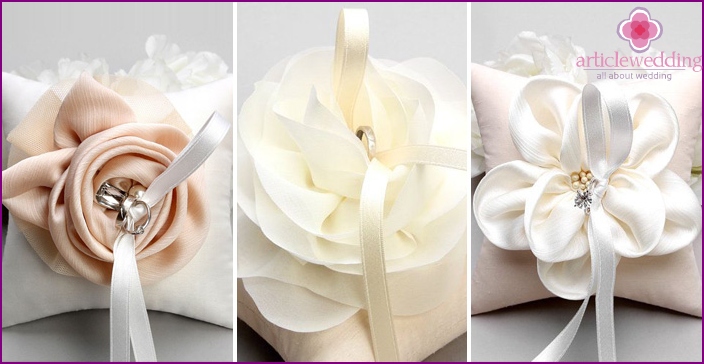 If you want to make a wedding accessory for rings in the classic version in the shape of a square, then traditionally its size is 10x10 or 15x15 cm, no more. It is important not to exceed the given dimensions, otherwise the rings may get lost in the decor, and in fact they play a major role. Pads of a different shape should not go beyond. A large accessory does not look touching and tender.
We give you step-by-step instructions for creating a stylish wedding accessory for rings. For its manufacture you will need: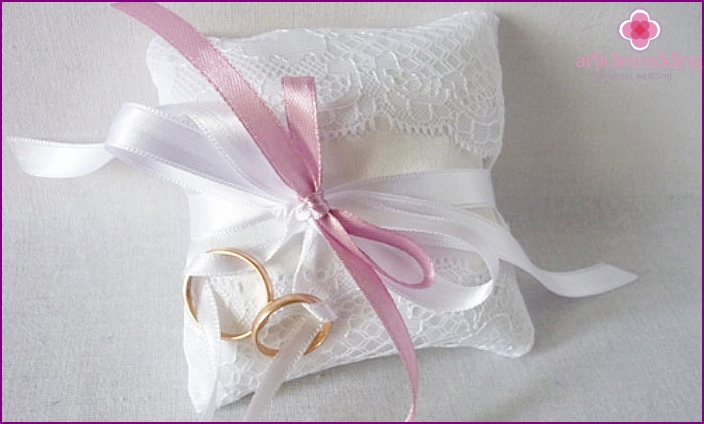 cardboard;
pencil;
white satin;
pink satin ribbon 0.5x30 cm;
white satin ribbon 1x50 cm and 0.5x30 cm;
synthetic winterizer;
white threads;
white lace;
scissors;
needle;
ruler;
candle;
pins with ears.
Step-by-step master class:
We cut a cardboard template 10x10 cm. Double the fabric inward with the face side, draw a contour according to the template, cut the workpiece, departing from the contour of 1 cm allowance.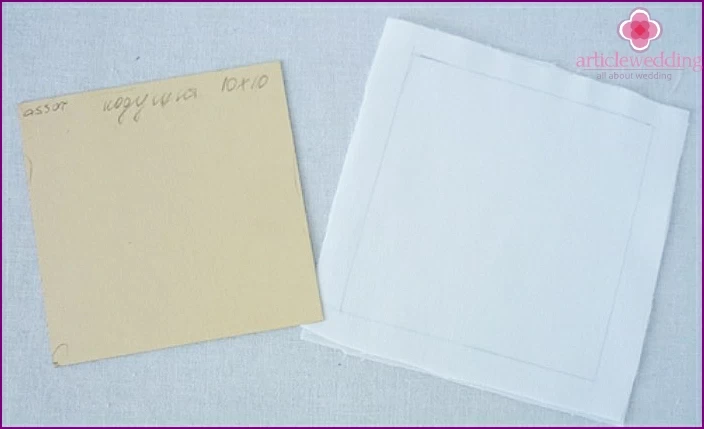 We prepare lace 5x12 cm in size. We place lace on both sides of the satin square on both sides close to the edge, and attach it to the fabric with pins. In the middle there will be a strip of free space on the fabric where the tape will pass.
From above we put the second square of the atlas face down. Fasten with pins.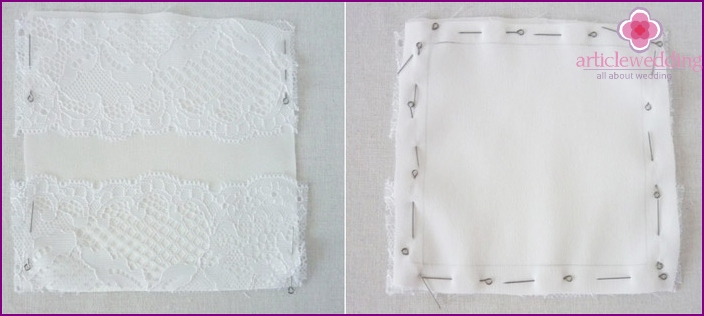 Sew along the contour two satin pieces of fabric, leaving part unstitched.
We cut corners.

We turn the workpiece.
We fill a pillow for rings with a synthetic winterizer.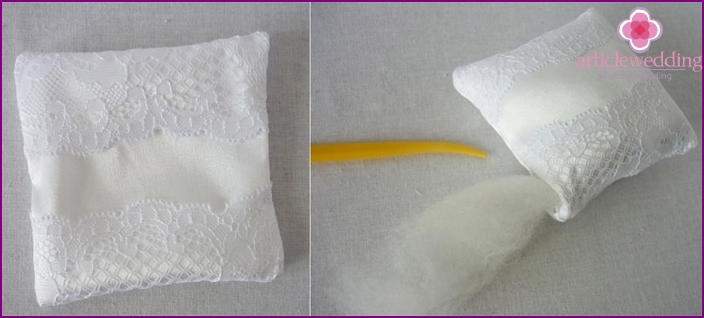 We make a seam on the pillow to the end.
We scorch the ends of a thicker white satin ribbon, gird it with a pillow in the center.

Knotted with a knot. We dress it with another white ribbon, thinner, twice. Rings will be attached to the ends of the tape.
Tie the ends of a wide white ribbon with a bow.
Through the upper knot of the bow we pass the pink ribbon and tie it with a bow.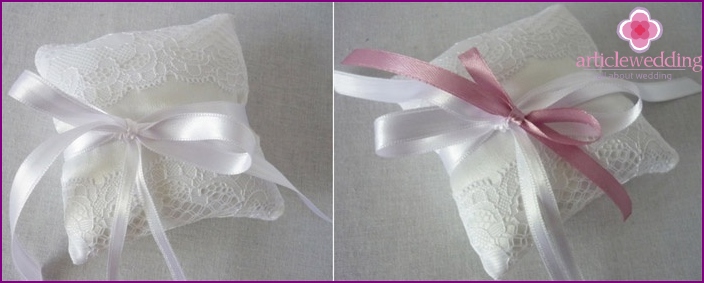 Original wedding pillows for rings photo