Contents
---
---
Before the wedding, the bride carefully thinks about her image, because she wants to look irresistible at the ceremony. Many girls adhere to traditions, choosing a white dress, and then a veil to it. But wedding fashion dictates new rules, according to which ladies are recommended to abandon customs. So, hats successfully replace the usual veil for us, but in order for the headgear to look appropriate with the outfit, you need to pay due attention to its choice. What kind of wedding hats will suit you?
Hat History
France is rightfully considered the birthplace of wedding hats - a country of high fashion. The 18th century brought cylinder hats that French brides wore to the wedding, attaching a pre-elegant or flirty veil to them. But when complex tall hairstyles became fashionable, putting on hats with a veil and without it became almost impossible, so the women held them in their hands. Over time, a variety of forms of hats and ornaments made it possible for brides to choose this accessory to their taste.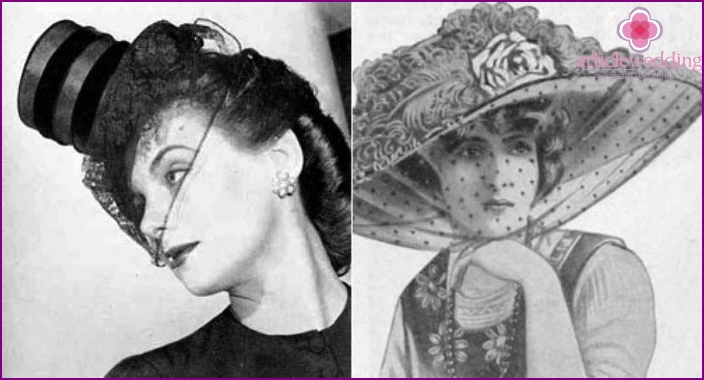 Pros and cons of choosing a wedding hat
So that there are no doubts about the choice of a fashionable wedding hat, we suggest that you familiarize yourself with the advantages and disadvantages of this accessory. First, we list the pros:
A well-chosen model will emphasize the refined, sophisticated taste of a girl.
A wide range of varieties of holiday accessories allows you to choose the best option for a wedding for a high hairstyle, other styling.
The hat will become an extraordinary decoration of the charming bride's head.
But in addition to the pros, there are also disadvantages:
This accessory is not suitable for every face shape..
If the main role is assigned to the hat, then the choice of attire can be difficult.
You will definitely need competent reliable fasteners, otherwise the whole hairstyle will fall apart.
Before you finally decide on this accessory for a wedding dress, carefully weigh all its pros and cons. If the choice nevertheless fell in his favor, proceed to the choice of a beautiful wedding hat.
How to choose a hat
To create the right image, one should take into account not only the wishes of the bride, but also the shape of her face, height, type of figure. The following tips will help you look seductive at a wedding: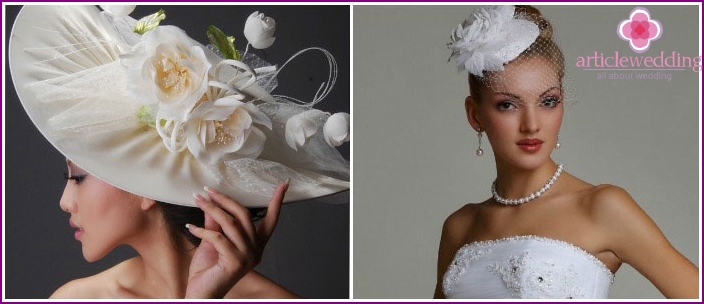 Focus on growth. If you are a tall girl, then a headdress with wide brim will suit you. A tiny accessory will be suitable for a miniature lady, perhaps with a short veil.
If you are overweight, then small hats are a taboo for you.
Chubby girl fit model with curved fields. For owners of an oval and square face, an ideal option would be a headdress with straight fields.
A woman who seeks to hide some skin defects (acne, scars, scars), you need to pay attention to hats, complemented by a veil. In addition, such an unusual wedding hat will add mystery to the bride.
The whole image must be maintained in a single style. For example, if the wedding dress is of a simple cut, then the headdress should have a minimum of decorating elements - feathers, rhinestones, flowers. If a magnificent image is planned, then it is allowed to experiment with its design, but the color of the accessory should definitely match the shade of the dress.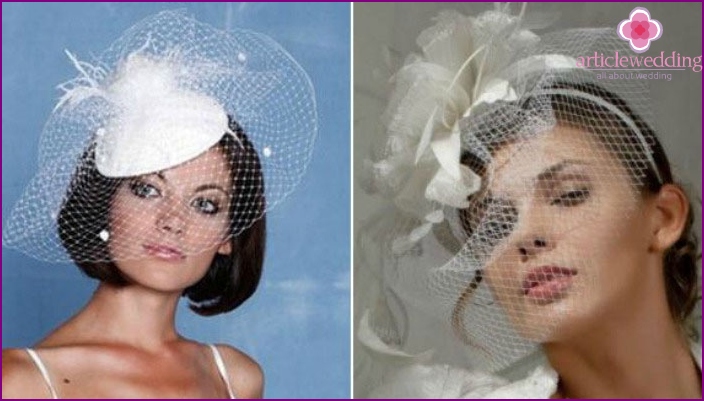 Remember that a hat is a whimsical accessory, so before you buy it, you need to arrange a fitting. Also, before buying a headgear, correlate its style with the dress, so that everything looks harmoniously combined.
How to fix a hat on your head
The method of attaching a wedding hat depends on the length of the girl's hair and on the festive hairstyle. So, if high styling is planned, the headgear can be fixed with special pins. On loose hair, the hat holds perfectly with a bezel. If the hair is long, then it is allowed to fix it with a comb. Do not forget to sprinkle the styling - high or not, anyway - with lacquer to fix it before starting to fasten the wedding fashionable hat.
Fashionable models of wedding hats photo
To get a wedding look fashionable, but at the same time thoughtful, you need to find out which models of hats are considered popular:
It is not necessary to buy an expensive hat, it is quite possible to make it yourself. To do this, watch the video, from which you will draw a lot of recommendations for creating a trendy hat:
Option with veil combines the signs of tradition and fashion. A wedding accessory decorated with a veil of medium length will be ideal. The size of the headgear can be either large or miniature - it all depends on your preferences.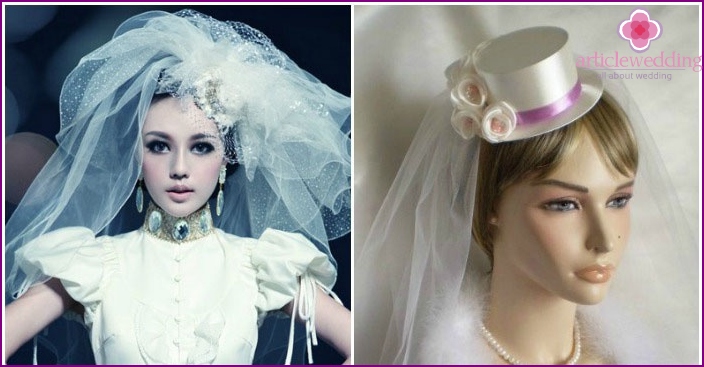 «Tablet» Suitable for you if you are organizing a retro wedding. It is shifted to the side or forehead, it is allowed to add a veil to create a mysterious image.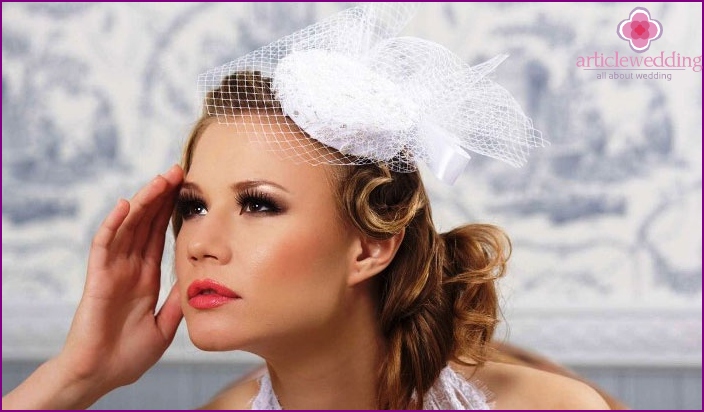 «Flower» - Feminine version of a stylish wedding hat. It is easy to guess that it is made in the shape of a flower. It is a core (which is attached to the hair) and petals, loose around the lady's head.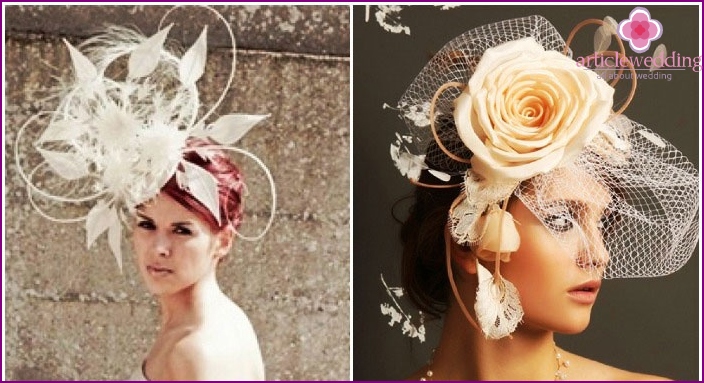 A miniature hat is usually decorated with some large decorative element - a flower, feather, leaflets. Represents «pancake» from fabric. Will create an ironic and sophisticated look.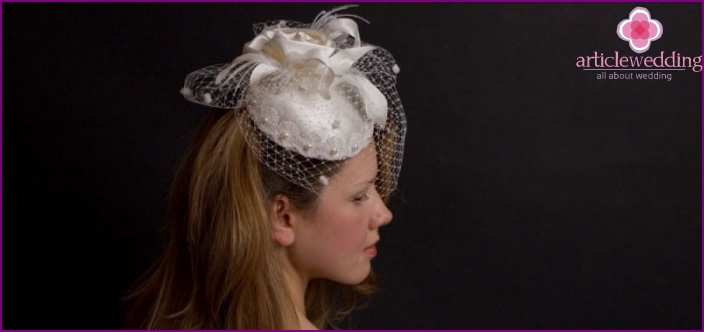 The cylinder is elongated. Suitable for extravagant ladies who are not afraid to rivet their eyes. Size varies from high headgear to small with an elongated base.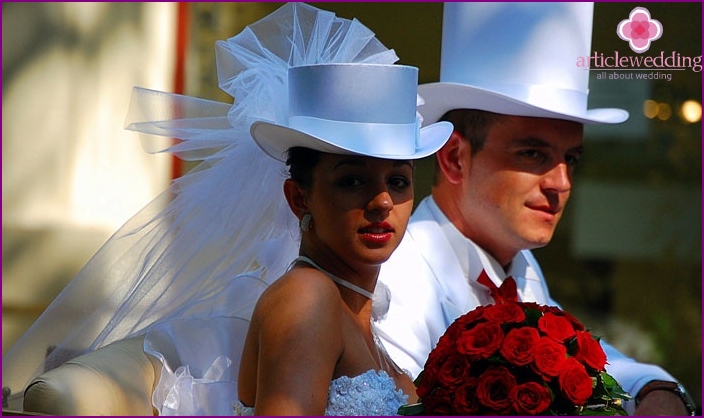 Watch the video that shows a lot of hats for the bride - hats, veils, top hats, mini top hats and silk flowers:
A hat is an actual wedding accessory that has been successfully used to create wedding as well as holiday images. The image of the bride, supplemented by him, will become individual and inimitable. Be sure to take cool photos from the celebration so that you can refresh your extraordinary wedding look at any time.!