Contents
---
---
A pair of pigeons is a symbol that often decorates weddings. White birds personify peace and harmony in the future family, mean clean, loyal, gentle relations between the newly made spouses. Doves can be decorated with textile for weddings, invitations for guests, seating cards, and their figures can decorate the table. Embroidery with pigeons looks beautiful, which will become a wonderful decoration for a wedding towel used in many solemn ceremonies - when offering a loaf, wedding, blessing of young parents.
Embroidery options for wedding doves on a rushnyk
Pigeons embroidered on a bench hammer symbolize the groom and the bride, their happiness and love. Parents of the newlyweds or the future spouse can decorate the accessory. According to ancient traditions, several towels were used during the wedding, each for their own purposes, different figures and ornaments were embroidered on them. When choosing pigeons to decorate this element, the bride and groom should remember that it is not always suitable for a wedding. It is believed that when a husband and wife step on a rushnyk, they are able to trample what is depicted there, so there are no flowers or animals on the wedding version.
If the heroes of the day do not become feet on the rushnyk during the wedding, but fall to their knees, it is permissible to formalize it with living beings. Each element embroidered on a wedding accessory has its own symbolism, so future spouses or those who are engaged in the manufacture of a rushnyk for them should carefully study the meanings of ornaments, birds and animals before embroidery. Pigeons can coexist, for example, with floral patterns that indicate the wish of future spouses happiness, wealth, prosperity, and the birth of healthy offspring.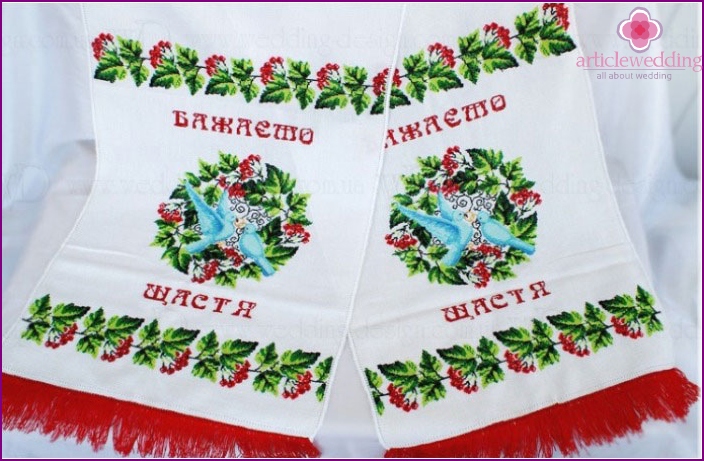 Not only the details of the decor, but the rushnik itself has a symbolic meaning. Presented to the newlyweds, decorated with figurines of pigeons and other patterns, it is considered a talisman from evil forces, a thing that will bring happiness to the house. It is best to use natural fabrics for a wedding towel - linen, cotton, and embroider with satin stitch, viscose threads. A set of two or three colors is suitable, but experienced needlewomen can use more shades, correctly combining them.
With pigeons sitting in a heart
The heart is a new symbol in the design of wedding towels, meaning bright feelings between the newlyweds, it is perfect for decorating an old ritual towel. The needlewomen can embroider the contour of the heart, inside which there will be pigeons, or make this element in the form of flowers, plants. Also birds can «sit» along the upper edges of the part or «carry» heart in its beak. The ideal color for embroidery is red, but other shades are also suitable: golden, silver, blue, blue. If the heart is in the form of flowers, you can additionally decorate them with green leaves.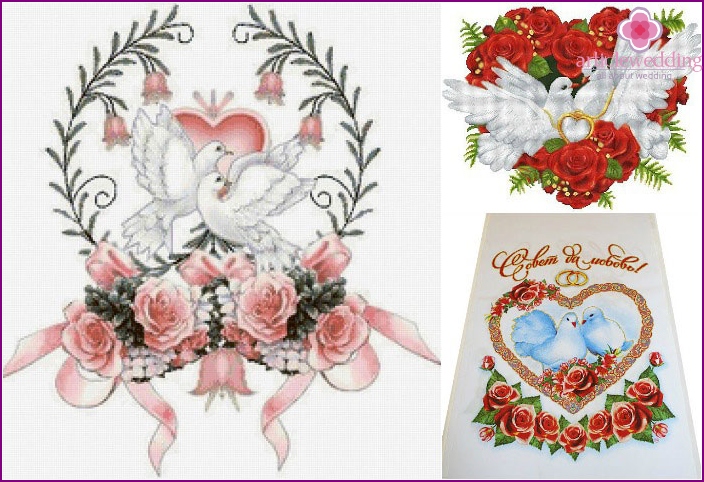 With wishes to the young
If a towel with pigeons is sewn to the heroes of the occasion as a present, the giver can make a beautiful wedding accessory with wishes - this will not only decorate the towel, but will also please the newlyweds. Classic inscriptions used to design a solemn element: «Fortunately, for a fraction», «May you live happily ever after», «Wish you happiness». Needleworkers can come up with a more original text, the main thing is that it be kind and beautiful. Some towels are decorated with the initials of future spouses, the date of the wedding, lines from poems about love.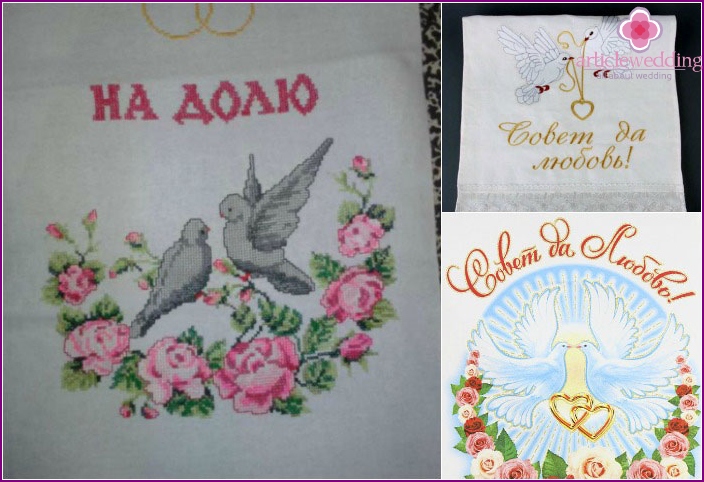 With floral ornament
Every detail of a floral ornament that adorns a wedding accessory with pigeons has a special meaning, so its creators need to study the ancient significance of decor elements. For example, exquisite lilies are a symbol of the bride's innocence, her beauty, and if buds and leaves are present with the flower, such an ornament will mean continuity of life and rebirth. Poppy is considered a conductor of magical power, bears the memory of the genus, periwinkle speaks of an unfading life force.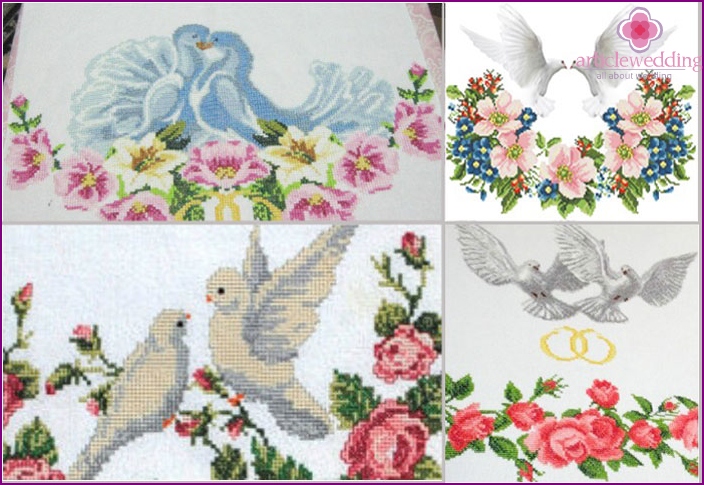 The design of a wedding towel with doves and roses is popular. Previously, this flower had a different name - Ruzha, which was consonant with the name of the sun god Ra. Folding into a floral ornament, roses mean continuous solar movement with endless revival. The pattern with these flowers decorating the wedding towel with doves will symbolize the eternal love of future spouses.
With intertwined wedding rings
A pair of wedding rings is an element that will become a wonderful decoration for a wedding towel, because it means a combination of two souls. Craftsmen can embroider pigeons on the tops of jewelry or arrange intertwined decorative elements above birds tending to each other. This beautiful detail can be embroidered with silver, gold, yellow, red threads (depending on the style of the wedding accessory. Rings symbolize marriage, love, marriage, strength and inviolability of spouses' relations.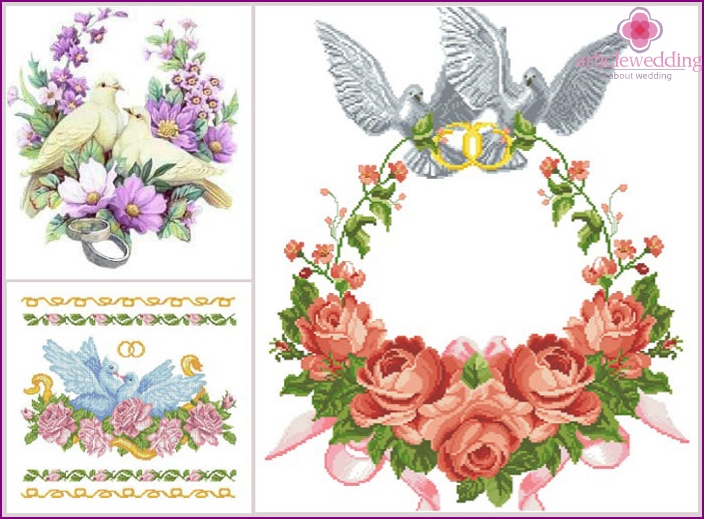 Photo of wedding doves embroidered with a cross
Wedding towels with doves embroidered with a cross can be decorated with additional decor details - for example, satin ribbons, exquisite lace, shiny bisector. To choose the appropriate option, the newlyweds need to study several ideas for the design of this element by birds. See a photo selection of rushnikov with doves: