Contents
---
---
Endowed with long symbolic meaning, a floral wreath flatters the appearance of the bride. A bride with a floral wreath looks not just beautiful, but bewitching and stylish. In addition, the wreath gives the bride excessive tenderness and youthful fervor.
For several seasons, flower wreaths take priority positions along with other wedding headdresses. This is a universal accessory for the bride, which has found recognition not only in wedding fashion, but also in everyday life.
Flower wreaths have always been associated with spring, beautiful young virgins and an anticipation of love, the wedding portal www.articlewedding.com notes. In an amazing way, flower wreaths capture the eyes, transform and give grace to the one who wears it.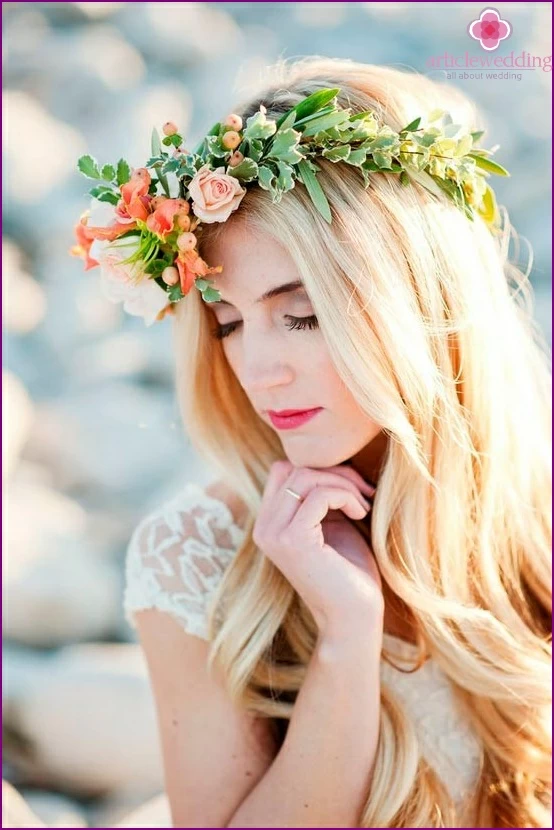 In order for the image of the bride to make a bewitching impression on others, it is necessary to perfectly match the flowers to the appearance of the bride, wedding dress and other accessories. Flowers for a wreath on your head can be chosen from professional florists or grown in your own garden. One way or another, choosing a floral wreath suggests a number of nuances that the bride must take into account if she wants to look stunning.
The choice of a floral wreath in accordance with the external features of the bride
Take into account the structure of the face - the main point when choosing a floral wreath or rim. A bride with a round or square face is not recommended to use a wreath or rim where the flowers are concentrated mainly in the temple area. This visually makes the face even larger and wider..
A floral wreath located in the center of the head will help to add a few centimeters of growth. Due to this arrangement, the face is extended, and the short girl no longer seems so small.
If the bride has sufficiently large facial features: full lips, wide eyebrows, big eyes, then you should pay attention to no less large jewelry. Massive buds in the hair of such a beautiful woman will not create an imbalance if a large bride chooses a miniature wreath.
Young girls-brides who want to emphasize their playfulness and freshness should pay attention to wreaths and headbands with juicy saturated colors. More mature brides will use wreaths of flowers of more restrained shades, which emphasize the aristocracy and nobility of the owner.
Speaking of a wedding hairstyle, the most advantageous option in combination with a floral wreath will look loose hair with slightly curled locks. Taillessly collected tail is also suitable..
Each bride has her own flower wreath!
Modern floral wreaths fit freely into a variety of fashionable wedding destinations. This jewelry that is able to combine various stylistic trends, regardless of time and fashion trends. Further, using the selection of the portal www.articlewedding.com, you will find out which floral wreaths are at the peak of popularity today..
Wreaths of pure white flowers
Simplicity and angelic appearance of the bride will help to create a wreath of white flowers. White daisies, gypsophila combined with snow berries and light green foliage, as if a floral areola will show off on the crown of the head.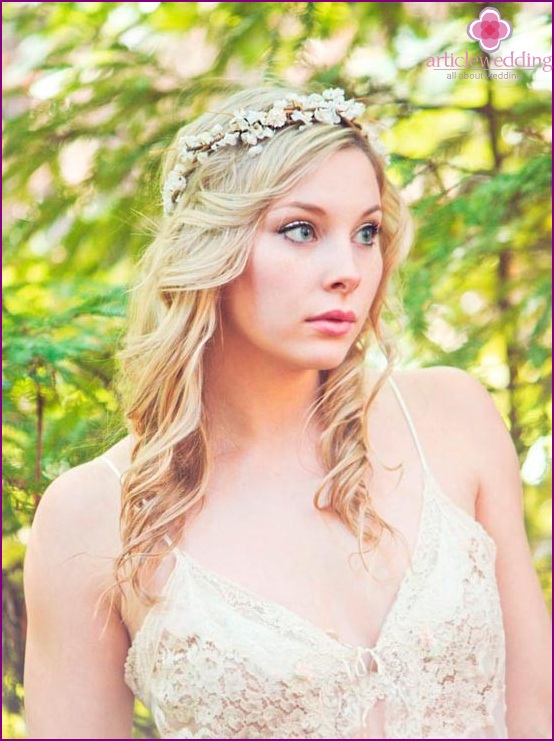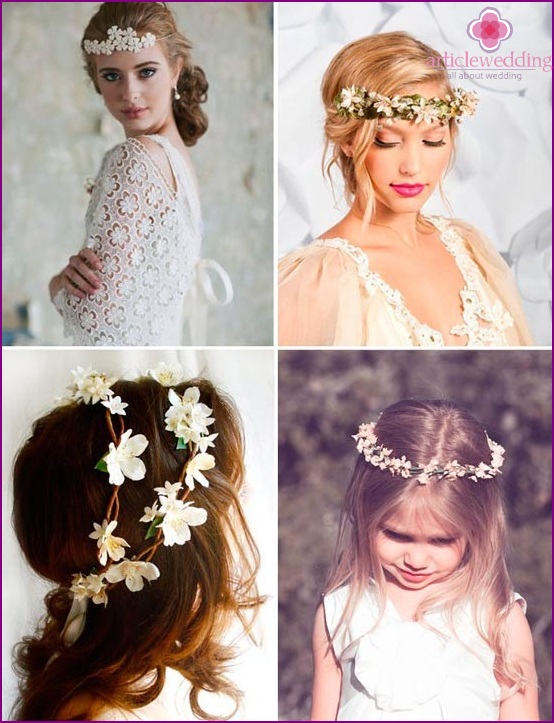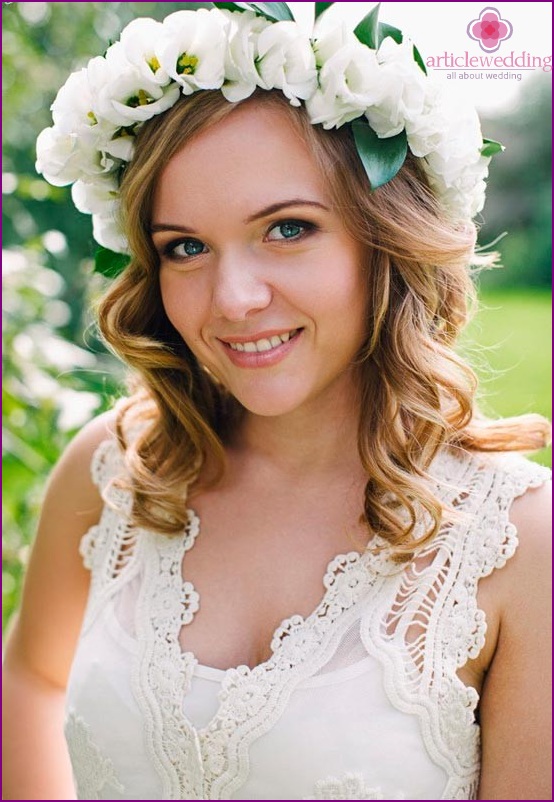 Pink wreath like a delicate blush
A romantic and delicate image will create a wreath of flowers of a pink palette. These can be classic roses or hydrangeas. Delicate, even soft pink colors emphasize the young blush and innocence of a young girl.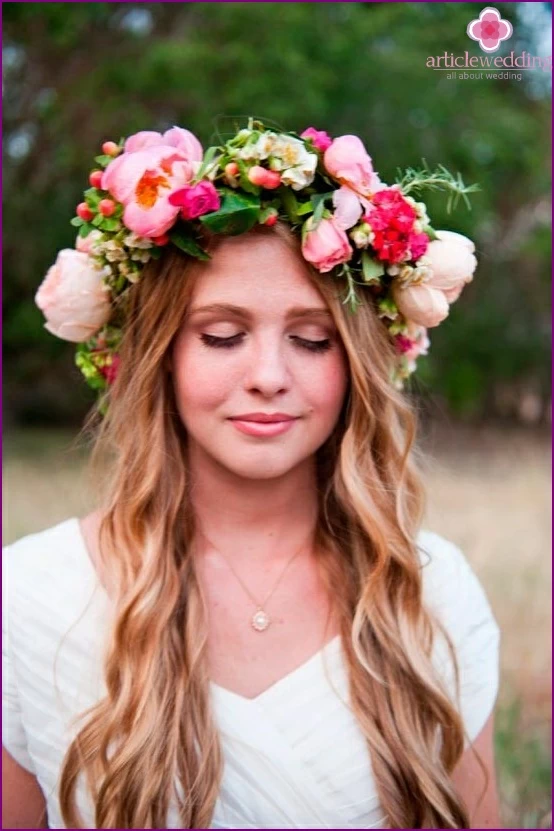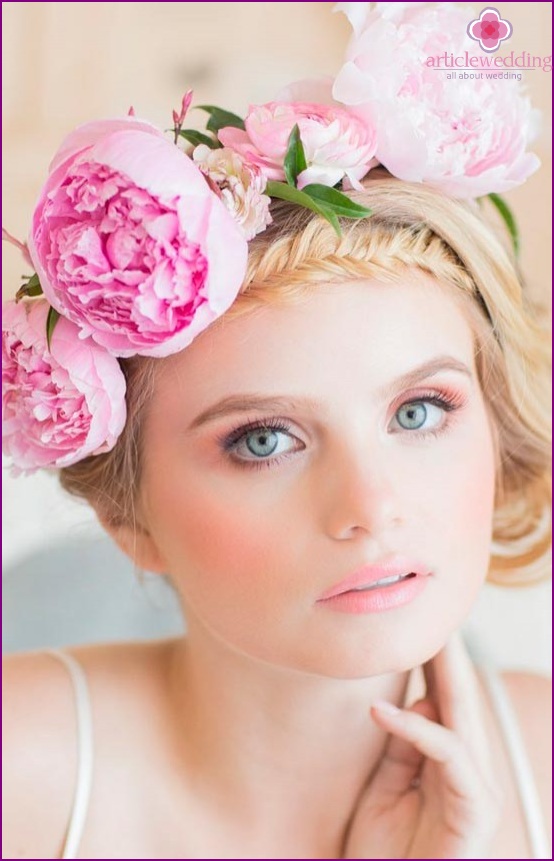 Style wreath «country»
As part of the wedding concept dedicated to country style, it will be appropriate to make a wreath of flowers in orange and lemon shade. The rustic artsy wreath of large garden roses and buds of orange, peach and yellow tones is a very interesting and stylish choice.
Wreath of lilac-violet flowers
A perfect solution for courageous and relaxed brides will be a wedding hairstyle with a wreath, in the weaving of which there are purple flowers. A fairly aggressive violet color is easily softened by a pastel lilac tone. The unique combination of colors of the cold palette is in perfect harmony with the touching image of the bride.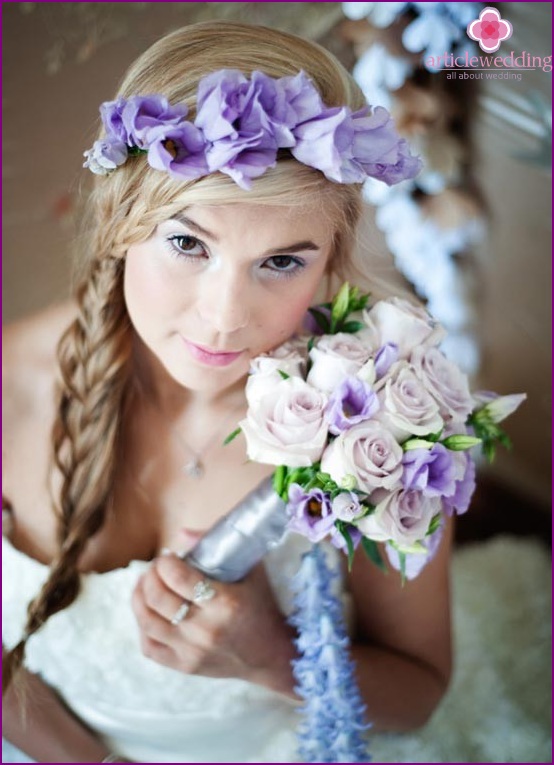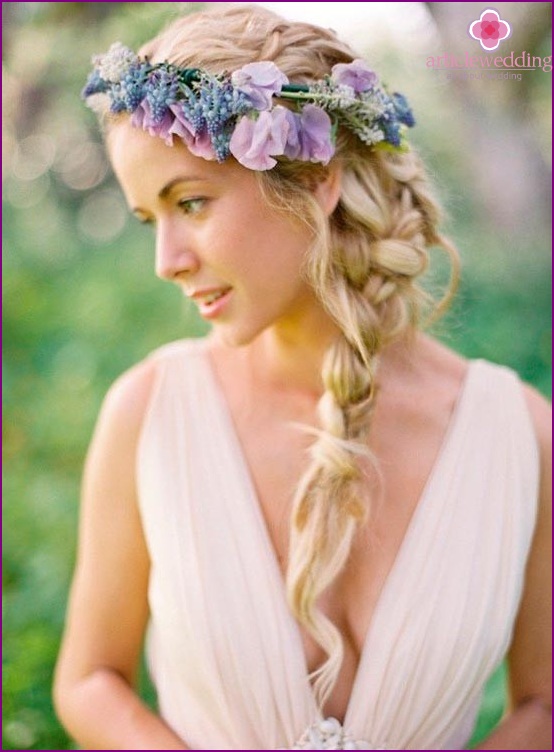 Wreath of bright colorful flowers
To declare yourself as a bright, stylish and decisive nature, you can use the motley floral «crowns». The use of catchy contrasting shades is inherent in rather extravagant girls.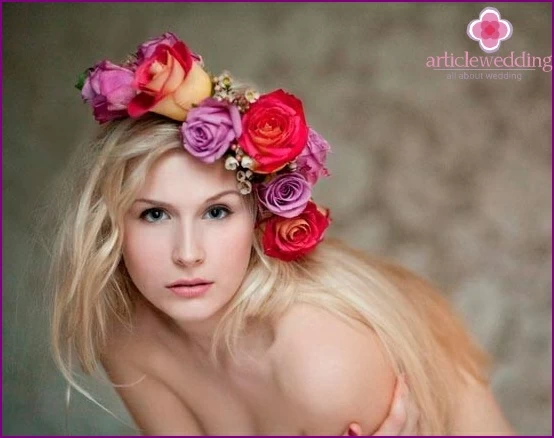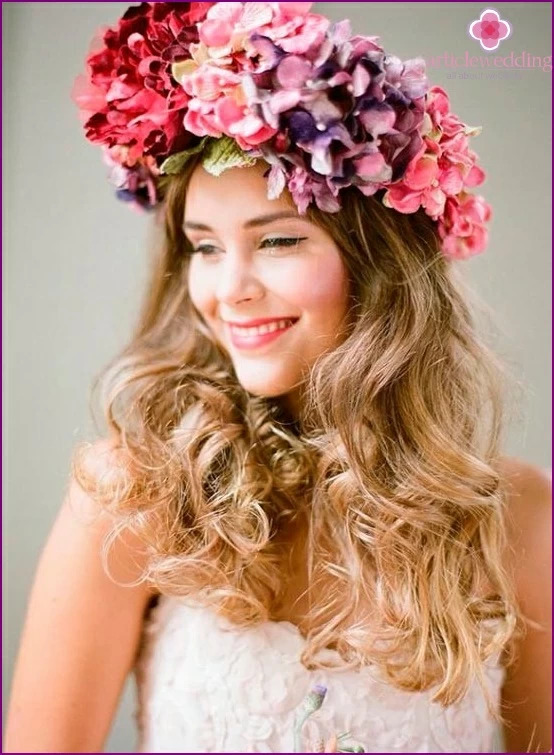 Style wreath «minimalism»
If you are afraid to look ridiculous with a wreath on the head of massive flowers, then a bezel with a minimum number of flowers is your best choice. Gentle minimalism will best emphasize your timid beauty and naivety. This option of head jewelry does not catch the eye, but looks refined and harmonious.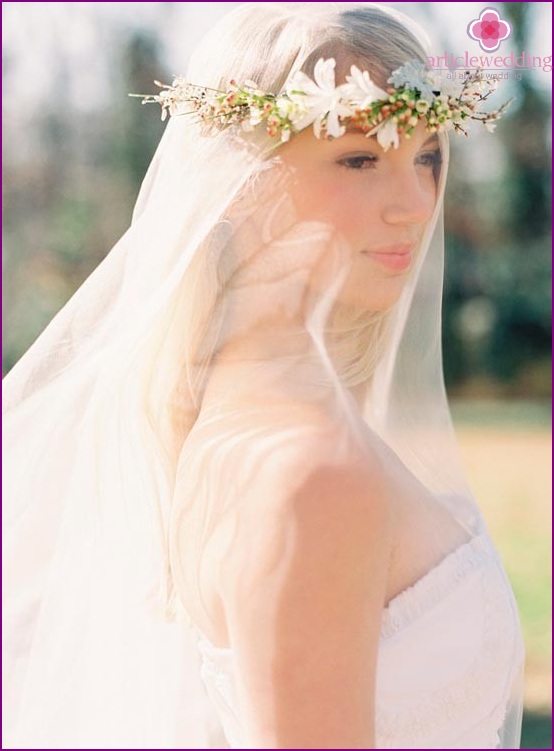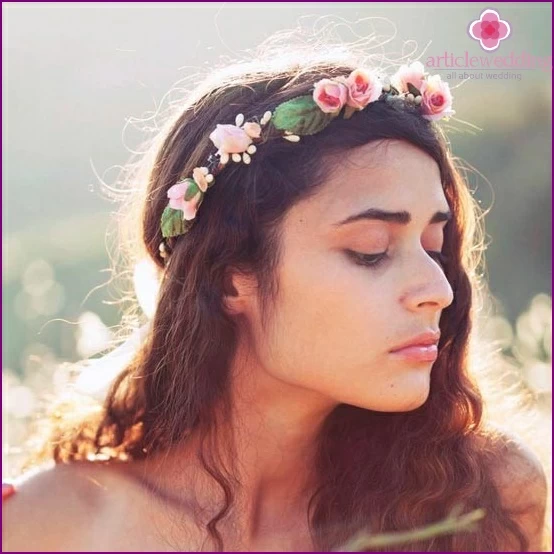 Wild Flowers Wreath
A clean, light image of the bride will be emphasized by a wreath of wildflowers and cereals. Lightness and airiness will be given to the bride by flowers of warm soft tones.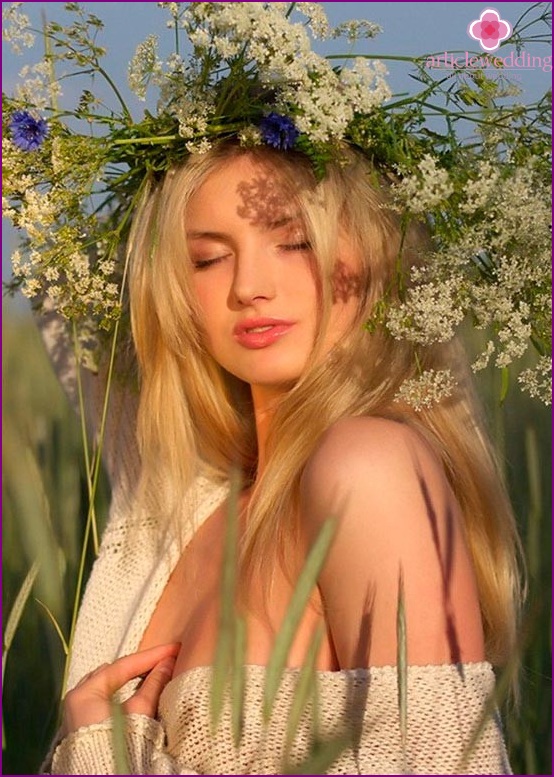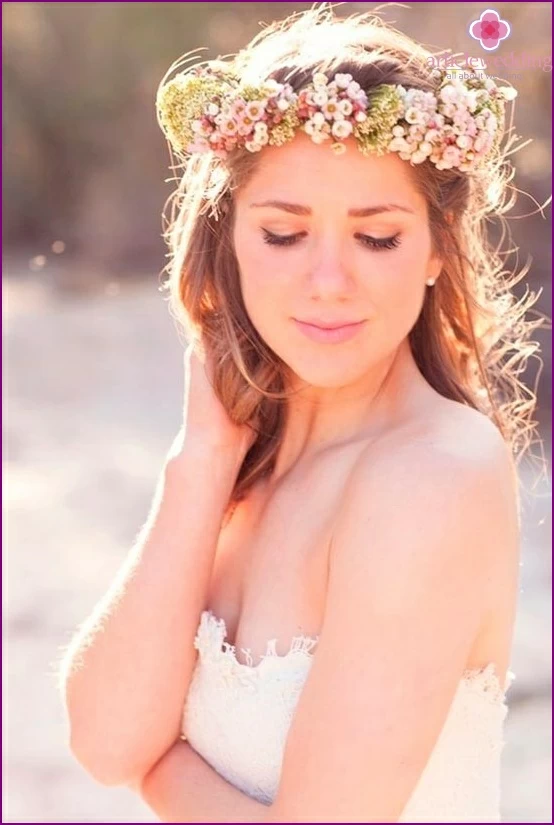 Style wreath «glamorous chic»
To create a glamorous modern look, the bride needs to seek help from masters who can create an unconventional wreath of polymer clay. The color and design of flowers can vary and vary depending on the personal preferences and professionalism of the master.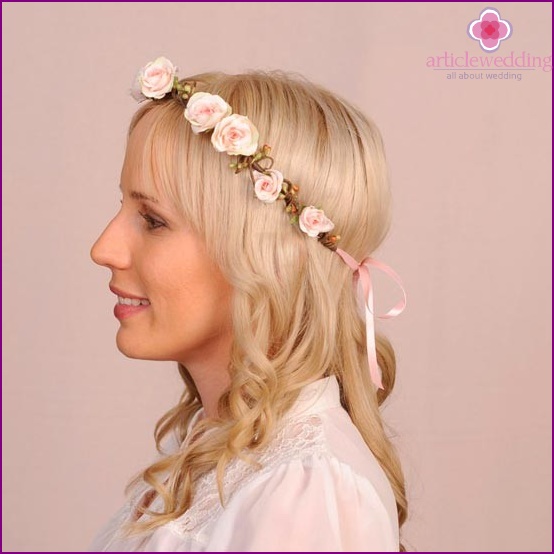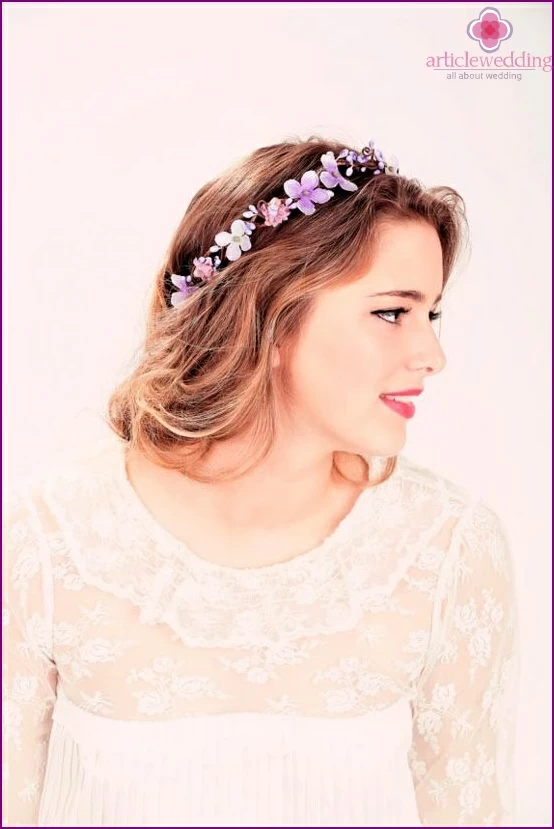 Additional recommendations
Brides who plan a wedding hairstyle with a wreath should remember that:
wreaths look better with long hair, preferably wavy;
flower wreath should not cause discomfort while wearing;
it is important that the wreath of flowers is light;
a wreath of fresh flowers requires care throughout the wedding day so that it retains its attractive appearance;
the wreath should partially or fully harmonize with the bride's wedding bouquet;
the wreath should emphasize the appearance of the bride;
In any case, the bride's wreath should look more luxurious than the bridesmaids's wreaths.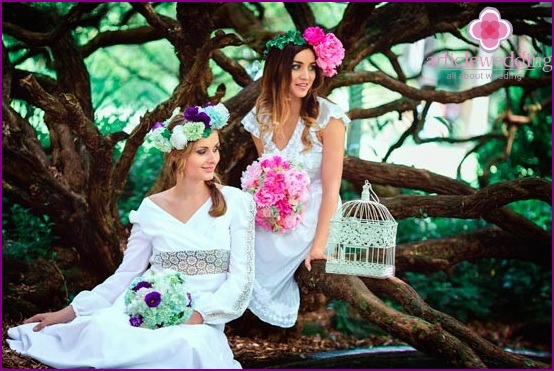 Choosing a wreath of flowers as a wedding accessory, you will create a unique image, filled with charm and charm!