Contents
---
---
What can be more beautiful, fresher and more tender than flowers? What can be more elegant and beautiful bride? If you do not want to wear a veil or a hat, but at the same time you dream of a magnificent hairstyle, then opt for a wedding wreath. A composition of fresh flowers will add originality and at the same time traditionality to your bride alongside and will make you truly irresistible. The wedding portal www.articlewedding.com shares the secrets of a successful choice of this exquisite decoration.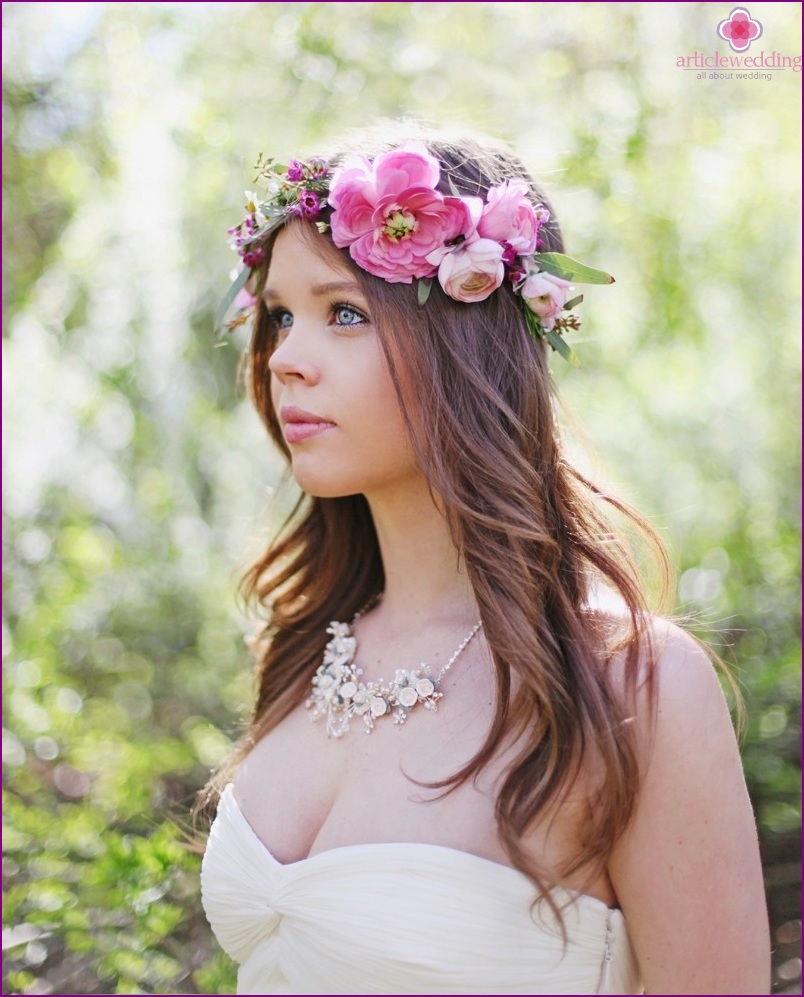 Framing young beauty
A wedding wreath is considered one of the varieties of hairstyles with flowers. Stylists believe that such jewelry is suitable for young girls aged about 30 years. Then the flowers perfectly complement the youthful features. If your age exceeds this figure, the flowers may look unnatural and, thus, are unlikely to add beauty to you.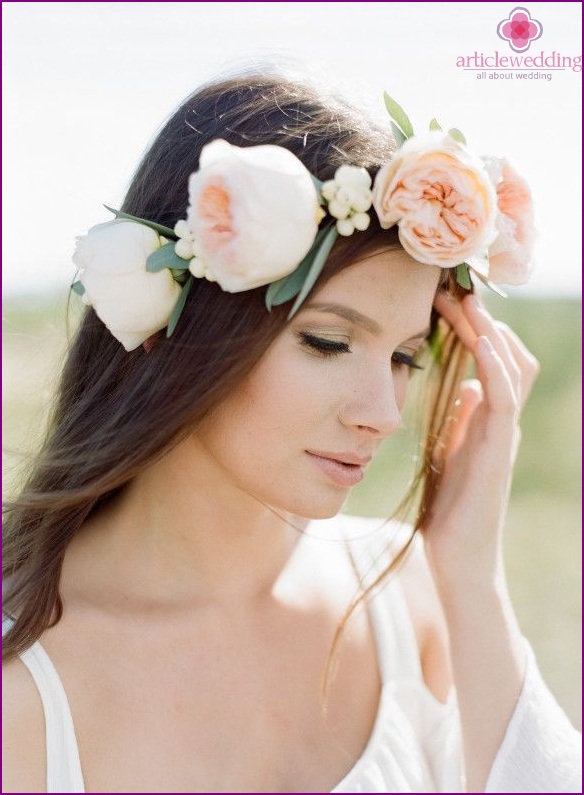 Traditions and historical roots of the wedding wreath
Everything new is well forgotten old. And a wedding wreath in ancient times was an indispensable attribute of brides. Even in pagan times, a wreath was a connecting link between man and nature. The heads of mythological characters were often decorated with floral and plant wreaths, for example, Bacchus wore a wreath of vine leaves, Venus weaved a wreath of red roses, and the heads of Greek muses often crowned decorations from laurel or ivy.
The ancient Greeks distinguished 20 types of wreaths for various solemn events. The wreath of red roses was called the wreath of Hymen, the god of marriage and family ties. This was an indispensable element of the wedding dress of both the bride and groom. Often orange roses were added to the roses. In ancient Rome they continued this tradition. Myrtle flowers also began to be woven into the wreath.
In Russia, the tradition of decorating the heads of newlyweds with wreaths does not stop even after the adoption of Christianity. The marriage wreath was considered a symbol of victory over earthly passions. It meant the purity and integrity of the bride. However, the harsh climate did not allow the use of fresh flowers for wedding decoration for a year. Gradually, in the autumn-winter period they began to make crowns of wood, copper, iron, silver, gold, etc..
In France, it was considered fashionable to weave wreaths for the bride from the flowers of an orange tree. Such decorations were called orange blossom, i.e.. «orange flowers». Later, artificial flowers were also used in wreaths..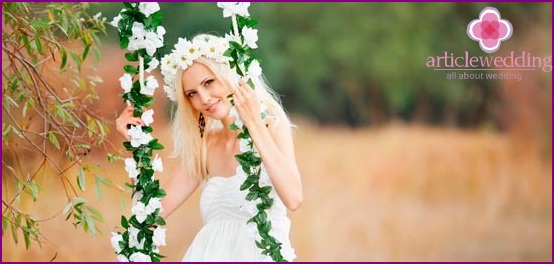 Who should weave a wreath?
There is no single answer to this question. The bride and groom can weave wreaths to each other, and then exchange them. A girl can weave a wreath for herself, but at the end of the celebration the wreath is either launched into the water or given, in various ways, to her husband or mother. This wedding ceremony symbolizes the loss of chastity of a girl after marriage. In Poland, friends and neighbors should weave a wreath. In the Czech Republic, this is the prerogative of bridesmaids.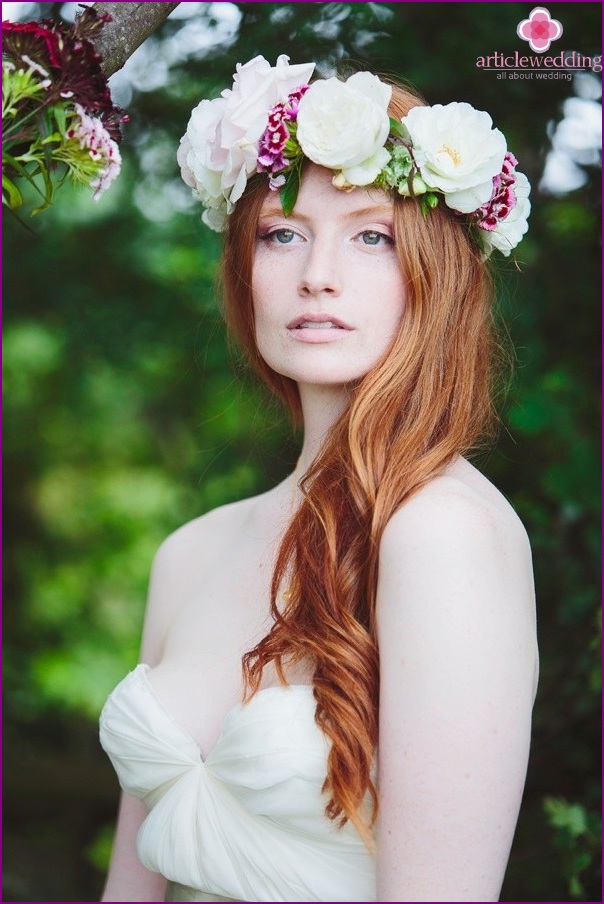 As you can see, there is no clear restriction, so you can trust an experienced florist in this matter or create a wreath.
It is important to choose the right flowers
Traditionally, wreaths are woven of flowers symbolizing love and romance: white and red roses, lilies, myrtle, orange flowers, daisies. Evergreens are often used: rosemary, laurel, vine, rue, boxwood, etc. In Russia, the wedding was often celebrated in the fall, so ears of wheat were added to the wreaths. Basil, garlic, hot pepper, red threads were woven as amulets from the evil eye. As a guarantee of prosperity and fertility - wheat, barley, coins, raisins, rings. Wreaths were often decorated with ribbons. Thus, when making a wedding wreath, it is necessary to take into account the symbolism of flowers.
The wedding site www.articlewedding.com recommends choosing both a wedding wreath and a bouquet to create a single style.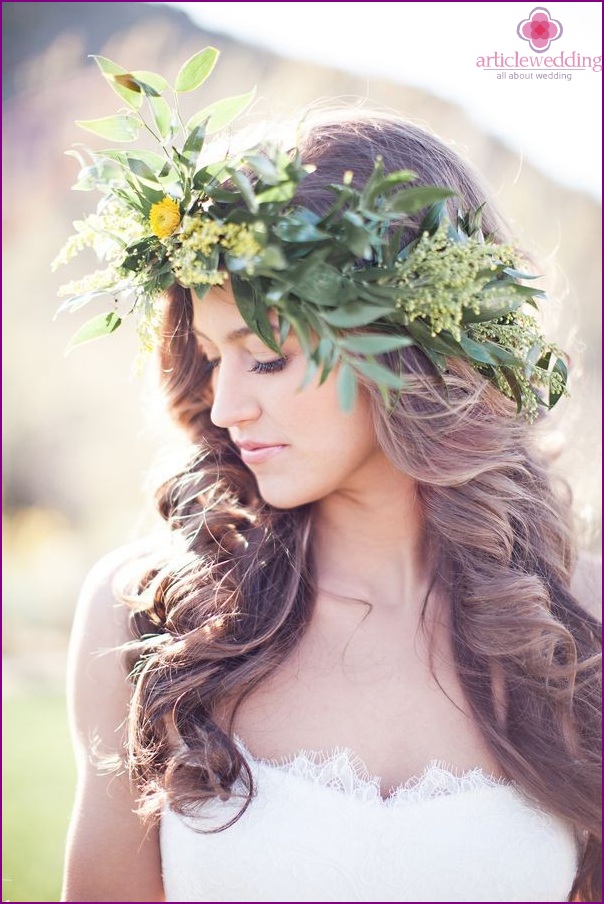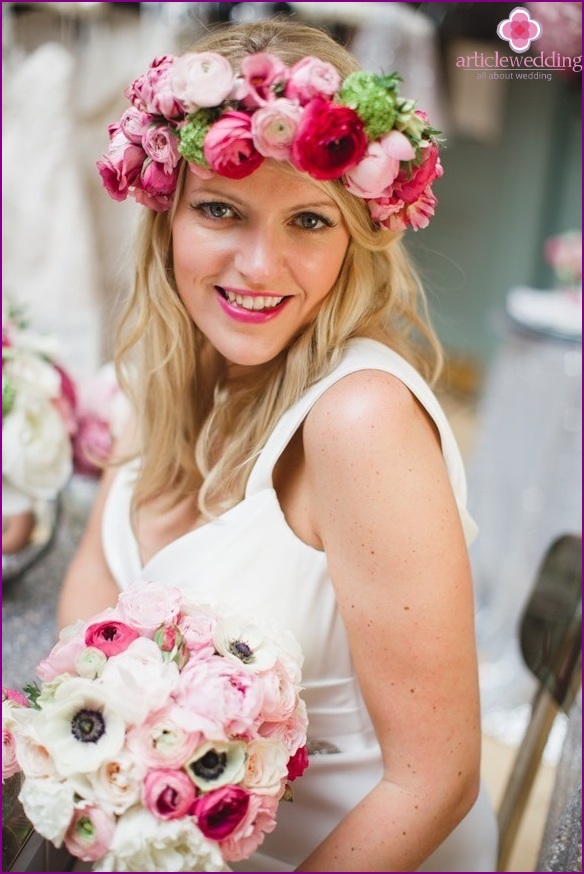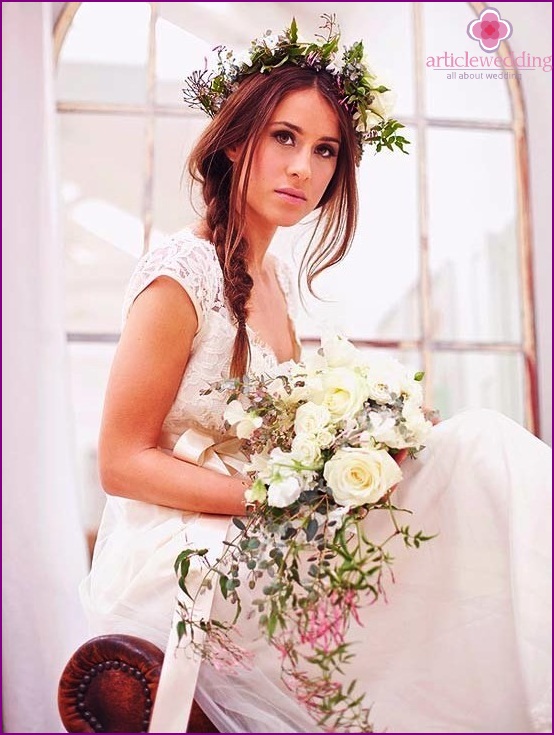 Wreath and Hair Length
A wedding wreath will be a wonderful decoration for brides with a short haircut. In this case, instead of fresh flowers, you can use elegant jewelry. The wreath can serve as a veil fastener or a way to hide the seam between the hairstyle and veil. Girls with long hair can afford voluminous floral wreaths that will blend in perfectly with soft curls or neatly combed wedding hairstyles..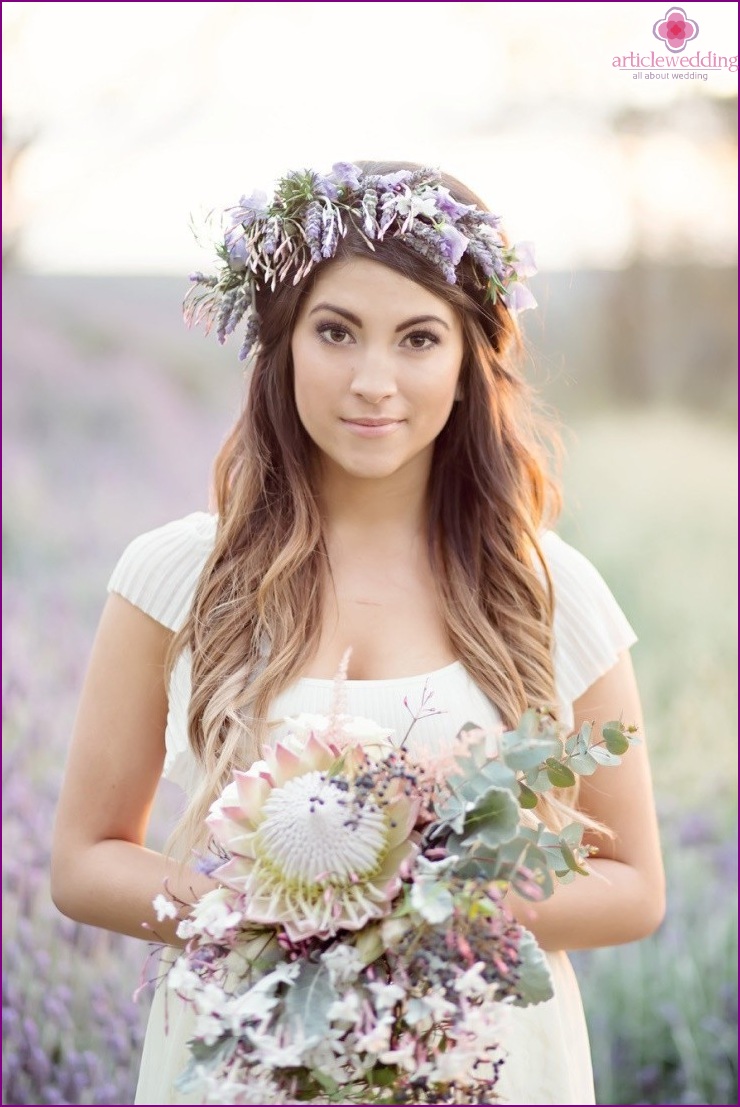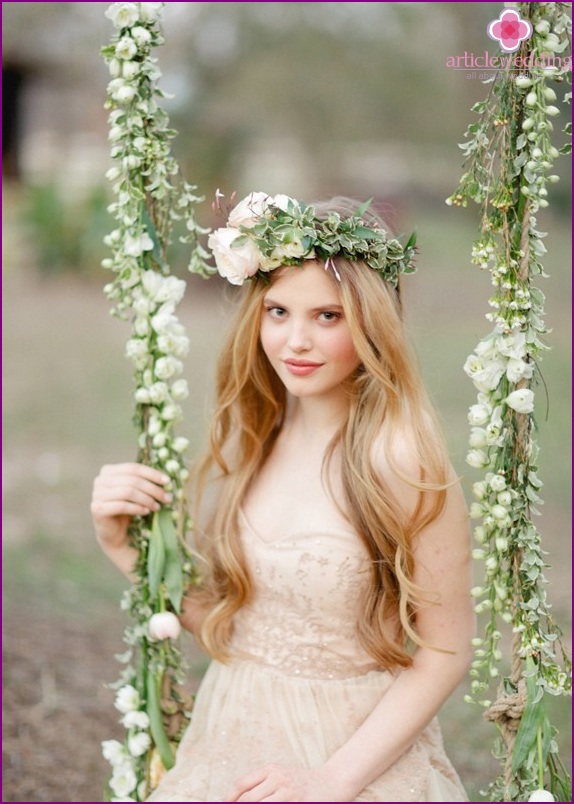 Wedding wreath and fortune telling
A wedding wreath cannot be thrown away. It should be preserved and passed on from generation to generation as a symbol of a happy family. In ancient times, a wedding wreath was thrown to the bridesmaids in the same way as it is now done with a wedding bouquet. It is believed that a wreath sewn into a conjugal bed brings a warm relationship to the couple. And if the flowers do not fade for a long time, you can count on a large family.
Today, thanks to the wedding wreath, you can not only distinguish yourself with an interesting hairstyle, but also follow the traditions of our distant ancestors. Fresh flowers will make the hairstyle complete and romantic, and your image will be elegant, delicate and sublime. Remember, the wreath of Hymen is a symbol of well-being and family happiness..