Contents
---
---
What style will your wedding be in? For example, a formal marriage requires a closed chest and long sleeves or gloves. A semi-official style can also afford a neckline and a short sleeve without gloves. If the style is unofficial, then nothing limits your imagination.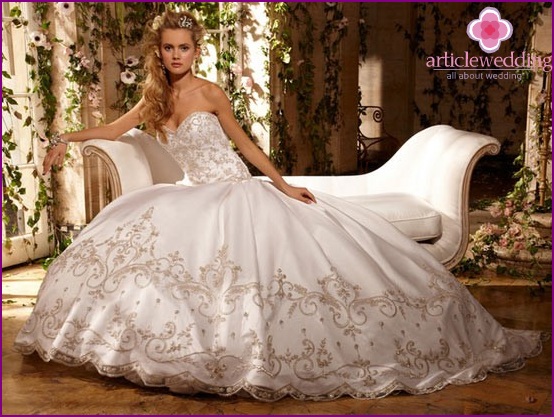 The figure is the main parameter of your choice.!
Now we turn to the nuance, which is very important to consider when choosing your perfect wedding outfit. And the first thing to do is to determine the type of your figure. This will determine the type and style of dress that www.articlewedding.com will try to help you choose.
Try to look at yourself with a sober look and correctly determine your proportions. After all, it also depends on how comfortable you will feel at the main holiday of your life.
If the figure is thin and short, the bride will need a dress with a high waist, a high collar and a long train. All this will visually give height to the image of the bride. It is desirable that the dress was sleeveless, and the veil was spread to the floor.
If the growth is small, but the figure has a more magnificent outline - the skirt of the wedding dress must be straight, pomp is out of place. It is possible that the skirt was trimmed with ribbons, this also visually increases growth. The optimal sleeve is narrow and long. Instead of a veil, you can limit yourself to an elegant wreath.
If you are tall and thin enough, choose a dress with a lowered waist. You can bare your shoulders, or choose a dress with short, fluffy sleeves. As a spicy detail that emphasizes grace, pick up gloves. There are no restrictions on their length. Bridal veils should be shorter to open your neck.
A rounded skirt and fitted bodice are the choice of girls who are tall, but having an average physique. The dress may not fall to the floor, and may reach the middle of the ankles. Only this type of figure will allow you to wear a dress of this length. The length of the veil is not important here. But choose jewelry without elongated lines. A wide, rounded necklace and neat earrings will be optimal.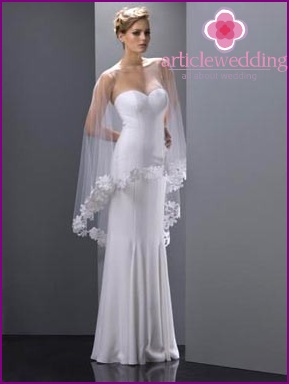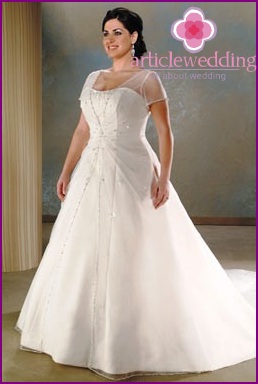 If the girl's figure is heavy, then the dress must have simple lines. Lace, voluminous jewelry, embroidery - are unnecessary. And if present, then in a minimal amount. The perfect cut of the dress, with vertical lines, and revealing the lines of the neck. The bodice also should not be too voluminous so as not to overload the figure, not to burden it. Even with such a figure, a wreath with a veil or veil to the floor is ideal. And jewelry in this case, on the contrary, should stretch the silhouette. Choose long and thin chains and earrings.
If your height and figure are average, then your imagination is limitless. You can combine any length, volume and decoration. The main thing is not to overdo it, advises www.articlewedding.com. You are still a bride, not a wedding cake.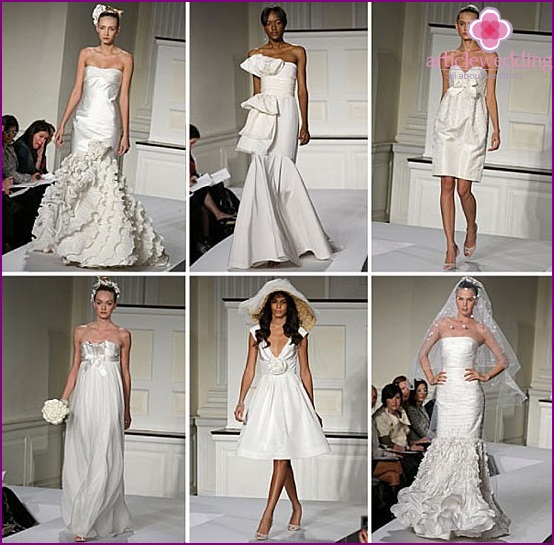 The choice of image is yours!
In any image there should be a harmony that will be liked not only by others. They already admire that you are a bride. You must like yourself. See how your wedding outfit emphasizes your dignity. And then the wedding will be remembered for you forever and will leave only positive emotions!