Contents
---
---
Selection of dresses is a very responsible task for every bride. Trying on dozens of dresses, the bride should choose the one that perfectly emphasizes her figure and beauty. That is why brides spend more than one day searching for the dresses of their dreams. The list may contain dozens of wedding salons that you must visit, because it is possible that your favorite outfit awaits you there.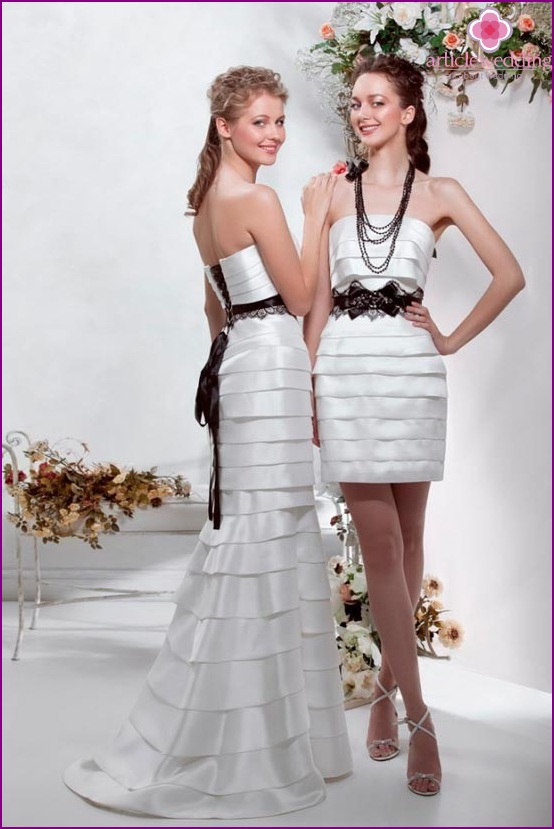 In the wedding dress, the bride, first of all, should feel beautiful and feminine, so that the beloved bridegroom could not tear her eyes in love from her. Secondly, the dress should match the style that you prefer. Some brides want a magnificent ball gown, others prefer the silhouette of a mermaid, and still others want to get everything at once. Is it possible? Of course! Modern designers provide girls with the opportunity to choose two styles in one dress at once, thanks to a transformer dress.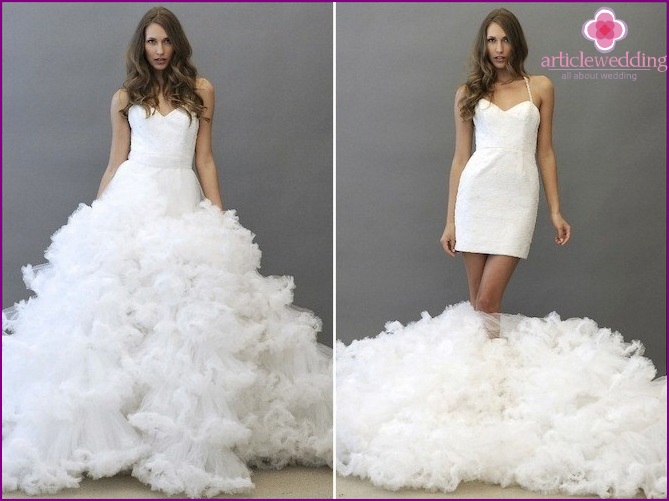 What is a transformer dress?
Surely, you have already heard more than once about dresses that can be modernized during the wedding of your choice. The trend for such models appeared not so long ago. Such dresses allow the bride to visit several images at once at her wedding, which especially attracts real fashionistas. Dress-transformer is a kind of designer. Most often, the main dress is tight-fitting, without a full skirt and rings. From above, with a velcro belt or lacing, a fluffy skirt and a train are attached, which make the dress especially luxurious. Thus, the bride goes to the wedding ceremony in a magnificent ball gown. At the party and banquet, she removes her fluffy skirt with one movement of her hand and appears in front of her husband and guests in a delicate fitted dress. Such an outfit will be the highlight of the wedding celebration and will allow you to visit several looks in one day..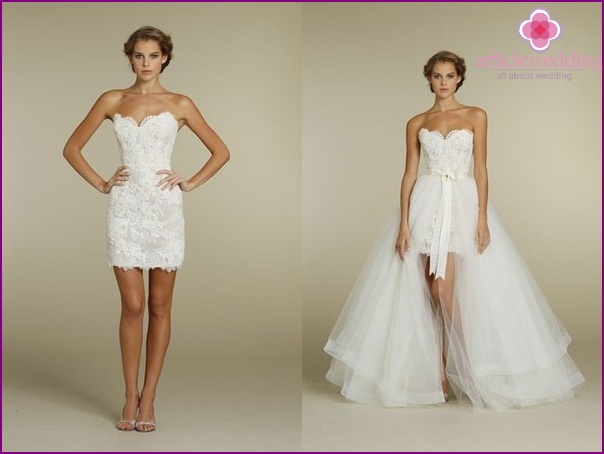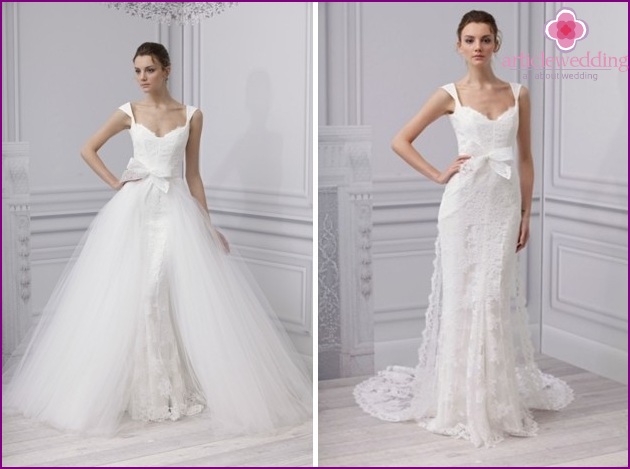 There are many styles of transformer dresses that the wedding salon will offer you «Elsa». In addition, in the salon you can purchase wedding dresses of any style, a suit for the groom, as well as wedding accessories and shoes.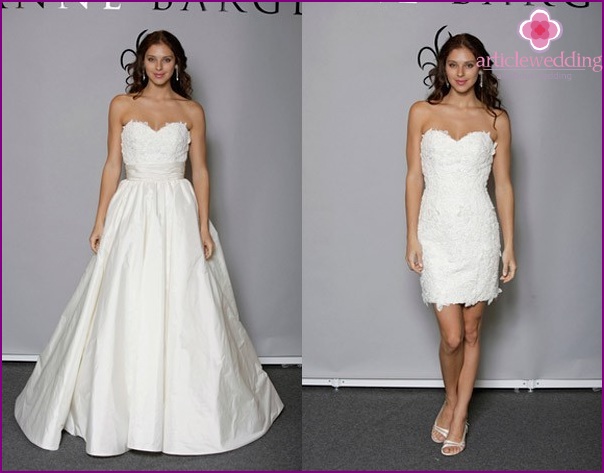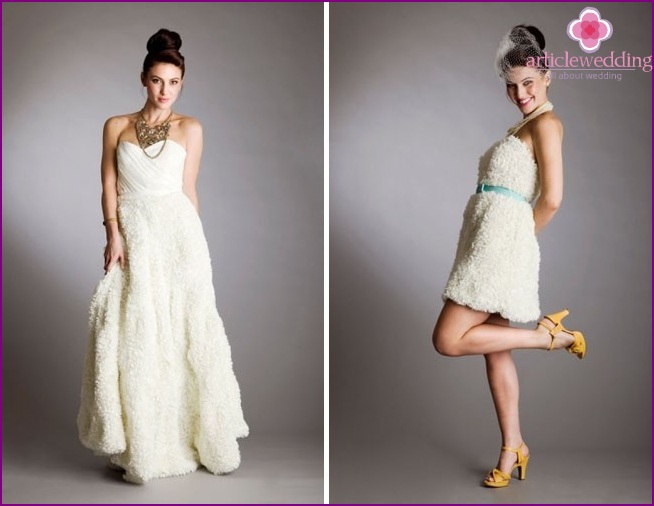 A few more dress ideas
Dresses from the series of transformers include modern youth models that hide the beautiful legs of the bride behind a long skirt and allow to demonstrate all their beauty after the wedding. Of course, if you intend to get married in a church, such a dress will be the perfect solution for you. In order not to expose her legs and other parts of the body, the bride puts on a dress with a long skirt and, often, sleeves. After the wedding, all these attributes are removed, and you remain in a short cocktail dress in which you will feel comfortable and beautiful!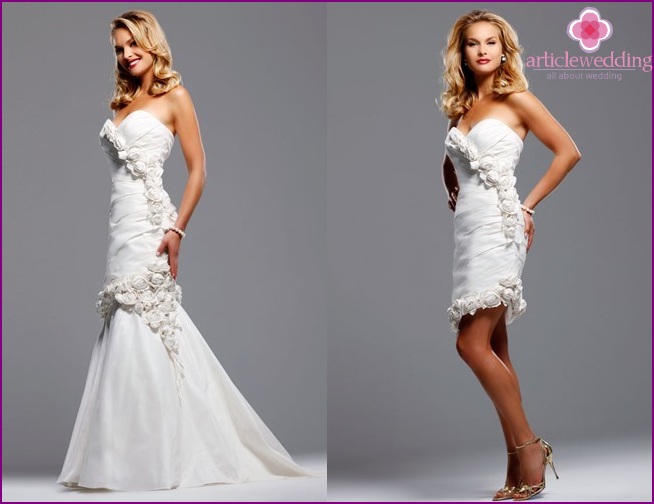 The disadvantages of transformer dresses
In addition to a large number of pluses, the dress has some disadvantages.
Firstly, this is the price of the outfit, because in fact you pay immediately for two dresses.
Secondly, the weight of the dress can confuse you, because you will have to walk in two dresses for a while. In the summer you will be very hot and uncomfortable, and in winter you will have to put on a fur coat, and all this will just put a heavy load on you. Every bride wants to feel light and comfortable. However, if the price and weight of the dress do not bother you at all, you can safely go to the bridal salon for the outfit of your dreams!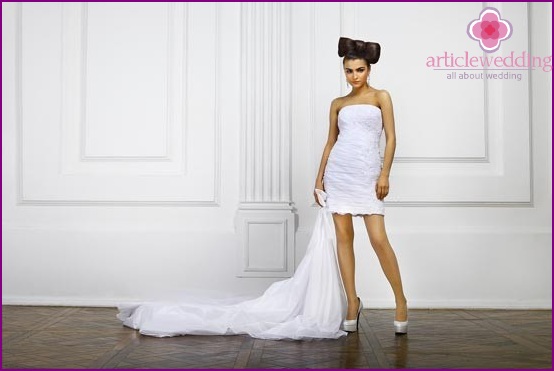 The website www.articlewedding.com contains a real collection of tips on how to look great for a bride and groom at a wedding! We wish you a great time and enjoy the best day of your life.!