Contents
---
---
Greek-style wedding dresses are a real find for those women who have magnificent forms. This style successfully conceals flaws and flaunts the dignity of full ladies. If you are a happy owner of magnificent forms, then go to the mirror, evaluate the places that you want to emphasize and hide. After that, you can go for the dress of your dreams!
Models of wedding dresses for full in the Greek style
The main features of these models are sexually open shoulders and chest, high waist, which is especially advantageous for full brides. Thanks to such highlights, the outfit gives femininity to its owner. A simple cut, straight clean lines add a mysterious charm to the image of the bride and groom. When choosing clothes, it is important to pay attention to color. Best of all, the color of delicate peach, cocoa with milk, ivory, champagne, baked milk, etc. harmonizes with this style..
If before the wedding ceremony a full bride can tan, then, according to stylists, a light color will perfectly accentuate the skin with a bronze tint. The bright colors of this robe are best not to choose, since they contradict the general direction of antiquity. For a dress in the Greek style for the full, choose an elegant wreath, a beautiful wide-brimmed hat, since the veil in this case is absolutely inapplicable. A suitable accessory for wedding attire is a chain with a small pendant, a thin bracelet, neat earrings.
Wedding dress with one strap
The Greek style of full length wedding dresses implies open arms and shoulders, however there are asymmetric models of dresses where one shoulder is slightly covered by a strip of fabric. This option is ideal for full brides who have magnificent forms. Most wedding dresses with one strap are sewn from flowing light material, for example, chiffon, silk, which does not hamper the movement of the bride and groom, making them both elegant and smooth due to the wide cut.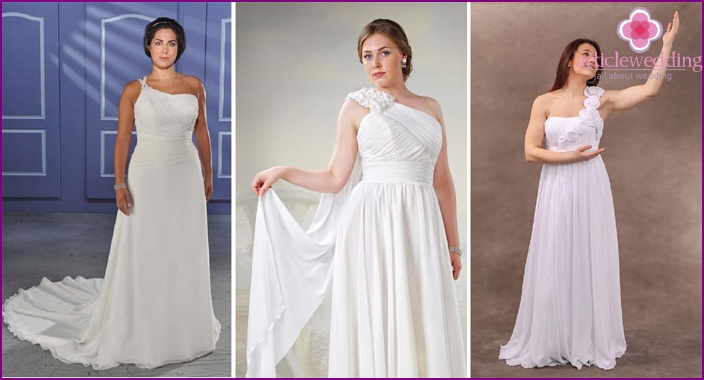 Wide straps
If you want to hide your shoulders as much as possible, then choose models with wide straps. They emphasize the neckline, while hiding the excessive fullness of the shoulders and arms. In addition, the wide straps perfectly support the lush chest, lifting it and making it even more seductive. Models with narrow straps are best left for slim girls, since on a full lady such an outfit will bring disharmony.

Heart Neckline Dress
A Greek-style wedding dress with a cutout in the shape of a heart is a combination of romance and femininity; it colors the bride with any figure. If you are the owner of a small chest, then such a robe is created for you. A beautiful neckline favorably presents female rounded shapes. This style visually slim full girls, while at the same time making them taller.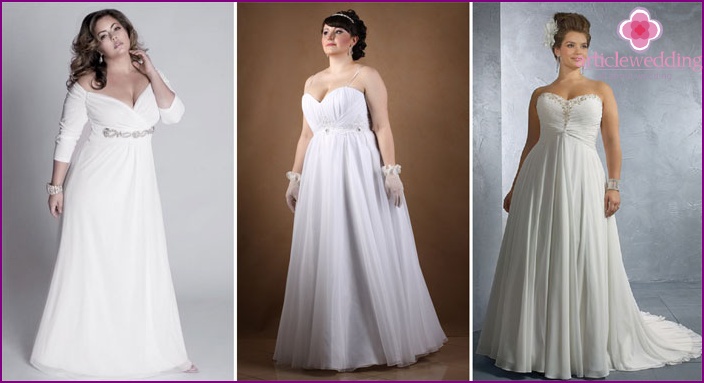 Deep v neck
The main advantage of a Greek-style wedding dress is the perfect balance of two opposing qualities - sexuality and innocence. Full brides could always be proud of the large size of their breasts, and the robe of this style successfully emphasizes the neckline. A deep V-neck can be performed with or without straps. This feature also draws attention to the beautiful lines of the arms and neck..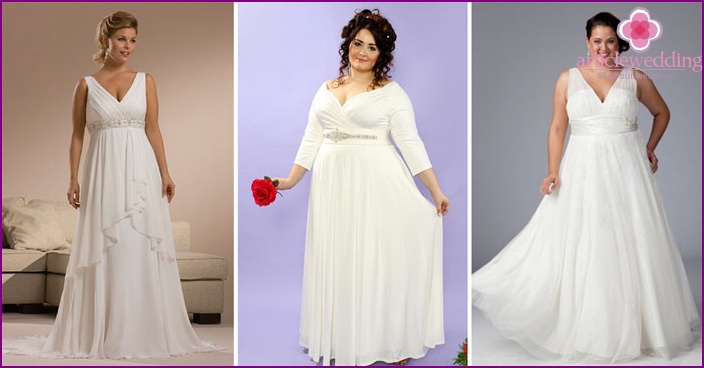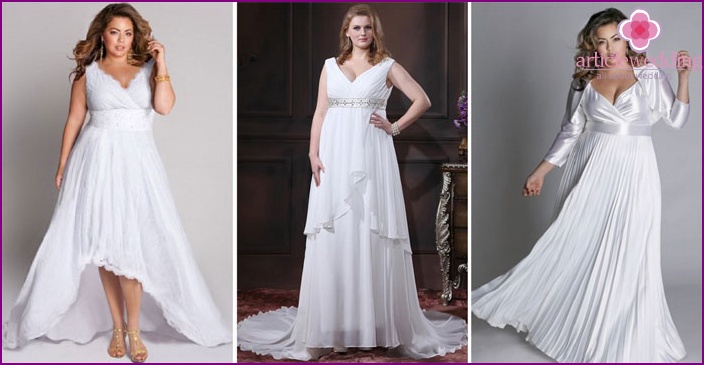 Benefits of Greek Dresses for Full
Dresses in the Greek style fit perfectly on full girls and have these advantages:
They make it easy to hide extra pounds.
The trapezoidal bottom hides wide hips. In this option, do not choose a too lush skirt. In addition, the hem of the outfit should not be overloaded with details, jewelry. It is desirable that the emphasis was placed on the bodice, which is achieved through a deep neckline or using a rich decor, lace.
High-waisted dresses hide the tummy. It is worth abandoning ruffles, bows, belts and other details that can add volume.
V-neck perfectly accentuates the lush chest.
Such a robe allows you to correctly adjust the growth. If the skirt of the dress is straight, with flowing folds down, this will visually add to your growth, make it much more slim.
Straight and draped skirts, starting under the chest, perfectly hide the full lower part of the figure, lush hips. If you are in position, such a style will successfully hide this fact..
This style is a gift from the Hellenistic era, because the dress absolutely does not hinder movement, and numerous draperies give the bride divine beauty.
Made of light, flying fabrics, a wedding robe, for example, chiffon, is ideal for a summer wedding, as it allows the body to breathe. Therefore, the bride may not worry that she will languish from the heat.
Due to the fact that such outfits in most cases have a minimum of decor such as ruffles, bows, appliques, rhinestones, shuttlecocks, it fits the full figure. After all, the abundance of jewelry makes a magnificent lady even more visually.
Longitudinal lines, for example, on a pleated skirt, visually slim full ladies.
Photos of wedding dresses for full in the Greek style
In the modern age, Greek-style wedding dresses are very relevant, fashionable, although such a style appeared a very long time ago. A huge variety of models makes it easy for every lady with magnificent forms to choose the one in which she will look like a queen. Any version of the clothing of this style ideally hides all the flaws, emphasizing only the most attractive moments - a lush chest, feminine rounded shoulders and a neck.