Contents
---
---
Greek style wedding dress
For a girl, a wedding is special, wonderful and one of the happiest days of her life. An important issue in organizing a celebration is the choice of a bride's wedding dress. Start your search with popular models. Find out about the Greek-style wedding dress, its features, virtues, and also what accessories are suitable for it.
Greek Style Wedding Dresses 2015
Recently, a Greek-style wedding dress is gaining more and more popularity. Season 2015 is an example. For sewing such wedding dresses, designers used this time matte fabrics: chiffon, viscose, silk, fine knitwear. Greek robe will make you feel like an ancient goddess.
Clothing of Ancient Greece was distinguished by smooth lines, simplicity, elegant silhouette, and traditional white color makes such a robe especially delicate. A long hem (possibly with a train) and a high waist visually make the figure more elegant, slimmer. A shortened bodice emphasizes the face, shoulders, neck. Drapery hides figure flaws.
Important detail «Greek» dresses are straps. Wide straps will outline the neckline, and draped ones will make your look more elegant. Fashionable asymmetrical shoulder strap will emphasize the neckline.
The main differences of wedding clothes for brides in the Greek style in 2015:
The combination of white and gold. Gold trim used on the straps and under the chest.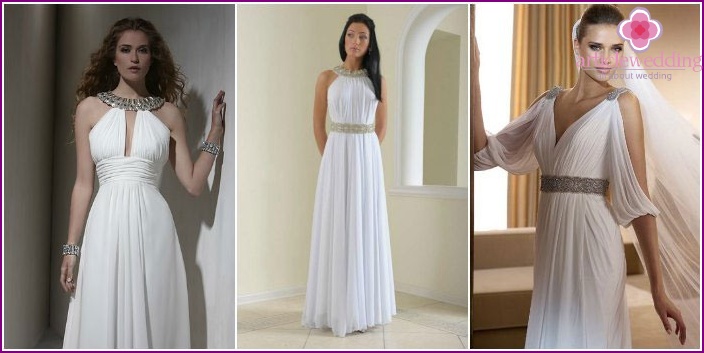 In addition to white, tones are well suited: ivory, bleached pearl gray.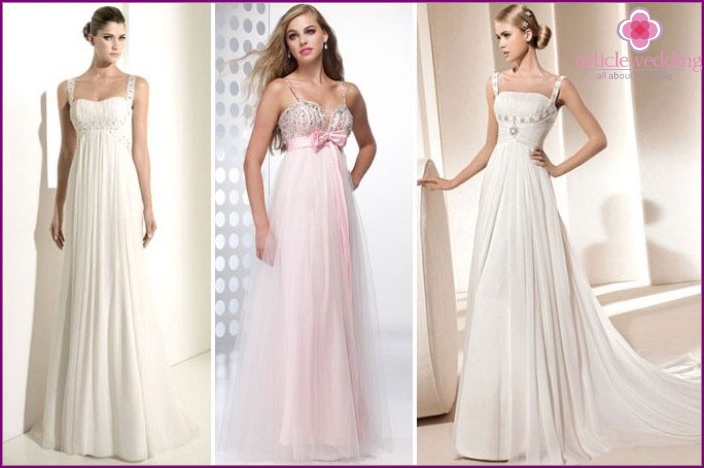 Embroidery, lace fabric is used as decoration. A necklace and a diadem with a veil (or without it) will suit this style in the Greek style..
Maternity dresses
Girls waiting for the birth of their crumbs should always feel comfortable. Therefore, future mothers should choose a dress with particular scrupulousness. A Greek-style wedding dress is perfect for pregnant women. It is light and due to the lack of a corset, it doesn't put pressure on the body. Such a dress will make your look stylish, beautiful and confident (for an example, see the photo below).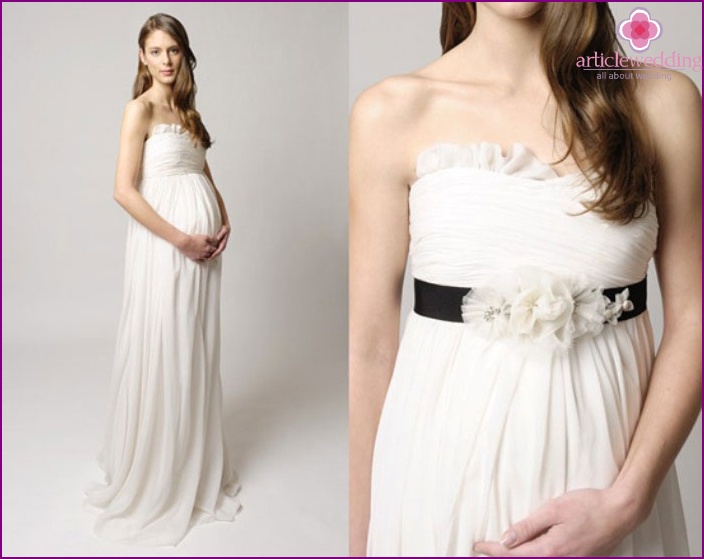 Features of dresses in the Greek style
Drapery. This feature of the cut gives the wedding dress a special highlight. Delicate folds accentuate the figure.
Asymmetry. It can be of two types: when a dress with one shoulder (strap) or with an asymmetric neckline.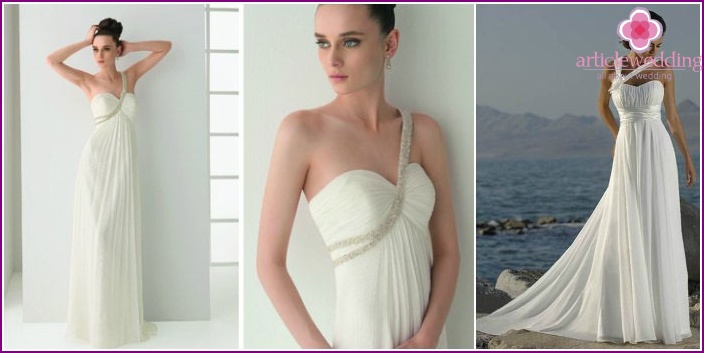 Waistline. Most Greek styles imply an oversized waist line that adds slimness and hides problem areas. Wedding models with a clearly defined waist are well suited for short girls.
Layering. The dress is made of collected multilayer thin materials. On the go, the skirt flows spectacularly.
Cut. The style of the dress is not conceived lush. Its design is comfortable, allows you to move freely all day (what you should not expect from ball styles).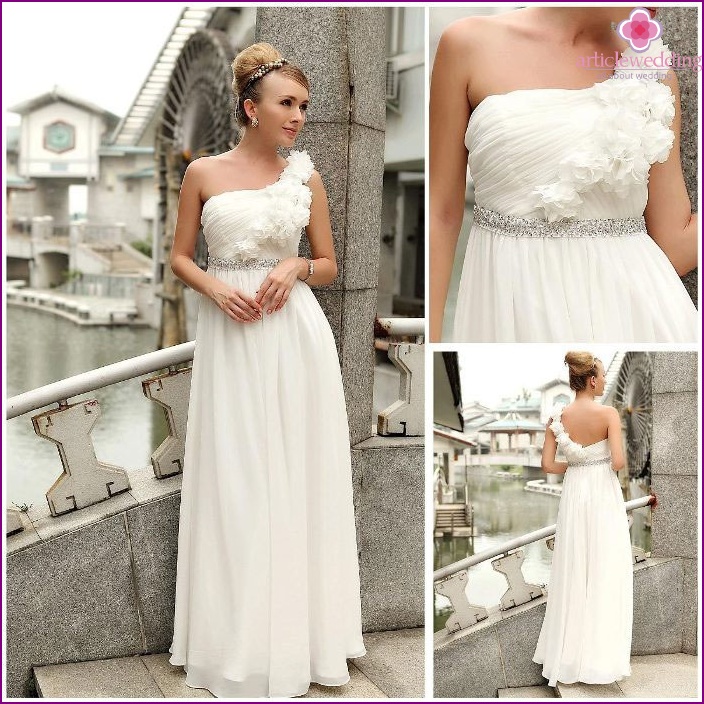 Details The decoration of the wedding decoration in the style of Ancient Greece is always concise. It could be a braid or a gold chain at the waist.
Advantages of outfits in the Greek style
Greek-style wedding dresses have certain advantages, so they are in demand:
Comfort and convenience.
Suitable for hot summer.
Hide figure flaws.
Suitable for expectant mothers.
Do not restrict movement.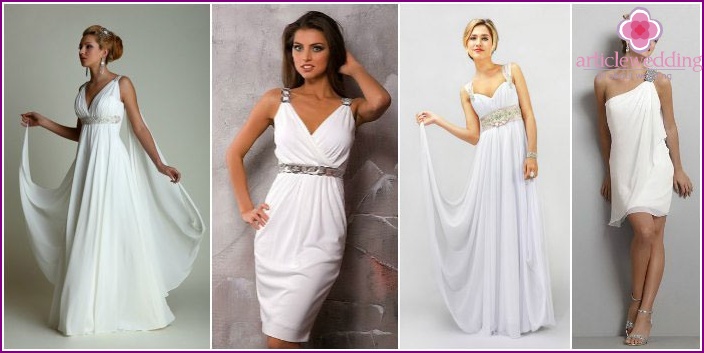 Selection of dresses according to the figure
In order for wedding clothes to look harmoniously at you, you should take into account the nuances of the figure. The cut of the Greek dress is suitable for everyone, but there are details that can emphasize your look.
Dresses with sleeves are suitable for brides with uniforms, they will hide the fullness of hands.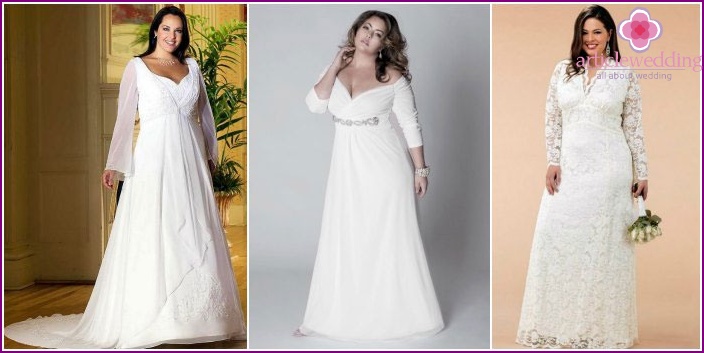 A high waist will help hide a full stomach and hips, but will emphasize the chest, and stretch the figure.
Tiny girls should opt for strapless models, or with narrow straps. This will visually add a couple of centimeters of growth..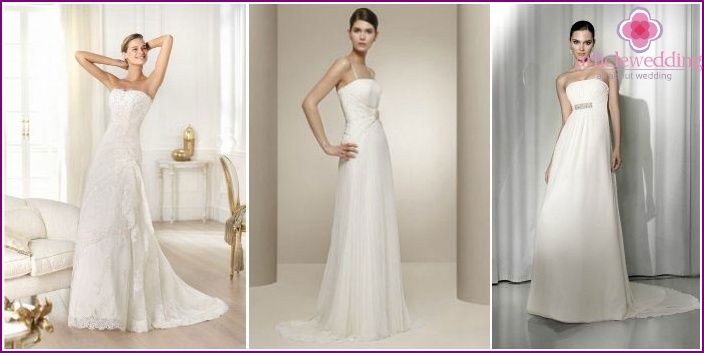 Tall and slender brides can choose any Greek dresses, regardless of whether they are sleeved or not, with any drapery and neckline.
Accessories
For a wonderful completion of your look from a Greek-style wedding dress and hairstyle, you should choose accessories that fit the antique style.
A good choice of shoes are flat sandals with leather straps. They will be comfortable and complement the image. Under such shoes fit massive, bold jewelry.
For a more glamorous wedding look, select high-heeled open sandals (with lots of leather straps). Jewelry can be used bold: golden wrist bracelets, delicate chains, catchy antique earrings.
If you like models of wedge shoes, then from jewelry it is better to choose gold items (possibly with semiprecious stones) or jewelry.

Professional Tips
To look like a bride from Ancient Greece, pick up a beautiful bezel or wreath decorated with berries, leaves, ribbons, flowers.
Open sandals will highlight your outfit..
There are no restrictions when choosing a bouquet, but if you have a wreath or a rim on you, the bouquet should be in harmony with similar accessories.
Short styles will not reflect all the charm of this style..
The correct hairstyle will help to complete the image (see video examples).
Photo of Greek style wedding dresses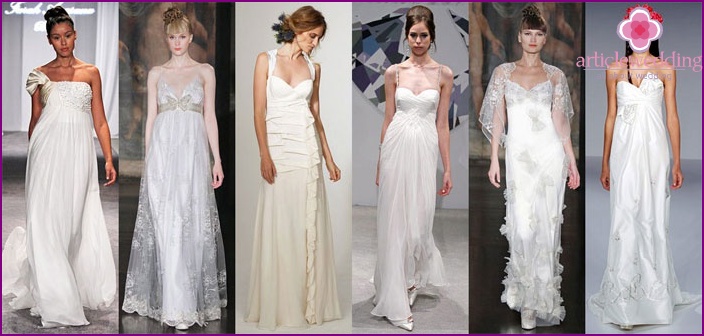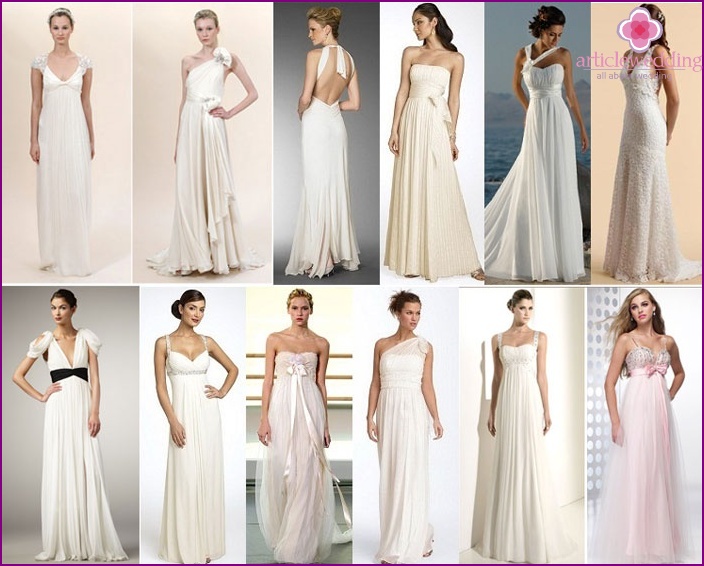 If this information helped you, leave your comments below. There you can share your ideas for choosing a Greek-style wedding dress.