Contents
---
---
Modern brides increasingly prefer flirty short styles decorated with an abundance of charming lace to lush wedding dresses on the floor. Fashion designers offer the widest selection of various models of holiday dresses, gradually abandoning the layering in favor of transparency of the image. Short guipure dresses decorated with lace become more and more popular with bold, confident brides wishing to emphasize their sophistication and sophistication with each season..
Styles of Short Lace Wedding Dresses
Lace is an amazing, almost magical material, associated with the charm of tenderness and innocence. However, depending on the location of the translucent inserts in the outfit, ornate fabric patterns can symbolize a fiery sense of passion. A bride choosing a lace wedding dress can be sure that her image will be spectacular and seductive. This dress perfectly combines modern fashion trends and classics, without which it is impossible to imagine any traditional wedding.
Sheath dress with long sleeves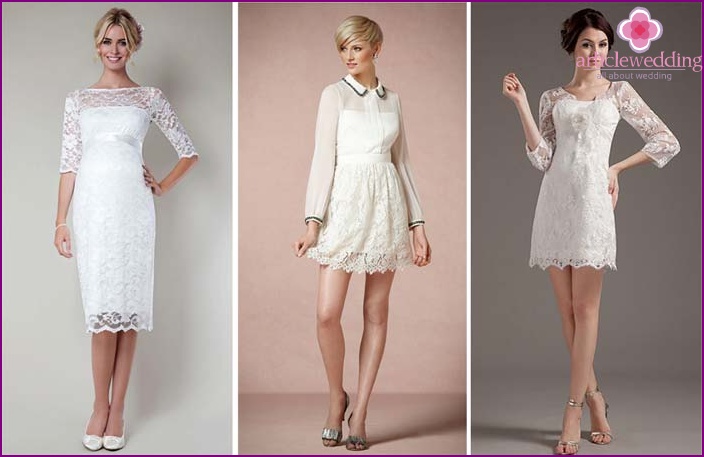 The fashion trend that appeared on the catwalks last season, faithfully continues to gain popularity. A tight-fitting wedding dress with long sleeves emphasizes femininity, focuses on the graceful curves of the body, gives the image of mystery, innocence. A wedding dress, richly decorated with charming lace, will suit girls with long slender legs. Such a style will help to emphasize the advantages of the chiseled figure of the bride, making her even more beautiful, graceful, seductive.
Wedding dress of a direct silhouette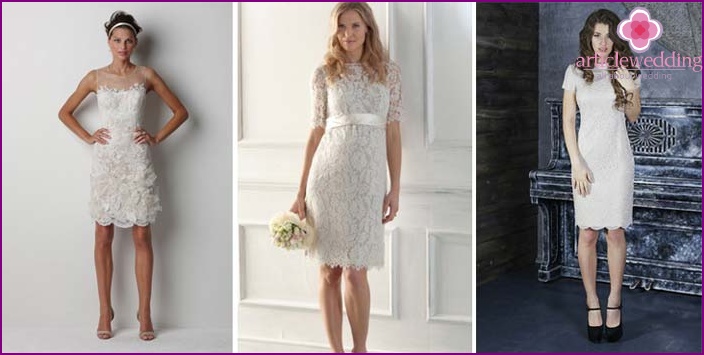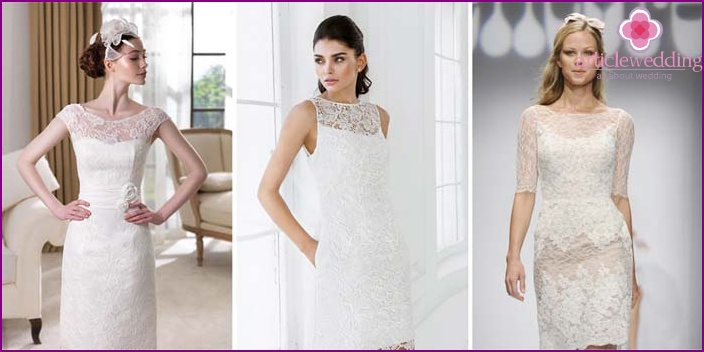 A straight lace dress with a short skirt is a universal style, suitable for almost any type of figure. A wedding dress above the knee length this season will be the choice of a stylish modern girl. The successful combination of a short skirt that is not typical of a traditional wedding dress, as well as delicate lace fabric makes this option of a holiday toilet especially popular among young brides. This option is especially appropriate when the summer is hot and hot..
To make the wedding look irresistible, carefully approach the choice of a wedding suit. First of all, the outfit should be suitable for your type of figure, for which it is necessary to take into account the features of physique and the growth of the bride. For example, miniature girls can afford a mini-skirt, while long-legged beauties should pay attention to models with the length of the skirt just below the knee. The direct silhouette of a wedding toilet will look perfect only on slim girls.
Short puffy dress in the style of "Princess"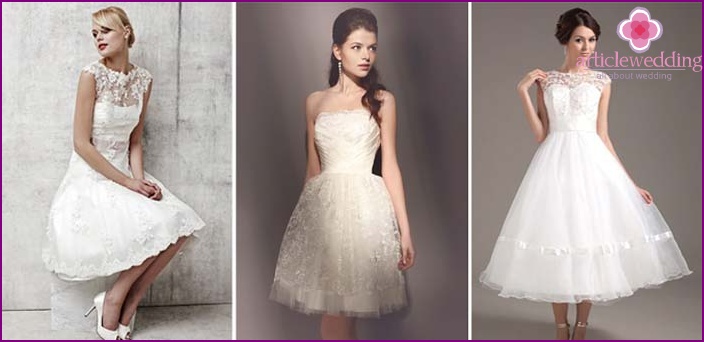 A luxurious lace toilet with a fluffy short skirt instantly turns the bride into a beautiful princess or a fragile ballerina. A surprisingly gentle charming look will suit sensual romantic girls. The ornate decor on the bust will give along with touching innocence, and the fluffy skirt will look incredibly feminine, will help to adjust the proportions of the figure. In such a dress, the girl will feel as comfortable as possible..
Short with a long train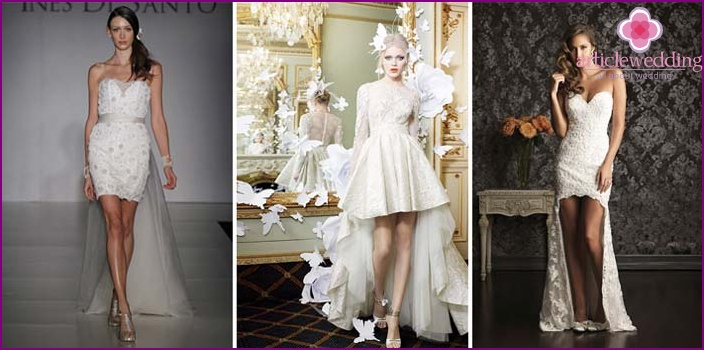 Short lace wedding dresses can be very different: flirty, austere, delicate, romantic, seductive. Another original detail of a wedding dress can be a long luxurious train. At the same time, it is not necessary to have a skirt on the floor. The train may well complement the style of the wedding toilet, coquettishly opening beautiful slender legs. This detail of the outfit will help to make a slimmer magnificent figure, visually stretch the silhouette.
If it seems to you that a short wedding dress looks too simple for such a significant celebration, pay attention to the style with a luxurious long train. Elegant outfits decorated with lace drapery and complemented by an asymmetric skirt will make the image flirty, spectacular, original. The choice of such a style should be approached carefully by the owners of a magnificent bust.
Dresses with a long train are usually made of white fabric or ivory. The choice of style with an open top or long sleeves depends on your taste preferences, physique. The length of the skirt can vary from mini to mid-calf muscle. Stylish «zest» getting charming lace drapery.
Short lace with open back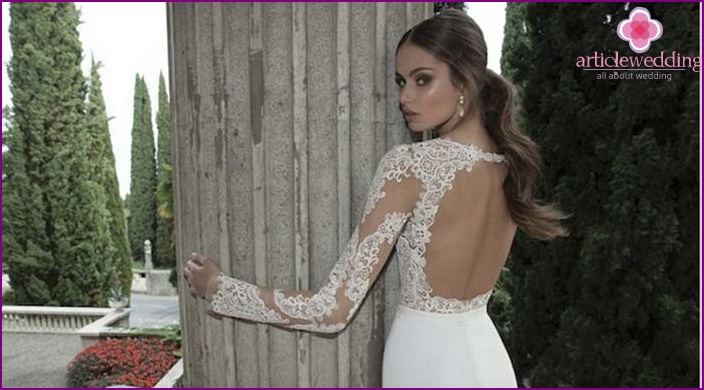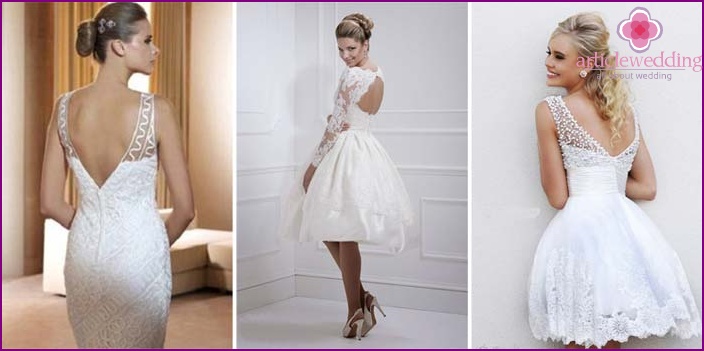 An open back wedding dress is the height of grace and elegance. Girls with a slender, beautiful figure should definitely pay attention to the style with a deep neckline on the back. Such a style will add a festive image of sophistication, charm, mysterious charm. Models with an open back can have both an open top and an openwork bodice with lace translucent spider web sleeves, emphasizing the elegance of the outfit.
What accessories will suit a lace dress?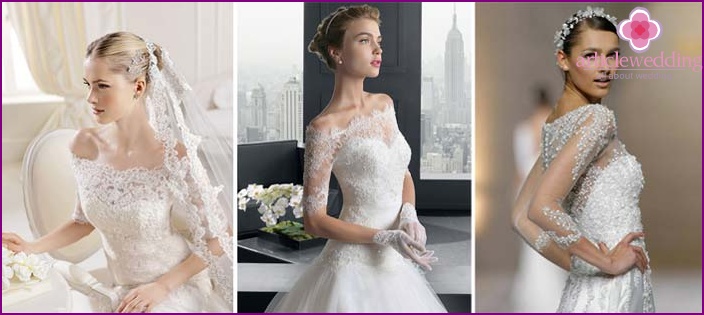 So, for example, a delicate lace veil will look great with an elegant short model. At the same time, the style of the toilet should be modest, noble. Several graceful hairpins with rhinestones will complement the hairstyle. Recently, rims decorated with neat small-sized flowers have been especially popular among brides. Such an ornament will look wonderful with lace. Avoid too «heavy» combinations like volumetric earrings, necklaces, bracelets. If you want to complement the look with an expressive accessory, use one type of decoration.
A neat hat or retro style veil is perfect for a retro look. Modern fashion designers create hats of the most unexpected original forms - ideal for a bright brave girl. An outfit with a short skirt can be complemented with elegant silk gloves. When choosing jewelry, pay attention to graceful boleros, mantles, clutches.
Photo of short lace wedding dress 2015
Elegant short dress, complemented by elegant lace, will become real «zest» wedding image, emphasize the tenderness, femininity of its owner. The rich variety of styles offered by modern fashion designers allows each bride to choose a festive outfit that is ideal for almost any figure. Below is a selection of stylish lace dresses season 2015.