Contents
---
---
When planning a wedding celebration, it is important to think over the image not only for yourself and the groom, but also for the invited girlfriends. The choice of style and color of their clothes is a significant and rather delicate moment in the process of preparing for the wedding.
This issue should be approached with caution. It is necessary to find the best option for the image of each girl. Remember that the choice of outfits for girlfriends will be influenced by your own style, theme of the celebration, personal preferences of girls, time of year and other nuances. The final choice should be acceptable to both the bride and the bridesmaids themselves.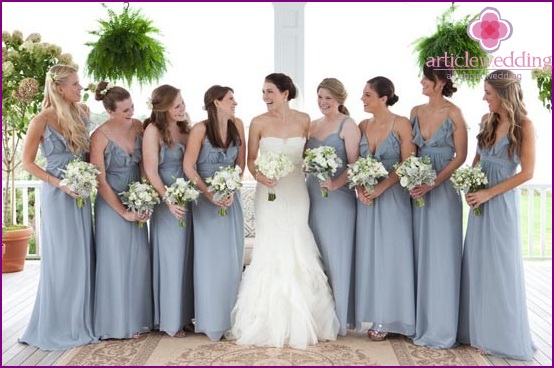 The portal www.articlewedding.com will tell you what kind of outfit options you can choose for your friends.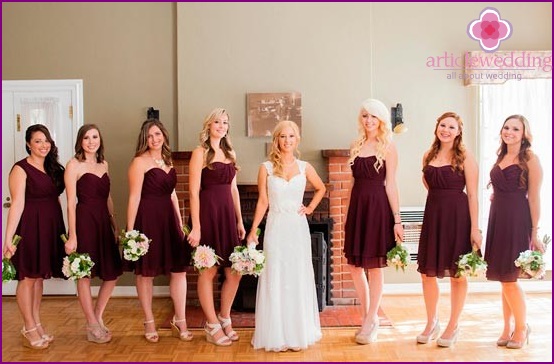 The same style and color of dresses
This style is a classic of the European genre. The advantage of this choice is that dresses that are completely identical in color and style look amazing in wedding pictures. However, one of the bridesmaids may not like this idea, because everyone has a different figure, different color of skin, hair, eyes, different preferences and tastes. It will be difficult for the bride to choose the most suitable dress option for each friend.
To simplify this task, a tailor will help, who will create a model of a holiday dress that is universal for all girls. Your girlfriends will look the most winning in dresses made of elegant fabrics, for example, chiffon, silk, organza or satin.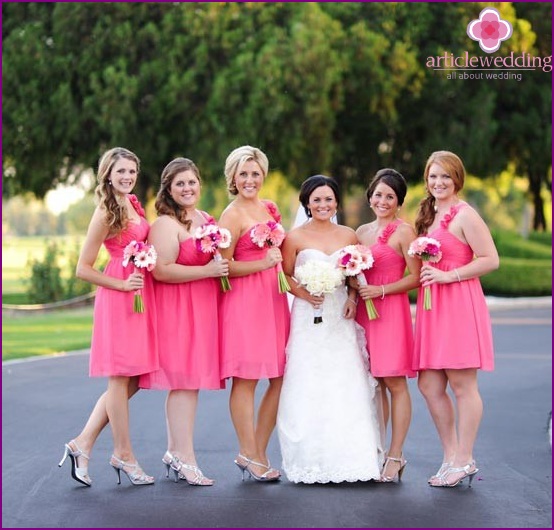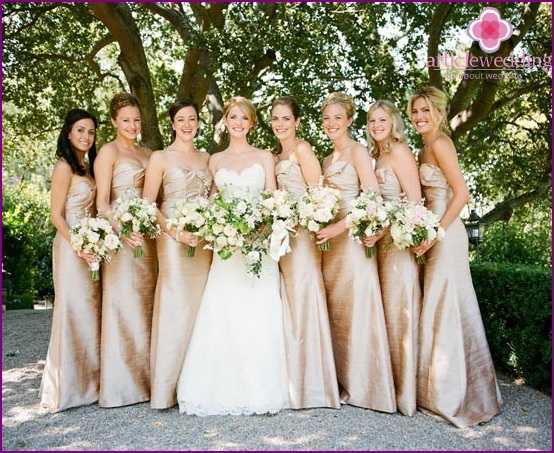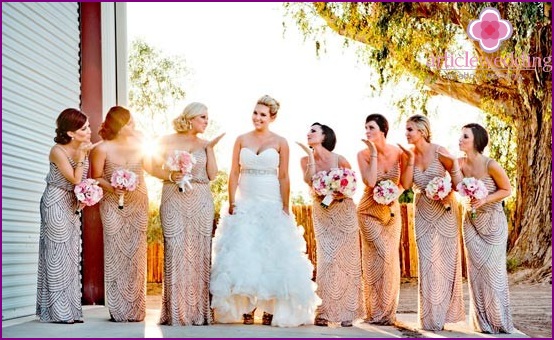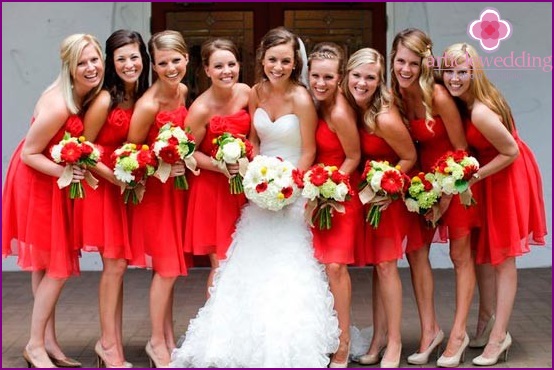 Different style and color of dresses
If you do not put your friends in a tight framework, then each girl will be able to pick up something that reflects her character and personality. Moreover, this option does not require the help of the bride, which will save your time.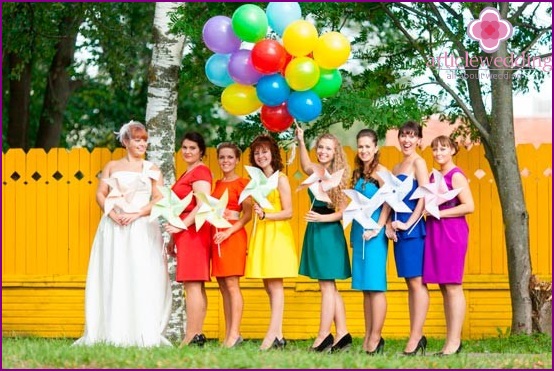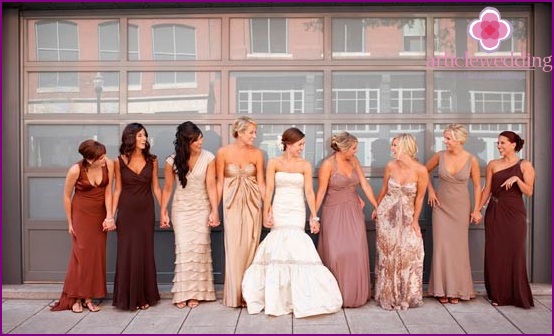 The same style, but different color of dresses
The general style of dresses will unite the girls, and different colors will add brightness to their festive images. In addition, having the right to independently choose a color scheme, girls can choose for themselves a more advantageous shade of an evening dress, taking into account their individual characteristics.
This concept also involves the creation of several color pairs. The main thing is that the number of friends is even.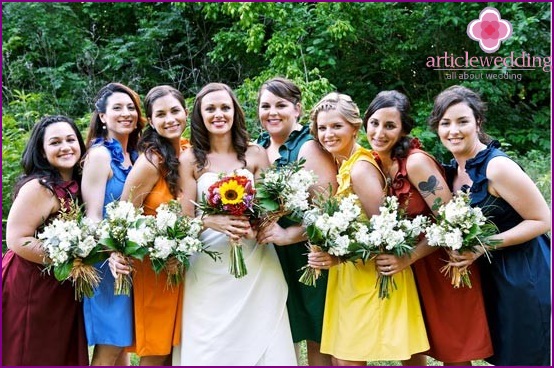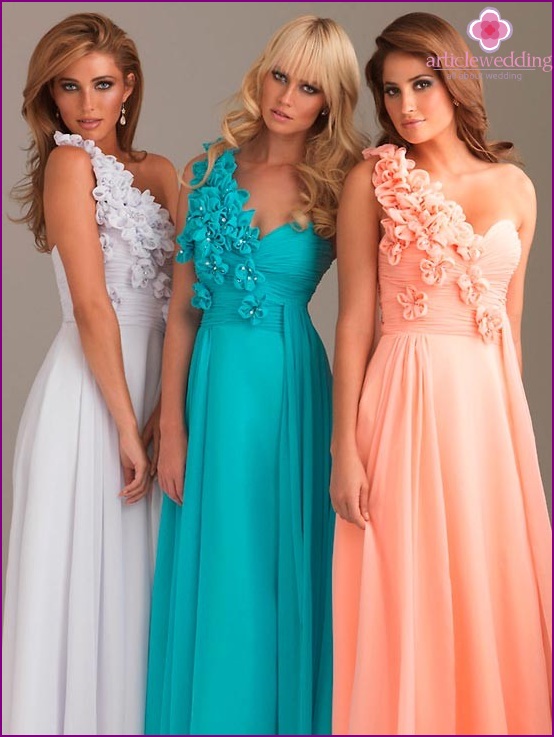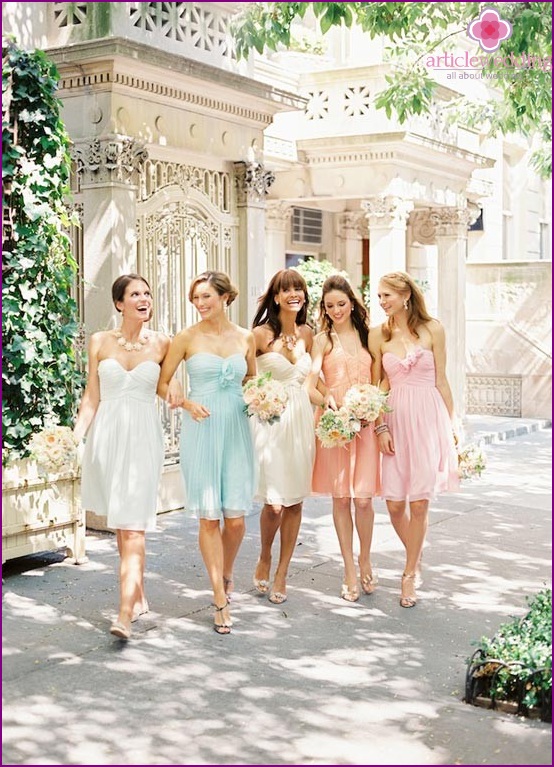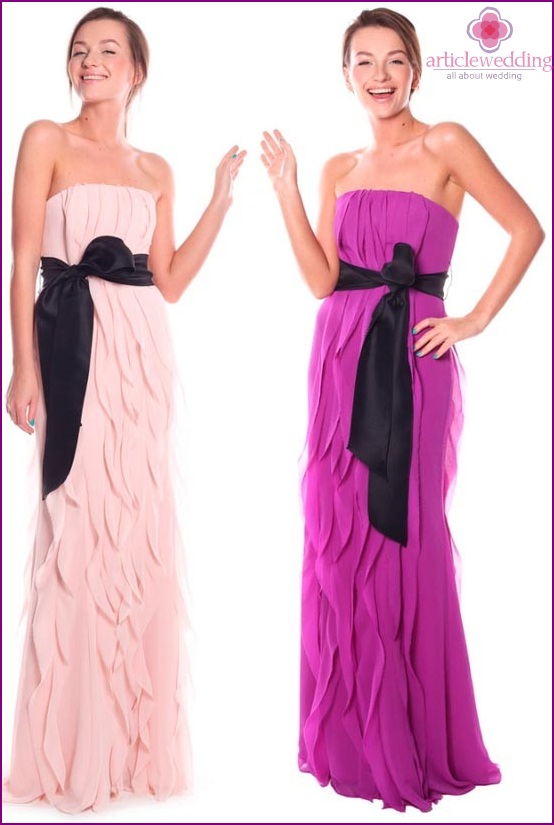 Different style, but the same color of dresses
The opposite idea of ​​the previous version: choose outfits that will differ in style, but at the same time have the same color.
Girlfriends should like this idea, because everyone can choose the dress that sits on her figure best. The most popular shades are beige, pink, pastel, blue and gray. Although it all depends on the colors of the wedding and the style of the bride.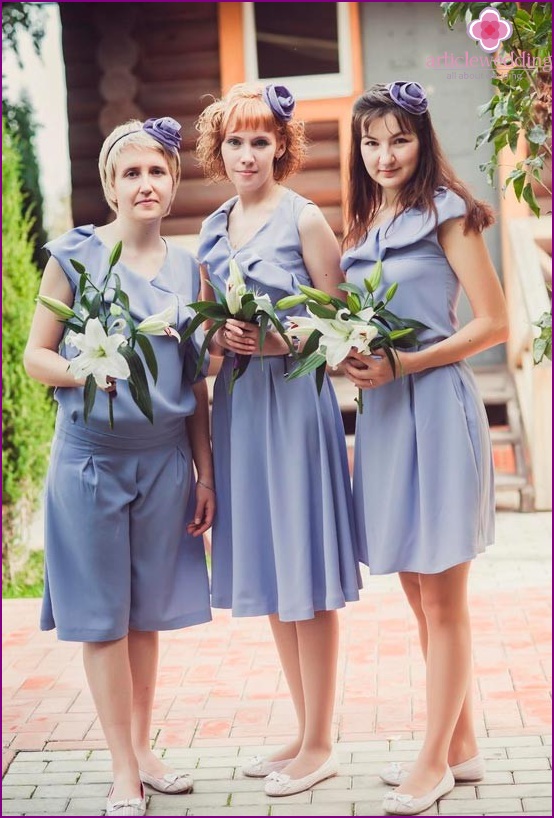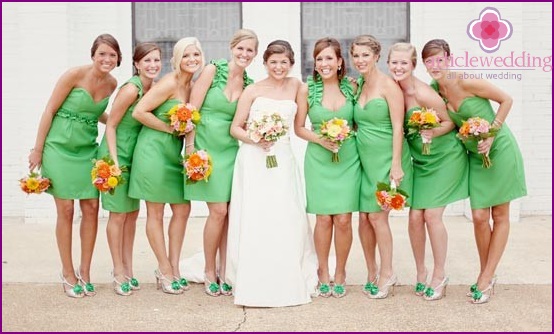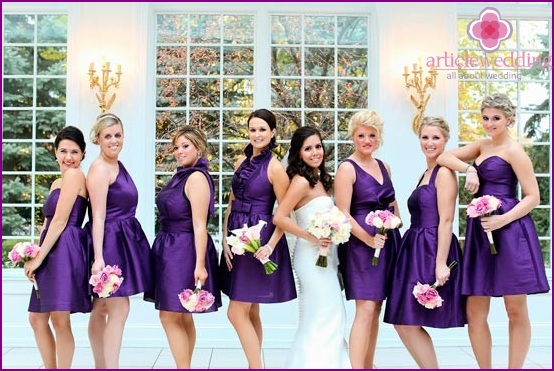 Effect dresses «ombre»
A very effective and interesting idea is dresses with a smooth transition of color. The main thing is that there are at least three girlfriends. «Living gradient» always looks incredibly beautiful. Girls can choose outfits that are completely different in style, it is important to use outfits with different shades of the same color. For example, someone will like the color transition from soft pink to bright fuchsia, and someone from pastel blue to rich turquoise. To reflect all the charm of this effect, at the ceremony or during a photo shoot, the girls should line up in accordance with the transition of color - from light to dark.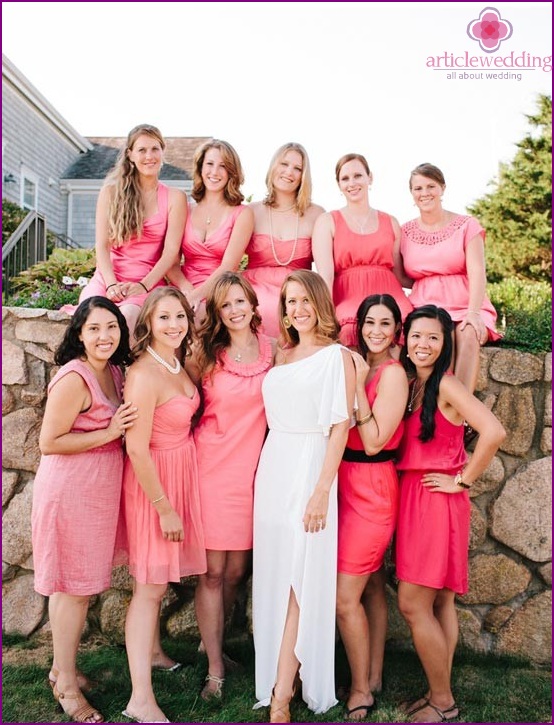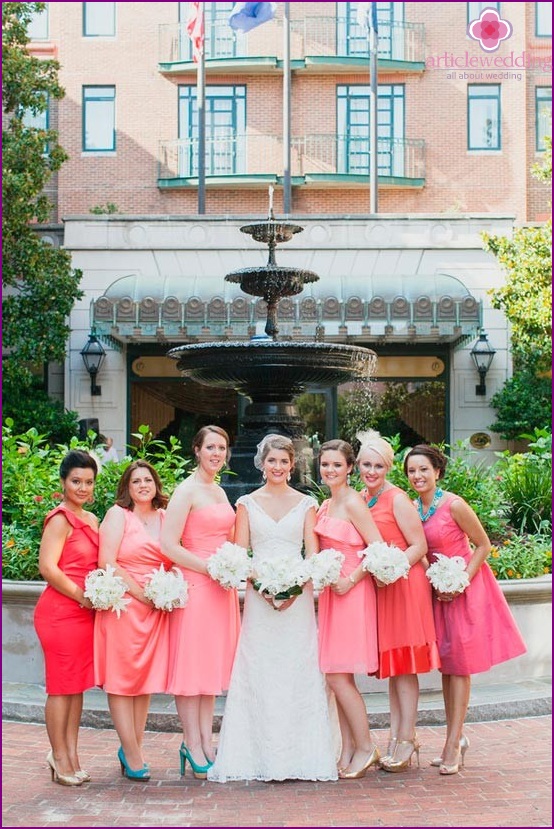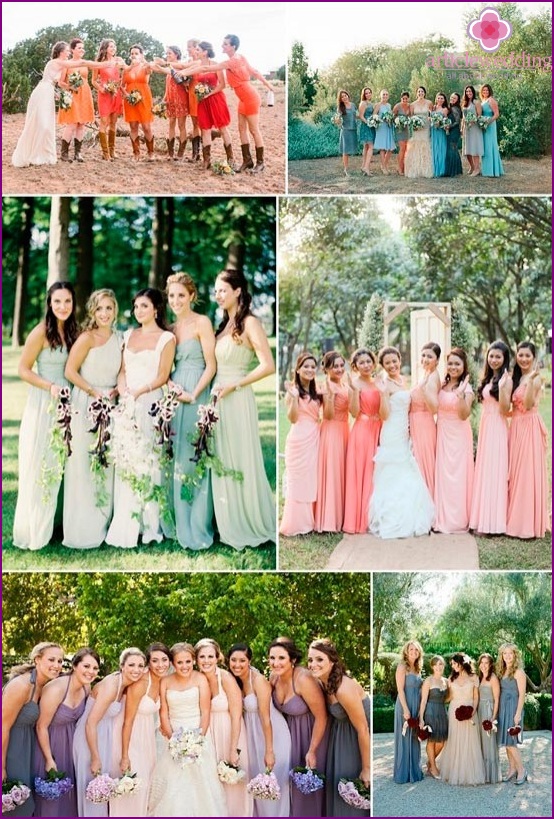 Fashionable transformer dresses
A fashion trend that has already managed to win the hearts of women all over the world is an original transformer dress..
The demand for transformers is due to the versatility of products that accept a variety of styles and styles. Each girlfriend can choose a dress with or without straps, with a belt in front or behind, with long or short sleeves, etc..
Dresses of this type are made of elastic material. Such an outfit fits the features of any figure.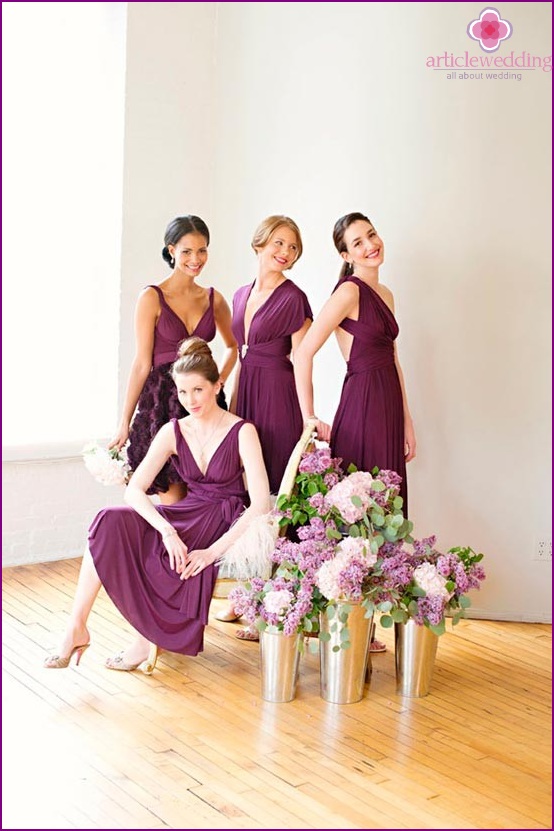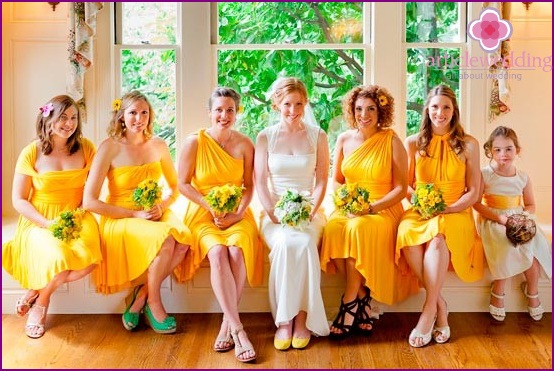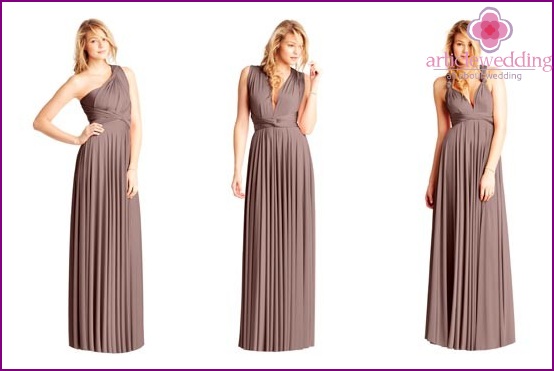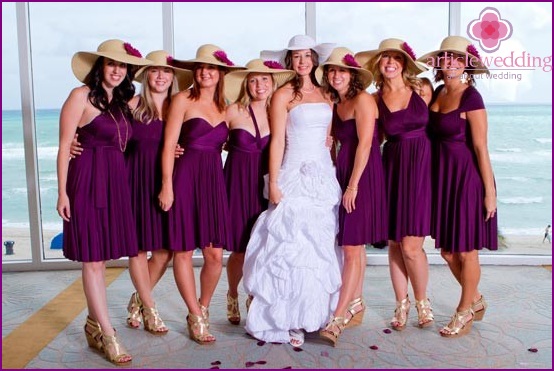 Dresses with prints and patterns
Website www.articlewedding.com assures that dresses with colorful prints will be the perfect choice for an extravagant and extraordinary wedding. Dresses with polka dots, a stripe, a cage, with a zigzag or geometric shapes will be especially appropriate at an informal themed wedding.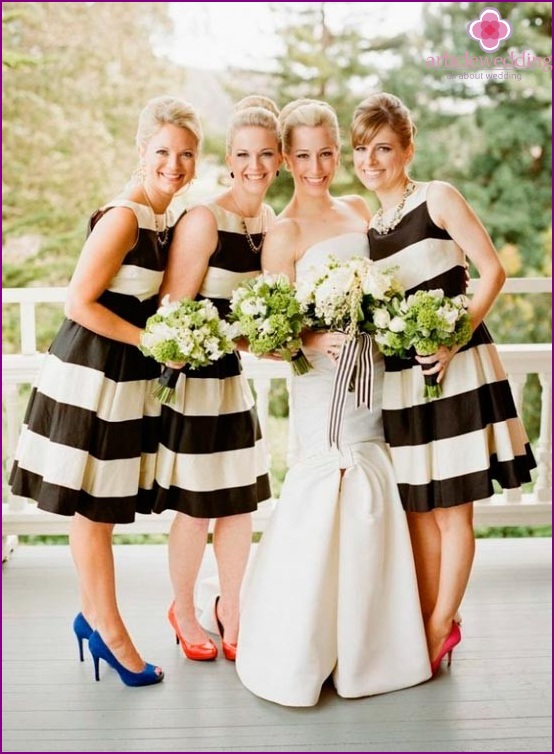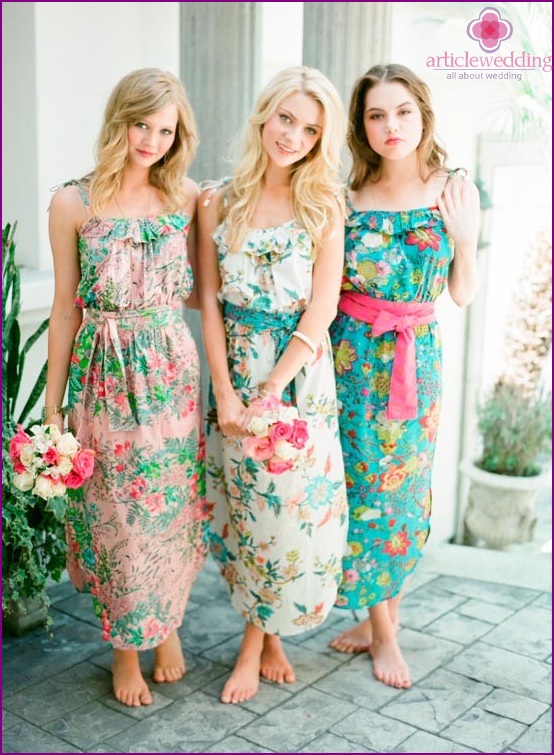 Same skirts and / or blouses
It is not necessary to dress your girlfriends in dresses of the same color or style. You can use another informal option - choose outfits for your friends that consist of bright skirts and pastel blouses. Girls in this way will look unusual and stylish..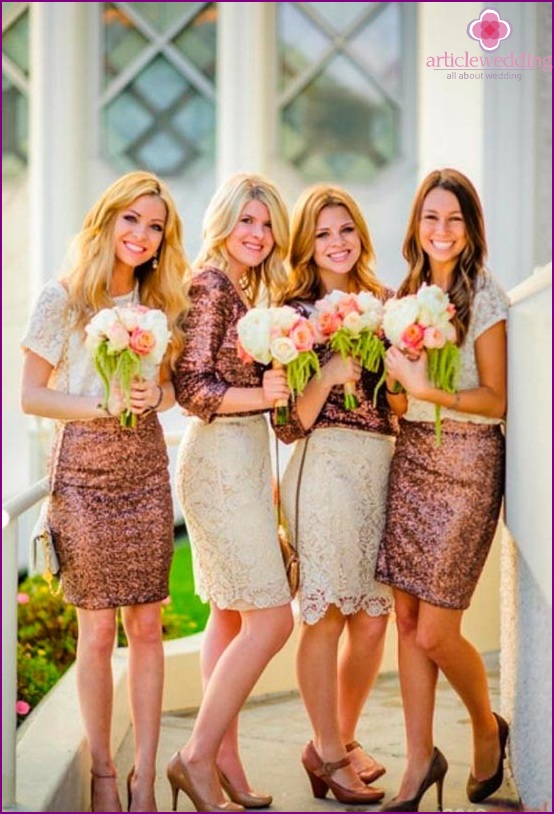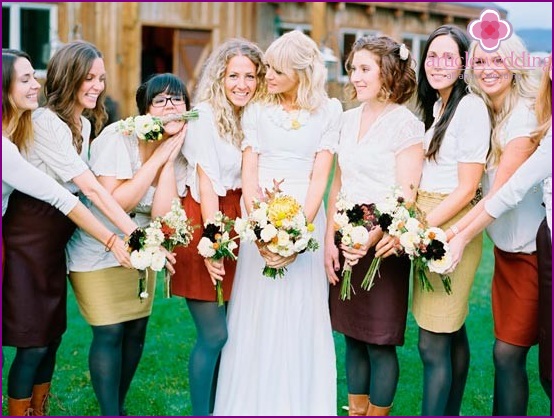 Choose dresses for girlfriends in such a way that the result pleased both sides! Successful experiments!