Wedding fashion is changeable. To get high-quality, beautiful and creative wedding pictures for the album, it is not enough to have a photographer who is guided by world trends, a good idea is needed. To find non-standard ideas for a wedding photo shoot in the summer, when the wedding season is in full swing, will not be difficult, because nature itself gives room for imagination. Choosing a place and theme in advance, you can use the appropriate items and accessories.
Summer Wedding - Original Photoshoot Ideas
Warm season is the most favorable time for photos of newlyweds on the background of landscapes, ponds, summer flowers and buildings with interesting architecture. Such options have become an invariable classic, but some couples consider them commonplace and try to add more creativity to their wedding album. To take original photos, think about the location in advance. Summer wedding provides great opportunities. Choose interesting backgrounds that will help you create unusual photos..
Great pictures are obtained if you realize the idea of ​​a romantic picnic for two. For the sake of such photos, it is not necessary to go far, the city park is also suitable, which will save a lot of time. A wonderful backdrop will be the green of the forest or the rich colors of the field, «dotted» stacked haystacks. Do not forget about the photo of the attributes of the wedding - rings, a bouquet, shoes of the bride, without which no album can do. These pictures look good against the backdrop of wildlife.
Modern photographers prefer to use objects that are not directly related to the wedding theme in the frame, using original attributes that make the pictures extraordinary, resembling works from magazines. Full of romance will be photos of newlyweds in love, riding on a swing, decorated with flowers or ribbons. A pinwheel made of bright paper will become a fun accessory. Rotated by the slightest breath of wind, it will help to create funny pictures. Using exquisite frames will fill the photo with a plot resembling a picture of love.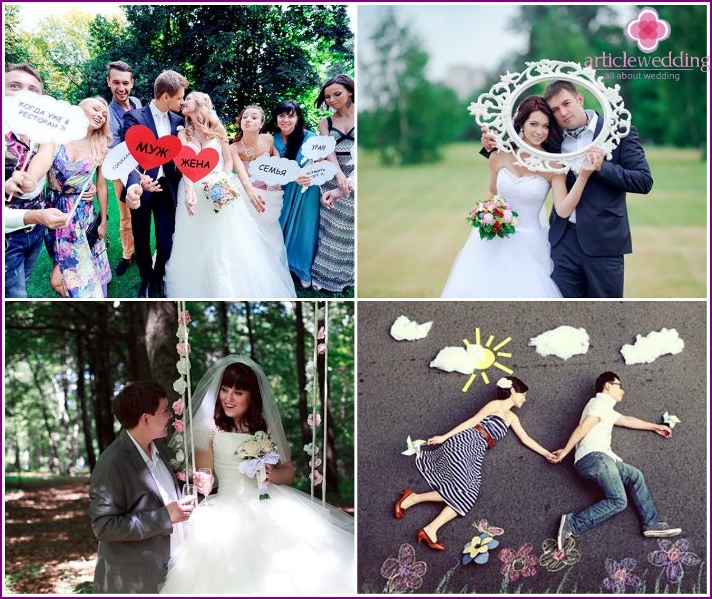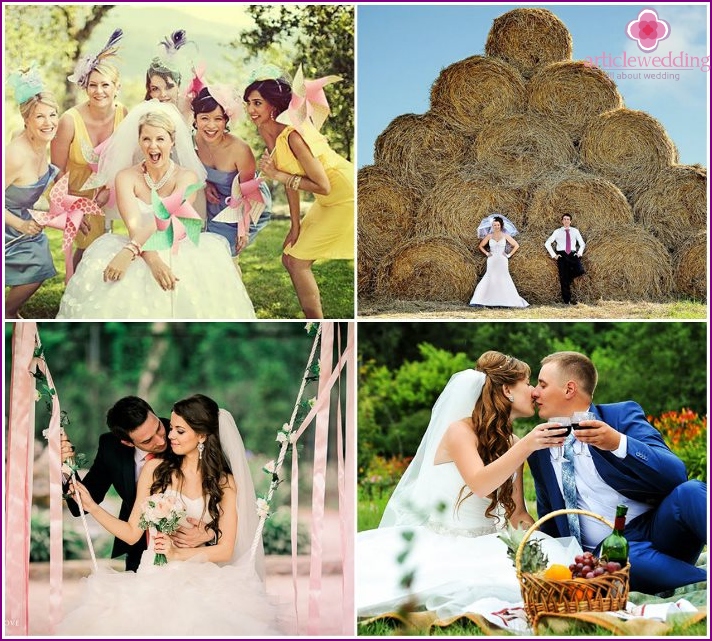 Special masks with the image of lips, glasses, mustaches, hats do not lose their popularity. With their help, interesting, filled with positive photos of the newlyweds will turn out. An alternative may be pre-prepared signs with inscriptions. Their content helps to create entertaining pictures reminiscent of wedding comics. Remember your childhood and draw with crayons - bright inscriptions on boards or asphalt will give the frame creativity.
Fruit photo shoot
A good solution would be to use various fruits as attributes of the wedding photo shoot. It can be either individual fruits, or a large number of them in baskets, buckets and other containers suitable for the theme of the photo. If desired, a photo shoot is arranged directly in the garden. Due to the small size of the fruits, they are easy to use for any productions, and by connecting imagination, you can get interesting humorous photos.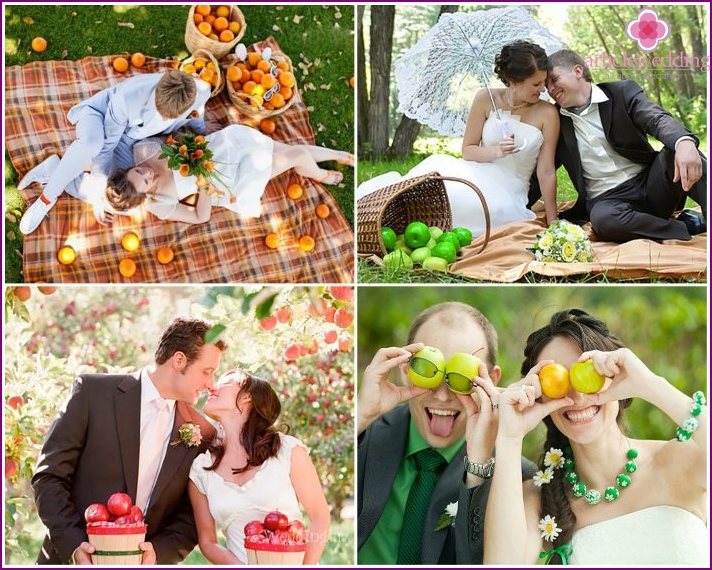 Poppy Field Shooting
If the wedding date falls on the end of June - the beginning of July and there is a poppy field nearby, you can hold a photo shoot there. Red, bright delicate petals of these colors will help to make stunning pictures, and using a blue sky as a background will give the picture a contrast and a positive mood. The use of accessories does not hurt. For example, an umbrella or a tulle developing in the wind looks good on such photos..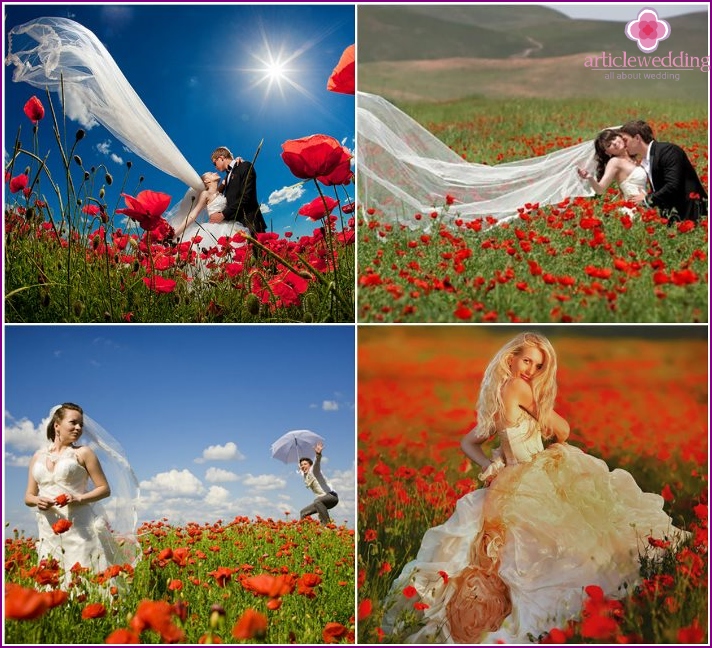 Photo session with sunflowers
A curious idea for a photoset - use as «Scenery» wedding shooting of a field of sunflowers. The photos of the bride and groom against his background look like they are among a thousand little suns that fill the atmosphere of the wedding with warmth and light, and the yellow colors of these colors give joyful emotions. Connect your imagination and pose for a camera with bright sunflowers, creating funny photos.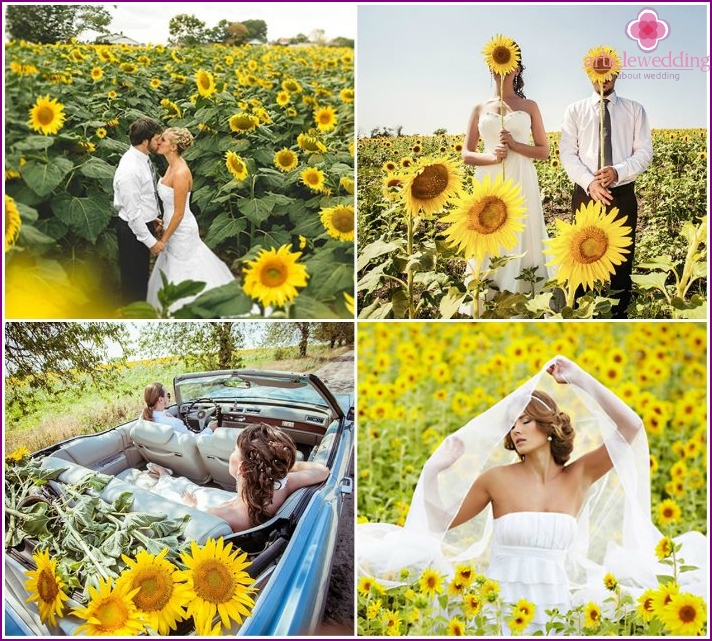 With balloons or umbrellas
Another interesting attribute of a photo shoot will be an umbrella, especially if it is made in retro style, has a non-standard shape or rainbow color. Such an umbrella is useful not only for rainy weather, but also fits perfectly into the concept of a photo with kisses of the bride and groom. Balloons are one of the most fun attributes of wedding photography. Their bright colors will cheer up the bride and groom, and this in turn will fill the picture with happiness.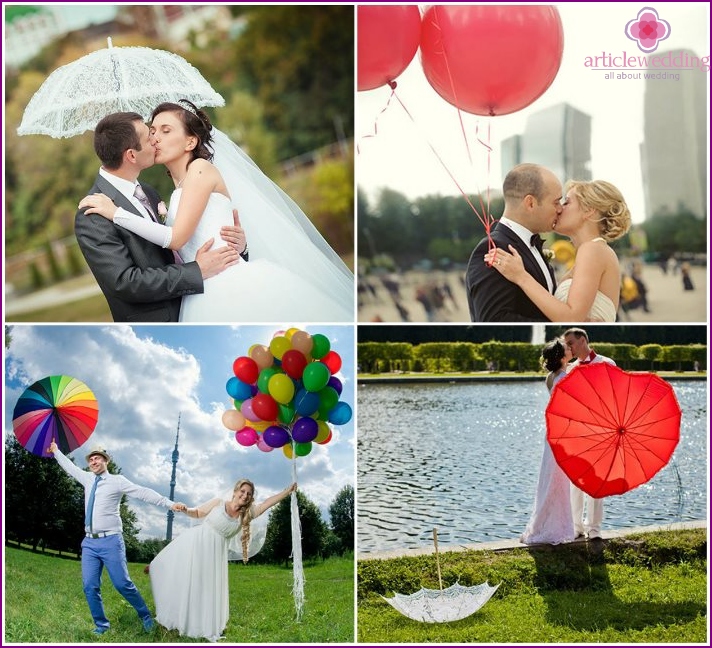 Boat or yacht ride
A small boat symbolizes the new path of a young family along the river of life. It is not necessary to launch it on the water, you can conduct a photo session in it on the beach. Decorate it with a canopy or flowers, take pictures of gentle hugs and kisses that will certainly decorate your wedding album. A yacht is an option for lovers of pathos. A photo of lovers on a background of blue water, blue sky, a young white dress and a sail - all this looks very impressive.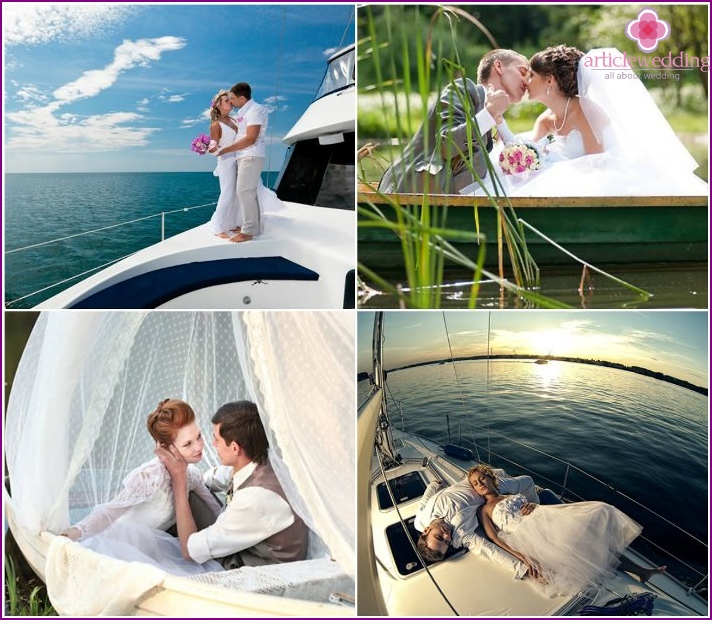 Bike Shooting
The idea for a wedding photo shoot in the summer with a bicycle cannot be ignored. Decorated with ribbons, a basket of flowers, he gives the composition a romantic mood, inspiring carefree. The scenery can be urban or natural landscapes. Newlyweds on a double bike symbolize the union of two loving people into one family. No couple in love will abandon the idea of ​​a ride on such a vehicle.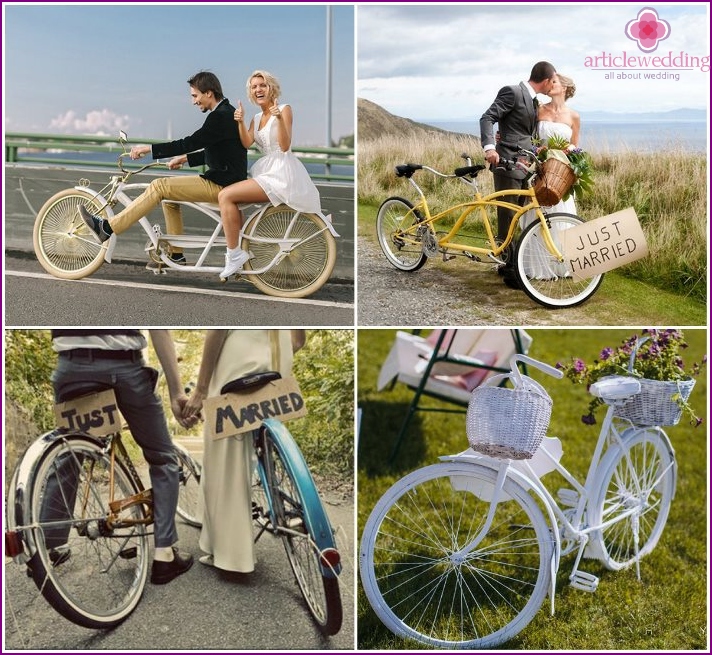 A walk in nature with horses
There is a sign according to which the clatter of horse hooves brings happiness, wealth, joy to a young couple. A photoshoot while riding a horse is exciting, original, romantic. Pictures of the newlyweds on horseback or in the image of a king and queen sitting in a luxury carriage look exquisite. Photos with newlyweds riding on meadows or more often in the forest on white horses will radiate positive emotions and the true beauty of feelings.