Contents
---
---
A wedding is one of the most important memorable events in the life of a married couple. It is important to remember every moment lived on that day, so the services of a professional photographer are in great demand. He must capture beautiful shots with the newlyweds in order to subsequently post the best of them on the pages of the first family photo album. This will be a precious memory for you two, will remain with you until the end of days. That's why you need to take care of the design of this thing and choose the best, for example, a high-quality photo book. What are they?
Photobook Design - Choose a Format and Cover
The design of a wedding photo book is a one-of-a-kind photo design, in the process of which you take your direct part, embody your original ideas, and show creative ideas. You can choose from ready-made options that the photo studio offers you, and adjust some details to your taste. Wedding photo book will become a unique copy of the author, which has no analogues. But in order for everything to suit you in the design of this photo album, the photographer must stipulate the following points with you:
The first question is the choice of the size of the book, the format of which may vary, depending on the wishes of future spouses, ideas and a creative approach.

The following is discussed which cover option you choose: the modern printing capabilities allow you to make it and cover from traditional materials, as well as genuine leather, wood, with metal elements. This makes the wedding album extremely stylish..
Be sure to specify how many pages should be in this photo book, which photos you want to place there, in what sequence.
Some customers want to additionally protect the photo book from damage and ask to apply a special protective coating on the photo.
You will also be offered to choose the type of paper on which photos will be printed: glossy, matte, using silk or a variant with a metallic effect.
Plots and scenarios for a wedding photo book
To avoid unpleasant surprises, make a reservation with the photographer in advance what kind of scenes and scenarios you would like to see in your wedding photo book. The specialist must prepare ideas and the necessary attributes to complete the selected scenes in photographs. As a rule, an experienced photographer already has several ready-made ideas that are easy to implement with the newlyweds during the photo shoot. To imagine how this might look, watch the video below with two photo book design options that use a traditional style for design:
Start with a love story
Create a whole story in your wedding photo album, which you can start with the love story of your two hearts. This is a good option to bring through the memory of those days and moments that you will then tell your children, grandchildren, showing preserved photographs. Below are some ideas to help put together all the major events that contributed to the birth of a bright feeling between you:
Remember how it was from the very first day of your meeting, find joint photographs of that period, try adding them to your love story.
Try to reproduce on the photo shoot the scenes of getting to know each other, the first date, a love confession, the special moments that happened to you then.
Have a romantic picnic at sunset by candlelight, let the photographer work on creating images, poses and moments. Very beautiful shots will turn out.
Walk around the city, hold hands, take pictures near the fountains, create maximum romance and relaxed atmosphere.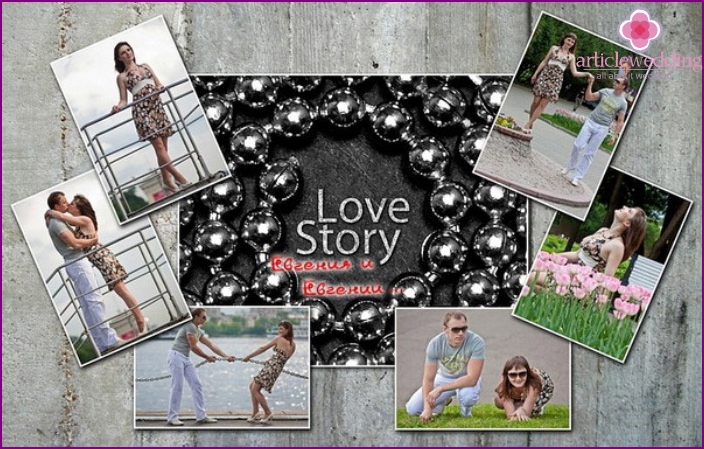 Wedding and honeymoon
Having finished work on the story of your love, proceed to the design of the photo album section, which will depict a wedding and a honeymoon with travels. Take shared photos with your beloved relatives, friends at the wedding, celebrate this solemn day with them, clicking on a lot of beautiful shots. After the wedding, go on a honeymoon, taking a camera with you (the photographs brought from there must be included in the wedding photo book).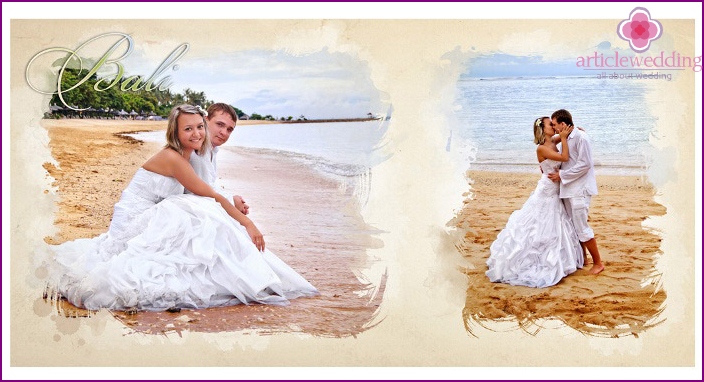 Add guest wishes
When you are finished filling out a future photo book, think about additional decoration. As an option, blessing words and congratulations of your guests captured at the wedding and printed on the photograph will be interesting. So this photo album will gain the ability to speak, carry a positive aura and return you on that beautiful day when you became a happy married couple. Below you will find some tips that will help simplify the difficult, at first glance, task - adding wishes to guests at a wedding in a photo book:
Use photos to design a photo book, where your loved ones say a toast to the young, and write the lines of the main words (literally two or three words) on top, for example: «May you live happily ever after».
Apply the wishes of loved ones, using them as catch phrases for suitable frames. For example, if in the photo the groom holds the bride in her arms and looks at her with a tender, reverent look, from above above such a frame you can enter the line: «As the grandmother said - the attention of a loved one is worth a lifetime».
Go through the cards with sincere wishes, presented to you at the wedding, and those that you especially liked. Insert them into your photo book as quotes, poems, just beautiful words.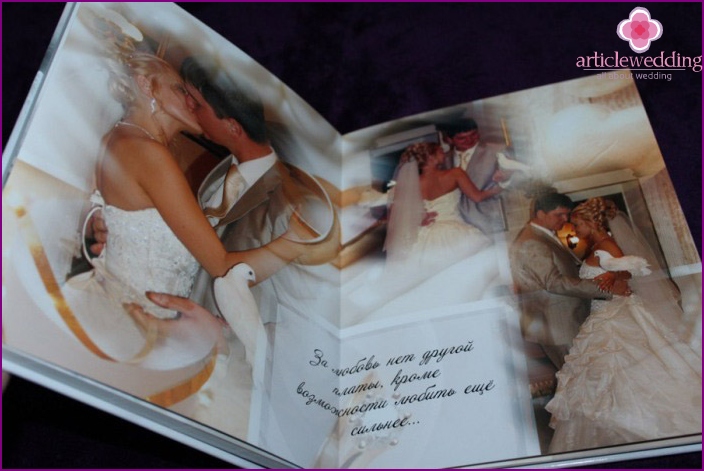 Styling for your favorite movie
If you two have a favorite movie that is associated with your relationship, you can stylize a wedding photo book for it. This will be a very original design that will immerse you in the romantic atmosphere again and again. Use frames with retro motifs, apply interesting pictures from the film as a background on the pages of a photo book. You can use photo montage and other tricks of professional design to help you realize this idea..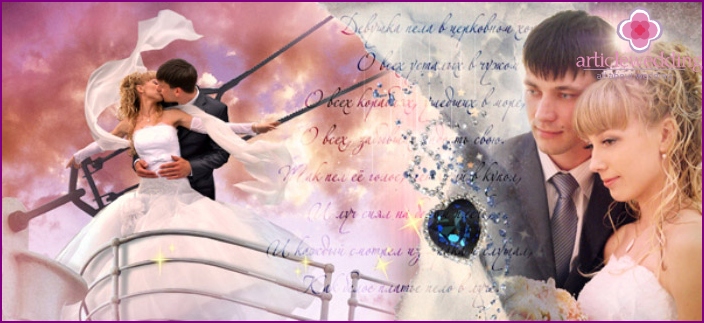 Beautiful examples of wedding photo books
In this design option for wedding photos, like a photo book, you have the opportunity to apply all your imagination and work it out on pages with beautiful portraits. However, first you should evaluate the idea from the outside, see all the pros and cons, determine for yourself the necessary style vector, and then put it into practice. To be inspired by wonderful and original ideas for designing your own wedding photo book, check out good examples of already finished work in this area:
Making the main spread of a wedding photo book. In this version, the newlyweds used their ideas for designing a photo album.

The photobook, which was being prepared as a gift for the wedding anniversary to the heroes of the occasion, is a good example of a photomontage with friends and relatives who were present that day.

The following wedding photo book design example uses the main words to each other, written with one's own hand long before the decision to get married. Nothing will be able to revive in memory the feelings, emotions and experiences of those days, as such an option for designing a wedding photo book.

Do you want to remember for a long time those pleasant and wise words that mothers and fathers, friends, relatives wished you at the wedding? Then look at this example, in which you will find a sample design of text greetings, dates, comments on photos.
Where can I order or buy templates for photo books
For the self-creation of a wedding photo book, many professional performers provide a template service. You go to the site, step by step follow all the steps that are described there and create your own unique album by inserting all the photos you like of your own wedding. The next step is to send the finished copy of the photo book made according to the template to the service provider. Next, expect the finished work, according to the agreed terms.
There are special sites for which a group of qualified specialists works, but, as a rule, this is a paid service. There are also free sites with beautifully designed album templates where you can create your own version, however original layouts are rarely there. In this case, you have to work independently with what is offered.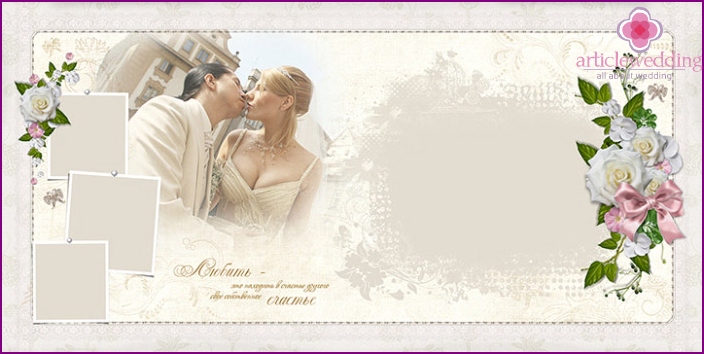 No modern man can do without the services of a photographer at his own wedding. Everyone wants to remember this day, applying beautiful photo shoots, reproduce large-format portraits, print photos, make wedding photo books. All this helps to recreate the impressions that you received at the moment when you just received the official status of husband and wife. Do not think about how expensive it will be - because, in the end, you get pleasant emotions captured for centuries.