Spring is the time of the birth of life. During this period, many couples decide to legalize their relationship. In addition to a colorful wedding ceremony against a background of nature and blossoming trees, in the spring it is possible to hold an unforgettable photo shoot of the newlyweds. Picturesque landscapes in any weather create an amazing natural background for a photo. On sunny days, photos are especially joyful and vibrant, and in cloudy weather it is possible to convey the depth of feelings and emotions of the shooting heroes.
Wedding in spring - ideas for a photo shoot in nature
Only in springtime after long winter weekdays do we experience an unprecedented feeling of uplift, lightness. A professional photo shoot in the spring will help convey this admiration and the whole gamut of emotions that the bride and groom are overwhelmed with on the wedding day. To make wedding photos original, unique, choose colorful places for shooting and use bright accessories.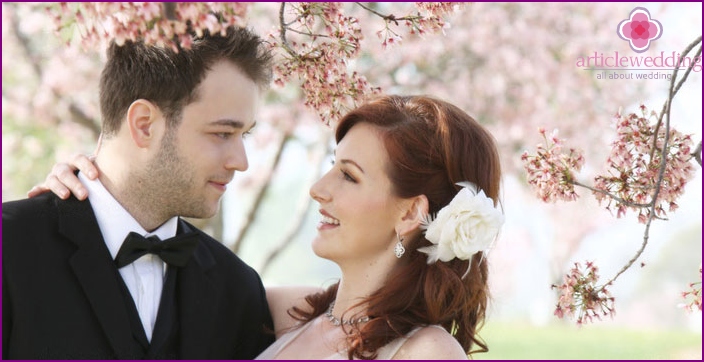 Against the background of green meadow
Glade with young green grass is an ideal background for a wedding photo shoot. Here the photographer can show all his creativity. In addition to simple portrait pictures of the newlyweds, production scenes will look original. Organize a picnic for the young on a soft blanket, or even draw animals, such as horses, for shooting. Such photos will come out very stylish, refined. Want to get colorful and funny pics? Look for glades with wildflowers that have just begun to bloom. If you decide to organize a photo shoot on a flowering lawn, consider a few recommendations:
Avoid areas with mowed grass; it can be very stiff. The bride may have puffs on the dress from such decor, and stiff stems of flowers can ruin the groom's suit.
In early spring, dark spots of land can still be seen in places in the glades. To avoid falling into the frame of such unsightly areas, it is better to shoot from a lower angle or use artificial leaves, flowers as a decor for the area.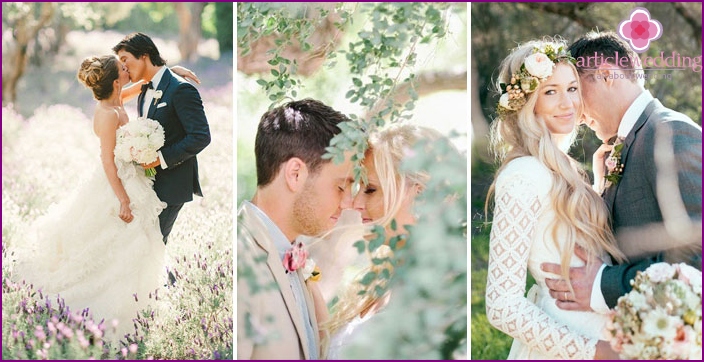 Shooting in a flowering garden
If you correctly use the natural beauty of nature in spring, then the wedding pictures will come out full of romance, tenderness and warmth. Not a single decoration is so good for a photo shoot of a newly-made family, like a lush spring garden. Love blooms at the same time as the birth of nature. All this will be displayed in beautiful photos. Even one flowering tree is enough to fill the pictures with romance, unusual.
The spring blue sky, airy white clouds, the first warm rays of the sun will help the heroes of shooting to feel unity with nature and conduct an emotional, sensual photo shoot. A props in a flowering garden can be: a small garden table with a bench, a swing mounted on branches, step-ladders or wooden ladders attached to tree trunks.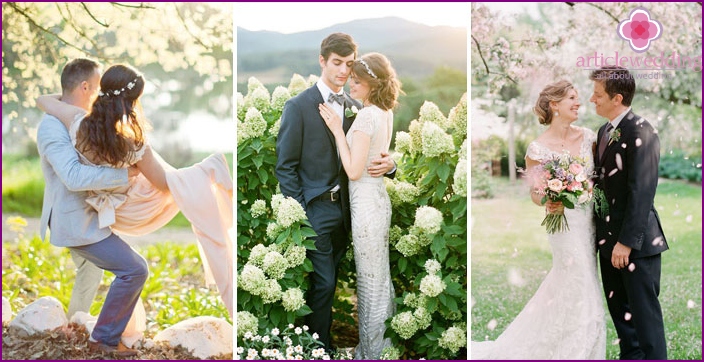 Near the pond
You will get pictures of unprecedented beauty if your photoset is held against the background of a reservoir: river, lake, sea. But such a photo shoot requires some preparation, both from the photographer and from the newlyweds. A few days before the wedding, inspect the selected reservoir: whether there is dense greenery on the shore, whether there are equipped moorings, bridges for romantic shooting. Ask if you need special permission to conduct a wedding photo shoot in this area.
Learn in advance about the possibility of renting a boat, boat or catamaran. Being at the pond on your wedding day, you can stain the dress, so it's recommended to choose a separate outfit for such a spring photo shoot. For example, a light sundress in a rustic style. Wedding shoes with heels will be inappropriate when walking along the shore. Take care of a replaceable pair of shoes on a stable sole.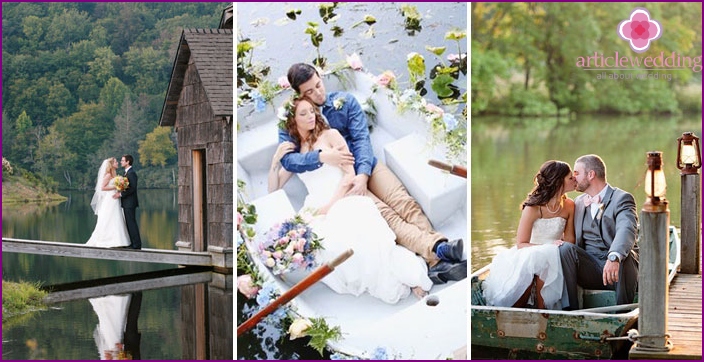 In a picturesque park
Shooting in the park is a great idea for a spring wedding photo shoot. Crowns of trees will make a colorful background for interesting photos, they will add mystery and fabulousness to the pictures. When planning a shoot in a densely planted park, choose the right time. Photos will be especially beautiful if the rays of the sun penetrate through the leaves during the shoot. Moss, foliage, bouquets of flowers will be an excellent natural props for an enchanting photo shoot in the spring..
The daylight hours in the park, like the forest, are shorter. Due to the dense foliage of the trees, the light will be dim. But the beautiful background and professionally set lighting will make the pictures mysterious and romantic. On the day of their marriage, the newlyweds can plant a tree, which will be captured in the photo. But you should prepare for this action in advance: bring a seedling with you, grab garden tools.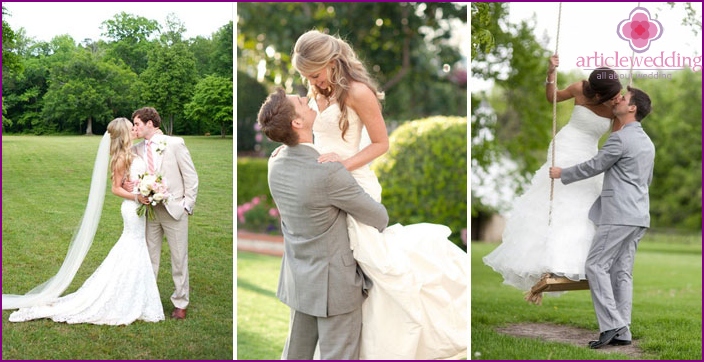 In early spring under an umbrella or in rubber boots
Umbrellas will become a cute props for wedding photos in spring. The accessory of bright colors will add colorfulness and joy to the pictures. Romantic and tender frames will be obtained in which the newlyweds together shelter from the weather under one umbrella. The props such as rubber boots will give arrogance and childishness to wedding pictures. In combination with a white magnificent dress of the bride and a classic suit of the groom, it will look unusual, elegant.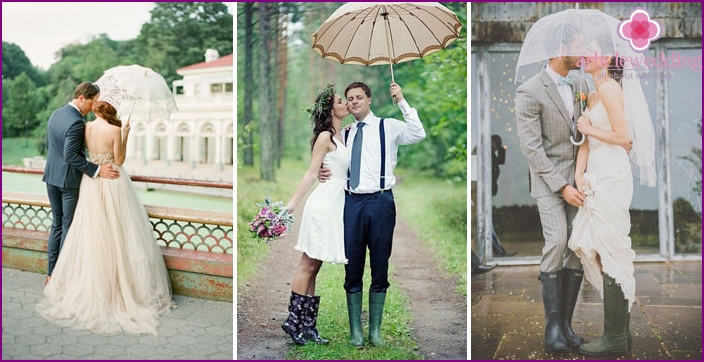 Photo with a wreath of wildflowers
Wildflowers are great for a spring photo shoot. You can not only take pictures in a meadow planted with colorful plants, but also weave a floral wreath. All the girls at some point in their lives were engaged in weaving beautiful hats of flowers, and the bride should have this skill. You can capture it at the time of weaving jewelry, and then make frames already with a wreath on the head.
Complete the image with the appropriate bouquet in the hands of the bride. Such pictures come out filled with tenderness, natural beauty, naturalness. And if you planned an exit wedding ceremony, then in addition to design refined compositions, supplement a flower arch with usual field plants. It will look spectacular, both in the photo and video.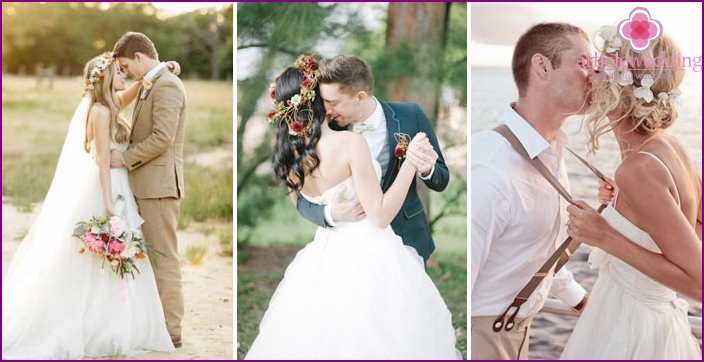 Photo session on the background of bright accessories
There are many ways to make a spring wedding photo session colorful and vibrant. In addition to beautiful natural landscapes, use bright accessories that will add dynamism and originality to frames. So, for spring shooting, a bicycle, volume letters in contrasting colors, natural and artificial flowers (for example, lilies of the valley) will become a good props. During the filming, the newlyweds also use swings, garden furniture, a plaid and pillows. It all depends on your wishes and fantasies..