Contents
---
---
Wedding photos are an opportunity to capture the magical moment of the union of two loving hearts forever. An important step in preparing for the wedding is the choice of plot for such a shoot. A photo session with balloons is a colorful event that will certainly be fun, funny and at the same time romantic and touching. To make the wedding shooting a success, you need to think through a scenario.
Ideas for a wedding photo shoot with balloons
The attribute of the holiday and the symbol of romance are balloons. The variety of their colors, shapes and sizes, as well as the use of helium, which allows them to fly up, will make any photo session creative, vibrant and unique. If you use a large number of balls during shooting, the effect will be stronger if they are all the same color (for example, traditional for weddings - white, pink or red). Brightly colored armfuls also look fresh and fun.
To make the balloons not look corny, add accessories to them (garlands, ribbons, bows). A successful detail is registered inscriptions or drawings, which are printed to order with special ink on the surface of the products. A good solution for wedding photography is to interplay the color scheme of the balls and the shade of the bride's dress or accessories. Let's take a closer look at the most relevant ideas for such a photo shoot.

Glowing balloons in the evening
Any wedding celebration usually ends closer to the night. The light show in the evening finale in the evening is very popular, and a photo shoot with such an entourage will be non-trivial, romantic and spectacular at the same time. Glowing balloons are ideal for this, as They have several advantages over pyrotechnic products:
safety;
ease of use;
affordability;
decent action time (up to 48 hours, the highest brightness for 8-10 hours).
The effect of glowing a balloon is given by a battery-powered LED inside it. There are two options for such products: flickering (blinking) and constantly glowing. For wedding photos with balloons in the sky, choose the second. Flickering is perfect for static surroundings. Another caveat - for a photo shoot, choose luminous matte products, because mother-of-pearl or metallic colors dim the glow.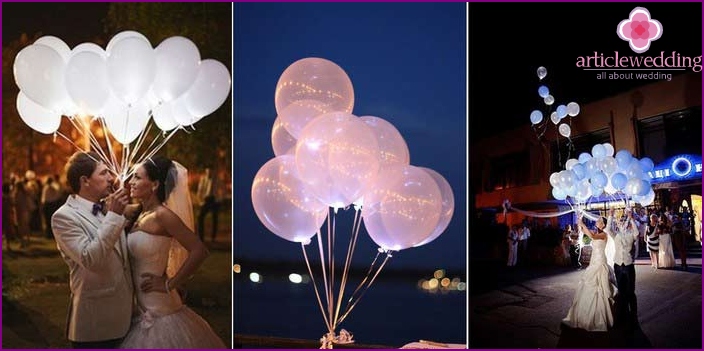 Newlyweds with an armful of colorful balls
The option with an armful of balls in your hands will allow you to get static photos that will be full of touching tenderness and romance. Light effects (for example, using dawn / sunset, evening light / illumination as a background) or unusual scenery (architectural sights, an original landscape, a city street without people, a retro car) will help add passion and dynamics. Balloons of different sizes in one bunch will give an extraordinary plot to the plot.
For a wedding photoset, both monophonic balls (the choice of color depends on the plot) and a bright multi-color armful are suitable. It is worth considering that shiny (metallic, foil) and matte balls in one heap are a risky combination that is best left to the photographer or stylist. For unconventionality, use unusual balloons: filled with confetti, with inscriptions or drawings, fringe or ribbons instead of a traditional thread.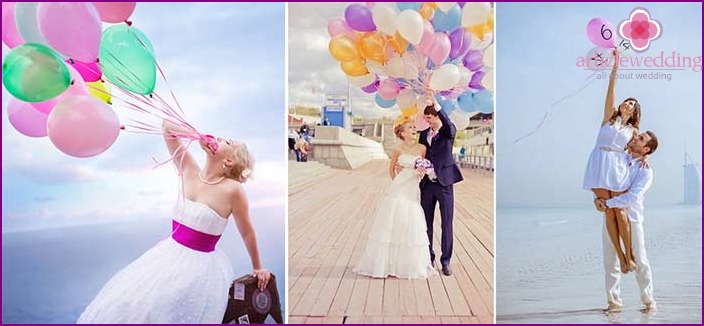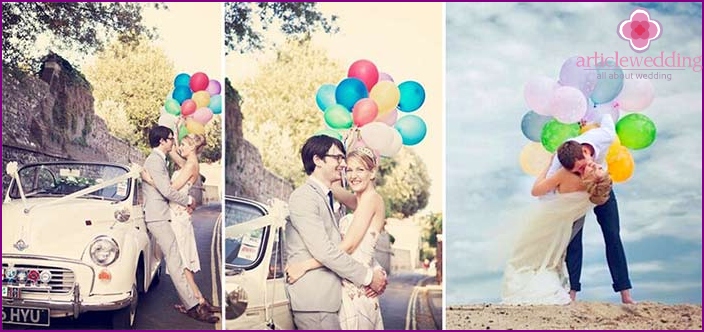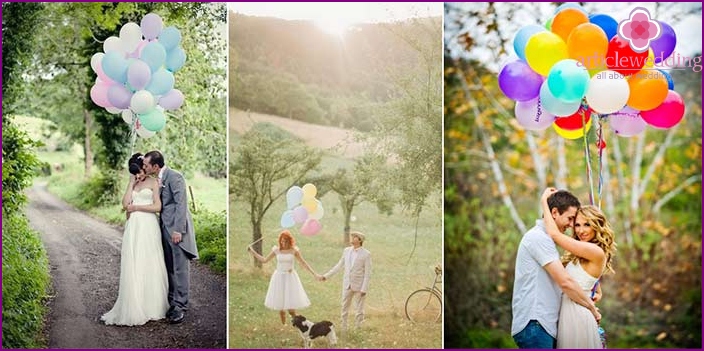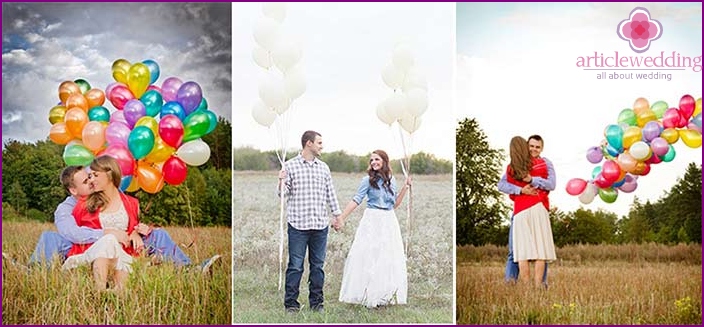 Ballooning
The massive launch of helium balloons into the sky with wishes during the wedding has long gained popularity in many countries. Do not refuse it because of the seeming banality. This spectacle will always be an inspiring, memorable event. Photos with the release of balloons are bright, dynamic, often unpredictable, as well as the emotions of all guests participating in the action.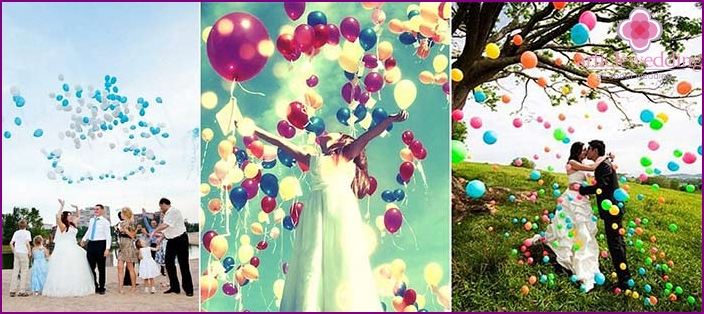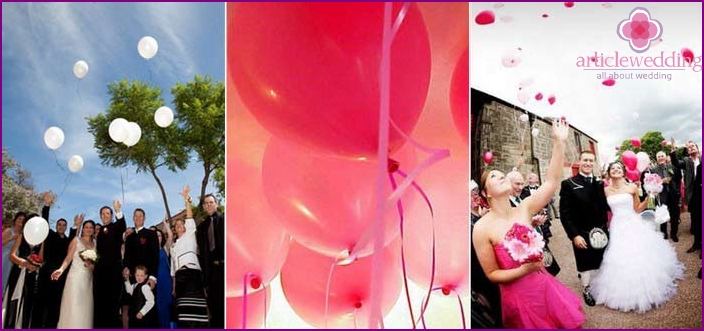 Jumping bride and groom
A very popular photo shoot script for newlyweds is «gone With the Wind». This is a dynamic photo taken in a jump: the groom and / or the bride, holding an armful of balls, jump high (or jump from some elevation). The result is a stunning effect, as if the bride and groom are carried up. For such a plot, it is advisable to use a large armful to give the picture credibility. And flying caps, helmets with glasses will add photos of humor and enthusiasm.


Wedding photos with huge balls
A popular props for wedding photosets - balloons with a diameter of more than half a meter. Especially relevant are bright (yellow, red, blue, green) or matte pastel products with a tassel garland (in the form of brushes) or ribbons. Photos with such surroundings look unusual and fresh. The plot for a photo shoot with large gel balls, as a rule, is straightforward (walk, kisses). Such a props along with the newlyweds will be the main character of the photo, so no other accents will be required.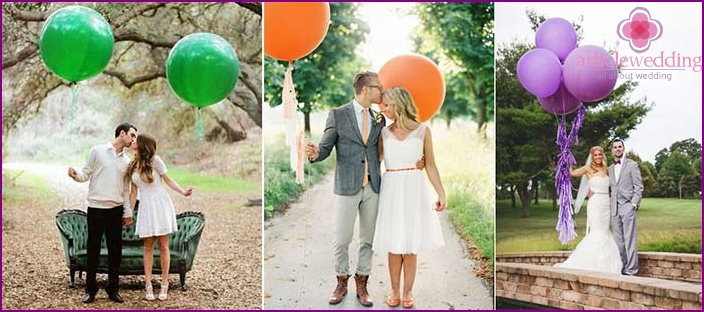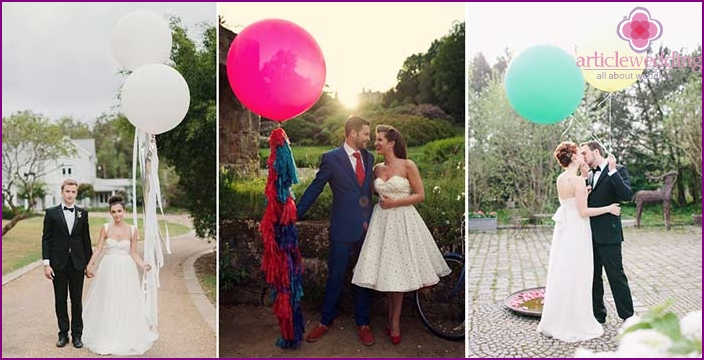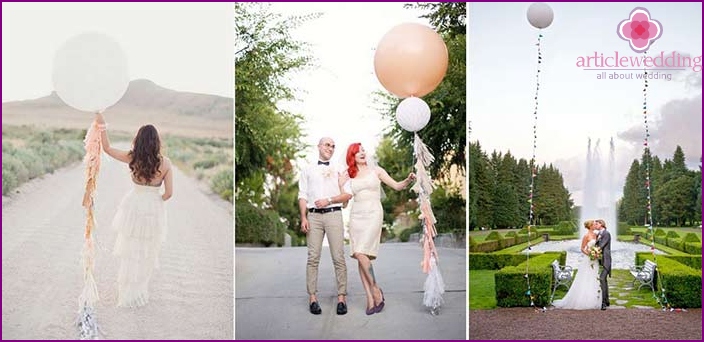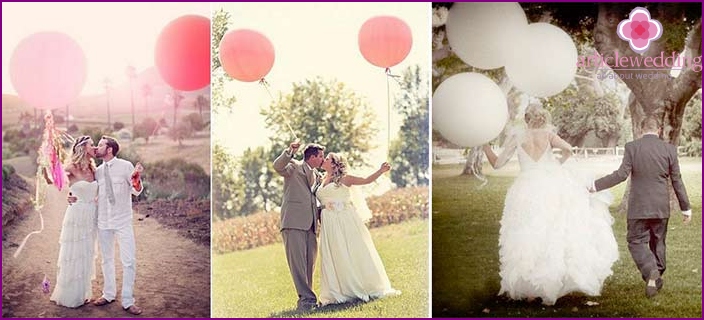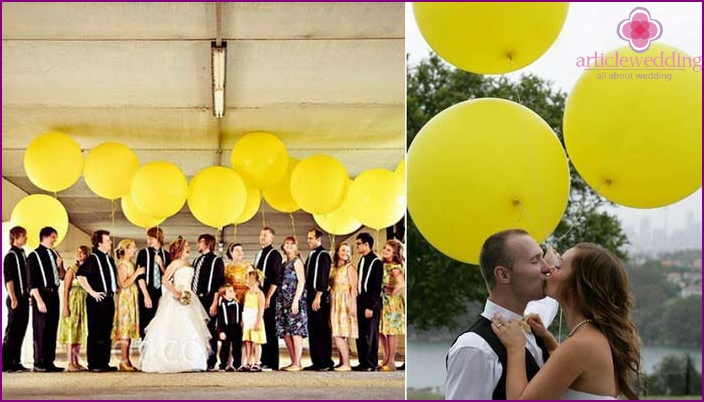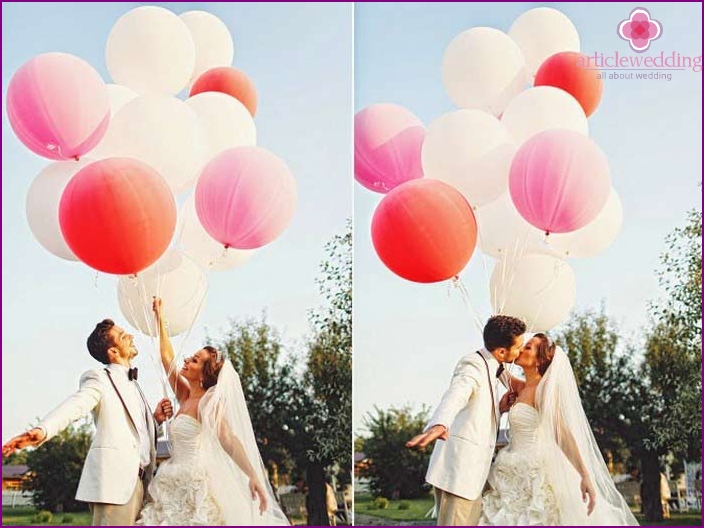 Photo session with balloons in the form of hearts
The heart is a symbol of love, so this attribute will always be popular and in demand. For a wedding photo shoot, both traditional red latex hearts and unusual balloons-hearts (foil, large size or non-standard color) are well suited. Garlands in the form of one or two intertwined hearts of balloons are also excellent props that can be played differently in front of the camera (newlyweds can hold them, toss them up or hug them).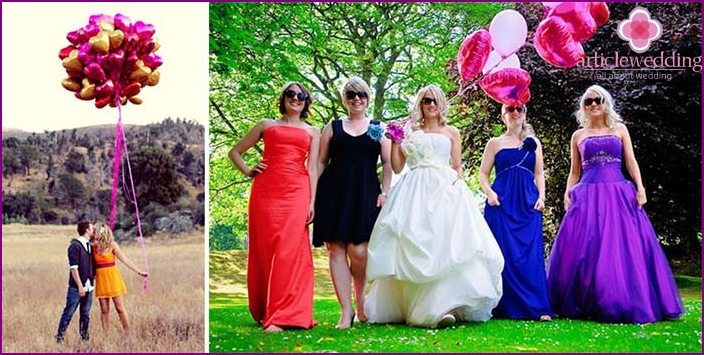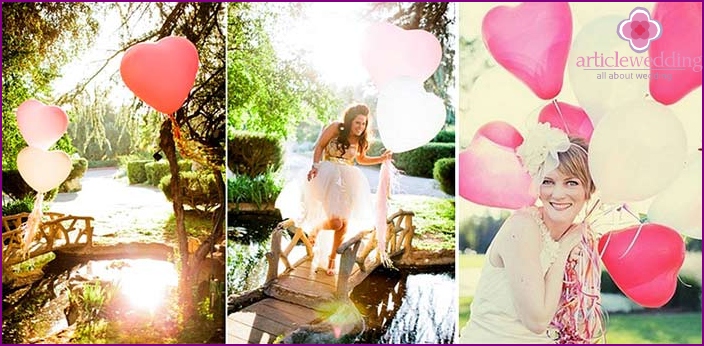 Wedding photo session with balloons in the studio
Studio shooting has its advantages over an outdoor photo shoot. It does not depend on the time of year or the weather, indoor photos always turn out to be of high quality, and newlyweds can experiment with images and outfits. If you shoot before the wedding, the balloons used as props are then quite suitable for decorating the hall, car or for the final launch ceremony on the street.
Getting ready for a thematic photo shoot, get one-color balloons. The more there are, the more effective the result will be. If the bride and groom have children, it would be a good idea to involve them in the shooting - these photos turn out to be cute and warm. Do not save, using a regular room in the apartment for a photo shoot. This will lubricate the solemnity of the event, and lighting can fail. Instead of a studio, a good hotel room is suitable. Decorating it with balls, you get a great setting for vivid shooting.