Contents
---
---
A few years ago, at the domestic weddings, candy bars began to appear - separate tables with sweet treats for guests. Many young couples quickly picked up a new idea, complementing and modifying it. Now at wedding events you can find bars not only sweet, but also cheese, cocktail, lemonade. It is interesting to learn about the tea bar - a cozy place where guests can relax and talk in a relaxed atmosphere over a cup of aromatic drink. An original table for tea parties will create a unique atmosphere of celebration and will appeal to those present.
For a wedding, in what style will a tea bar be appropriate?
The tea bar, depending on the style of decoration, is suitable for almost any wedding, this element looks especially good at holidays in the style of rustic, provence, shabby chic. A cozy table for tea parties will be a great addition to an eco-wedding, and its English version will ideally fit into a more formal and solemn event. In addition, the tea bar is great for celebrating in the Russian style - the original decor elements along with delicious drinks will create an excellent mood for guests, the atmospheric corner will be a great place for a photo shoot.
An original table with a variety of teas will be perfectly suited for a fabulous wedding in style «Alice in Wonderland». Newlyweds can arrange the present «crazy tea party», making out the bar accordingly. Dishes of different colors and sizes with plates «Drink Me», playing cards, hats, figurines of characters will be a great decoration for a tea corner. The more bright colors, the more spectacular such a table will look like. Newlyweds can additionally arrange desserts, decorate them with notes «Eat me», order themed cake.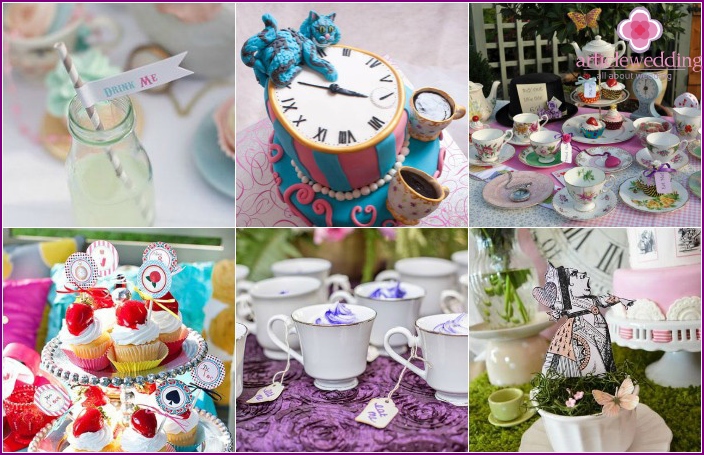 Tea is associated not only with England, where it is drunk in large quantities, but also with China, Japan, and other eastern countries. Newlyweds can arrange a tea ceremony for guests, especially this will be appropriate at a themed Chinese wedding. In Moscow it is easy to find professionals who will hold a beautiful event in front of those present, treat everyone with exquisite varieties of green, white, black teas, talk about ancient traditions and culture of oriental tea drinking. Guests will learn a lot of new things, this will allow them to better feel the atmosphere of the holiday..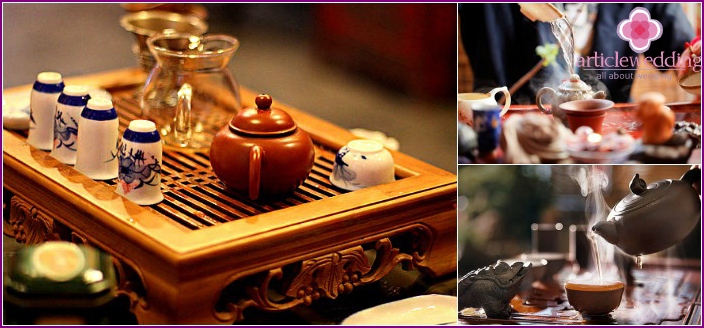 The tea bar at the event in the Indian style can be even more interesting, because in India a special recipe for the preparation of this drink has been formed. The most popular there is masala tea, which is prepared in milk along with various spices - cinnamon, nutmeg, pepper, cardamom, cloves. A huge role is played by ginger. Several types of this unique drink will be a wonderful decoration for a tea table. Masala has a specific taste, so not all guests may like it - diversify this bar with more familiar teas.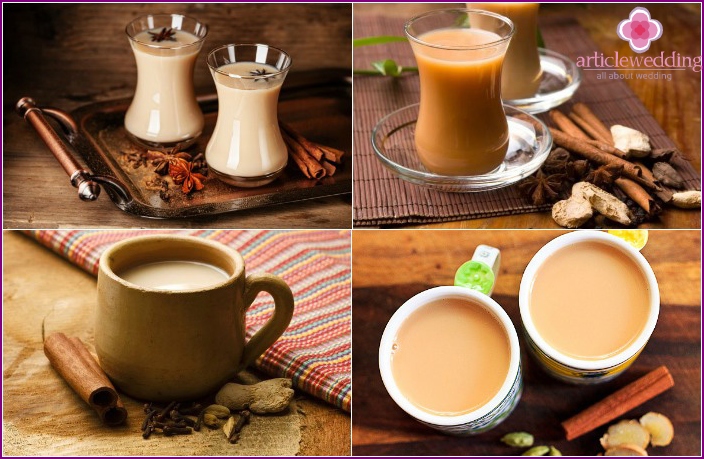 Russian style wedding
Russian tea traditions, formed by aristocrats, quickly spread throughout the country and became a national treasure. Making a thematic Russian wedding, the newlyweds can take advantage of the old customs. For example, earlier it was customary to drink tea from cup holders: the drink itself was brewed in a huge teapot, it was extremely strong, so a small part of the brew was poured into glasses and diluted with boiling water from a samovar, it was often drunk from a saucer. It was customary for nobles to drink tea with dryers, jam, honey, pies.

Future spouses can decorate the Russian tea bar with traditional tablecloths, scarves with red-black-gold patterns, instead of glasses, it is possible to use a service of appropriate colors and shades. On the table should be put treats: pies, drying, sweets, several types of pies, and teas can be brewed in large teapots. Complete the decor of the bar is a large golden samovar.
Rustic style
At rustic weddings, the tea bar looks organic. Translated from French «rustic» mean «rustic», this theme implies a certain style of decor and filling the bar. Instead of exquisite black and green teas, newlyweds can give preference to herbal, fruit varieties of drinks, arrange all kinds of tea infusions on the table. Homemade jam, honey, cookies, pies are suitable as treats. For tea, it is better to choose old, shabby sets or glass cups, a piece of linen cloth is suitable as a tablecloth.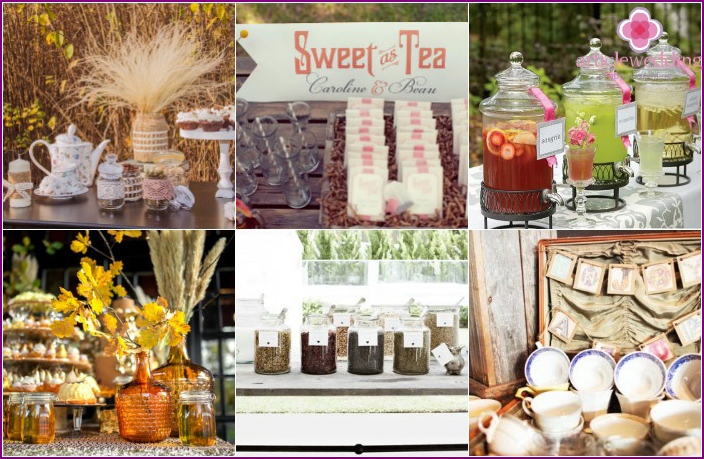 In the English style
The British are famous for their love of tea drinking - rarely anyone misses an evening ritual between four and five. Organizing a tea bar in the English style, you need to choose a beautiful exquisite service with a teapot, be sure to put a vessel with milk on the table. Tea for a cozy corner is exclusively leafy. English tea drinking is not complete without all kinds of snacks - sandwiches, pieces of cake, pastries and sweets.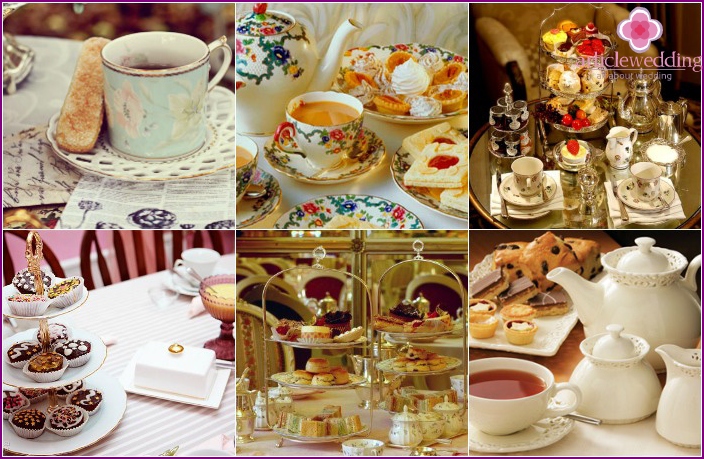 How to organize a tea bar at a wedding yourself?
It's easy to organize a tea bar: for this you need to determine the style, and then proceed with the preparation. It is ideal to place 4-5 types of teas on the table (for example, two green, two black and fruit), separately you need to arrange the additives for the drink - mint, berries, thyme, rose petals, chamomile and other plants separately in jars. All items must be signed. This bar will complement the sweets that the newlyweds will choose - cookies, pies, cakes, sweets, you need to prepare and sugar for tea. As bonbonnieres, the newlyweds can give guests tea bags with dessert spoons..
Photo of the idea of ​​decorating a tea bar for a wedding
There are several options for designing a tea bar for a wedding celebration. To choose the right one, the newlyweds need to study the ideas already implemented by other couples. A selection of photos with a variety of tea tables will help future spouses come up with an original design style that will decorate the wedding and make the decor of the event unforgettable.