Contents
---
---
An important day of your life is approaching - a wedding, and you want to celebrate it in an original way, so that this holiday will be remembered for a long time? Then consider organizing an open-air celebration. There are various ideas for a wedding in nature, it all depends on the preferences, wishes and budget of the younger. Future spouses must decide together how to conduct this event. But before making the final choice, you should carefully weigh everything «behind», «against» outdoor celebrations.
Pros and cons of outdoor weddings
The idea of ​​organizing a wedding banquet in nature has several advantages:
Fresh air;
spacious area;
celebration is not limited in time;
the opportunity to conduct a wonderful exit ceremony, which will be remembered by you, your guests;
You can launch pigeons, fireworks, balloons to make the mood even more fun;
the opportunity to arrange a thematic holiday (in the Hawaiian, noble style; the idea of ​​organizing a wedding rustic, boho);
wide selection of venues.
But, alas, such a celebration has its drawbacks: unpredictable weather conditions (rain, strong wind, unbearable heat) can significantly spoil the holiday. The presence of insects (mosquitoes, flies) also causes a lot of trouble..
It is not always easy to organize a festive table in nature or deliver guests to the place where the event will be held. But if you take care in advance, then it is quite possible to eliminate most of the troubles, the main thing is a good mood, a cheerful company.
Seat selection
The choice of venue for such a wedding is unlimited. It all depends on the wishes, ideas of the newlyweds, the theme of the celebration. Popular venues include the following:
riverbank, pond;
sea ​​beach;
historical estates;
country cottages, recreation centers, summer residences, private houses;
a park;
forest;
interesting, picturesque area outside the city.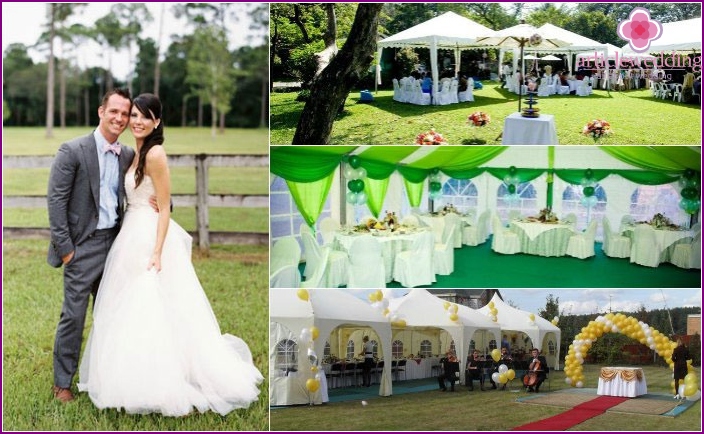 A park
Often, future spouses choose a park for holding a wedding ceremony in nature. This choice is due to several factors:
Firstly, as a rule, parks are located within the city, which simplifies the process of guest delivery.
Secondly, it's easier to find, install a tent, order food delivery.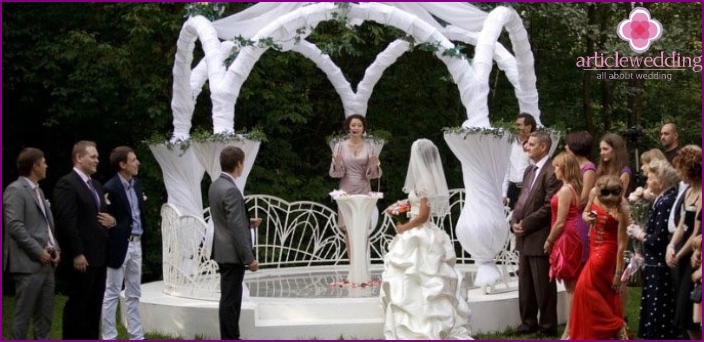 Restaurant with a park area
A great idea for a wedding banquet is to rent a summer terrace or celebrate in a restaurant with the possibility of placing tables in the open. The undoubted advantage of such a celebration is visible to the naked eye: you do not have to order food separately, because the restaurant staff will take care of everything. They will prepare snacks, hot dishes, drinks at will. Often, a restaurant already has musical accompaniment and a host, they will help organize a fun holiday with dancing, contests, games.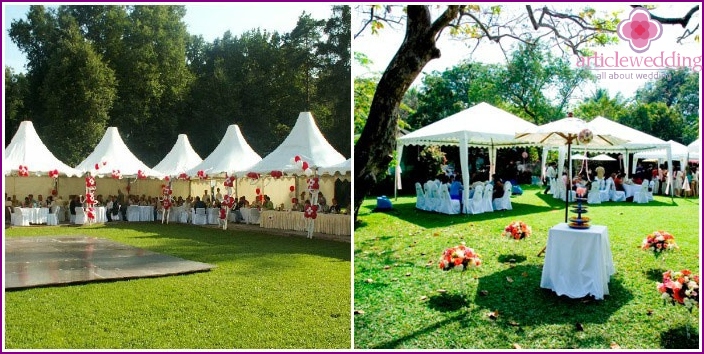 Beach
What could be more beautiful and romantic than weddings on the seashore or on the banks of a river or lake? This is a great idea. A great place for a wedding ceremony is open space, and a light breeze, the sound of waves will create a relaxed atmosphere and inspire a festive mood.
Motor ship
The original wedding idea is a combination of nature and water - a motor ship that you can rent for your event, as well as decorate it, arrange it as required by the theme of the celebration. Such a wedding will be the most romantic, bright, event filled with impressions. Guests will be pleasantly surprised by such an unusual decision for the celebration, and the bride and groom are guaranteed pleasant memories for life.
Tip: Check that the ship has a cabin where it is possible to shelter from the rain. It's good if there will be air conditioning, because with a lot of people there may not be enough air.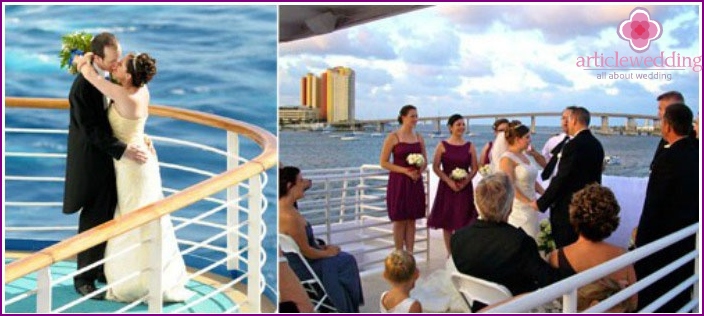 Historic Country Estate
An original, interesting, unforgettable wedding will turn out if it is organized in a country house, which, moreover, has historical value. A good idea is to conduct a thematic wedding of historical style, to think over the scenario of the event. You and your guests will receive a lot of positive emotions, have a good rest. It will also be possible to conduct an original photo shoot, after which memorable pictures will remain.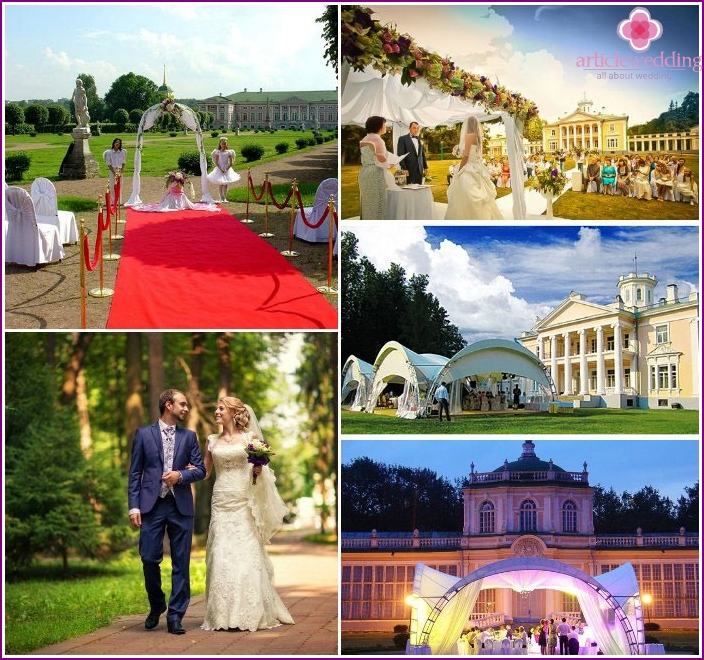 Chalet
A good place for a wedding in nature is a tourist base in the country. You should rent houses in advance, agree on everything. The advantage of such a celebration is fresh air, beautiful nature, unlimited time, a variety of celebration scenarios. The disadvantages include a certain distance from the city (transport issues) and the ubiquitous mosquitoes.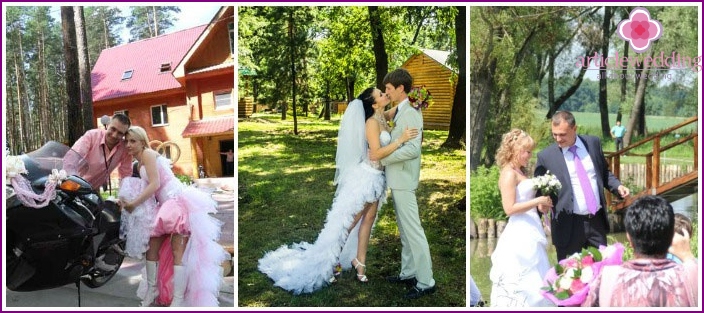 Style wedding «Picnic»
An unforgettable holiday will be a picnic in nature. Such an original idea will appeal to many. Absolutely everything can serve as a picnic place - a park, a forest, a river bank. They organize such a holiday right on the ground, so you should worry about the bedspreads, as well as about the warm blankets on which guests will sit.
Treats traditional for a regular picnic: sandwiches, fruits, vegetables, fish, barbecue. To arrange such a celebration under the crown of a large old tree or to build a small temporary canopy from the weather or to shelter from the rays of the scorching sun - ideas replace one another. To hold such a wedding in nature will turn out in a folk, romantic or traditional style..
Tip: Consider the form of clothing, because long evening dresses will not fit such a concept.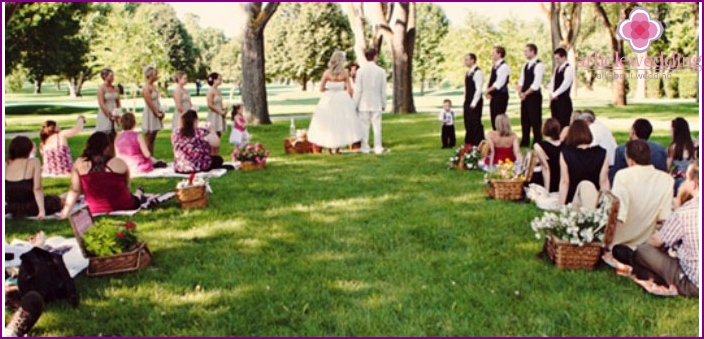 Hawaiian party
An unforgettable wedding will be held in the Hawaiian style. A good idea is to organize such a party on the beach or on the summer venue of a coastal cafe. Decorate the room to match the theme of the party. Such a thematic wedding will be absolutely remembered by everyone for a long time, and most importantly, it will be original and unique..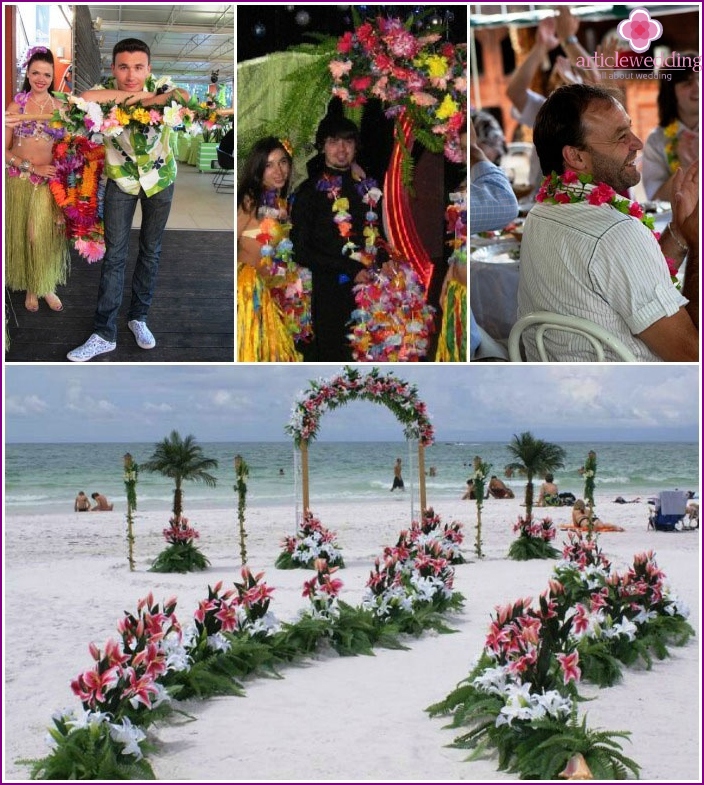 Noble style
Having decided to hold a wedding in a noble style, you can organize a real ball according to ancient traditions. All ladies will wear magnificent, chic dresses, and men will become real knights. To create a complete entourage, instead of a familiar car, it is better to hire a carriage with a harnessed pair of horses, in which you can ride around the city or the countryside. Celebration room - a castle or a house that has historical value, preferably with a large hall.
Such a celebration will leave unforgettable feelings, emotions not only with you, but also with all guests. The main thing is to carefully think through everything, draw up a script and clearly follow it. It is also necessary to take care of the kitchen, the musical accompaniment of the evening.
Oriental tale
An unforgettable holiday will be a celebration held in an oriental style. Remember the tale «Thousand and One Nights»! What prevents you from having such a romantic oriental theme party? To realize the idea, you need a little: a tent, which is recommended for rent, accessories from oriental decorations - pillows, bedspreads, lamps, candles, hookahs. Celebration can be arranged on the floor, having prepared bedding for guests in advance.
Of the treats, fruits and sweets are perfect (it's good if they are oriental sweets - Turkish delight, baklava), and drinks - tea.
Boho style
If you want to get a fabulous wedding, then spend it in the style of boho. The main thing here is impeccable taste. Naturalness, naturalness, airiness are welcome. Natural colors and ethnic motifs prevail. The idea of ​​such a wedding is perfect for gentle, romantic natures that breathe and are saturated with love, then not only the wedding will be like a fairy tale, but also all of life. An example of organizing such a wedding, look at the photo.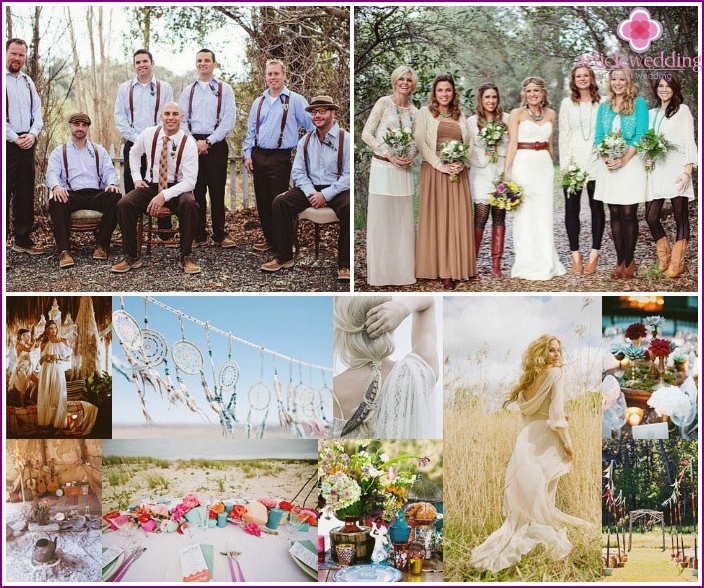 Rustic style
Rustic style wedding - a celebration in a rustic, simple style. The main idea is to create a warm, homely, cozy atmosphere so that guests feel at home. Here minimalism, simplicity of details, naturalness are welcome. Available tools are suitable for decoration: a bouquet is best made from wildflowers, and outfits are made from natural fabrics. To understand how to arrange a wedding in a rustic style, watch the video:
At such a wedding, everyone will feel family, close, which will create a favorable atmosphere and the necessary surroundings..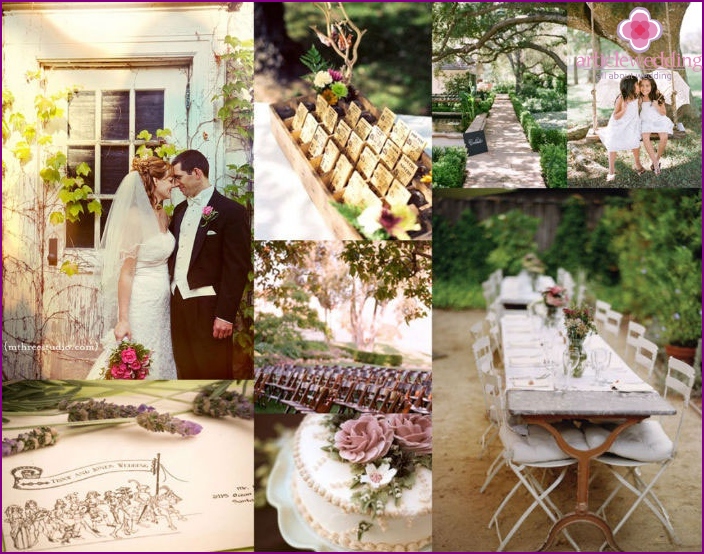 Field painting
If you do not want to crowd in the registry office, waiting for your turn, but want to have an original wedding, then an exit painting would be an ideal option. This service is provided by many wedding agencies that interact with the registry office. A beautiful arch decorated with natural or artificial flowers, guest chairs draped with fabric will create a festive, romantic atmosphere.
Exit painting is becoming more popular and this is not surprising, because you do not need to adjust to a specific date, you can choose a convenient time, venue for the ceremony.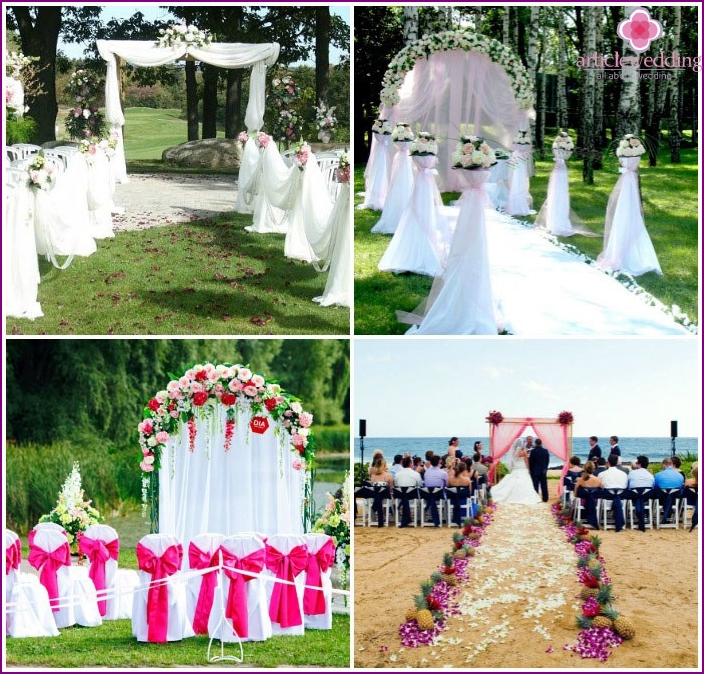 Tents, Awnings and Awnings
An interesting idea for celebrating a wedding in nature is the use of such decor as tents, awnings, awnings. They also need to be festively decorated to give the evening a sense of celebration. Thanks to awnings, awnings, you and your guests will be able to shelter from the weather or to escape from the heat.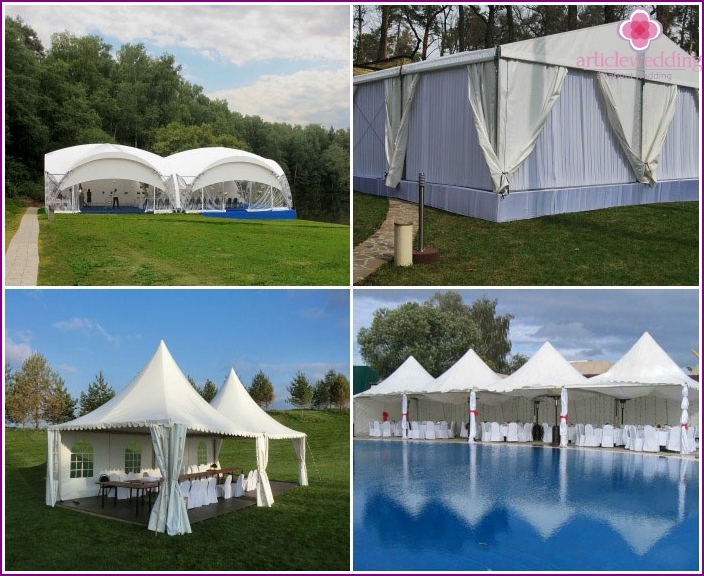 Outdoor wedding menu, catering
When organizing a wedding in nature, it is best to use the agency's catering service - it is the delivery of ready-made food from the restaurant to the place you specify. What does it mean? You can contact your favorite restaurant in advance by ordering the dishes that you wish to see on your holiday table. On the indicated day, time and place the dishes will be delivered in the best possible way. This is a great idea, because the restaurant will take care of the preparation of treats and even dishes, and you will have to enjoy the delicate taste and treat the guests.
Guest delivery
To deliver guests to the wedding, buses, minibuses decorated with ribbons or balloons are used as identification marks. With this movement, all guests will arrive at the same time, no one will get lost, will not get lost, and most importantly, it will be convenient and comfortable.
If there are few guests, then it is quite possible to hire a limousine where everyone will fit and on which everyone will move. This idea will absolutely appeal to your guests.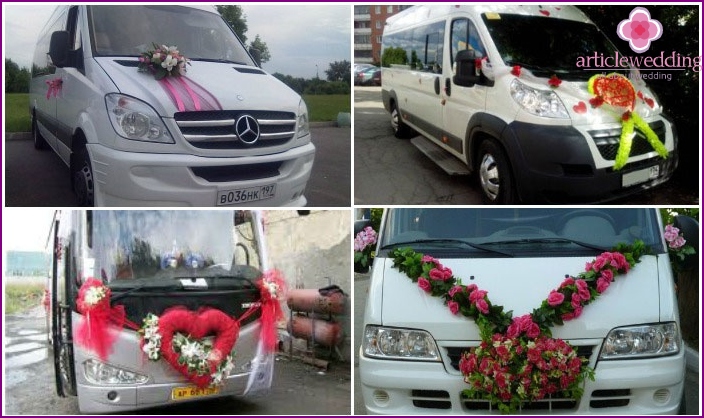 Musical accompaniment
They hire a group as a musical accompaniment: cover groups offering their interesting programs in one or another style are popular today. Music should be taken care of in advance, because good musicians are the key to a fun evening, fiery or romantic dances. Together with the host, think over the program, ask for his advice - it is quite possible that he has musicians worthy of your attention..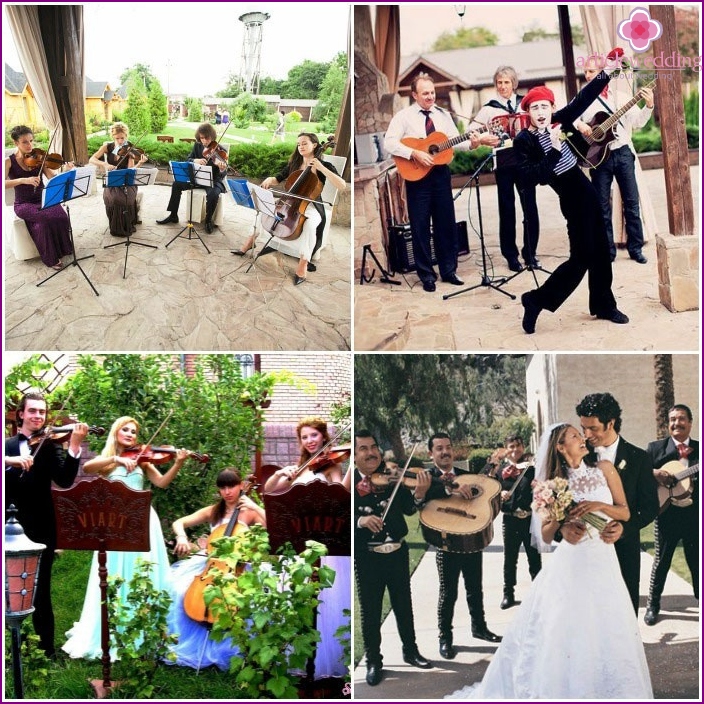 Ideas for a wedding in nature vary, but there is something in common: it is worthwhile to prepare everything in advance, organize it, stock up on a good mood. Then a wonderful, memorable holiday is guaranteed to you, and guests will remember for a long time how they had fun.
If our information helped you decide on the idea of ​​celebrating a wedding, leave your comment in the comments, share your impressions, your opinion.