Contents
---
---
At a wedding party, everything should be perfectly thought out and prepared, starting with an aperitif and ending with a dessert. Delicious snacks on the wedding table can diversify the festive menu. It is important to take care of cold and hot dishes in advance by discussing the menu with the cook. Paying attention is not only the taste of banquet dishes, but also take care of their original design, due to which the festive table will look even more appetizing.
Recipes for wedding snacks with a photo
In order to make the wedding table unique, it is necessary to prepare dishes of various tastes that will be remembered by the guests and will become, after a banquet, favorite dishes for many people. Below are the recipes for tasty and unusual snacks, everyone will find something to their taste, and perhaps one of the dishes will become a family crown dish of a young family.
Cold Appetizer Options
Cold appetizers on the wedding festive table should be about six to seven dishes. When composing the menu, it is worth remembering that the dishes should be different in order to cater to the taste preferences of each guest. Delicious, original snacks don't have to be expensive. So, in the menu for cold snacks should be present:
Mushroom Dishes.
Vegetable snacks (salads, fresh vegetables by season - tomatoes, cucumbers, bell peppers).
Cold cuts - neck, balyk, ham.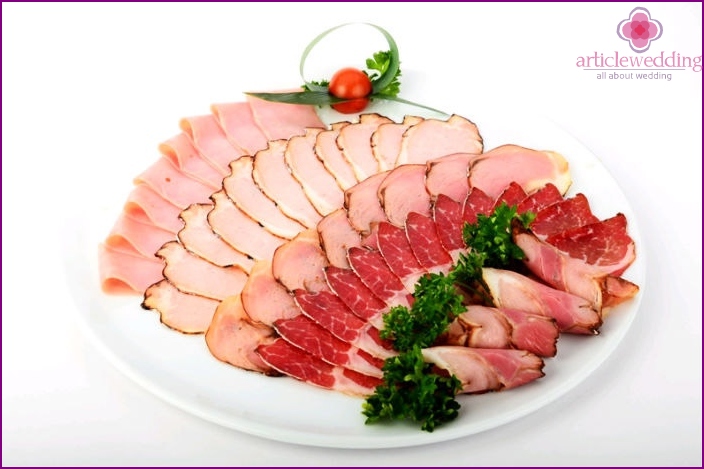 Fish platter - sturgeon, salmon, salmon.
Cheese plate.
Sprat canapes
A worthy replacement for ordinary sandwiches with sprats on the wedding table will be sprat canapes, which are not only tasty, but also look appetizing, original. Such canapes, even taking into account a small number of ingredients and a very simple cooking technique, will certainly appeal to many guests at a wedding party. What is needed in order to prepare unusual sandwiches?
Ingredients:
300 g of hard cheese;
200 g of cottage cheese;
50 grams of butter (softened);
? Lemon
6 pickled gherkins;
100 g sprat;
half a bunch of watercress.
Cooking sprat canapes:
Using a blender, it is necessary to grind cottage cheese, softened butter, sprats. The result should be a homogeneous mass.
Hard cheese cut into squares a couple of millimeters thick.
To create a canapé, two slices of cheese are needed: the curd-sprat paste is placed on one slice, and it is covered with the second slice. Comes out kinda «cake», where as «cream» stands a mixture of cottage cheese and sprat, and the role «short cakes» perform slices of cheese. When making canapes, you need to make sure that the edges are smooth and beautiful, and the layer was the same thickness as cheese.
The top of the canapes should be decorated with a slice of lemon, gherkin.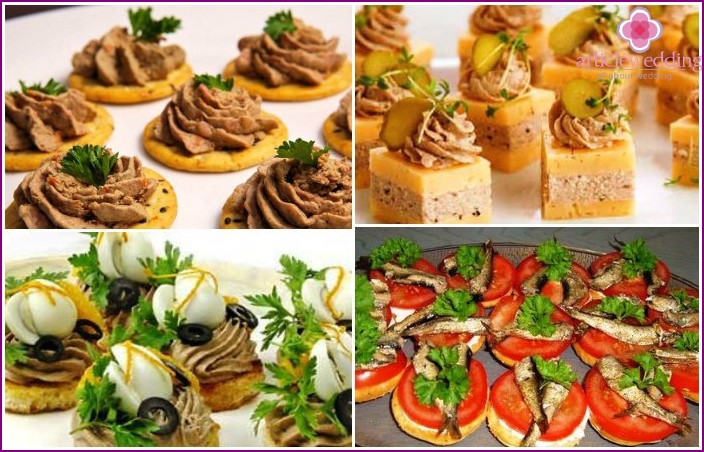 Stuffed squid
Fans of seafood will certainly appreciate the stuffed squid, because this dish is not only original design, beautiful presentation and mouth-watering appearance, but also exquisite delicate taste. Products such as eggs, cheese, and shrimp as part of the filling will complement the taste of squid. An appetizer of stuffed squid is relevant at any time of the year and will become a real decoration of a wedding table.
Essential Ingredients:
3 carcasses of squid (ready to use);
200 grams of shrimp;
80 g of cheese (hard varieties);
2 tablespoons of salt;
1 onion;
50 ml cream;
2 boiled chicken eggs;
salt to taste.
Stages of preparation:
To prepare the filling, chopped onion slightly fried in vegetable oil. Combine the peeled, chopped shrimp with the onion and fry a little more.
Grate boiled eggs, combine with shrimp and onions.
Stuff squid carcasses with stuffing, put in a baking dish, pour cream and sprinkle with grated cheese. It will take 10 minutes to cook in an oven preheated to 250 degrees.
Garnish with greens before serving. Serve squid in whole or chopped slices.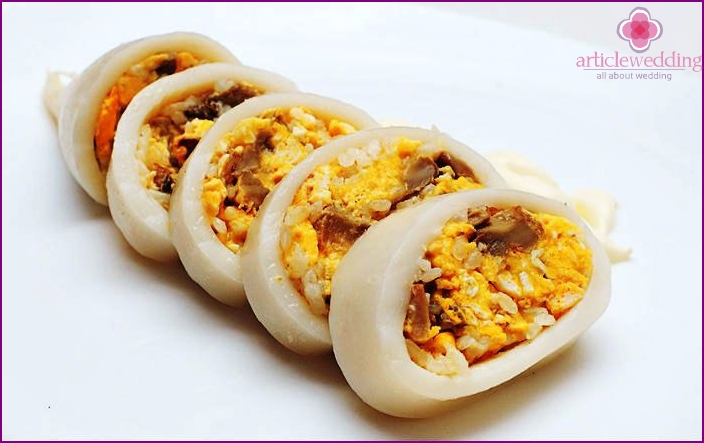 Chips Cheese Appetizer
Delicious snacks for the wedding table will help to design chips originally. To create a culinary masterpiece, you need to put a small amount of filling on chips and decorate with greens. Filling options can be very diverse: with crab sticks, chicken, seafood, red caviar, fish. But the classic recipe for cheese snacks on chips, everyone will certainly appreciate.
Ingredients:
potato chips (preferably whole slices of medium or large sizes);
100 grams of hard cheese;
300 grams of fresh tomatoes;
2 medium cloves of garlic;
2 tbsp mayonnaise;
greens to taste.
Cooking method:
Dice tomatoes, remove excess liquid (juice).
Hard cheese grate.
Chop greens, peel the garlic, pass through the garlic.
Combine cheese, tomatoes, herbs, garlic and mayonnaise - mix.
Put the filling on the chips. It's important to remember that the filling should be placed immediately before serving the snack, as the chips quickly soak.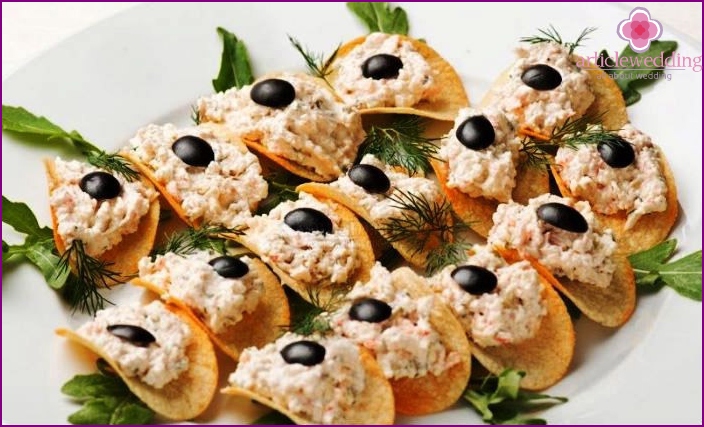 Canapes with Dor Blue cheese
For guests with a refined taste, prepare original dishes. An example of such an appetizer for a wedding table is a canape with dor blue cheese. The combination in the canapes of the unusual salty taste of dor blue cheese, sweet mango and sour grapes will create a unique flavor. To make a canapé you will need: mango, grapes (preferably seedless), dor blue cheese.
Cooking:
Cheese, mango cut into slices. In the original recipe, the products are cut into cubes, but at will it is possible to make different shapes using your imagination and various molds.
A grape, mango is put on a skewer or a toothpick, and at the end, dor blue cheese. Often olives or olives are used instead of grapes, and pineapple instead of mangoes.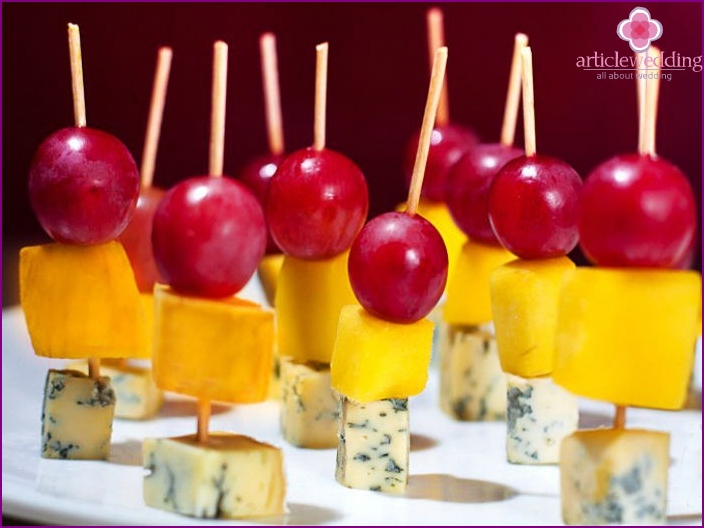 Hot Appetizer Recipes
A wedding is a fun holiday that is unlikely to take place without strong drinks. Alcohol needs to be eaten with something meaty and warm, so hot snacks on the festive table are simply necessary. Unlike standard main dishes, hot appetizers, as a rule, are served already finely chopped, which eliminates the need for a knife. Include in the hot menu not only snacks, but also main dishes. For example, serving a baked whole pig or stuffed duck will cause incredible delight among guests and everyone will certainly want to try a piece of such a dish.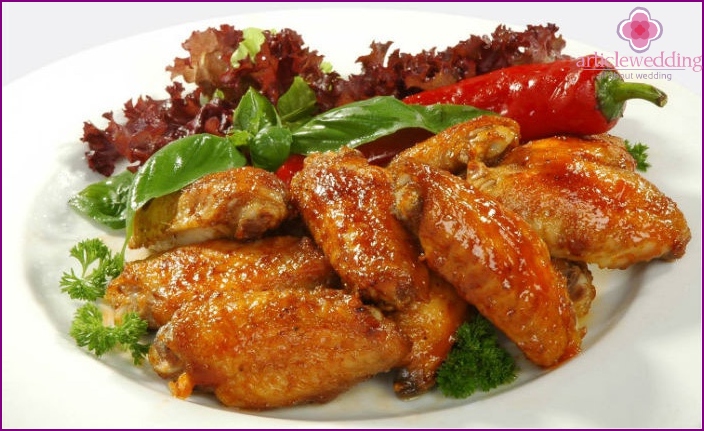 Crawfish Cancers
An unusual wedding hot appetizer can be an original dish - crawfish necks in shells. The unique design and presentation will pleasantly surprise guests, they will be interested to try a new dish, and they will remember the unique taste of this snack long after the banquet. Thanks to the presented recipe for this original snack, everyone will be able to cook their own cancer necks at home.
Essential Ingredients:
10 crayfish;
75 grams of cancer sauce;
100 grams of mushrooms (it is better to use porcini or champignons);
to taste - salt, greens.
Cooking:
Boil the crayfish, separate the necks and claws. The guts should be removed from the carapace, then rinse them in salted water.
It's worth picking up shells of approximately the same size, connecting them so that an oval box is formed (outwardly similar to a boat).
Fry the champignons until half cooked, chop with a knife, season with cancer sauce.
Combine peeled and chopped claws, necks and mushrooms. Fill the shell with a mixture.
Put the shells on a plate, sprinkle with herbs. The dish is ready to be served on the festive table.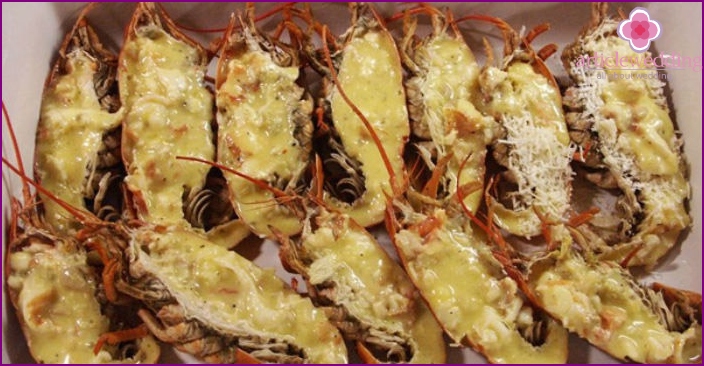 Baskets with zander in tomato sauce
As a rule, tartlets are used for cold appetizers, but in some cases baskets are simply indispensable for hot dishes. An example of a hot, delicious appetizer for a wedding table in tartlets is zander in tomato sauce. It is unlikely that such a fish snack will leave anyone indifferent. How to cook tartlets with pike perch and what ingredients are needed for this?
Ingredients:
12 baskets (approximate capacity of each 20-25 g);
300 grams of pike perch fillet;
50 grams of champignons;
150 g of tomato sauce:
salt to taste.
Cooking:
Chopped pike perch fillet, cook until half cooked, add mushrooms.
Pour the broth, and add tomato sauce to the container, boil.
Put the resulting mixture in tartlets with puff or pastry.
Garnish tartlets before serving with greens and pieces of crab.
Crab croquettes with rice
Crabs have always been in demand in cooking, because any banquet menu, including a wedding table, is no exception. Crab meat is tender, and also contains a large number of useful trace elements, so dishes with crab are not only tasty, but also healthy. Crab croquettes with rice is a hot appetizer that is perfect for a wedding feast. To prepare them you will need:
80 g of crab meat;
? glasses of rice (it is better to choose round-grain);
100 g of vegetable oil;
2 eggs;
20 grams of flour and ground crackers;
spices (salt, pepper, rosemary) - to taste;
parsley, tarragon - by? tsp;
80 grams butter.
Cooking hot snacks:
Rinse well and boil in salted water. Cook until fully cooked until crumbly rice porridge is obtained. Add 40 grams of butter.
Grind crab oil, combine with rice.
Add egg yolk, spices to the mixture.
Make balls from ready-made meat, dip in flour, dip in egg white, and then in breadcrumbs. To fry, you will need a large amount of sunflower oil, so that the croquettes are fried, as in deep fat.
Put the prepared croquettes with a slice of butter on a dish and sprinkle with herbs. The appetizer is ready to be served at the wedding table.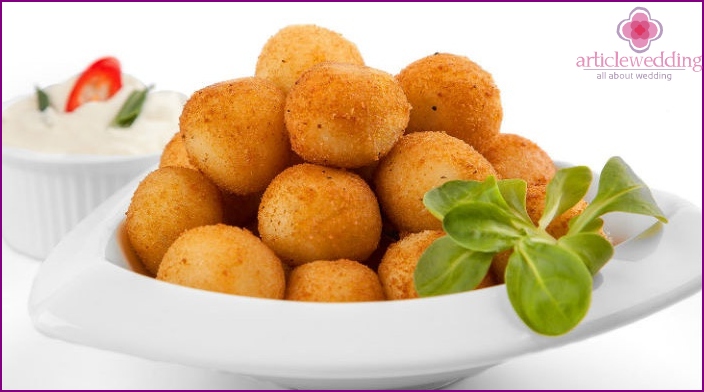 How many servings of snacks are needed per person??
It is difficult to calculate the exact amount of snacks needed for a wedding festive table, since each person has different taste preferences, appetite. The administrator of the restaurant where the wedding banquet will be held will help to roughly calculate how many servings and which dishes are best to order. For example, the approximate weight of a serving of snacks per person is approximately 50-70 grams.
When preparing, you need to take care of snacks that will treat guests after buying the bride from her house (for example, small canapes or sandwiches). It should be borne in mind that guests during the feast actively eat the first 20-30 minutes, then they drink more and use food as a snack. If after visiting the registry office there was a long walk, then most likely the guests got tired and hungry, so the cold snacks that are served at the beginning will be eaten with pleasure.
Video recipes snacks for the wedding table
Prepare original snacks will help the advice of famous chefs, you just have to decide which cuisine snacks like the newlyweds and guests. Watch a video where one of the most popular culinary specialists from Spain - Hector Jimenez-Bravo - will teach you how to cook real culinary masterpieces of French cuisine that are perfect for the festive wedding table: