Contents
---
---
A wedding arrangement made with the help of sweets can become an unusual element of room decor or an original addition to a gift from guests. If you want to present something unique, then stop at a sweet gift. The bride and groom will be pleasantly surprised by such a surprise. You can order sweet masterpieces made using sweets in salons, purchase ready-made ones or make them yourself.
Candy wedding decoration ideas
No holiday is complete without sweets and gifts. We propose combining these components into one wedding composition, which is used in the manufacture of sweets. Such a gift will be unique, unique, compiled in accordance with your taste, color and stylistic preferences. Candy compositions for the wedding can be performed in different ways: in the form of baskets, bouquets, ships, hearts and other shapes symbolizing this celebration.
Basket of sweets with flowers
A basket of chocolates with flowers is an excellent option as an accessory for a wedding or a gift from dear guests. Such an attribute during the celebration will attract many looks and will be very memorable, and after the holiday will give the bride and groom the most delicious memories. An unusual candy gift will always be appreciated, will cause a lot of positive, especially if the newlyweds have a sweet tooth.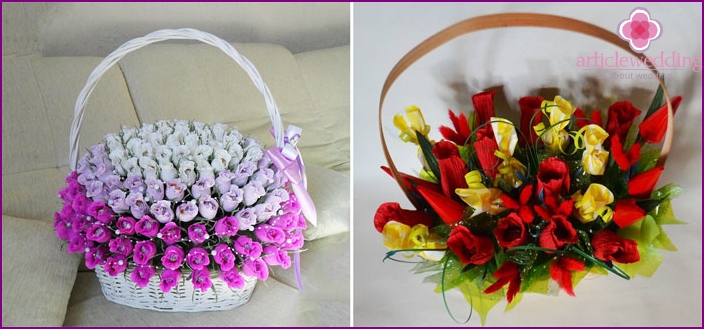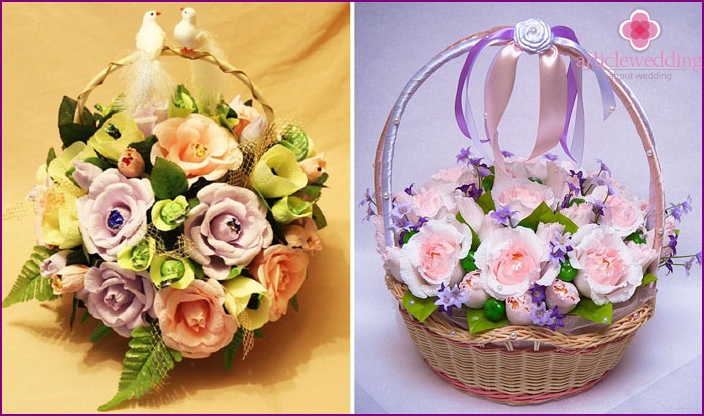 Heart shaped candy arrangement
A composition in the shape of a heart made for the wedding with the help of sweets is a very unusual gift. It is a beautifully arranged sweets, decorated with all kinds of materials. When compiling such a composition, they adhere to the principles of aesthetics and stylistics of the celebration for which it is intended. By changing design options, basic components, color combinations, you can get a lot of gift options in the form of a heart.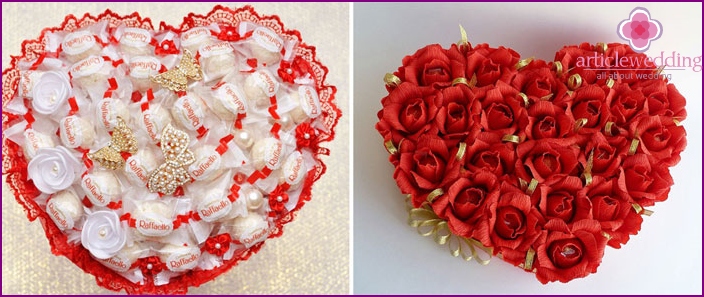 Candy Wedding Engagement Rings
With the help of sweets, you can create compositions of any shape, for example, in the form of wedding rings that emphasize the theme of the celebration. Such a sweet idea arose in the West and quickly took root with us. Candy wedding engagement rings are very original. When creating them, artificial and natural flowers, ribbons, rhinestones, feathers, and other decorative elements are used.


Wedding ship made of sweets
An excellent composition for the wedding, made using sweets, in the form of a ship - a symbolic beautiful gift. It is suitable for honeymooners who have decided to stylize a celebration in the marine theme. In addition, the ship is a metaphor, which means the desire for easy joint sailing along the waves of life. Such a composition may have different sizes and color combinations..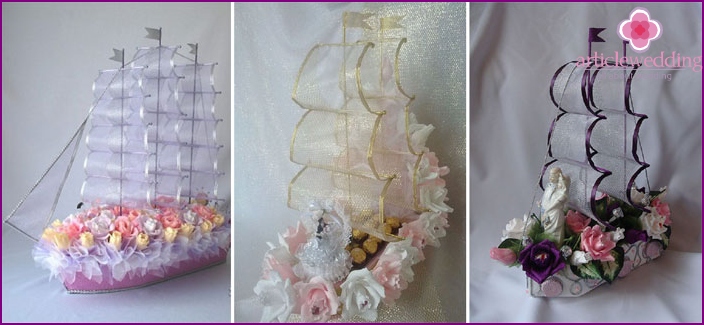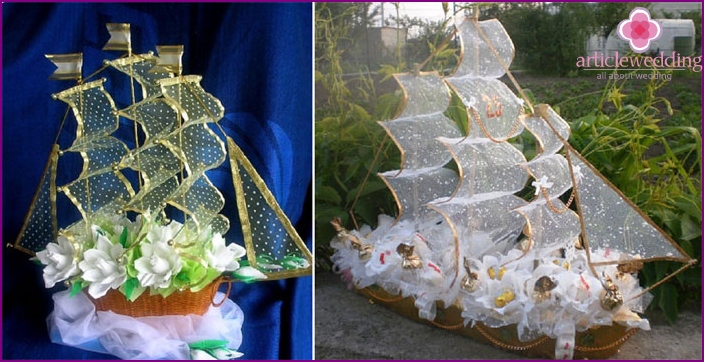 Candy composition "Swans"
An excellent wedding present is a pair of delicate swans made using sweet candies. Such a surprise will delight the newlyweds for a long time with their appearance, and then give a very tasty treat. In most cases, white sweets are used for swans «Raffaello», decorated with small feathers. The composition can be supplemented with natural or artificial flowers..


Rules for making wedding compositions of sweets
Wedding arrangements made using a variety of sweets are considered an original element of the celebration. They cause positive emotions, show a special attitude towards a person, surprise with their non-standard. Such compositions can be done by everyone, if you follow some rules:
The main role is played by sweets. When choosing, pay attention to the shape, taste, design of the wrapper. Your work will be judged not only by originality and beauty, but also by taste. It's better to choose sweets that are pleasant to the person to whom the composition is intended, or to purchase your favorites.
Sweets can have different shapes, which gives the sea plenty of space for imagination. However, the most universal are round or semicircular, which look great with any method of attachment. Chocolate medals look interesting in wedding compositions, figured chocolate is suitable for a theme celebration.
Do not buy glazed confectionery, as they may melt during operation.
When decorating a composition for a wedding, observe the measure, otherwise busting tinsel will ruin the whole look.
The composition for the wedding should have clear boundaries.
In addition to chocolates, spikes, branches, and herbs are excellent materials if you make up a basket or bouquet.
All parts of the composition for the wedding should be freely located.
Each element must be combined with the others in shape, size, color, so that the image is complete and complete..
A combination of two colors looks harmonious, where one plays the role of the main, and the other - the additional. The main color should be placed in the center, and it should be brighter than the complementary one. It is better not to use two saturated colors, otherwise the composition will cut your eyes due to oversaturation.
If additional paper is used, select no more than three colors. You can combine matte and shiny transparent material.
You can hide the candies themselves in any packaging: both a native and another interesting candy wrapper will do.
The composition is made using several varieties of sweets, where you can combine expensive chocolate sweets with cheaper caramel.
If you need to give sweets the appearance of flowers, you should use wrapping, corrugated, silk paper, floristic organza, felt.
If an oasis is used, a porous sponge for the base, then it is better to choose for dry flowers, since the structure is denser and better able to hold. Instead of an oasis, you can use polystyrene or foam.
All fastenings must be aesthetically pleasing. Decorate the part that is hidden from the eyes with different materials.
Do-it-yourself candy wedding masterclass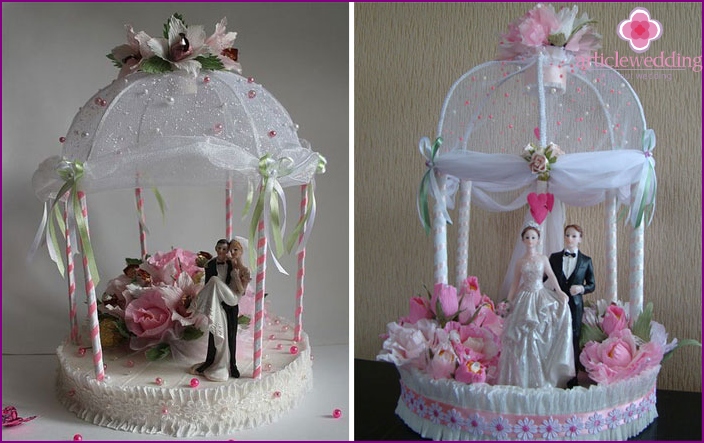 A wedding is a very joyful, important event in the life of every young family. Therefore, on such a holiday I want to present a special, memorable gift. A sweet gazebo with sweets is an excellent alternative to a trivial box of goodies. According to the master class presented below, you can easily make such a composition yourself.
Necessary materials
The following materials will be required:
penoplex circle;
corrugated paper;
scissors;
hot glue;
wire;
foam circle;
metal-plastic pipes;
tulle;
beads;
lace;
satin ribbons;
statuettes of the newlyweds;
sweets.
Stages of creation
A small circle of penoplex, which will serve as the dome of the arbor, is glued with corrugated paper.
We cut a circle of foam of large diameter, which is the base of the arbor. Divide the wire into six needles, which are glued with corrugated paper.

We bend the knitting needles to give the dome a shape. We fix them with glue in the base with a snowflake.

The diameter of the dome should be equal to the diameter of the base of the gazebo.
Metal-plastic pipes will serve as columns that need to be wrapped with satin ribbons.

We fix the dome into the pipes of the column. Glue tulle to the needles.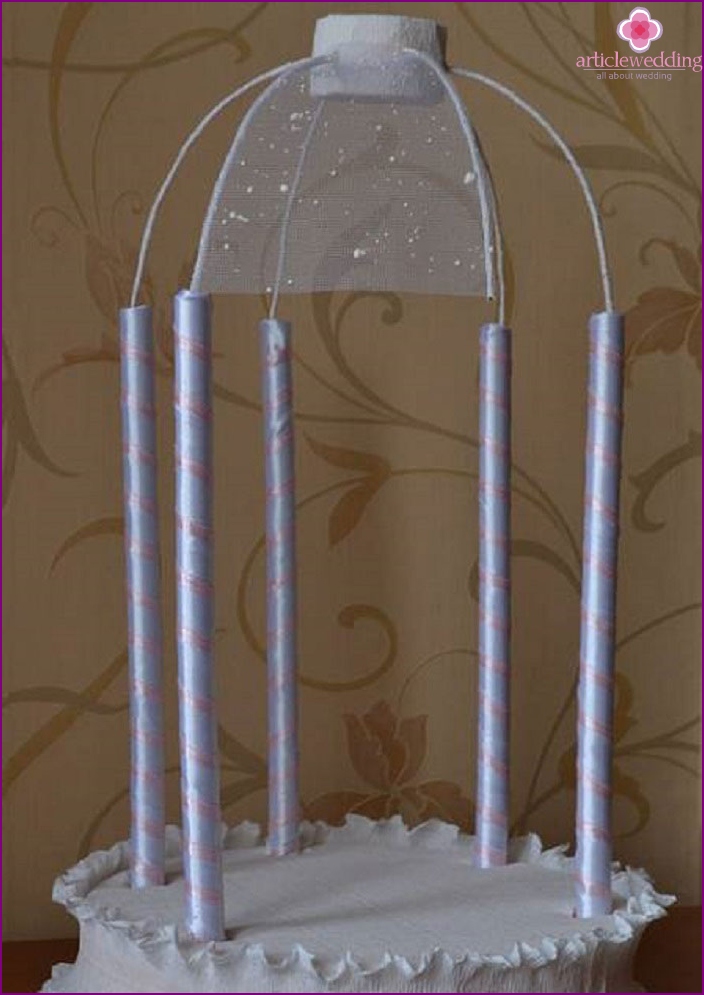 We decorate the arbor with lace and beads to your liking.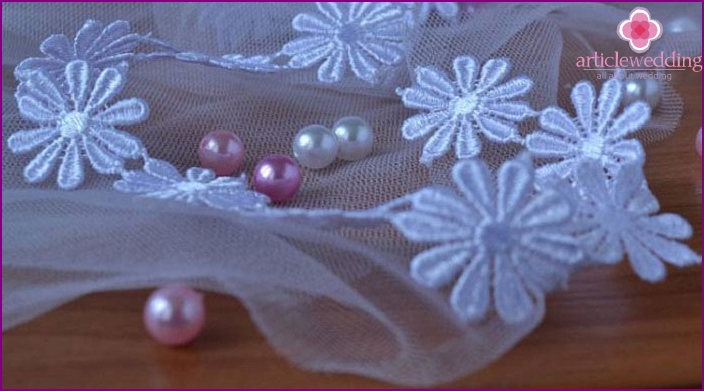 Using corrugated paper we form flowers into which we put candies.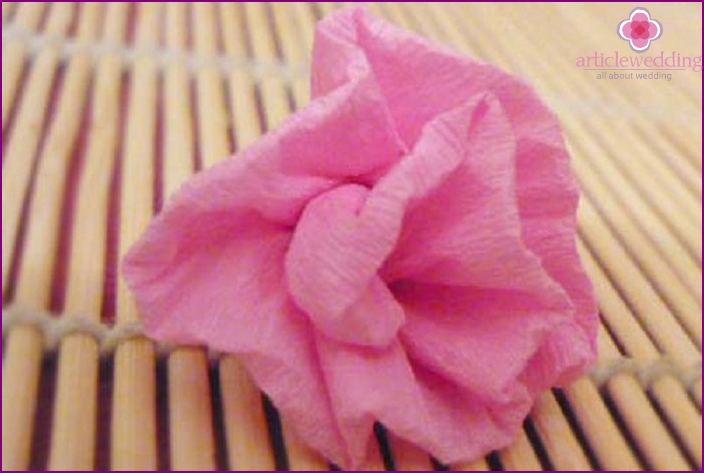 We put the newlyweds in the arbor, around we have candy flowers.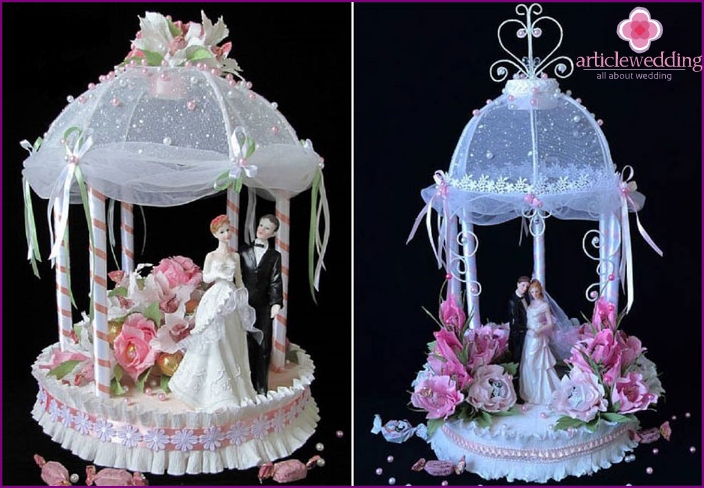 Video tutorial on creating a bouquet of sweets
A wedding arrangement made with sweets is a great way to make the holiday more interesting and stand out. If this item is used as a decor of the hall at a celebration or the guest decided to surprise the newlyweds with an unusual gift, then ordering jewelry in a candy store is the easiest way. However, it's much more interesting to create an attribute with your own hands. The main thing is that it harmonizes with the general style, reflects the theme of the celebration. For an illustrative example, we give a video where the process of creating a sweet candy bouquet is described in detail.