Contents
---
---
To give the wedding a highlight, many couples seek to organize an event in a particular style. A popular theme of recent years is an oriental wedding, which has a unique atmosphere. A lot of details are involved in creating the mood, making the celebration interesting, mysterious and mysterious. One of them is a hookah. It is popular not only in eastern culture, but also throughout the world. To find out if this device will be needed at your wedding, we will consider the pros, cons and possibilities of implementing smoking entertainment.
Hookah for wedding in oriental style
If you and your guests like to smoke a hookah, and the theme of the event is East, the apparatus can be quite appropriate. Thick tobacco smoke, gurgling water, a pleasant smell - all this will help those present to relax and calmly chat in a relaxed atmosphere. In Arab countries where there is a ban on alcoholic beverages, hookah has become a common artificial relaxant..
The presence of a hookah at a wedding in an oriental style is a big plus if you want to maintain the atmosphere of the holiday. As a rule, the attribute is far from noisy fun, so guests can be distracted, take a break, change their scenery at any time, so that after a while they can return to a cheerful holiday. Hookah looks original and beautiful, if made in a traditional oriental style.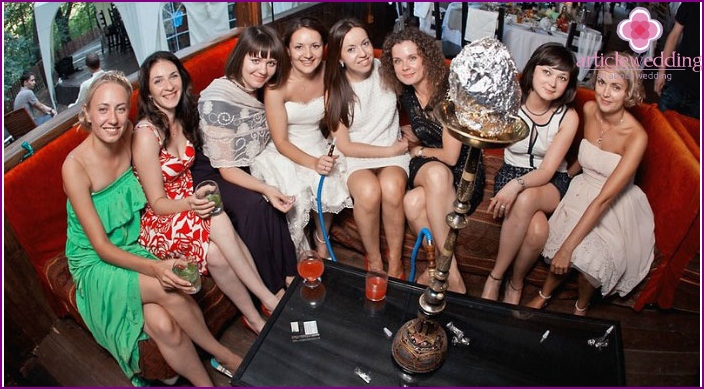 Hookahs come in different shapes and sizes, sometimes fruits are used as a vessel, and the water itself is often replaced with liquids unusual for the apparatus, such as fruit tea. Tobacco for a hookah at a wedding is also different: each type has its own taste and an unusual smell. In addition to the obvious advantages of a hookah at a wedding celebration, there are cons:
Smoking a hookah is harmful. Many believe that the water filter of the device is able to clean the tobacco of tar, but this is not so. Together with the steam, the heroes of the occasion receive much more harmful substances than when smoking cigarettes. For comparison: smoking a hookah for half an hour, inhaling carbon monoxide is equivalent to a smoked pack of cigarettes. If your guests are heavy smokers and know how to limit themselves, nothing bad will happen, but inexperienced people may feel bad after such entertainment.
Alcohol does not go well with hookah. If the wedding is taking into account Arab traditions, and there is little or no alcohol there, then smoking will not bring much harm to those present. But if at the celebration there is a classic set (vodka, cognac, wine, champagne), and guests like to drink, you should warn them that the hookah can harm their health in combination with alcohol. Alcohol poisons the body and, together with a high tar content in tobacco, can cause a severe allergic reaction.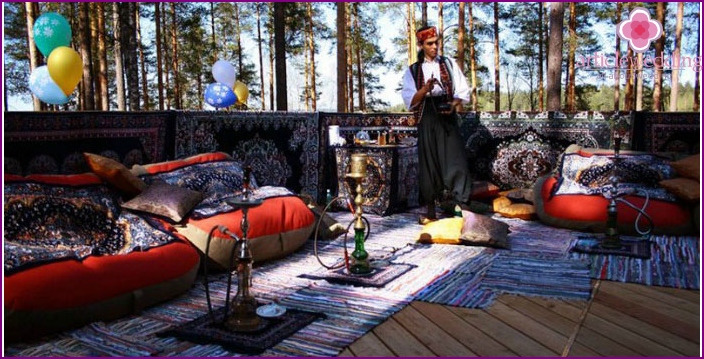 Ideas for organizing a mini hookah at a celebration
In any case, hookahs at a wedding do not need to be placed on the main banquet tables where guests are sitting. Firstly, if children are present at the celebration, it is unlikely that smoking will contribute to their well-being; for some guests this can also be unpleasant. Secondly, inhaling tobacco vapor through a hookah is an intimate, mysterious action that takes place in a suitable environment, pleasant and relaxed. Thirdly, the organization of a separate room for a mini-hookah will be an excellent decoration element, emphasize the original theme of the wedding.
Special tent on the street
Exit registration of marriage and the subsequent banquet in the fresh air under the tent is a great option for an oriental wedding. Such an atmosphere makes it easy to organize a suitable place for smoking a hookah. This may be a small separate table on which the apparatus stands, surrounded by soft sofas or pillows lying on the ground. To enclose the smoking space from the banquet and create a special atmosphere, the newlyweds can use screens decorated in oriental style, light, flowing curtains, pots with living plants.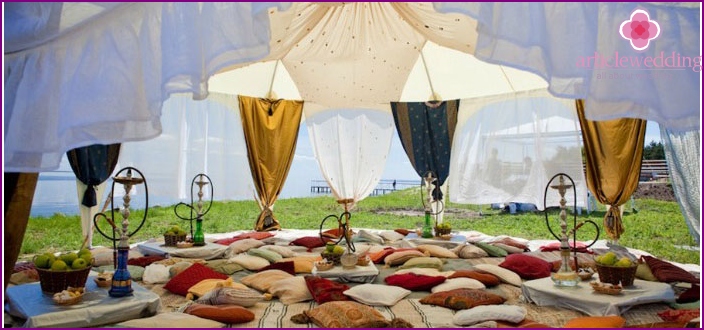 Separate hookah room
If future spouses decide to organize a wedding event in the room and do not want to do without a hookah, it is worth taking care of a separate room where a smoking action will take place. If desired, the heroes of the occasion can pre-search the banquet hall where smoking is allowed and the hookah cooking service is provided. Many oriental restaurants already have beautiful, specially equipped rooms. You need to decorate such a room accordingly: oriental lanterns, curtains, carpets, pillows, painted patterns.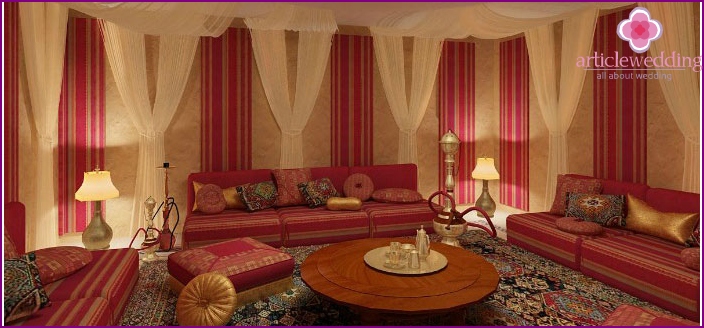 How much is the exit hookah bar?
To make the eastern wedding memorable for everyone present, the newlyweds can rent a visiting hookah bar with a professional hookah man. The cost of this service depends on the number of devices, tobacco and the time that the specialist will spend at the event. Three hours with three hookahs and one hookah will cost about seven to eight thousand rubles, four hours with five hookahs - about thirteen thousand. It is worth making sure that the specialist provides disposable tips for each guest and a large selection of tobacco.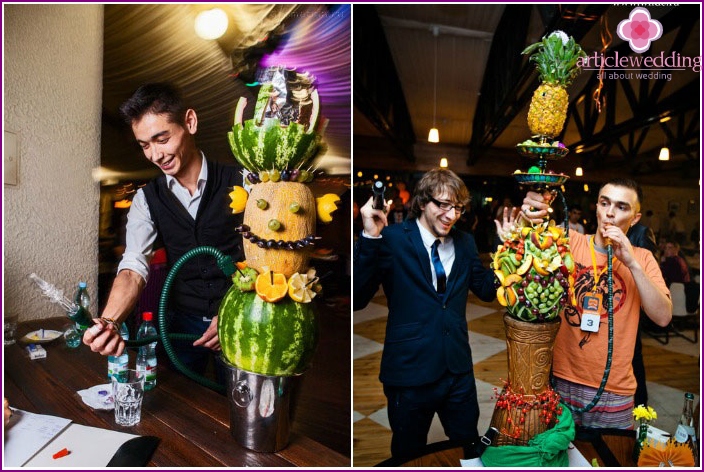 The presence of a hookah at the celebration is unusual, unusual, but original. Be sure to consider the number of guests in order to correctly calculate the required number of hookah devices. Do not forget to warn the invitees about the combination of this fun with alcohol, inform them about the possible consequences. Evaluate all the pros and cons of this entertainment to determine whether it is necessary at a wedding event.