Contents
---
---
After the solemn part of the wedding, the newlyweds and guests go to celebrate the creation of a new family in a restaurant. It is hard to imagine a wedding banquet without alcohol. Wine, champagne and other strong drinks are always present at the wedding table. They help guests to cheer up their hearts at the celebration and to feel the atmosphere of the holiday. What factors to consider when choosing wine drinks for a wedding party?
We choose wine depending on the served dishes
A high-quality alcoholic drink will improve the mood of guests, and a low-grade one can spoil the whole celebration. Therefore, do not buy too inexpensive wine drinks at a wedding banquet. It is better to choose alcohol for the celebration in the middle price category (200-350 rubles per bottle). There are many options for good wines of domestic and foreign manufacturers, suitable for a wedding feast. For example, Chateau Tamagne, Maison de Reve, El Paso, «Chavron», Poggio Ai Santi, Montepulciano d'Abruzzo, Sunrise, Pupilla Luis Felipe Edwards.
Specific types of wines can harmonize and accentuate the tastes of certain dishes and products. If the drink is served with food incompatible with it, then this will adversely affect the taste of the latter. This fact must be taken into account when choosing strong drinks for a wedding party. There is wine etiquette that will help you find the right combination of food and wine for the festive table..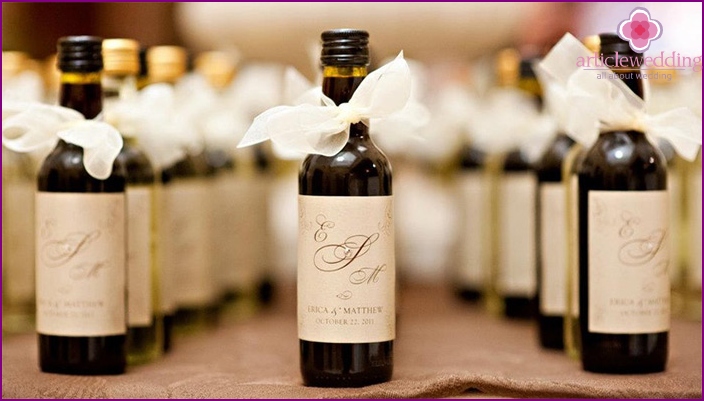 Champagne (sparkling wine)
«Sparkling» must be present at the wedding party. Always a festive feast begins with a shot of champagne. Sparkling is poured into tall and narrow wine glasses having the shape of a flute and a long leg. Champagne at a wedding feast will go well with products that do not have a bright taste.
For example, if you combine it with chocolate, it will be difficult to fully enjoy sparkling wine (the exception is a combination of white chocolate and semi-dry champagne). Champagne snack should complement the exquisite aroma and taste of the drink. The following dishes and products will go well with it on the wedding table:
Cheeses
poultry meat;
olives;
fruits (grapes, pears, apples, strawberries, apricots, peaches);
light desserts (sorbet, ice cream, creme brulee, fruit puddings and salads, cheesecake, not too sweet muffin);
black and red caviar;
seafood (lobster, scallops, shrimp);
sushi;
spicy Thai food.
The perfect combination is champagne and cheeses. The spicy tastes of the latter will harmonize well with sweet sparkling wine. Delicate cheeses are in perfect harmony with champagne, which has fruity notes on the palate, and fatty varieties go well with heavy drinks with a nutty flavor. Dry sparkling wine will enhance the taste of brie cheese, and sweet - gorgonzola. The following types of solid dairy product are suitable for any kind of champagne at a wedding feast:
Camembert;
edam;
gouda;
Cheddar;
Parmesan;
emmental;
gruyere;
dor blue;
Maasdam;
comte;
beaufort.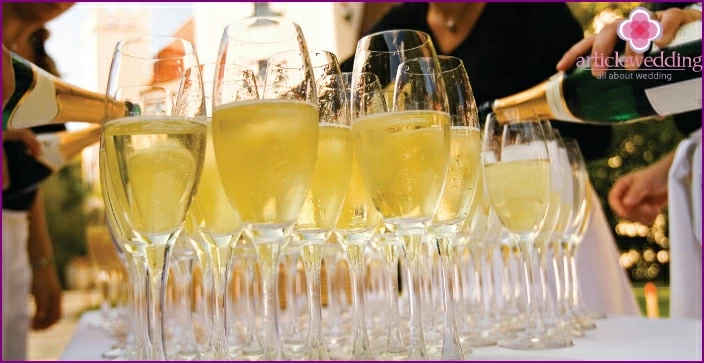 White wine
White grape table drinks have a fragrant smell and a pleasant, delicate taste. Such alcohol is in good harmony with dark meat. They are served at the wedding table as an aperitif. Before serving, the drink is cooled to a temperature of 8-12 degrees. Often white wine is served with poultry, seafood, fruits. But this drink is of different types, each of which is suitable for a certain type of food. Consider what it is right to combine different varieties of white wines at a wedding feast:
Fortified white drinks go well with exotic, citrus fruits.
And under «young» wine suitable oily fish, baked in foil or grilled (sardines, mackerel).
«Grassy» peppy wine will go well with dishes with tomato sauce.
«Cream» wine is perfect with seafood, fried, baked tuna or salmon.
White «aromatic» wine is in perfect harmony with Chinese, Thai food, fatty pastes, smoked poultry or fish.
«Pink» wine can be served with any dish.
Full-bodied wine with fruity, spicy notes served with a hearty meal with garlic sauce or seasoning.
Red wine
A strong drink made from dark grape varieties has a bright color and taste. It is distinguished by tart notes and a rich aroma. The temperature of the drink when serving it on the wedding table should be 16-18 degrees. There are several types of red wine: full-bodied, tart, heavy spicy warming, light intolerant sweet and sour, full-bodied tart sweet and sour. Each type of drink has its own dishes. Consider some combinations of red wines and dishes for a wedding feast:
Full-bodied with rich fruity notes in aroma and taste, the wine is served with fried or baked on the grill, skewer meat, skewers, chicken chicken, cold meats, Mexican and Indian dishes, pastes, pasta, grilled fish.
Tart wine and grilled red meat, fried chicken, turkey - a great combination for a wedding table.
Heavy spicy dense warming wine is consumed with stew with spicy sauce, roast with poultry, stewed game, spaghetti.
Impervious light sweet and sour wine goes well with Italian dishes, meat snacks, grilled meat, dishes with garlic sauce.
Full-bodied sweet and sour wine and game with spicy sauce, stew, red meat, fried bird - will make the wedding table harmonious.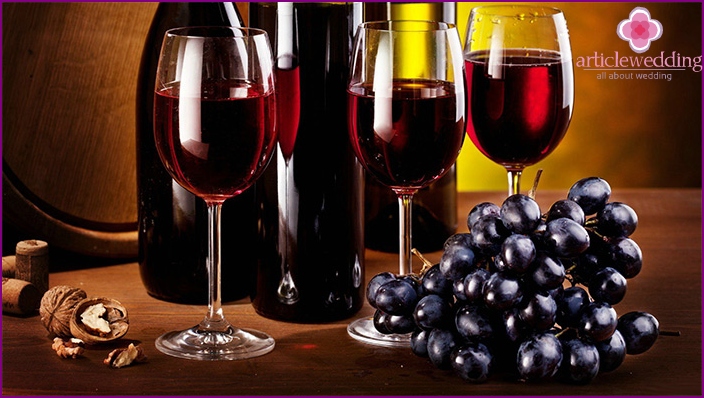 What kind of wine to serve according to the season?
The wine list for a wedding party depends on the time of year. In the winter, at a festive feast, it will be appropriate «warm» drinks, therefore, for the celebration in the cold season, red dining rooms and fortified ones are suitable. They have a warming effect and go well with fatty, hearty dishes. And for a summer wedding, the best option would be refreshing and perfectly thirst-quenching drinks. These include white dry.
How to calculate the amount of wine for a wedding?
How much wine is needed for a wedding? It all depends on the preferences of the guests. If you know their tastes well, you can roughly estimate the required amount of drink. Most women like wine. At the wedding, buy this drink at the rate of 1 bottle per person. It is better to purchase wine of different varieties for the banquet: red, white, champagne. It is advisable to buy drinks in reserve. On the wedding table, it is necessary that there is dry, semi-sweet, semi-dry wine.