Contents
---
---
Among the variety of wedding hairstyles, it is difficult for the bride to choose a suitable styling that will look solemn, harmonious. Fortunately, there are proven styling options for the wedding ceremony. So, many young ladies prefer retro style, because he absorbed the best elements of each era. In order for a retro-style wedding hairstyle to harmonize well with the image, you should take care of purchasing the appropriate dress. What hairstyles in retro style are suitable for a wedding?
Wedding and evening hairstyles in retro style on medium hair
Medium-length hair is considered optimal for creating retro hairstyles, because on this head of hair you can create many elegant options. So, retro styling looks great here «Chicago»: She was fashionable back in the 30s of the last century, but still does not lose popularity. Retro hairstyle «Chicago» represents light ringlets which stack sideways. Curls are created using the effect of wet hair.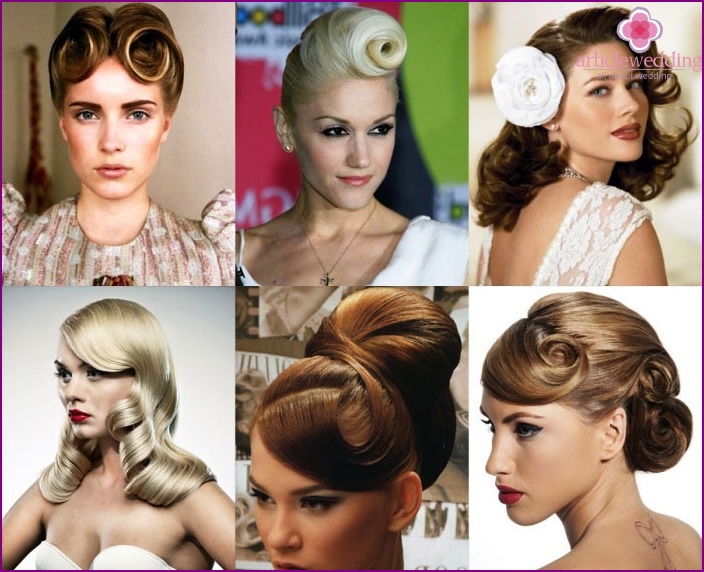 On long
Long hair gives the bride a lot of opportunities to create an original hairstyle in retro style. It is permissible to dissolve hair, make curls. Luxurious strands easily turn into a hairstyle «Babette», and «Shell», and also in fleece. High retro hairstyles are created with long hair. Do not forget about decorating your hair with unusual accessories that are appropriate at the wedding ceremony.
For short
During the 20s of the last century, the cult actress Marilyn Monroe began to wear an interesting hairstyle, which is named after her last name. It is worth saying that it is still relevant, but has already become a retro hairstyle. Small curls that are perfectly wound up if you take a small diameter curler look great with a veil. Another good option for a short haircut is considered curls - they can be of different sizes, created using a curling iron, as well as nozzles for it.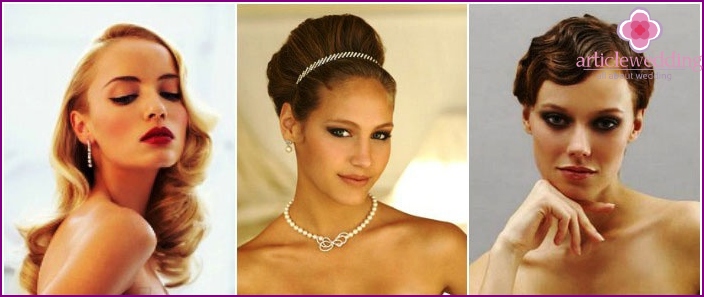 Options of retro hairstyles for the bride
If the lady decides to create a retro-style styling for the wedding, she will have what to choose: high hairstyles, light waves, small curls, tails, braids. In addition, wedding retro hairstyles include the addition of an image with accessories such as a veil, diadem, ribbons, hats, etc. Consider the options for stylish retro hairstyles in more detail:
With a bang
The bangs of different lengths can be laid in several ways, but the main condition of a retro hairstyle is that the face and forehead should be open. The bangs laid on the side look good in retro style. Make sure that the bangs lie neatly on the forehead, for this it needs to be fixed with varnish and invisible hairpins. If the length of the bangs allows, curl it to get smooth light waves. Bangs should be decorated with beads, rhinestones, pearls.
With veil
A wedding hairstyle in the now popular retro style looks great with a veil, but you should choose the right place where to attach the veil. So, if a woman is going to do a high hairdo, the veil must be fixed on the back of the head. With a large and small curls, a veil attached to the crown is well combined. It is important that the hair is separated by a straight parting, otherwise the veil will be poorly fixed. It is desirable to design a retro hairstyle with original hairpins, clips, elastic bands.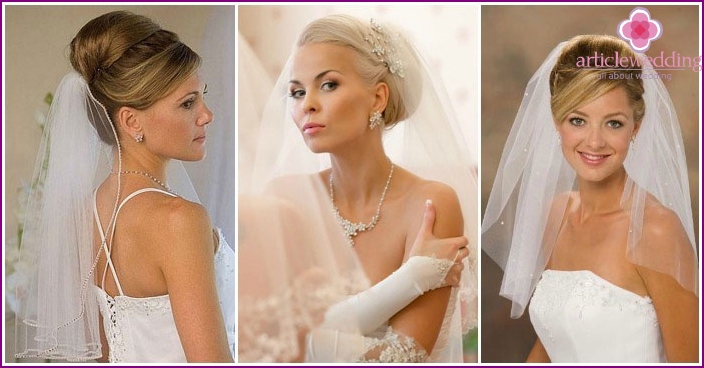 With a bandage
A hairstyle with a bandage will create a sophisticated retro look for a wedding. It is important to choose a bandage of a gentle shade that will be appropriate at the wedding ceremony. Step-by-step instructions will help you create your own hairstyle with a retro-style dressing:
To make the strands voluminous, use a well-known hairdressing technique: wash them and blow dry with a hairdryer, directing the wind flow to the roots of the strand.
Divide the hair into a horizontal parting. Comb the inside of the top.
Comb your hair back, fasten the comb with hairpins, invisible hairpins.
Spray your masterpiece with varnish. Put on a bandage.
Instead of a bandage, it is possible to use a hoop.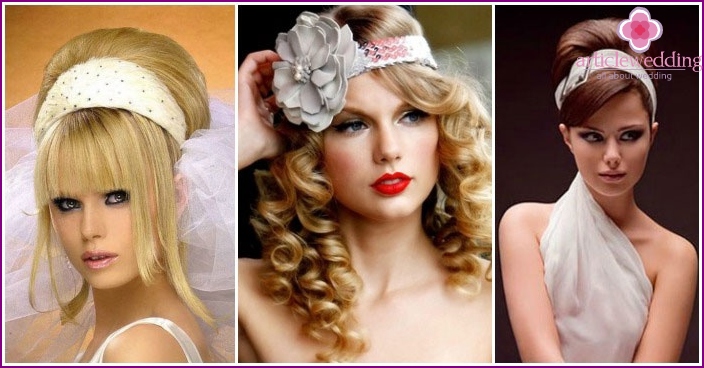 High styling with ribbon and flowers.
High hairstyles in a retro-style wedding plan need additional accessories - ribbons, colors.
Ribbons should be in harmony with the wedding dress in color, so it is advisable to choose ribbons of soft, pastel shades.
As for the flowers, they can be both living and artificial. The main condition is that they must be the same in size. In the hairstyle use orchids, roses, lilies.
Making hair with flowers and ribbons is possible with such high hairstyles as «Shell», «Babette», pile, bunch. Ribbons need to wrap around «mound», which is formed when creating each of the above hairstyles and securely tie. Flowers are attached with silicone rubber bands, hair clips. Make them hairstyle so that they look harmoniously with each other.
The waves
Light waves are considered an attribute of retro style. Waves are suitable for a variety of haircuts: garzon, cascade, square, as well as for long hair. With short haircuts, the waves are performed with forceps, clamps. Owners of long hair are experimenting, creating Hollywood locks or small curls. To keep the waves well and not tear, they should be sprayed with varnish, and the sparkles will give the image an exciting charm.
A lady with waves of hair will look sexy and attractive if you complement the overall style with a veil or hat. Then the bride will become irresistible in all wedding photos and videos.

Babette
For many years now «Babette» does not lose its relevance, and remains a suitable retro hairstyle for special occasions. It will suit brides who want to give volume to their locks. The step-by-step instructions below will tell you how to do it. «Babette» independently:
Comb the strands thoroughly. Using a flat comb, divide them into a horizontal parting..
Gather the lower part of the hair in the tail so that it does not interfere during the execution of further actions.
Comb the inside of the upper part of the hair and fix it with studs. The resulting «mound» sprinkle with varnish.
Form a roller from the bottom of the hair, place it under a comb. «Babette» should be secured with invisible hairpins, hairpins. Decorate your styling with a hoop, bandage or mesh.

30s style
A hairstyle from the 30s of the last century, which is still popular, is considered a retro styling option «Chicago». The shape of curls is light large waves. Ringlets of curls are curled with curlers and strong fixation mousse. Curled locks must be laid on one side, preferably the left. Subsequently, the styling is sprayed with varnish with sparkles, which gives the image of elegance. Hairstyle «Chicago» Is a good idea for girls who want to create a retro look.
60s style
After the release of the film «Babette goes to war» in the 60s of the last century, millions of women fell in love with the hairstyle of the main character, who was named after her - «Babette». It is done mainly on long hair, but girls with a short haircut should not be sad. At the moment, it is possible to use false hair, which will add the desired length and volume.
A Greek wedding hairstyle with a headband or headband also applies to retro styling. She gained her popularity during the 60s of the twentieth century. She was loved by people of art - actresses, dancers, singers. To create it, a bandage is put on the head, where, alternately, starting from the temporal region, strands are refueled. Formed «nest» adorn with rhinestones, beads, mesh.
Video: how to make a wedding hairstyle with a roller
How to create a retro image with your own hands step by step with a photo
Elegant hairstyle with bouffant looks elegant and solemn, so many brides choose it to create their retro look. This styling is suitable for girls with long overgrown bangs, as the pile is made from it. Step-by-step instructions with a photo will help you easily make such a hairstyle yourself:
Comb the hair with a comb or a special brush to give the hair smoothness. Twist the bangs, fix the clip on the top.
Convert the remaining part of the lock into curls to the ends of the hair with a curler or curling iron.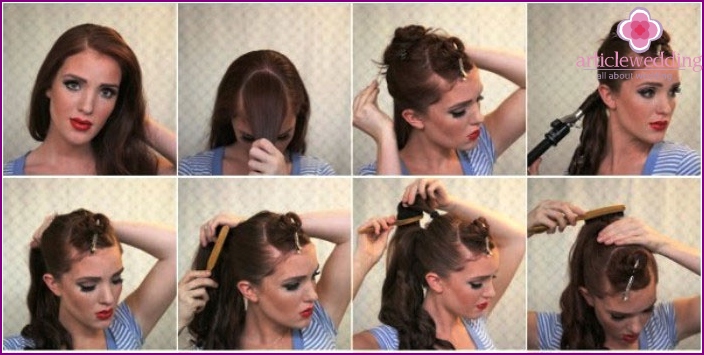 Release the bang from the clip, align it with the iron.
Screw the bangs onto the curling iron inward. Start wrapping the ends of the strands. Fasten the resulting roller with a clip or invisible hairpins, sprinkle it with fixative.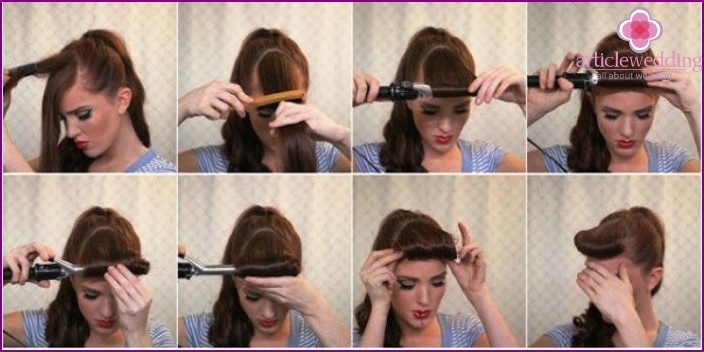 The remaining curls should be dissolved, or tail made of them.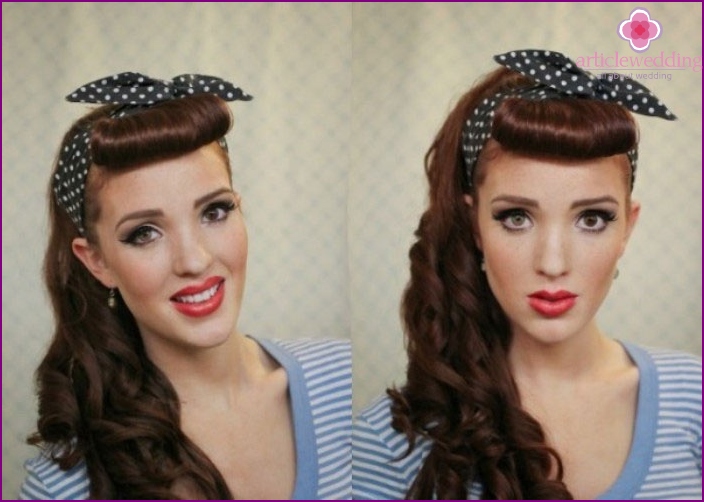 As you can see, creating a wedding retro look is not at all difficult, for this you need to follow the above instructions. Complete the styling with suitable accessories - and you get an unrivaled look!
If you know any other options for hairstyles in retro style, share your ideas below, comment on the article.