Contents
---
---
Hair is the main girl's accessory and during the wedding it should look stunning. Girls with long thick hair were really lucky - their choice is limited only by imagination. Wedding hairstyle for long hair can be varied - romantic, delicate, fragile, mischievous or elegant, able to successfully emphasize any festive look. Below are the popular hairstyles for long haired brides who will help you make a choice in advance.
Wedding hairstyles for long hair with a diadem and veil
Elegant diadem is a beautiful accessory that will make a real princess out of a bride. Along with a veil, a symbol of purity, innocence, purity, they will create a gentle fairy-tale image. The diadem can be decorated with small rhinestones, pearls, large precious and semiprecious stones, beads - depending on the financial possibilities of the bride. She will be the perfect decoration for the bride's wedding hairstyle with long hair.
It is important to remember that the more complex the structure of the bride's hairstyle, the easier it should be to decorate the headgear and vice versa.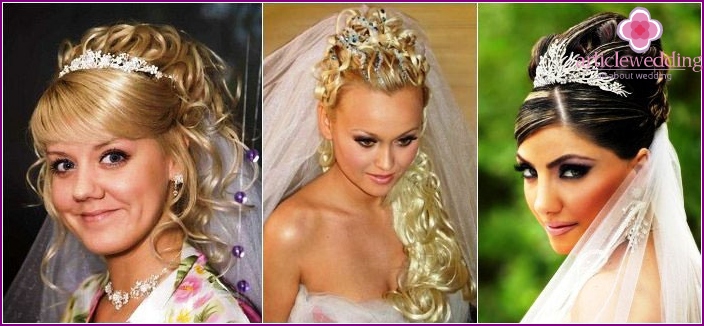 Short
A short veil, barely reaching the bride's shoulders, and a diadem adornment will be the perfect complement to the bride's wedding hairstyle on long hair. This option for using accessories suits low-bodied girls. A veil will look good if you collect hair - do a high styling or a fashionable low bun.
Long
A long veil can reach several meters - it all depends on the scale of the celebration, the style of the dress. If the bride chooses a long decoration, she should take care of an elegant, simple styling so as not to overload the image with bright details.
Lush
A fabulous image is perfectly emphasized by a lush veil. The voluminous decoration, the diadem, along with the wide skirt of the outfit, will make the bride a real princess, as if descended from the pages of a fairy tale. This veil is perfect for weddings, if the girl's dress is open - she will hide her arms, shoulders, back. Full girls are advised to choose less lush options so that the headgear does not make their figure visually more «heavy».
With and without bangs
Brides with a slanting asymmetric bangs can neatly lay it on its side, spin a stylish curl at the temple - any veil is suitable for this styling option. For owners of straight bangs who want to emphasize it by creating a deliberately straight line that hides their foreheads, simple decoration options without unnecessary decor are suitable. See photo examples of wedding hairstyles on long hair with bangs and without.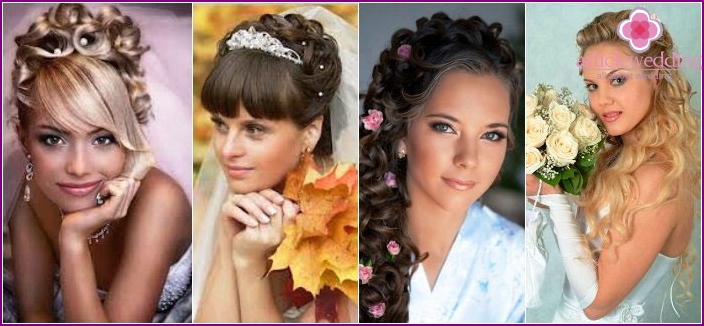 No veil with fresh flowers
Fresh flowers - an original decoration of a beautiful wedding hairstyle for long hair. Using imagination, create an interesting floral arrangement that will delight those present during the celebration. Natural plants that adorn the hair, look interesting, give the image of naturalness, lightness. They can be in the form of a single flower, composition or stylish wreath. With this accessory looks a hairstyle-spikelet or loose hair.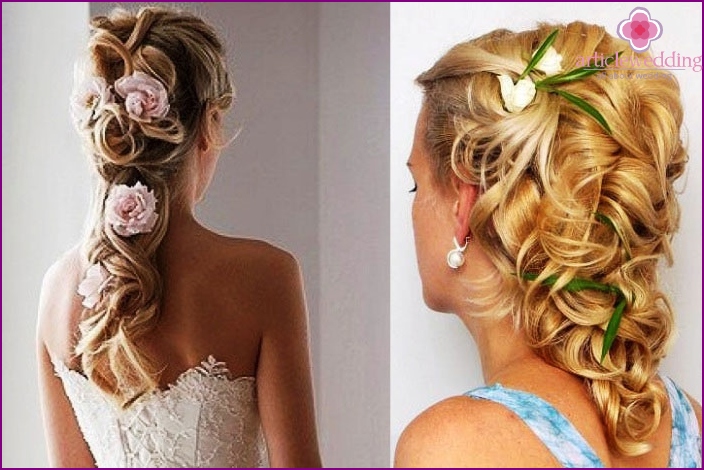 Beautiful evening hairstyles for the bride
All wedding hairstyles for long-haired brides are created on the basis of evening hairstyles. Below you will find spectacular options that will help your hair look amazing. To decorate the bride can use accessories that she will like - ribbons, hair clips, wreaths, tiaras.
Loose curls and curls
Naturalness is the main trend in the weddings of the season 2016. No other hairstyle reflects this trend like loose curls and mischievous curls. To appear during the celebration with such styling, take care of timely hair improvement - make masks in a month, use special moisturizing and nourishing oils, cut the cut ends the day before.
To curled curls looked as much as possible «lively», naturally, use the services of a wizard. You can end this interesting hairstyle with a wreath of fresh flowers, and a natural make-up will be the perfect make-up for such an image..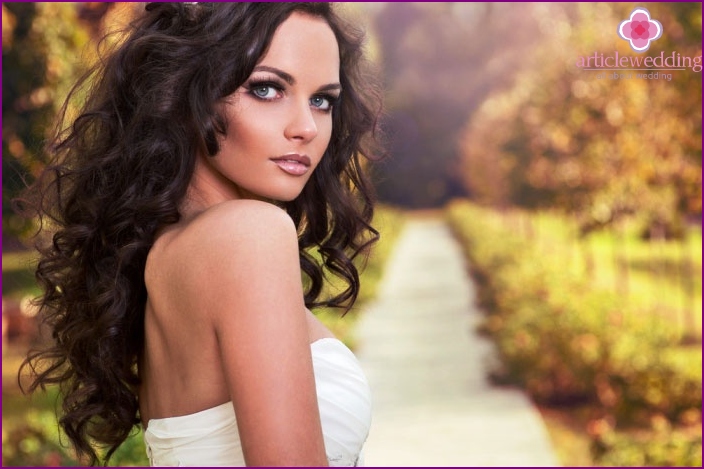 With weaving
The graceful weaving created by the hairdresser-stylist will make the bride feminine and tender. This popular type of hairstyle for long hair will turn out to be used at celebrations of various sizes, it will suit various models of dresses - modest and richly decorated.
Braid on the side for very long hair
Brides with extra long hair can braid a chic scythe on its side. With a huge massive hair, they will not be comfortable wearing a high hairstyle or loose hair, so a stylish French braid, spikelet or «fish tail» will be the salvation of the situation.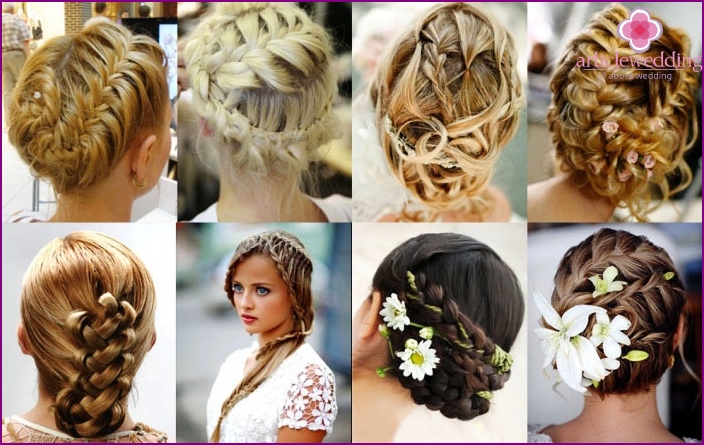 One way pick up
The styling of hair taken to one side looks elegant. Such a hairstyle can be in the form of flowing curls or perfectly straight hair straightened with an iron. You can also hold a classic or side parting. Smooth Hollywood waves will look great - you can make such a hairstyle in the salon with a specialist.
In greek style
A hairstyle created in the Greek style can be high or low. Often used the Greek version of the Malvinka. To add femininity to this styling, even from the high version, stylists release several locks that fall to the bride's neck.
Retro fleece (babette)
The tall babette looks stylish, interesting - it is suitable for a wedding in a retro style. To keep the styling in shape, it is necessary to use strong styling products - mousse, hairspray. The finishing touch of the babette hairstyle will be an elegant ribbon tied with a bow, matching the color of the dress. Watch the tutorial video to help you make babette yourself:
Bundled
Smooth or sloppy bunches are a popular wedding hairstyle for long hair. This styling option for several years does not go beyond the wedding fashion. The bride, whose hair is gathered in a stylish bun, looks feminine, elegant and tender.
On straight dark hair
You can collect straight dark hair into a bold ponytail - it will be an interesting solution for hairstyles. Straight loose hair flowing over the shoulders also looks beautiful. Gather this type of hair in a malvinka, make a stylish babette - different options will work.
For curly blonde
Curly blondes can not collect curls, but gently pin them on the temples - funny curls themselves look festive and interesting. With curly hair, you can also make a beautiful volumetric bundle or other high styling.
Step-by-step video instruction: how to make easy styling with your own hands, step by step
Fashion trends 2016 photos and pictures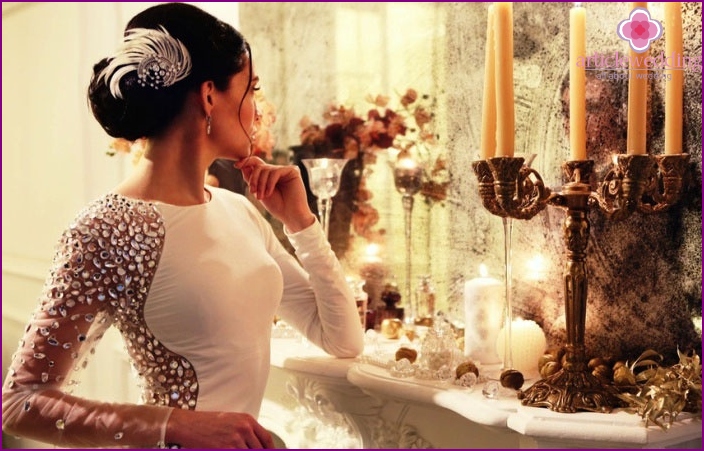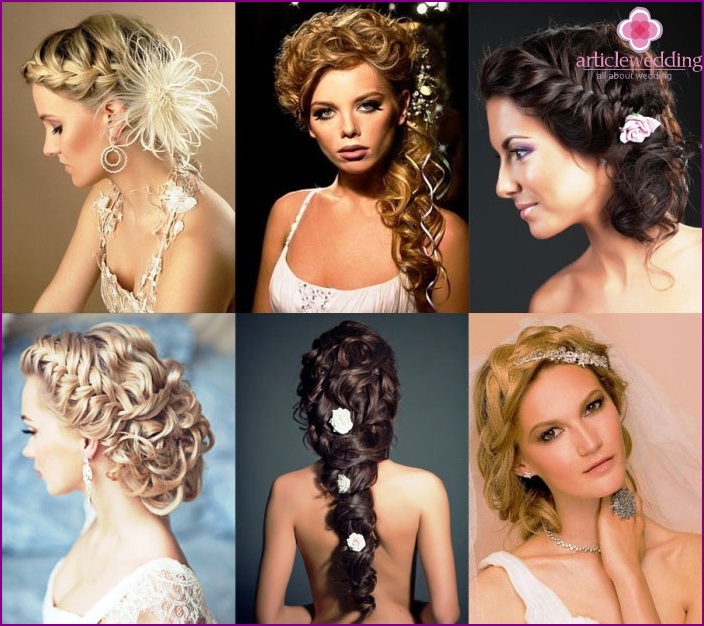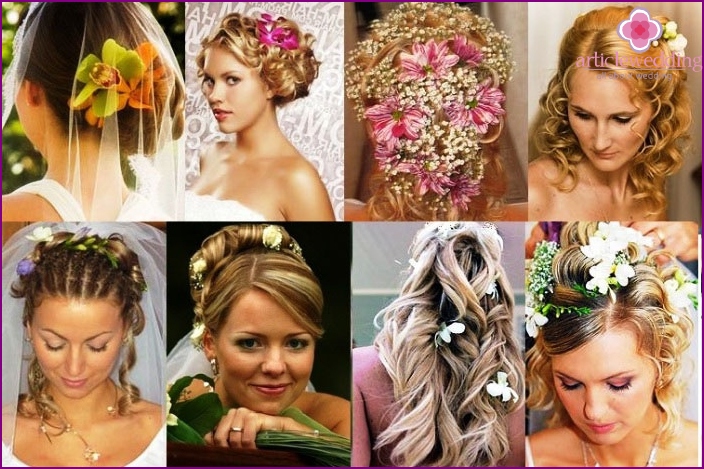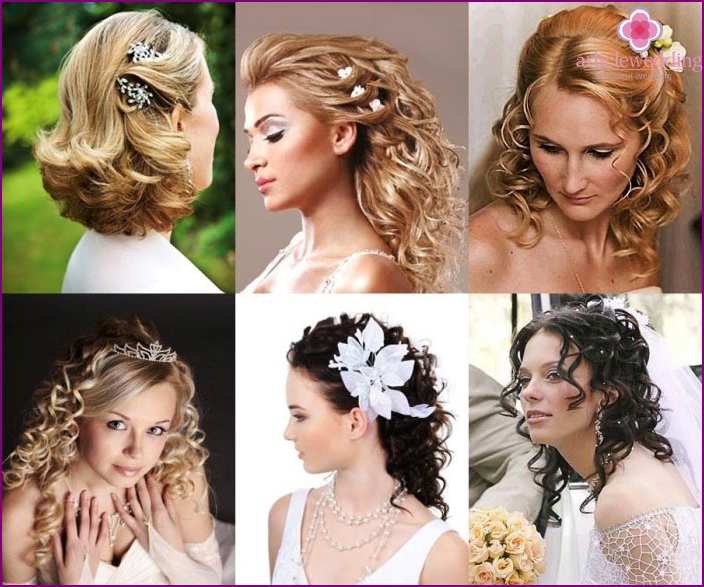 Think about your wedding hairstyle in advance. Remember its obligatory combination with the outfit, the selected accessories, the celebration concept.
What styling options did you like? Leave a comment, it will be interesting to other readers.