Contents
---
---
Traditionally, there are many different anniversaries of married life together. Married couples living in love and harmony for many years, as they walk along the steps of their life path, on which they have met various wedding anniversaries many times. Spouses who have lived in perfect harmony for 45 years - what kind of wedding awaits them? We all heard from childhood about a silver, golden wedding, but many do not know that there is also a sapphire wedding, which marks forty-five years of family life. It precedes the golden anniversary.
Ancient traditions and customs for 45 years of wedding
A sapphire wedding implies an important custom - to decorate their wedding rings with sapphires. A sapphire gem of a heavenly color symbolizes priceless feelings - love and fidelity, thanks to which the spouses managed to live together for so many years as one friendly family. Sapphire is a kind of amulet against stress, fatigue. This property is of great importance to the health of older people..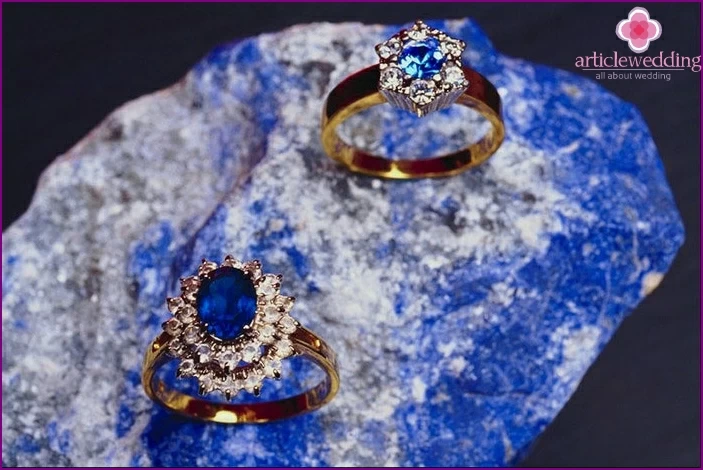 Sapphire is an extremely hard stone; in strength, it will yield only to diamond. Therefore, the wedding is called sapphire, because the union of two people who have lived together for 45 years is confidently called durable, it was not broken by life storms, everyday turmoil. Spouses are not easy people who are in close relationships, they live and breathe as one inseparable whole.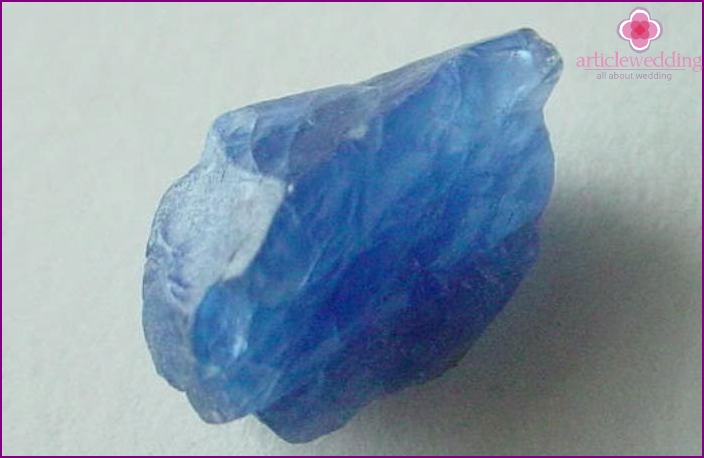 The Hindus called sapphire a lucky, cleansing stone because of its exceptional purity, transparency. It is believed that it purifies human thoughts, helps to gain mental strength. Sapphire wedding has an ancient tradition - purification. How to conduct a rite of purification, each couple decides for herself. Someone will visit a bathhouse or sauna, someone will undergo a course of therapeutic fasting to cleanse the body.
But the most important thing is to cleanse the soul. Spouses must admit to what they were silent for many years, ask each other for forgiveness for the insults, quarrels and troubles.
Sapphire wedding: how to celebrate an anniversary?
A sapphire wedding is celebrated - 45 years of living together in such a way that memories of it warmed the soul for many more years. Do not spare money, organize a grand celebration for the anniversaries, celebrating it in a family circle or inviting friends, acquaintances of the couple. Start preparing for a beautiful sapphire wedding in advance to foresee everything, to avoid unpleasant surprises.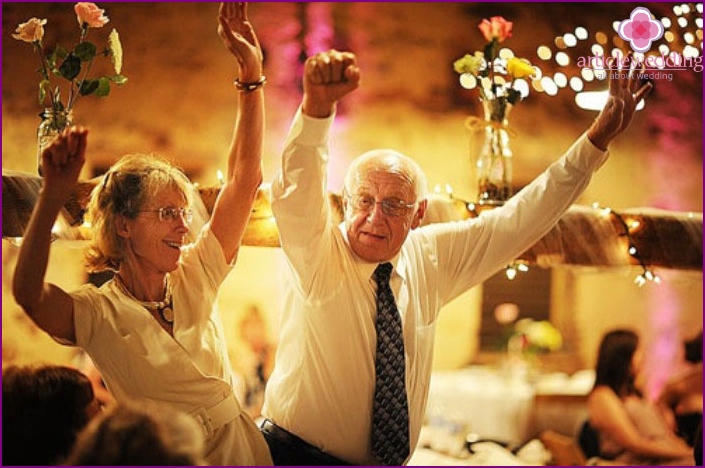 Choosing a venue for the celebration
Determining the venue of the event, consider the age of the anniversaries and guests, their state of health. Mostly these are elderly people, so it is best to spend a holiday in a cozy beautiful restaurant or banquet hall. It would be great if the sapphire wedding was celebrated in the same place where their wedding was held 45 years ago.
What to wear for spouses
Dress code for spouses at a beautiful sapphire wedding - blue clothes and all its shades. Choose an outfit in those color shades that match the tone of the stone that gave the name to the anniversary. It is not necessary that all the clothes are blue, just one such element is enough, for example, a tie for a husband and a blouse for a wife.

Who to invite
Sapphire wedding anniversary gathers the closest, dearest people, it is celebrated in a narrow family circle. Newlyweds by that time already become old people, have children, grandchildren, who must necessarily take part in the celebration. If a couple has close friends, then they have passed the test of time, friendship has proved its truth. They must also be invited..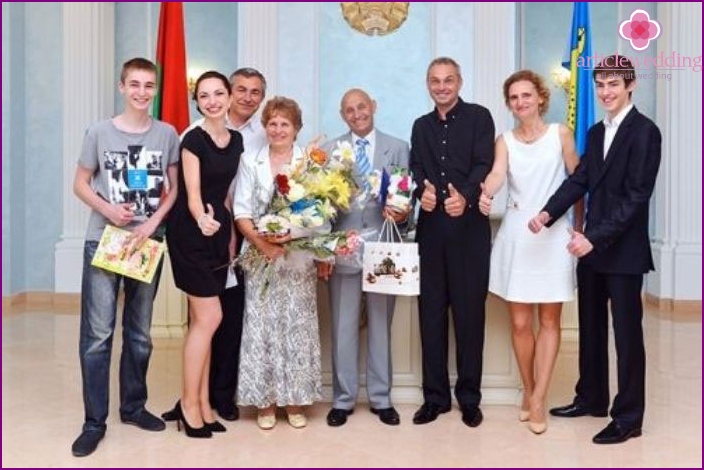 As at any wedding, there are one more heroes of the occasion, in addition to the newlyweds - these are witnesses. They may not be so young and beautiful for a long time, but these people were once chosen as the main witnesses to your happy marriage. Although 45 years of marriage have passed since then, what a wedding without witnesses?
What should be on the table
The banquet hall, as well as the festive table for a beautiful sapphire wedding, are decorated in blue or blue colors - curtains, tablecloths, napkins are all harmoniously matched to the color of sapphire. On the tables are appliances with blue handles, a porcelain service in blue and white colors, in small vases blue flowers - lilac, roses, tulips.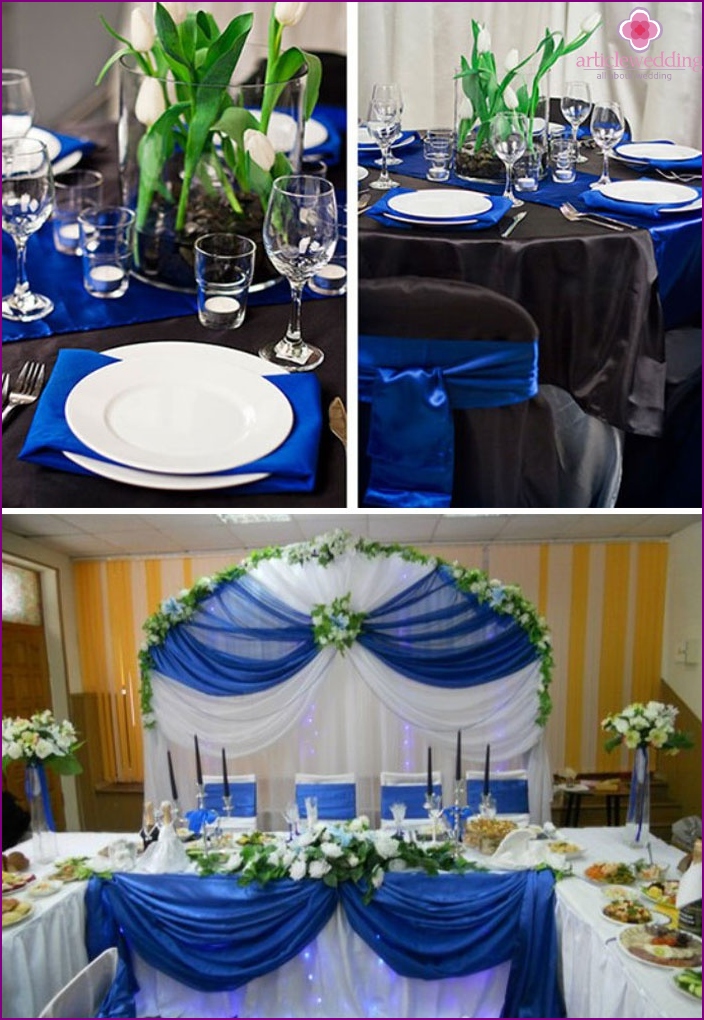 In addition to a variety of snacks, festive tables should include sweet dishes that symbolize the long sweet life of spouses.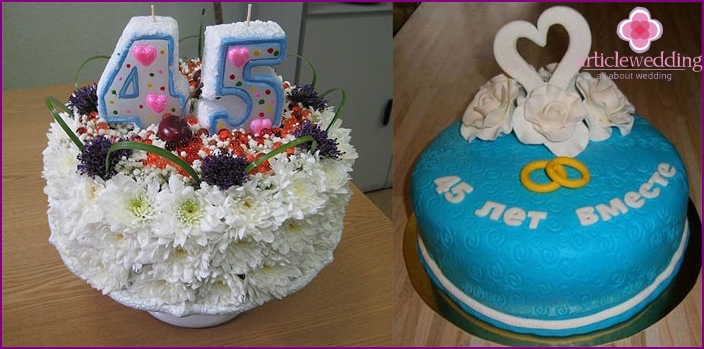 Celebration script
The scenario of the wedding anniversary 45 years of marriage should be well thought out to organize a holiday for the whole large family with a memorable, solemn event. It is recommended that the celebration of the 45th anniversary of the marriage be divided into two parts.
The first part is solemn. Think about how to introduce spouses to guests beautifully. Let them look like they came off a beautiful picture - in elegant clothes in blue or blue tones, new fashionable shoes, with beautiful hairstyles. Those present will certainly appreciate how the couple only bloomed over the years.
After the introduction of the spouses, an exchange of updated wedding rings with inserted sapphires follows, a solemn vow of love and fidelity. The sapphire wedding script traditionally completes the dance of the young. Your favorite song will sound, the partner will spin the young lady in a wedding waltz, having dumped the burden of their years from their shoulders, they will again feel like youthful young lovers.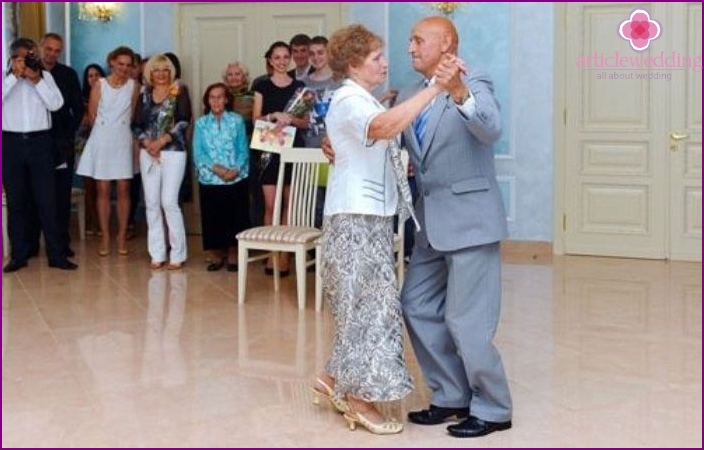 The second part is congratulatory. The host will alternately give the floor to guests who give congratulations to spouses and give gifts. Each gift symbolizes a certain stage in the life of anniversaries. Congratulations are informative, amusing, extremely warm, friendly, simple, understandable..
After such a fun, warm warmth of the native hearts of a sapphire touching wedding, there will be a mass of memorable photos and pleasant memories.
How modestly, in a family way, but very cheerfully and fiery celebrated the sapphire anniversary of the wife, surrounded by relatives and friends, see in the video below:
What to give for a sapphire wedding
Do not know what to present to a sapphire wedding for parents? Choose sapphire items and souvenirs. A good gift would be a bauble decorated with this stone, as well as a solid piece of jewelry. Trinkets, caskets, brooches, bracelets - everything will work, depending on the tastes and preferences of the anniversaries. If you can't afford sapphire products, choose a gift decorated with a similar stone..

A wife will rejoice as a child if her husband gives her a sapphire wedding anniversary earrings, ring or necklace with sapphire. A beautiful addition to the gift will be blue-blue flowers - cornflowers, lilac, blue hyacinth, orchid.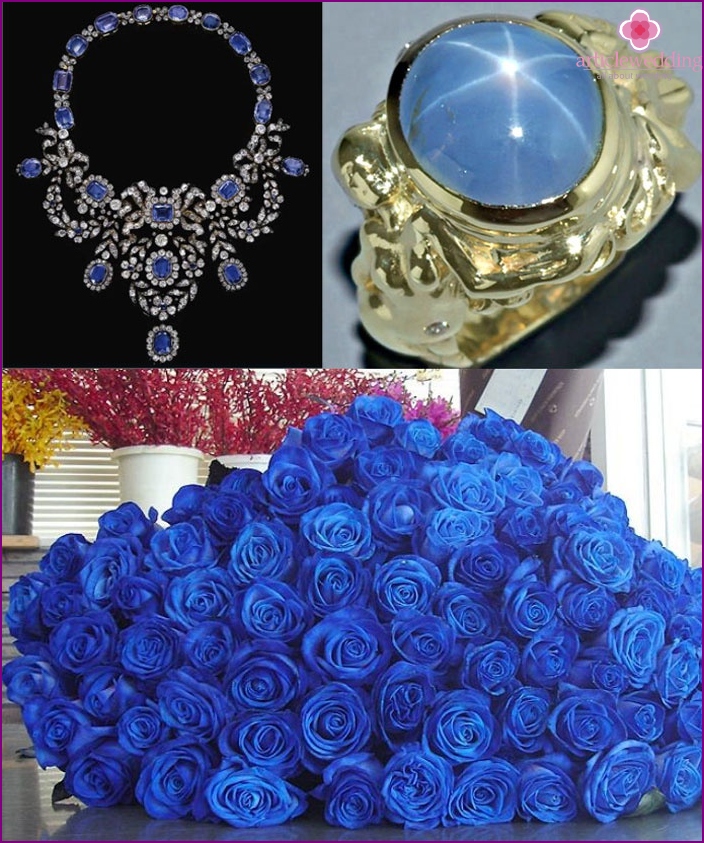 A wife can give her husband beautiful sapphire cufflinks, a lighter with this or a similar stone.

Guests invited to the anniversary can choose any gifts decorated in blue colors. This does not have to be jewelry, but choose expensive, worthy gifts, because the celebration is not easy. You can present household appliances, furniture, dining sets, expensive linens of blue or blue color, decoration of the interior of the apartment, souvenirs.
An original gift for the anniversary of the couple will be a cognac of 45 years old. This gift symbolizes the number of years lived anniversaries together. Such a present will be complemented by an unusual bouquet of sweets with floral decorations.
Sapphire Wedding Greetings
Do your friends, lovely lovely couple have a wedding anniversary? Then it is important to choose not only an original gift, but also a corresponding verbal congratulation. So I want to wish the people dear to us that everything is simply impossible to say. Decorating your thoughts with a beautiful text or poem, simply, readily present it will help you page with examples of congratulations.
The forty-fifth anniversary of life together is a grandiose celebration, because behind the shoulders of a married couple stands almost half a century, a life lived together. Such couples deserve great respect. Tell us how the sapphire wedding took place with your friends or relatives, what was most remembered than I would like to share.