Contents
---
---
So the first year of family life passed. The first anniversary is called a chintz wedding. She got this name because of the custom of giving chintz for baby diapers. Spouses wish to celebrate the holiday so that it will be remembered for a long time. It is possible to do this by capturing everything on the camera, having a photo shoot. Often, a couple hires a photographer to get high-quality pictures, a memory of an anniversary. The ideas for a photo shoot are diverse. It all depends on the wishes of the couple, the photographer's thoughts..
Ancient traditions of chintz wedding
Many traditions of the chintz wedding celebration are forgotten, but a small proportion of them are still used today. On the first anniversary, it is customary to invite guests at least close relatives, friends. Previously, there was no great abundance of clothing, goods, because the bride sewed outfits for the holiday on her own, and often embroidered them.
The girl had to wear a chintz dress all day, without removing it until the very night. In addition to clothes, the young wife embroidered tablecloths, napkins. Well, if these things were done in the same color scheme.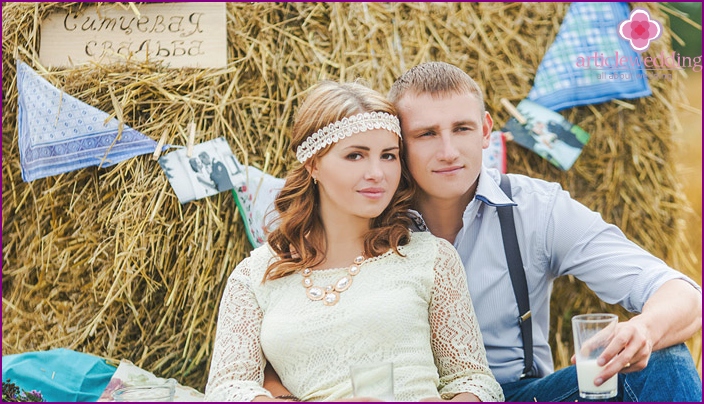 A good tradition is to give presents. If earlier, as a rule, they gave pieces of chintz fabric, bed linen, now this is not a shortage, because gifts have become more diverse.
For a woman, a set of beautiful, openwork underwear, a bouquet of flowers, jewelry, sweets is perfect. For a husband, an original T-shirt with an unusual print (for example, with a romantic inscription or your photo) will become a relevant present. Also, a soft bathrobe, pillow, a bottle of expensive wine that you drink together or a bag of sweets can be a gift (after all, men are also great sweet tooth).
Homemade toys made of chintz, which are also useful for a photo shoot, are popular. They symbolize love, loyalty, loyalty to a partner. How these toys look, you can look at the photo.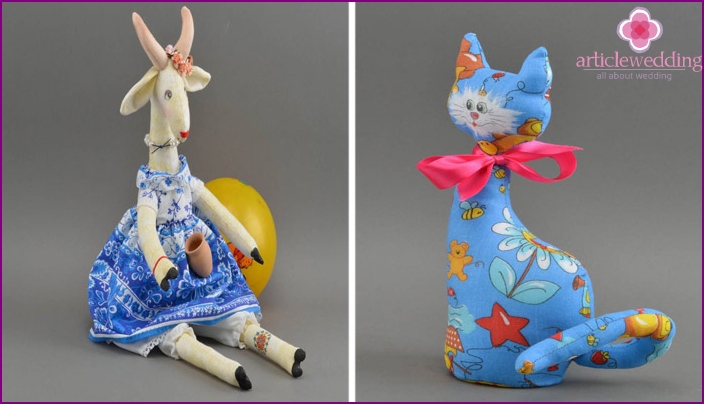 Knotting Rite
The tradition that has survived to this day is considered to be knotting. According to tradition, the young give a friend chintz handkerchiefs, which they tie in knots.
Knitting knots is a symbol of the fact that after a year, love has become greater, feelings are brighter, relationships are warmer. This is a kind of oath that the husband and wife are true to each other, and love is mutual. At the end of the ritual, lovers should pronounce words that, according to the beliefs of their ancestors, had a magical effect. After that, the handkerchiefs were hidden and kept until the end of life. According to beliefs, those who preserve the nodules will be able to preserve a strong family.
The process of tying knots is a great idea for a photo shoot, with which it is possible to capture a touching moment, the promise of young people to love each other forever.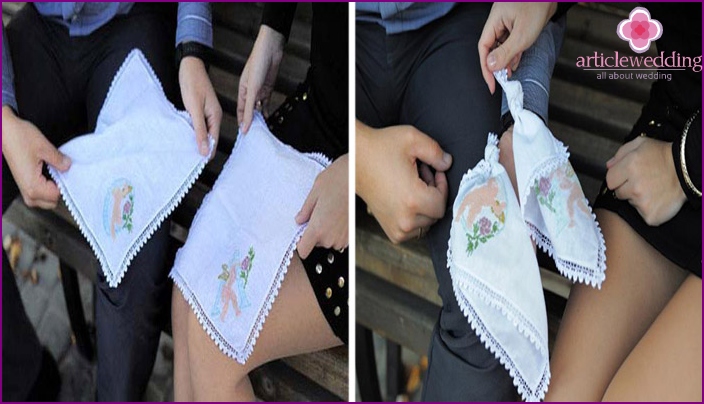 Holiday for two
A great idea for a photo shoot for chintz wedding is holding a celebration for two. To do this, it is possible to arrange a romantic walk through the forest, the sea or lake, or just in the park. Alternatively, a romantic picnic (weather permitting) or dinner for two.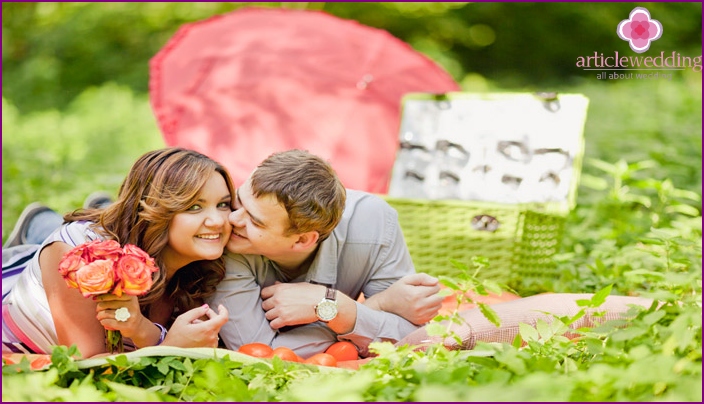 In the circle of loved ones at home
The first anniversary is an excellent occasion to gather relatives, friends and relatives. If you decide to organize a celebration in the family circle, you should take care of accessories that will help create the right atmosphere..
On the table in honor of such an event should be a white cotton tablecloth, napkins. The table is decorated with flowers, at the request of the bride can sew buttons on the tablecloth, they will make it more interesting.
To entertain guests and get pictures, it's possible to hire a professional photographer who has a lot of ideas. He will take you unique pictures with your relatives, looking at which you will remember about your chintz wedding. So that the holiday does not turn into a feast, it is possible to arrange funny contests that come up with the newlyweds (if you have enough imagination) or the host.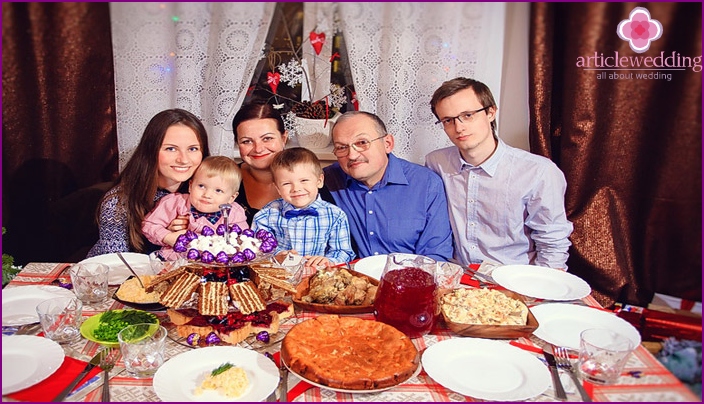 In the restaurant
A great option to celebrate the first anniversary of the restaurant. This can be done both together, having a romantic evening, and inviting relatives and friends. It's good if there is a host who will entertain guests. This type of celebration is convenient: you don't have to cook anything in an apron, because cooks will feed tasty dishes, and waiters will clean up, you will feel free. But it's unlikely that such an event will be called budgetary..
It is also possible to arrange a photo shoot in the restaurant. The photographer will think over the idea of ​​holding it and as a result you will have beautiful photographs to commemorate a chintz wedding.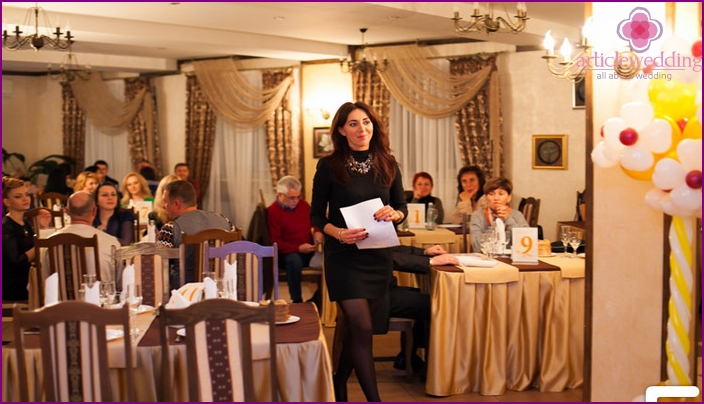 In a country house
To create the maximum atmosphere of the holiday, it is possible to celebrate it in a country house. Well, if this is an ordinary village house, you can decorate the interior according to the theme of the holiday. As an option, it is possible to wear traditional folk costumes, arrange a real party on a grand scale. A celebration like this is a great idea for a print wedding photo shoot..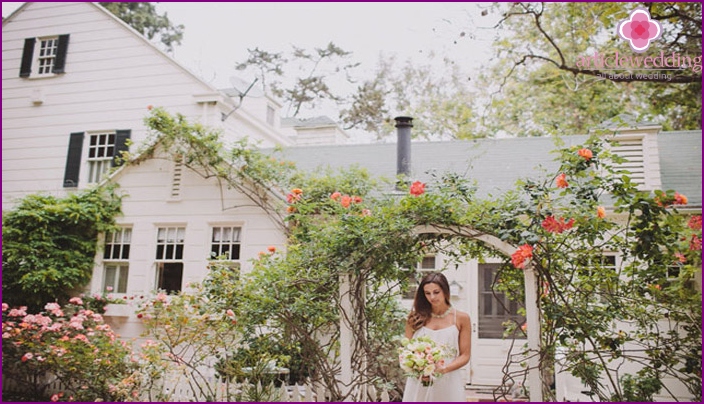 Format of a modern chintz wedding: photo session + dinner
Today, many young people prefer to arrange a traditional celebration during the day, a photo shoot, a kind of love story, and a romantic dinner in the evening. This is a great celebration idea. For a chintz wedding photo shoot, it is advisable to prepare the necessary accessories, which you can find out from the photographer, because he absolutely must have ideas for holding your photo shoot.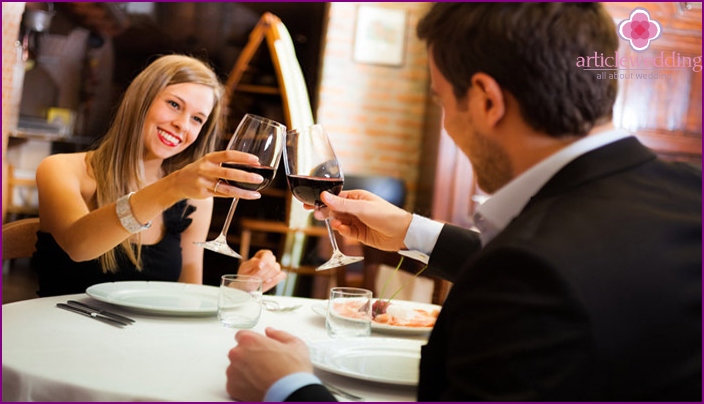 Choosing a place for a photo shoot
Finding a place for a photo shoot, as a rule, is the photographer's task, because he prepares an approximate scenario for taking a photo in advance, but he must also take into account the opinion and wishes of the couple. Popular places for holding a photo shoot are parks (if it is not possible to leave the city), the seashore or other body of water, a forest or field, for example, with blooming sunflowers or ears of wheat.
Often a photo shoot takes place within the city, places that usually have architectural value, or places, photos against which look creative, interesting, romantic, are chosen.
Registration
Often, for a photo shoot for a chintz wedding, a certain design is required that will create the necessary surroundings and give a festive mood. For decoration, chintz handkerchiefs tied in knots, toys sewn from chintz, a tablecloth and napkins of the same style can be used. Often used tablets with the names of the young and a memorable date, as well as various inscriptions, such as happiness, love, together year and more.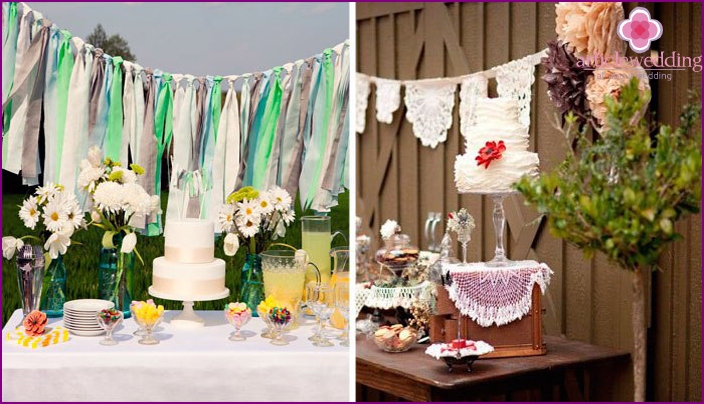 Remake of the first date
A great idea for a photo shoot for the first wedding anniversary is the recreation of the first date. Try to remember as accurately as possible, convey your feelings, impressions, emotions, feelings. Visit the place where your first meeting took place, remember how it all began, and the photographer will capture all this for memory.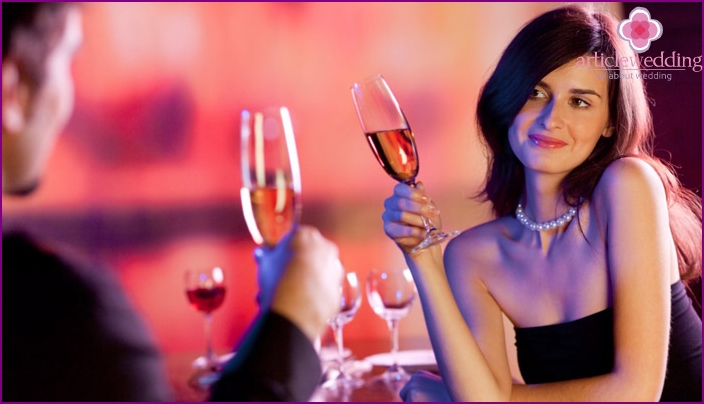 Wedding photoshoot
The original idea of ​​holding a chintz wedding photo shoot is to arrange it in wedding dresses, remembering the wedding ceremony. The photographer will help you decide on the idea of ​​photography. It can be a photoset in an abandoned corner of the city, a romantic shoot, or a photo shoot based on your favorite movie..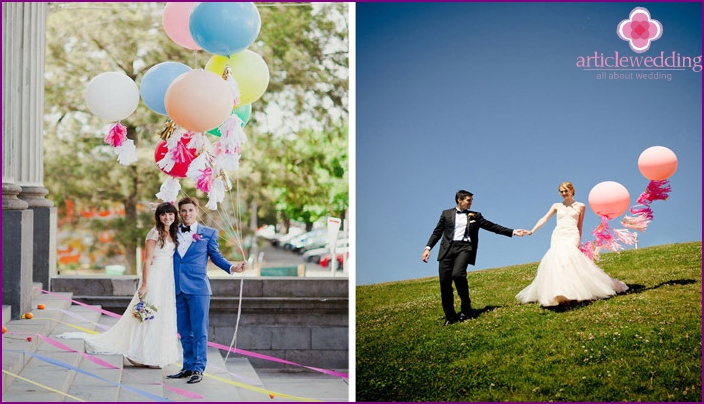 Photosession and honey weekend
When else, if not for the anniversary, you can devote yourself fully and completely to each other. To do this, you just need to escape from the city, from all domestic problems, worries and other nonsense. Have a honey weekend by heading to a recreation center or spa resort. Relax, relax, take time for your soulmate, because sometimes there is not enough joint time.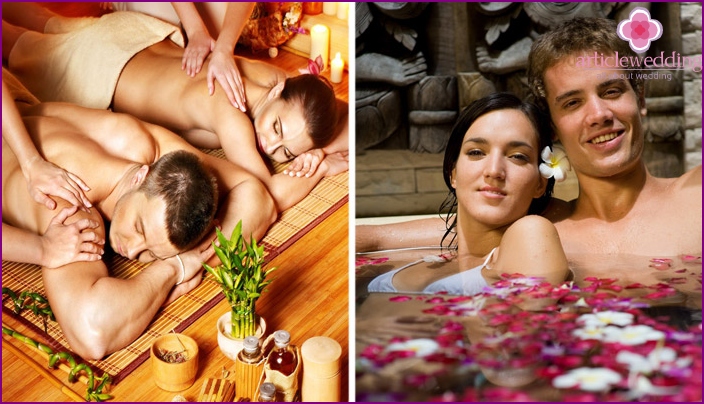 Nature photo
Photos taken outdoors are always perfect. Pictures taken against the backdrop of a beautiful landscape are always full of colors and look like alive. Because most photosets take place outdoors.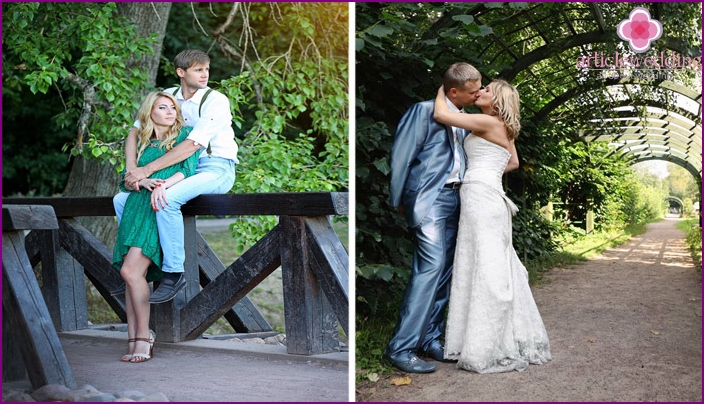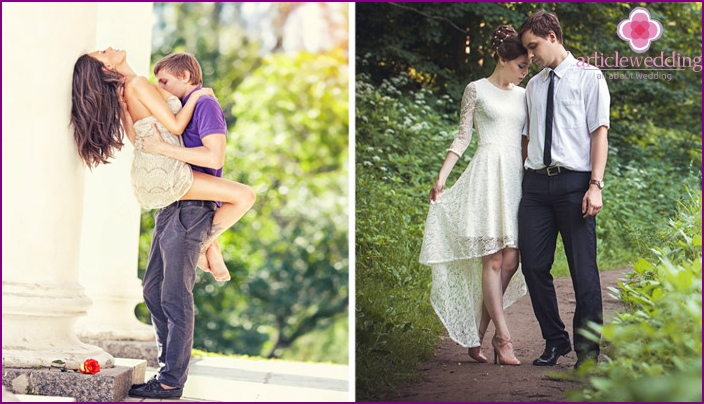 Themed dress code
If you decide to spend a themed evening for a chintz wedding, then you definitely need costumes of a certain style. What the outfit will be depends on the idea of ​​the photo shoot: it can be traditional folk clothes, a cowboy's, wedding outfit or clothes like the heroes of your favorite movie.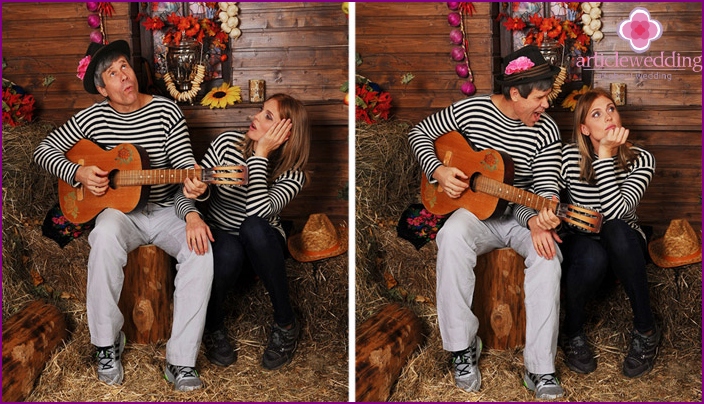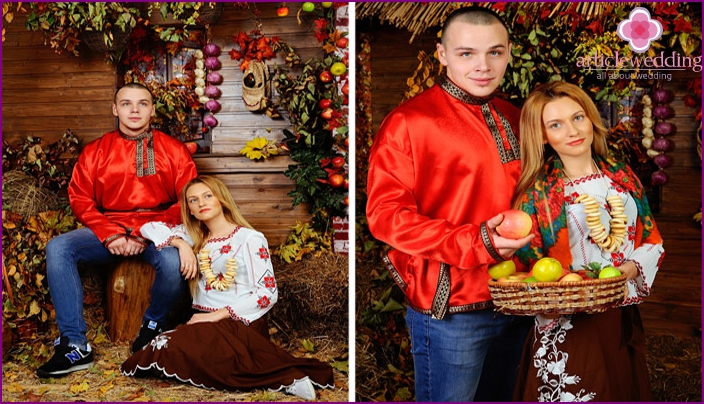 DIY accessories
Often, for the photo shoot, additional accessories are needed that can give a festive, romantic atmosphere to the event. Making these accessories with your own hands will not be difficult for this, watch the video:
And do-it-yourself paper pompons for photoset in this master class:
It doesn't matter where, how, with whom you decided to hold your first (chintz) wedding anniversary, the main thing is that you are happy, loved and the holiday brings you only positive emotions and impressions. If you are not married, it is possible to arrange a wedding ceremony. A photo shoot will help make this holiday unforgettable, the photographer will forever capture you young, happy.
If the tips in the article presented helped you decide on the topic of the wedding anniversary, or you looked for the idea of ​​a photo shoot, leave comments. Share your experience and ideas for this event!