Contents
---
---
Time flies with great speed, and the wedding, which was almost forty years ago, remained only in pleasant memories. But the date, marking 39 years of family life, deserves to be celebrated. Wedding anniversary days have been celebrated more than once, the same must be held in a close family circle, gathering with children, grandchildren and best friends. But what is the best way to organize a holiday, what to present and what kind words to say to spouses on this significant day?
What is the name of the wedding anniversary 39 years?
The 39th anniversary of married life is traditionally called a crepe wedding. The date symbol is chosen for a reason: it is known that the fabric is created from a special twist. This process is associated with a long joint path that the wife and husband went from the wedding day to today. The threads of the material are very tightly intertwined with each other. Like them, the fate of people who have lived together for many years is closely related..
The relationship between women and men should be no less strong and lasting than crepe, but in order to save the family for many years, they must be protected. Title «crepe wedding» appeared in the days of our past, when much was in short supply. Therefore, such a wedding was named after the material, which was not easy to get, and it symbolized the fact that husband and wife should value each other dearly.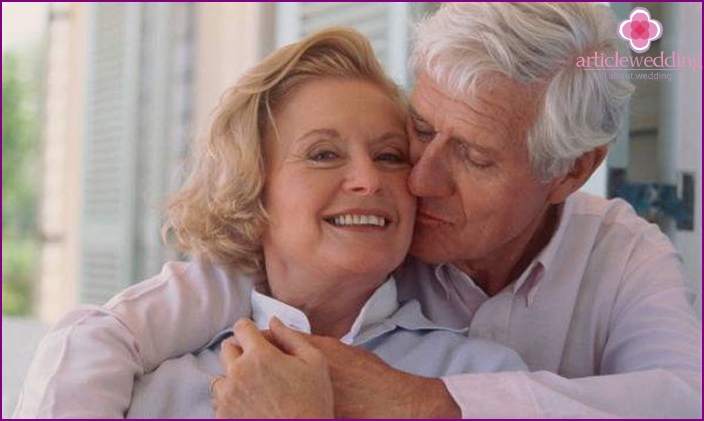 Wedding Anniversary Greetings
What holiday can do without gifts, congratulations of relatives and friends? On the day of the crepe wedding, when guests sit at the festive table, the spouses will be pleased to hear kind words. Especially for this, guests prepare greeting cards in advance or learn themed toasts. Since not everyone has the talent for writing, we offer you several options for congratulatory words in honor of the 39th wedding anniversary - they will become a pleasant gift for the wife and husband.
Congratulatory words for parents
Crepe wedding - thirty nine -
Anniversary is not easy,
The two of you know best how to do this.,
We wish you to live up to a hundred.
With each other you are gentle as in the days of spring,
Envy, you have created a strong family,
And your destinies are intertwined
As firm as crepe fabric.
Now congratulations on the crepe wedding,
Let it be in love and life goes on,
And we really want to meet with you
On the wedding anniversary - in a year!
A crepe wedding today at your home,
And native people came to congratulate you.
Peace to you, health and love,
Bright and happy destinies.
Let your plan come true,
Let your home fill with comfort,
Accept all our congratulations,
And at the golden wedding we still sing!
You have been together for 39 years.
And this is a considerable period, it's a lot!
We are glad that you are doing well.
We are happy to have been together for so long.
Congratulations on your wedding anniversary..
We wish to keep it up..
For many years to live happily,
True to love and be loved,
In life, unhappiness and sorrow do not know -
That's what I want to wish you.
Happy 39th Wedding Anniversary!
We do not tell you - be happy:
You can do it without us.
We do not tell you - be healthy:
Today confirms this best..
We tell you simply:
Happy 39th Wedding Anniversary!
Thirty nine is already a deadline,
Sweet grandchildren voice,
Children look with admiration.
Old friends love.
Happiness to you, love and light,
To always be warmed
The charm of inspiration
Real family.
What to present for the 39th anniversary of marriage?
If in your environment there is a family that celebrates the crepe wedding anniversary, then you can not do without a gift for the holiday. Since traditionally a certain material is a symbol of a wedding, a thing made from it will be an excellent option. The heroes of the occasion will be happy to receive crepe curtains, a tablecloth, scarf, wardrobe item or any other product as a gift.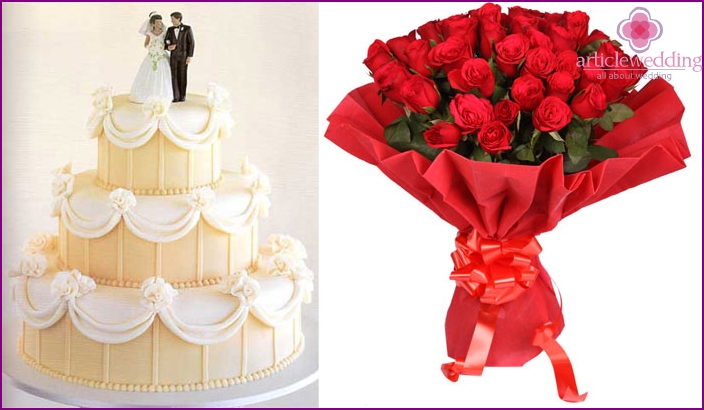 But if it is not possible to find a suitable thematic present, you need to turn on your imagination and present another gift. You can consider various options, starting with organizing a romantic dinner for two in a restaurant or traveling to another city on the weekend, ending with a draw by phone. Choose a gift for a crepe wedding, depending on your financial capabilities. Here are just a few options:
A husband, as for any other holiday, can give his wife a bouquet of flowers - it is always very nice. But on the day of the anniversary, it is worth presenting your beloved 39 rosebuds, one for each year lived together.
Wife and husband will love the mosaic with their wedding pictures, presented by children or close friends. This gift will always be pleasing to the eye and evoke happy memories of youth.
A useful, and most importantly actual gift will be a beautiful set of bedding, a set of dishes, household appliances or home decor elements.
Another option for a festive date gift that will appeal to adventure lovers is a Thai massage coupon for two or a paraglider.
You can also think of a birthday cake as the main gift. Since no celebration is complete without dessert, it is worth trying to return the anniversaries on their wedding day by ordering a multi-story cake for them with figures of the bride and groom. This luxurious gift does not require additions and will be remembered for a long time not only by the recipients, but also by all guests.
Any crepes for the home or wardrobe items that symbolize the date of the wedding will be appropriate..
It's a great idea to give gift vouchers to spouses celebrating their 39th anniversary of marriage: parachute jump, swimming with dolphins, descent from the mountain in a zorb and much more.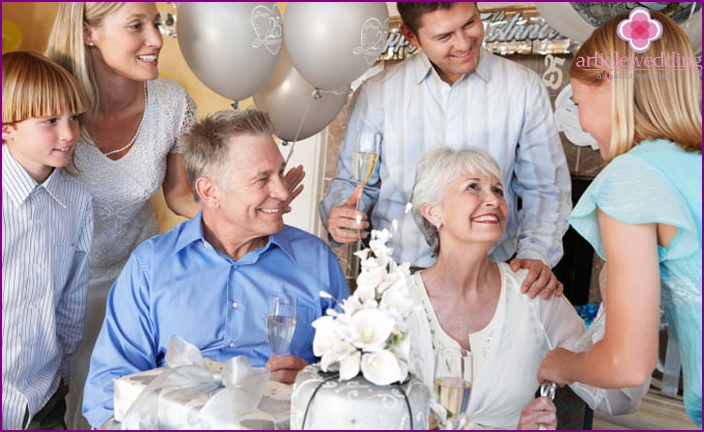 On a crepe anniversary, the family decided to present gifts in the form of medals, letters of appreciation and diplomas «For 39 years living together!». Grandchildren can learn congratulatory verses in advance or come up with a production that they will play before their grandparents. Interesting scenes may include not only the participation of the kids, but also adults. The heroes of the occasion themselves may later be involved in these fun activities. Take care that someone filmed the play, then at the next holiday in honor of the wedding anniversary everyone will be pleased to see and remember this holiday.
How to celebrate a crepe wedding?
It is not necessary to draw up a solid script for a celebration in honor of 39 years of marriage or to invite many guests. Despite the fact that the date is impressive, it is better to save energy on organizing celebrations and buying gifts on the occasion of a ruby ​​wedding (40 years). And for this holiday, warm gatherings in the circle of relatives and friends are suitable, on which you remember how the couple lived, through what obstacles they passed, what events rallied the family. If desired, this date can only be celebrated together - it's always good to take time for each other, to plunge into memories.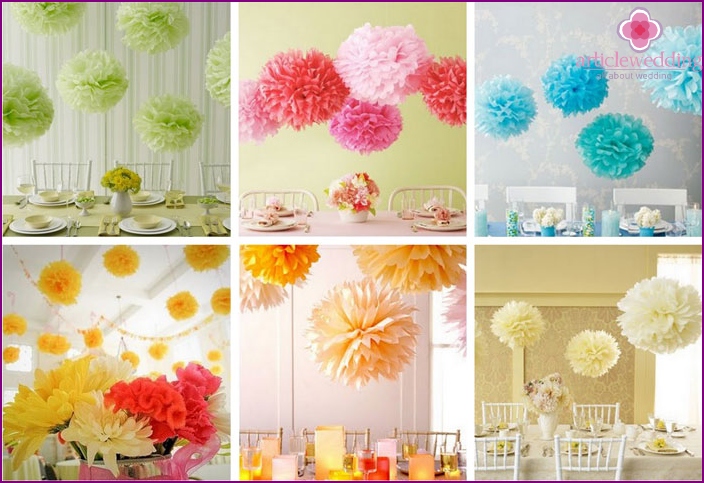 Choosing Wedding Anniversary Clothing
On this holiday, the wife should traditionally put on an elegant dress made of light translucent materials, for example, crepe chiffon or crepe satin. For a husband, you should choose a shirt from the same material. Well, if it was not possible to find such clothes for a man, then you need to find at least a crepe tie, and choose a shirt that suits him. A replacement woman should choose a chiffon or silk outfit.
Mandatory item: room decoration
In addition to its appearance, the wife before the wedding anniversary needs to take care of decorating the home where the celebration will take place. Hang crepe satin curtains on the windows, if any. In modern stores, they are represented in many shapes and colors. Cover the festive table with an openwork tablecloth, and perform the serving according to all the rules, finding the best appliances. Be sure to place a cake on the dessert table, which you will solemnly cut to the accompaniment of loud applause from the guests. So you create the necessary holiday surroundings.
Flowers are an important part of the celebration of the 39th wedding anniversary
A vase with 39 flowers, which in honor of the celebration was given to the wife by a loving spouse, will become an eye-pleasing addition to the festive atmosphere. Guests can also bring flowers to the family - there aren't many of them, as any woman will tell you. And if the invitees bring with bouquets not banal cards, but medals and certificates for building a strong, happy family, this will be twice as pleasant for anniversaries. To follow the theme of the holiday, flowers also need to be decorated with crepe.
The 39th crepe wedding is usually not perceived as an anniversary, so it is customary to celebrate this holiday with a family feast. On this day, already adult children, growing grandchildren, close friends gather at the celebrating family. The guests remember what the wedding was like, how they changed, what the couple has achieved since then, and give them presents. Smiles on their faces, comfort in the house, children and grandchildren sitting next will serve as proof of strong, unquenchable love..