Contents
---
---
Since childhood, we used to hear expressions «golden wedding», «silver wedding». Even children have a clear idea of ​​what kind of anniversaries they are and after how many years of marriage they are celebrated. And chintz wedding - how many years? Printed cotton is the first anniversary of a married life together. A young couple who lived together for 1 year already has something to celebrate. I want to make the first family holiday bright, impressive, because there will be many more ahead of them, but the first will be remembered forever.
How to celebrate a chintz wedding
So he passed, for someone difficult, for someone insanely happy and unforgettable first year of marriage. There comes a romantic family holiday - chintz wedding. Need to invite witnesses, close relatives, best friends. To celebrate the wedding anniversary beautifully, you should thoroughly prepare. First of all, you need to decide on the venue of the event and figure out how to decorate it. A suitable cozy, quiet venue for chintz wedding will be a country house. Decorate trees, bushes with cotton accessories - multi-colored pieces of fabric, scarves, lace, helium balloons, soft fabric toys. Want to party in the apartment? Decorate the curtain with bows, buttons, hang handkerchiefs, flags on the ropes, bright lace. Instead of a regular tablecloth, it's good to take a section of chintz and decorate it with bright lace, braid, beads, buttons.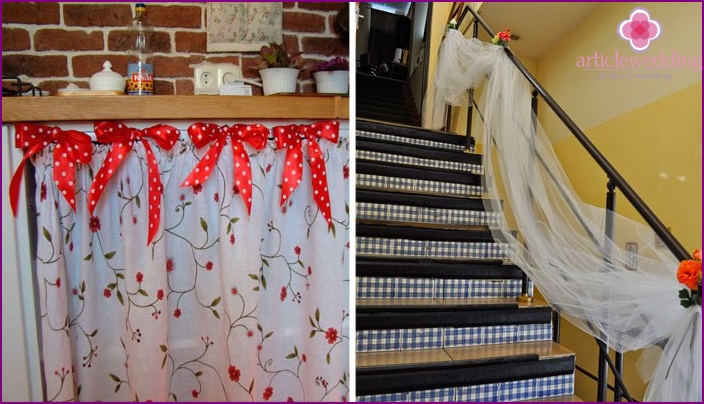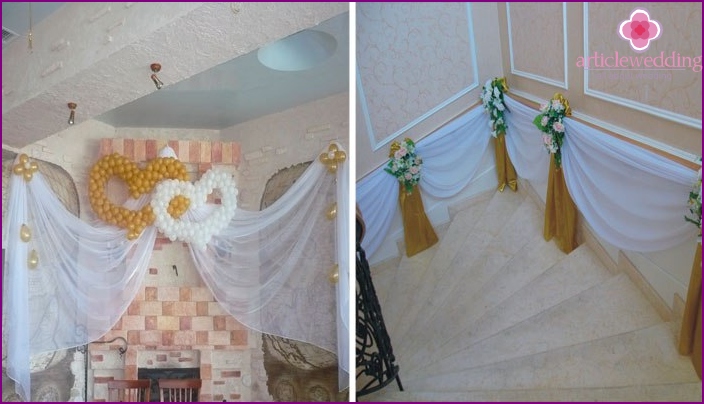 A chintz wedding is celebrated in most cases at home, here you can always prove to be a real mistress, show off your culinary skills. A good option is to hold a holiday in a narrow circle in nature, with barbecue, a walk through the woods or swimming in a river. There is an opportunity to launch a kite or a Chinese lantern, attaching various wishes to them.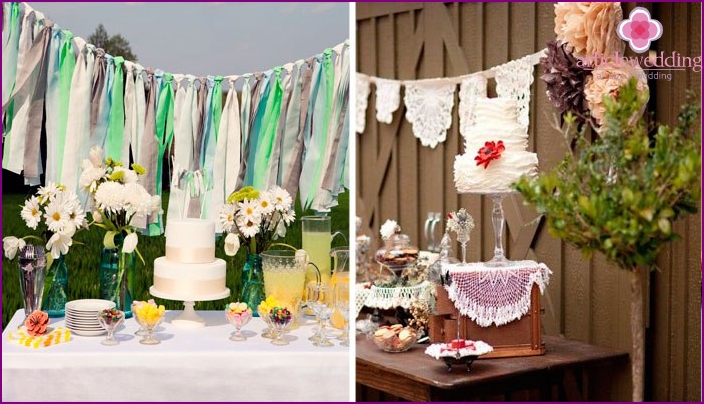 So that the party is not boring, develop a scenario of a cotton print in advance together with your best friends, prepare the necessary props. Prepare a varied entertainment program so that guests barely have time to switch from one competition to another, then time will fly by unnoticed, you will take a lot of successful photos. And most importantly - your memory will keep vivid memories of the wedding anniversary for a long time. If you do not have enough time and energy to prepare the event yourself, then you can use the services of the host, make a small banquet in the restaurant. For couples who do not want to celebrate a chintz wedding with many guests, there are other options - rent a hotel room or go on a trip. Each family chooses for itself how it wants to see its holiday. Watch the video of the couple celebrating the first wedding anniversary on the roof of the house.
Traditions of the first wedding anniversary
In ancient Russia, the mistress-needlewoman always embroidered beautiful dresses and a bright chintz tablecloth for herself and her husband on the occasion of the chintz wedding. According to tradition, all day until sunset, my wife wore a cotton dress.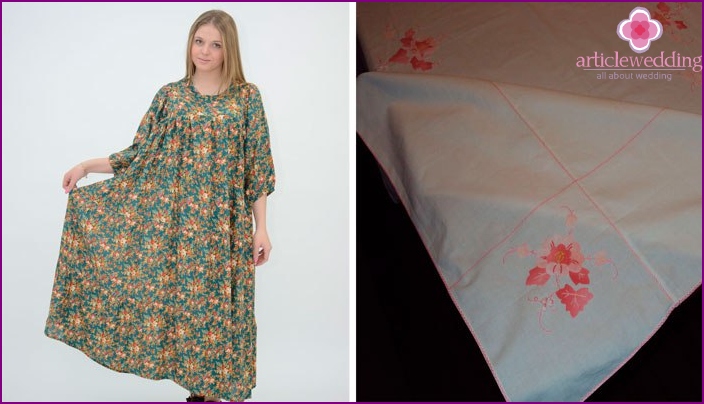 According to the old Russian rite, on the day of the chintz wedding, the couple give each other, as a sign of great love, chintz handkerchiefs. Taking the ends opposite on the diagonal, as shown in the photo, they are tied in a knot, which symbolize fidelity, the strength of family relationships. The probationary period for the newlyweds is over, they already quite consciously, having tested their feelings with time, can take an oath to love each other.
Husband and wife join hands, pronounce an ancient conspiracy: ««Just as the knots tied by us are strong, so are our words. Like the wind, a reveler in a field will wake a cornfield, so happiness and joy will forever be with us». After the ceremony, chintz handkerchiefs are stored in a special box. It is believed that if this touching ceremony was completed correctly, the young couple will live in one friendly family for a long time and happily, as was promised in the promise. According to another rite, on this day the mother-in-law gave the daughter-in-law a chintz dress, as a wish for an easy, successful relationship with her husband.
How to arrange a holiday table for chintz wedding
Although you are a wonderful housewife, do not be too zealous, relieve yourself of the obligation to cook too much food for the festive table. Let the motto be simplicity in everything. Chintz wedding is associated with modest but healthy dishes.
Salads. Bet on raw vegetables and fruits, believe me, this is always in demand. Original recipes and interesting design of salads will definitely make a pleasant impression on guests..

Sandwiches. They do not require much time for cooking, but they need to be interestingly decorated, or canapes made.

Snacks Remember what snacks you know. Choose not very sharp, without a pungent odor.

The drinks. It would be nice to make aromatic tea in a beautiful Russian samovar the main drink at the festival. But if you think that you can't do without alcohol, buy a few bottles of champagne or dry wine, try to avoid stronger drinks. Do not forget about cold soda, juices.

Cake. He will be the highlight of the program. Order a cake decorated with the appropriate decor and wishes for the heroes of the occasion to celebrate the anniversary. And if you make it yourself, it will be generally fine.

A.

For especially hungry guests. Do you think all of the above will not be enough? Then remember which snacks your guests prefer. A few mouth-watering dishes will not be superfluous for lovers of a hearty meal. In addition to them, you can still put a plate with pies and pastries, sweets. After that, you can be absolutely calm, guests will not leave hungry wedding anniversary.
Chintz Wedding Gifts
If you are thinking about what to give for a chintz wedding, let's turn to the old traditions. Once upon a time, the invitees presented the young spouses with cloth on the diaper, because at that time many couples were expecting the first-born. So do modern guests. You can present any textile products for the wedding - a new warm blanket under which the couple will bask on cold winter evenings, elegant curtains, a soft bath towel, an embroidered tablecloth, beautiful handmade napkins, an original pillow.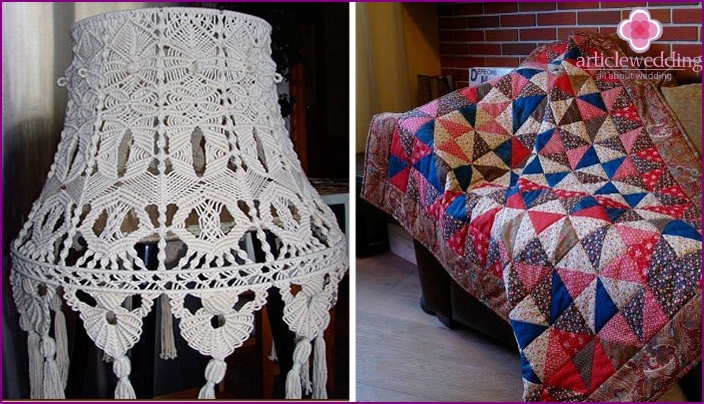 A good gift would be a set of bed linen, but it is important to please with size. It is preferable to give bed linen from coarse calico, chintz - a thin, short-lived fabric.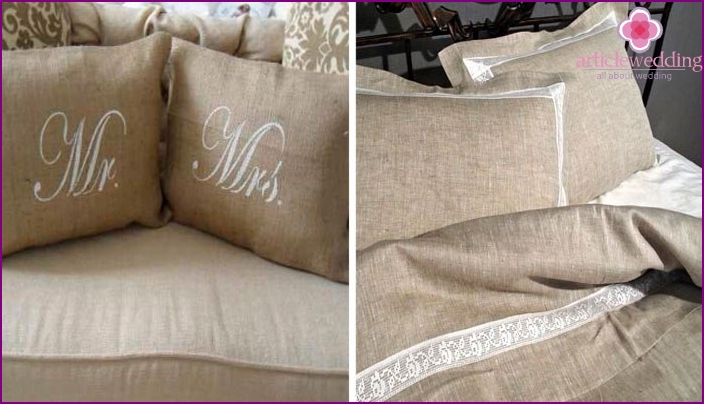 Also, clothes are presented for chintz wedding, and from any material. For a guy, a short-sleeved shirt or t-shirt would be a great gift; for a girl, a fashionable dress or tunic, an apron.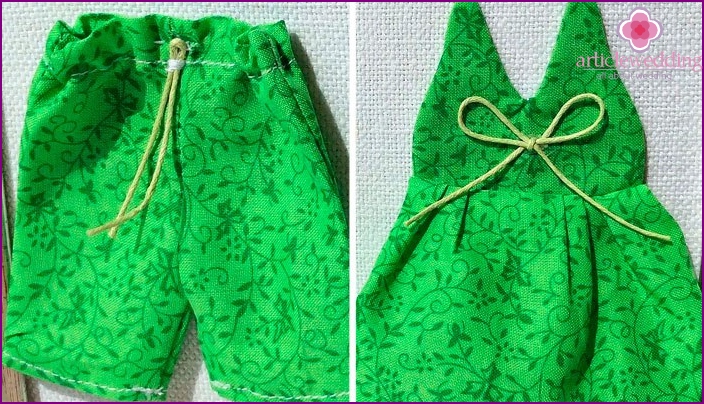 Are you a fan of creative gifts? Then purchase an embroidery kit: a fabric with a pattern, threads and a manual. Your loved ones will be very happy to receive a unique gift on their first anniversary, which will subsequently decorate their home. Can you paint beautifully? Take a piece of white fabric and draw a watercolor drawing on it. Insert your work in a frame and leave a message for friends. A new element of the interior will delight them for a long time. It happens that young people want to receive as a gift something specific, planned. Then it would be advisable to go around all the above recommendations and buy what they now need most at home. You can give anything you want, there are no restrictions, the main thing is not to forget to wrap the gift with symbolic chintz cloth with a colorful ribbon. The only exception is toys. According to an ancient belief, they should not be given on a chintz anniversary to couples expecting a baby. For traditions, gifts and how a chintz wedding is celebrated, see the video.
Chintz wedding photo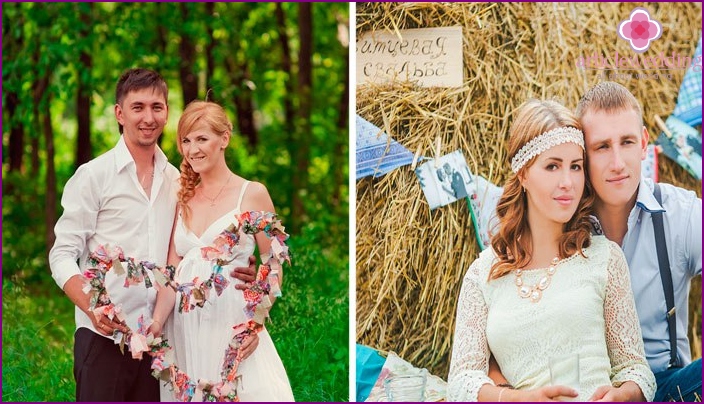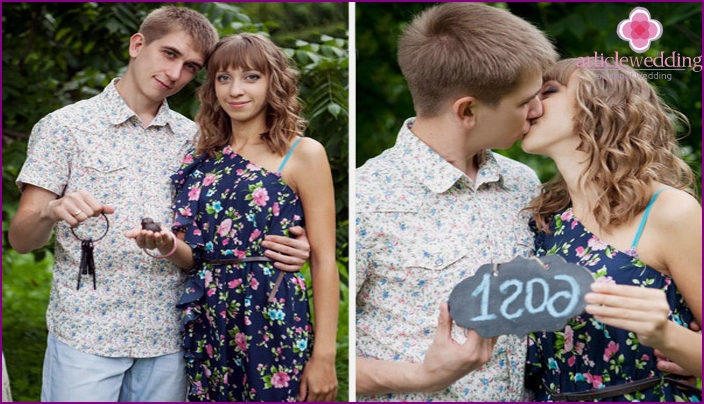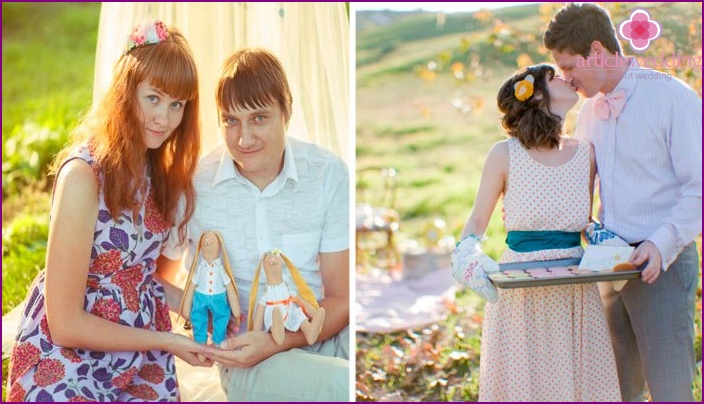 Have you celebrated your chintz wedding? Share with us your experience of how you prepared for the holiday, what happened best. Your advice will come in handy for young families who have yet to celebrate the first anniversary of their marriage..