Contents
---
---
Banquet card stands are usually skewers, wooden sticks, wire frames. The site www.articlewedding.com offers you to move away from stereotypes and make coasters for your banquet cards round, transparent and filled with various picturesque things. They will undoubtedly become a real decoration of the wedding hall.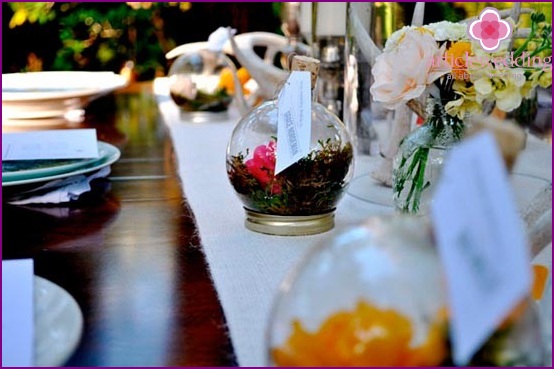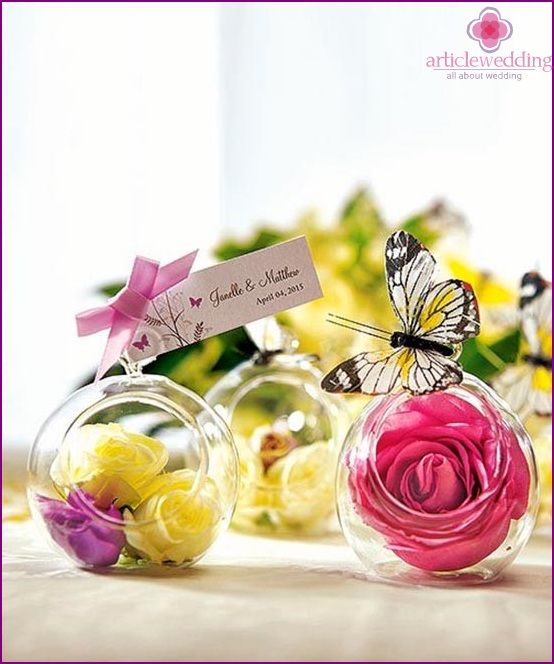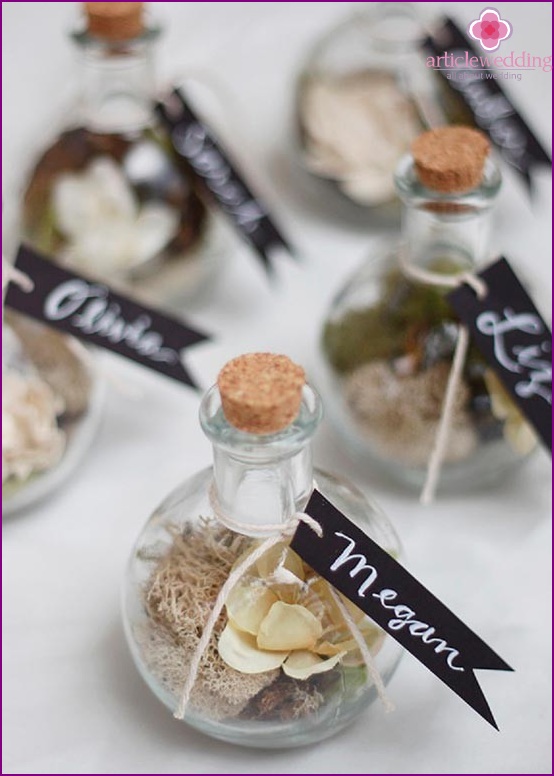 Materials and tools:
transparent ball - Christmas tree toy;
moss;
dry twigs;
crepe paper flower;
wine cork;
can with high sides.
Time:
1-1.5 hours.
Detailed instructions:
Take any Christmas ball. Amendment, not any, but transparent. We need all the beauty that fills it to be visible. We remove the hook and take out the antennae.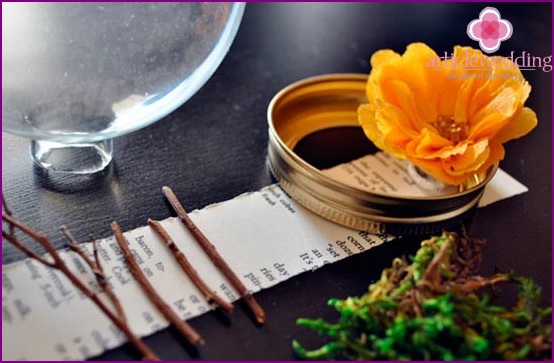 Now it was the turn of the can lid. We hoist the skeleton of our round-sided «vases» on the cover. This will be our makeshift stand. For stability, you can stick a ball or «to put» double-sided tape, preferably transparent.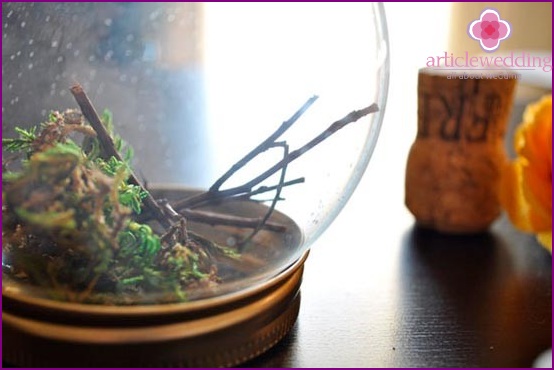 And now - the most important thing: we fill our «vase» moss, twigs and a crepe paper flower. There may be several flowers. You can create an artistic mess, or you can create a properly puff composition. It all depends on the purpose of the accessory and, of course, your imagination. The hole of the ball is closed with a wine cork. And we attach a beautiful banquet card to it. The wine cork can be left as in «pure form», decorate with fabric, beads and ribbons.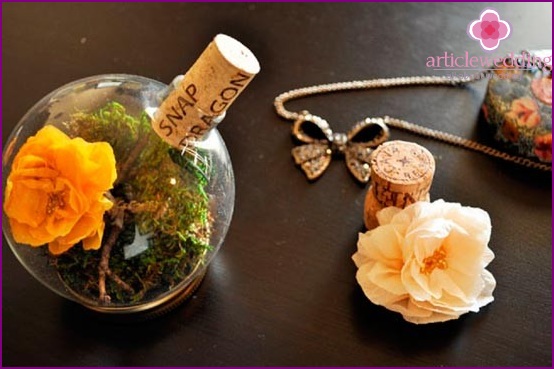 Application options
Our coasters can serve not only «prop» banquet cards, but a completely independent decoration of the wedding hall. They can be placed on tables one at a time, or you can create a beautiful composition that effectively complements the setting of wedding tables.
Glass jewelry hung on the ceiling on satin, chiffon or silk ribbons of bright color looks great. By the way, you can pour water into our improvised containers and use them as vases. Graceful rosebuds will look especially tender in them. Former Christmas balls will splendidly decorate the Candy-bar at the wedding. The wedding portal www.articlewedding.com offers another use case: an original and cute bonbonniere. In it, a colorful candy dragee will look very tasty.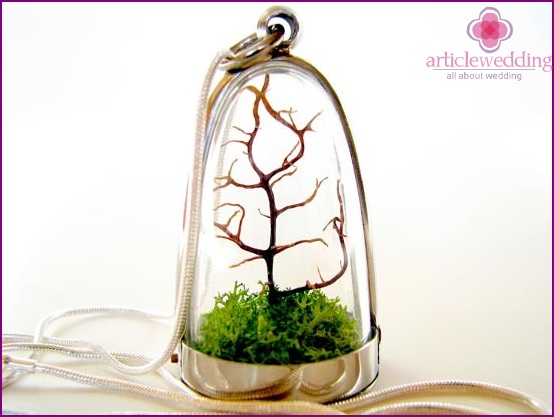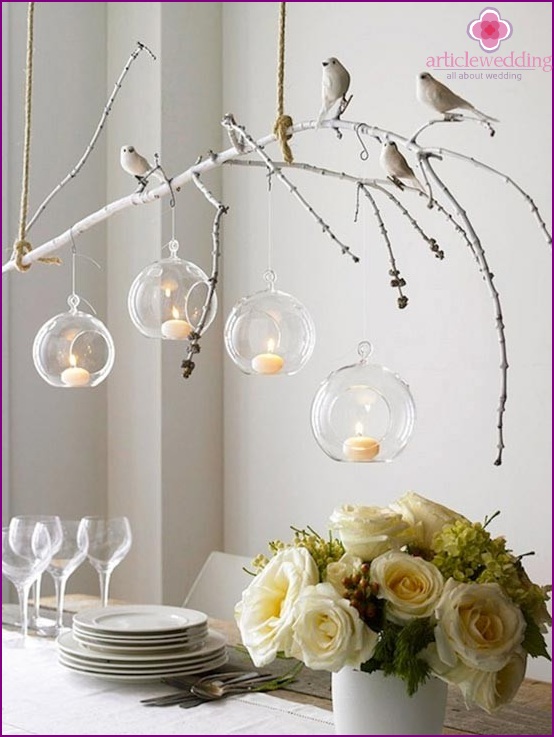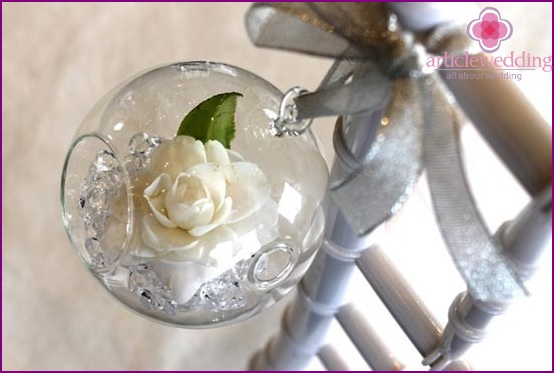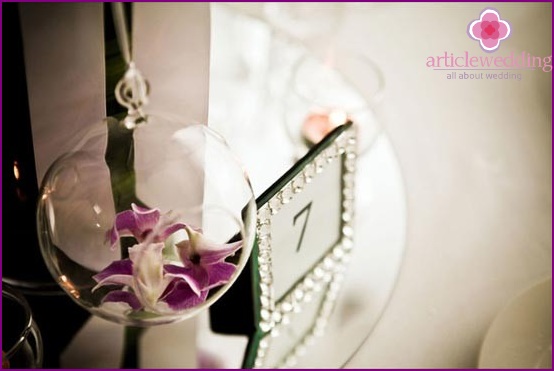 Such «vases» made of Christmas tree toys are easy, but look incredibly romantic and elegant. They are excellent «adjust» for any themed wedding: you will only need to change the content.