Contents
---
---
How many interesting and attractive things can be found for organizing a delightful and memorable wedding celebration! A huge number of decorating ideas can be found on our website..
Recently, crafts and all that can be done with your own hands have been very popular and respected. A lot of designs have been developed to create original seedling cards. All of them are unique and differ in an individual approach. Seating cards can be made from a variety of materials, different thematic areas, all kinds of colors, etc..
Today, www.articlewedding.com wants to offer you a very simple workshop, during which you can independently create unusual seating cards in the form of plastic jars with the initials of the guests. They will become a real highlight not only of a winter wedding, but also a celebration at any time of the year, the main thing is to choose the right jar ingredients.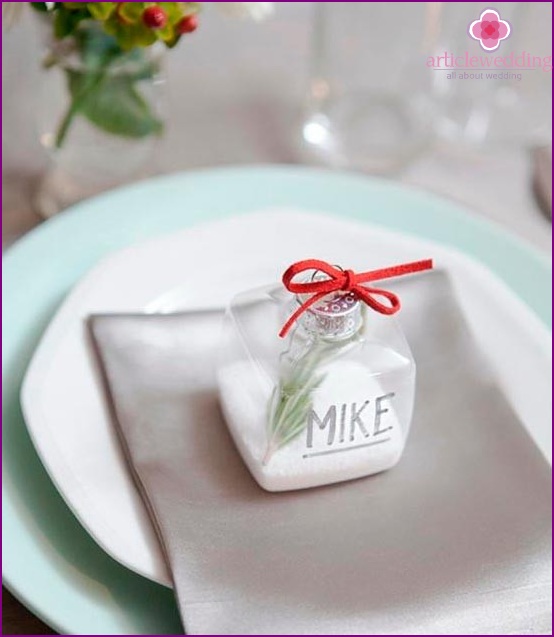 Materials and tools:
kosher salt;
transparent plastic jars or other containers;
sprigs of fresh rosemary;
tweezers;
marker (any color);
funnel;
ribbon / rope / decorative cord.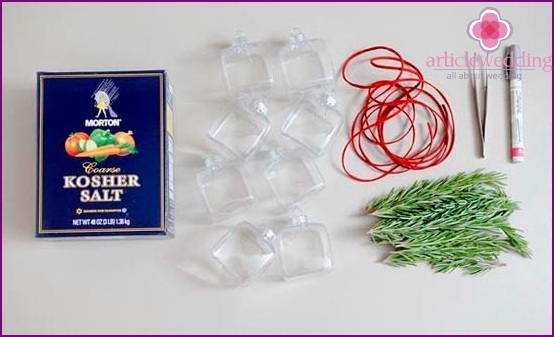 Time:
40-60 minutes.
Detailed instructions:
The first thing to start with is to decide what you will put on the decorative packaging as a guide for guests. These can be table numbers or initials of invited people. Exercise separately on sheets of paper and select the font and size you need. After making sure that you are satisfied with the font option, put the necessary pointers on one of the sides of the selected container with a marker. It is not necessary to make the inscriptions the same, make part of the inscriptions in large letters, part small (but readable), part italics, part right angled.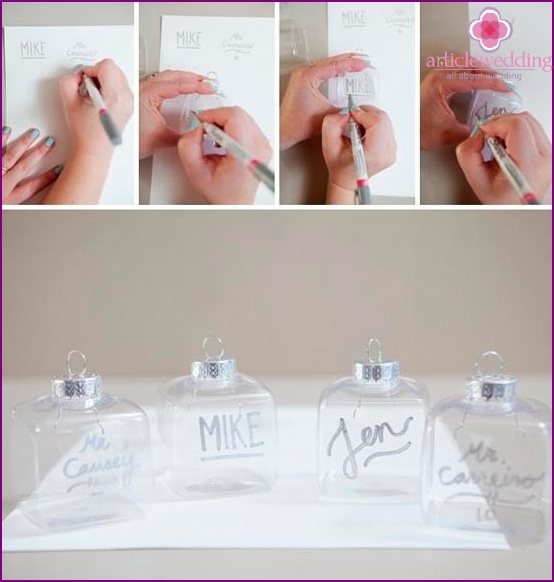 Then remove the lid and pour salt with a funnel. Adjust the salt level yourself, in this case, the salt covers the bottom of the tank. Fill all the jars with salt.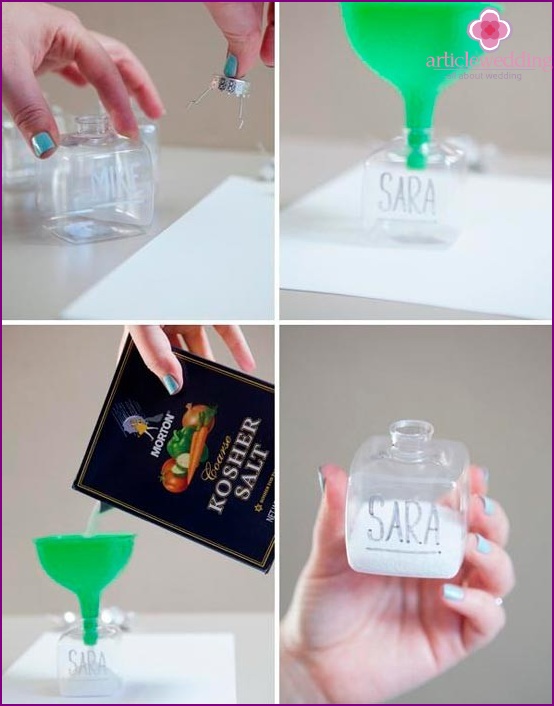 Next, you need to cut the rosemary branches so that they fit easily into the container. You will lose your mind with the amazing aroma that comes from fresh herbs!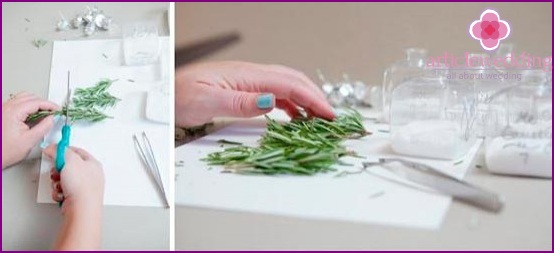 Each sprig of rosemary is placed inside the containers. If necessary, help yourself with tweezers. Close the lid on top. Tip: it is recommended to fill the tanks a day or two before the holiday.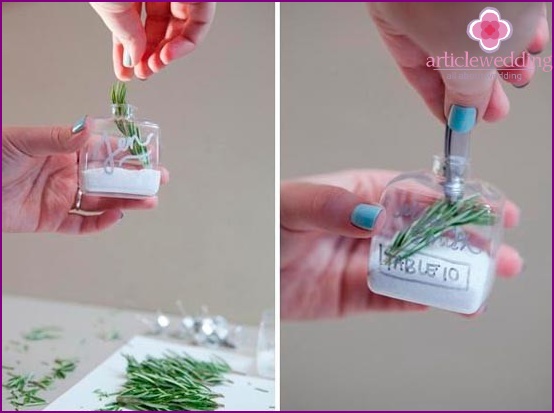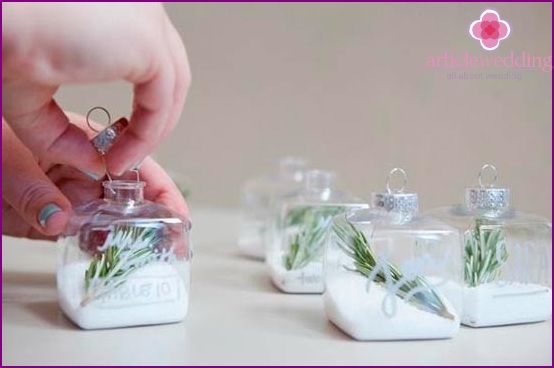 On top of the little ring from the lid we attach a ribbon or rope. We tie a simple bow. Original seating cards ready for immediate use!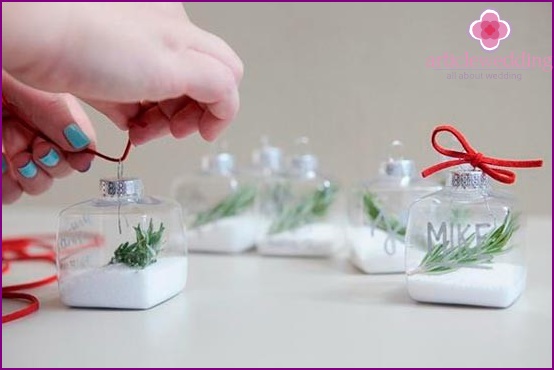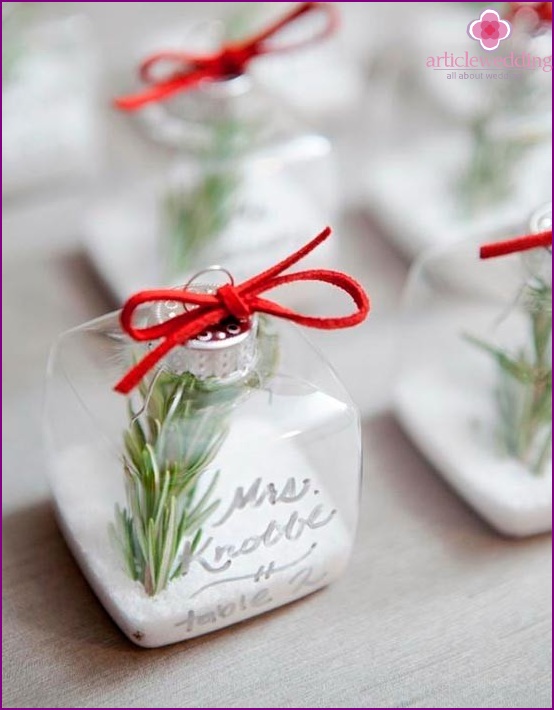 Application options
And so, you already know how to make one of the options for unusual seating signs for guests. Based on this project, you can change some of the components and make another interesting and stylish version of the seating signs for guests. For example, for a nautical-style wedding, replace the white salt with color, and your jewelry will sparkle in a new way.!
Tip from the wedding site www.articlewedding.com: Guest signs can be applied to any surface. You can use glass containers, you can take small boxes, even large candles or scented soap will do, which, by the way, you can also make yourself.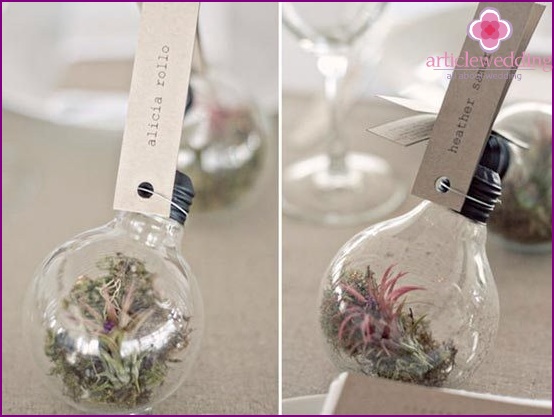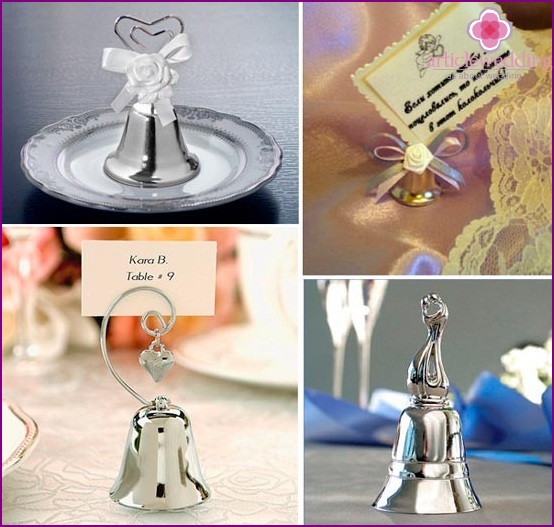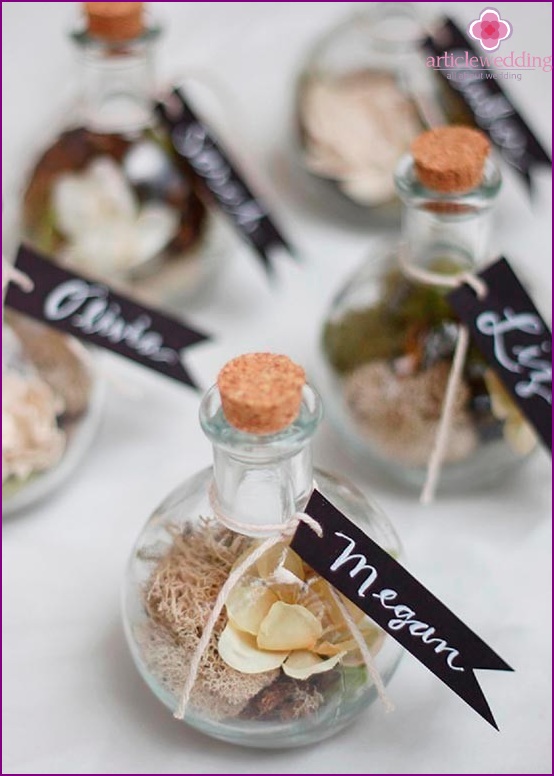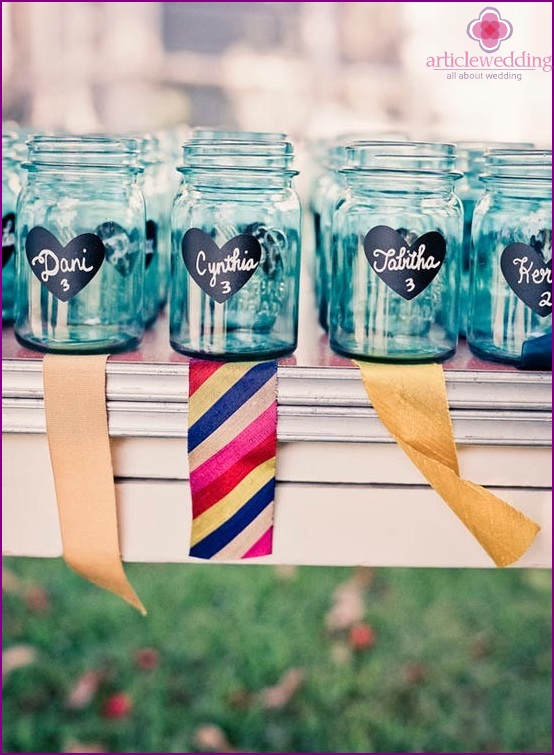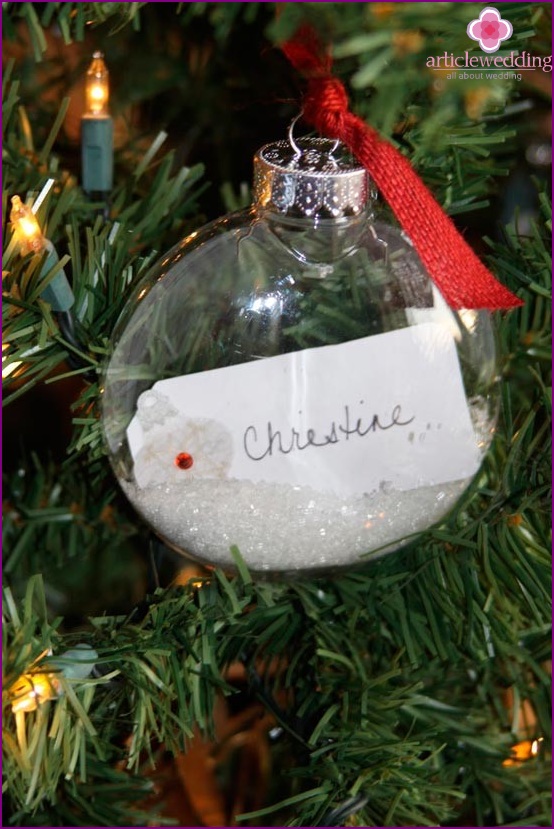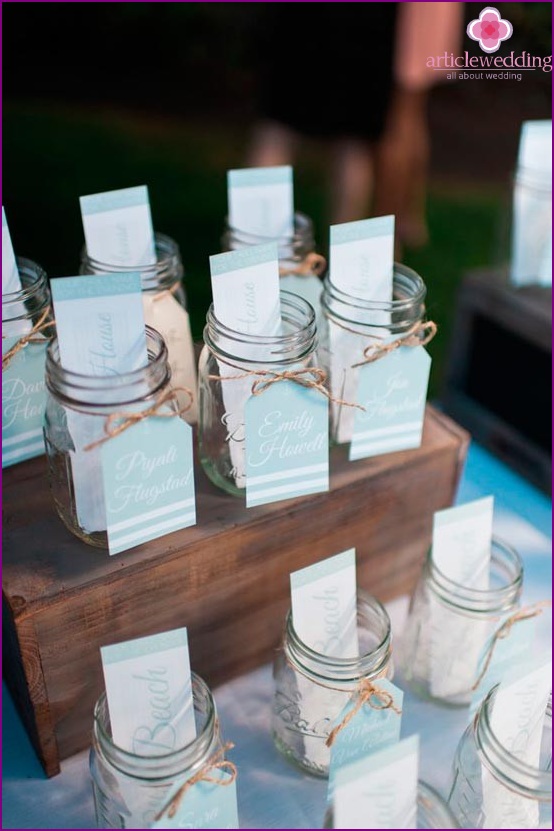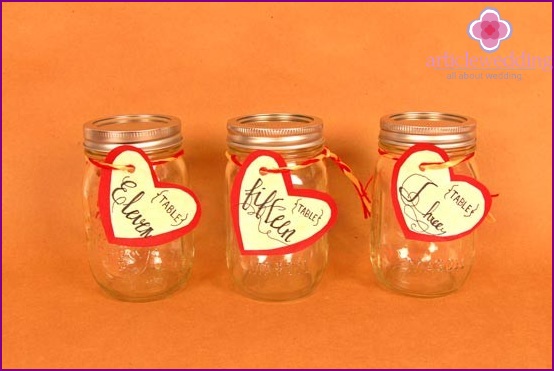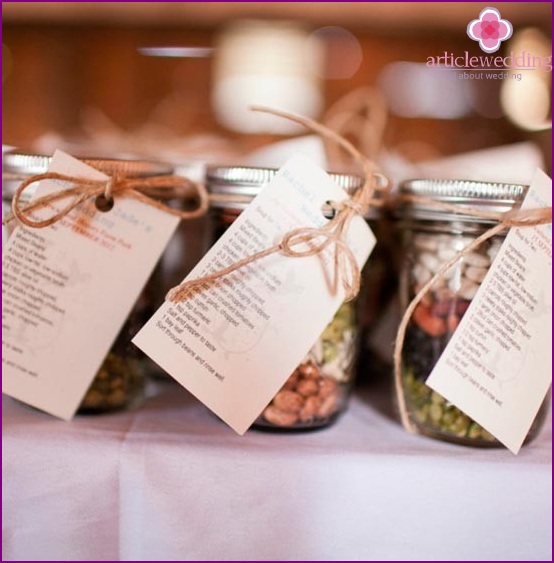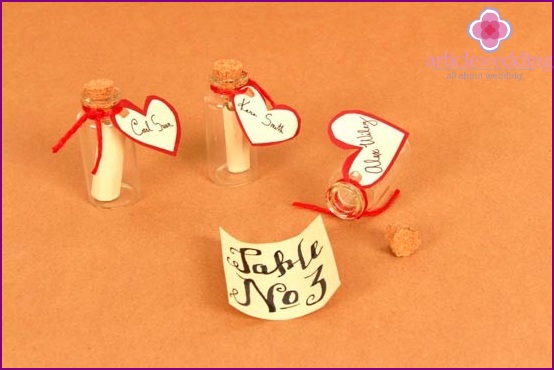 If this is a winter wedding, then it brings on New Year's theme. In this case, you can use Christmas toys that can be decorated and place the necessary inscriptions.
Such non-standard seating cards can be used for the sand ceremony, asking each guest to share a piece of happiness with the newlyweds!
In general, everything that you can't imagine will decorate your holiday table and delight guests!