Contents
---
---
The solemn day passes so quickly, and the preparation for the wedding takes from several months to a year! All this time, every detail is carefully thought out, starting from outfits and ending with decorating the table. Since guests spend most of their time in a restaurant or banquet hall, you need to carefully consider accessories and decorations for the banquet table. First of all, decide on a color scheme that will harmonize not only with your wedding dresses, but also with all the elements of the wedding hall. Next, you should consider wedding accessories that will help to place accents and make the decor of your table unique..
You can read about how to make romantic jewelry with your own hands on the wedding site www.articlewedding.com. In the master class, we will talk about how to make beautiful stylish candlesticks from simple glass jars that will bring a feeling of warmth and coziness to the banquet hall, as well as fill the hall with romance.
Such decorations are inexpensive accessories, so you can make personalized candle holders for each guest using name tags. Than not banquet cards for guests? !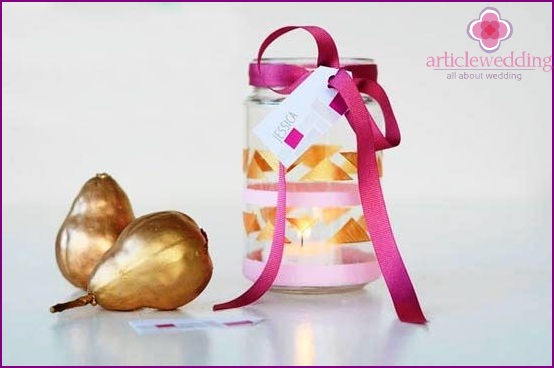 Materials and tools:
glass jar;
duct tape;
several jars of acrylic paint in different colors;
brush;
tape;
shortcuts.
Time
: 1,5 hour.
Detailed instructions:
Before starting the workshop, remove the label from the surface of your glass jar. To do this, simply soak the jar in hot water for several hours and use a stiff sponge to remove all the paper and glue on which it was held. However, the easiest way is to buy a new glass jar in the store. Prepare also acrylic paints, the colors of which are determined depending on what colors are present in the banquet hall.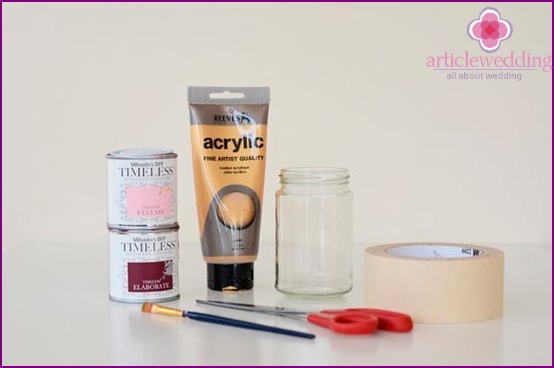 Adhesive tape will help us create a beautiful geometric pattern on the bank. In our master class, we used thin strips of tape to get a neat pattern. Tape the jar using your imagination.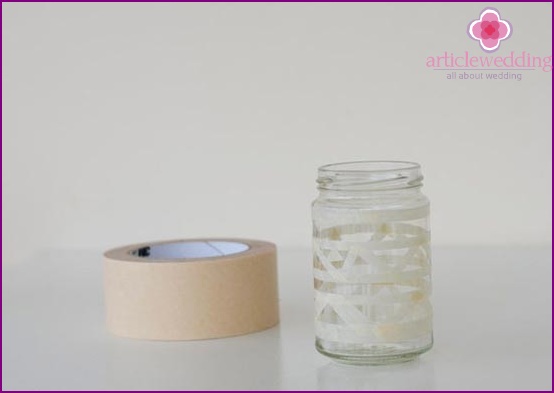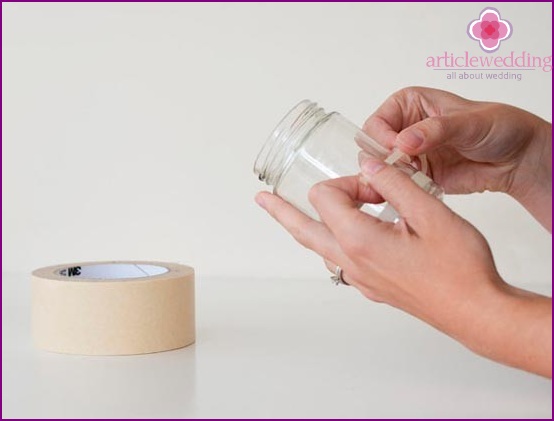 Next, start coloring your can. You can paint directly on the surface of the tape, which you still remove later. You can also simply paint triangles and stripes on the bank. Let the paint dry for thirty minutes and gently tear off the tape from the glass surface. You should get an original pattern. Do not worry if the pattern is a little uneven. In the evening dim light this will not be noticeable.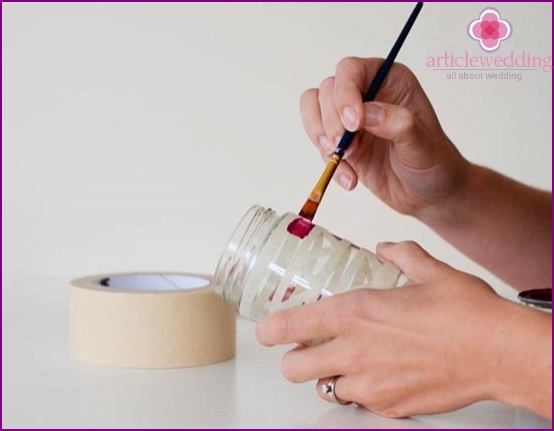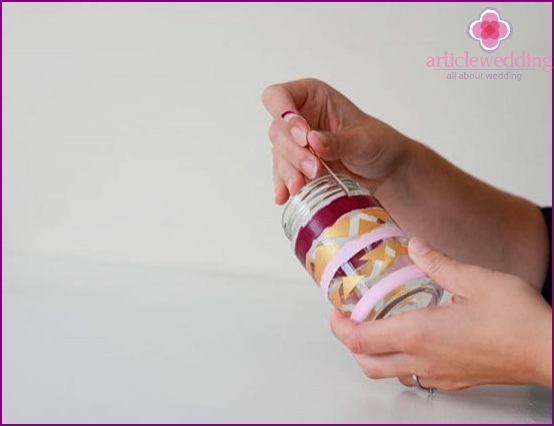 Tie a beautiful ribbon to the neck of your can with acrylic paints. You can also attach name tags to each guest's feed. Place a small candle inside the candlestick - and the wonderful decoration is ready! You can also use long thick candles, which you can easily set on fire and change if necessary.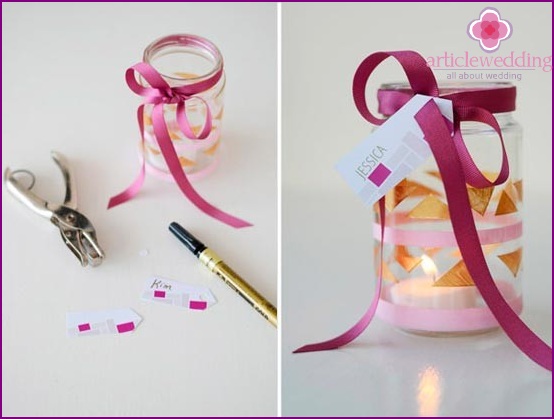 Application options
Making such luxury candle holders is easy! You do not need to own special equipment and skill. Even if your pattern is uneven and asymmetrical, you can safely consider this a creative author's idea.
In addition to acrylic paints, you can use all kinds of decorations for your candlesticks. It is very fashionable to decorate candlesticks with sparkles, creating additional shine and glow.
Such candlesticks are multifunctional, because they can be used not only as decorations for a banquet table, but also as seating cards, table numbers or to create a decor for wedding photography!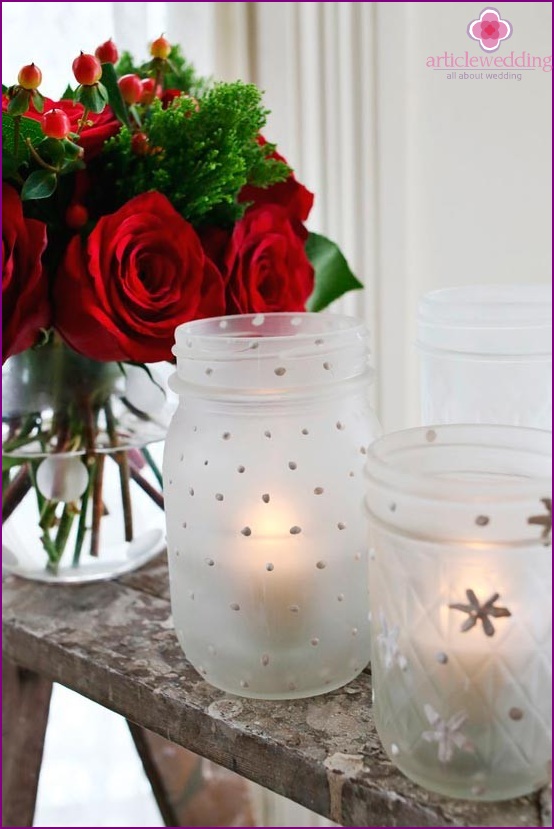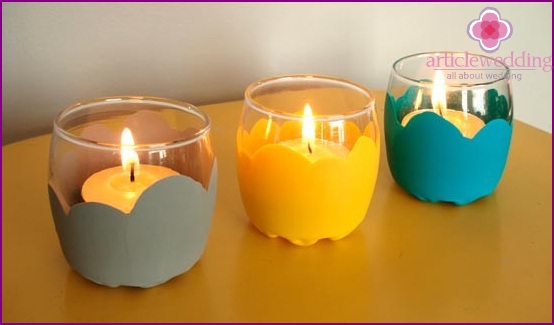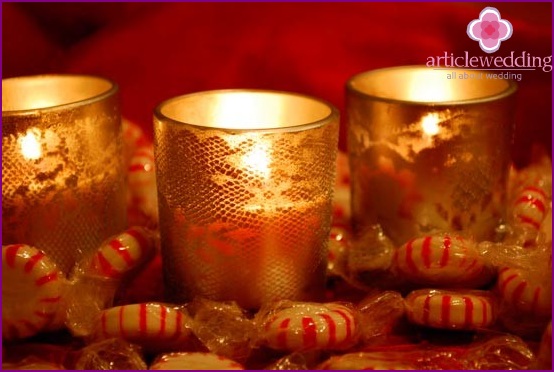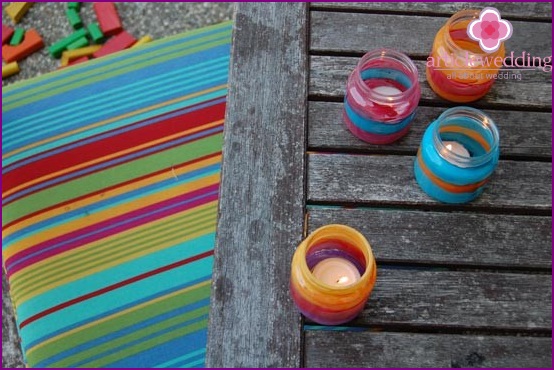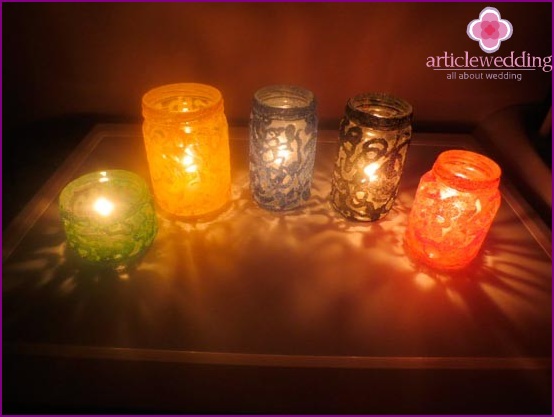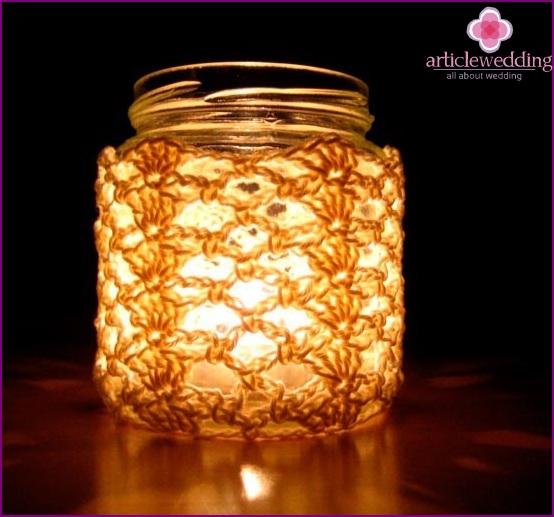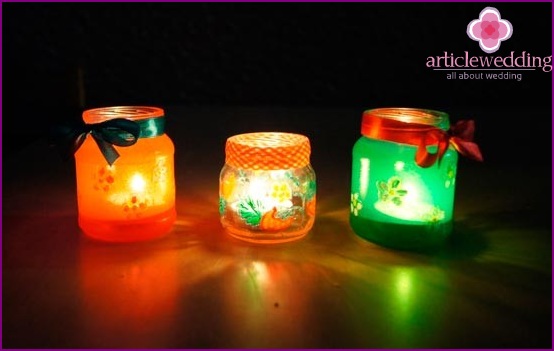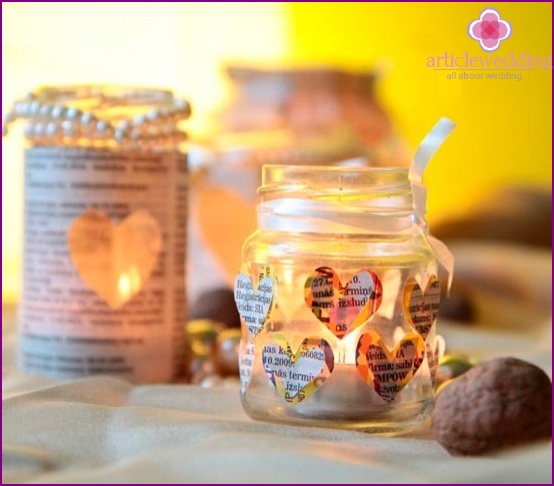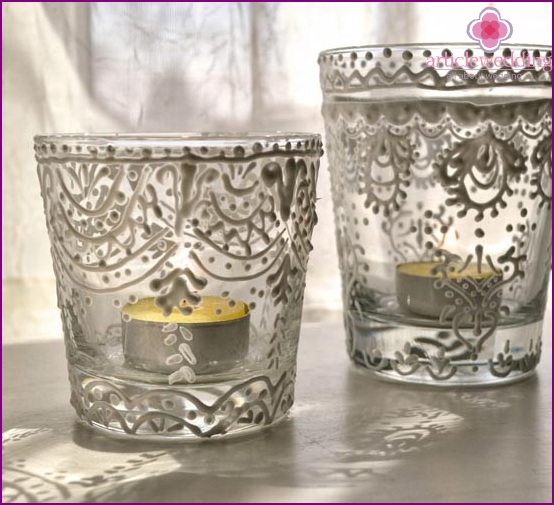 Website www.articlewedding.com wishes you inspiration in creating wonderful wedding decorations!