Contents
---
---
In the setting of wedding tables, an important place is occupied by dishes, cutlery and, of course, glasses. Since various drinks are supposed at the wedding celebration, then the capacity for them should be appropriate.
Of course, glasses for newlyweds are the most significant and important wedding attribute at a banquet. But after all, for guests you can pick up original and elegantly decorated glasses, glasses and wine glasses. In order not to offend guests, the site www.articlewedding.com presents to your attention a guide on decorating cups for guests. Glasses made of transparent glass with a colored bottom will look great on banquet tables of a multi-colored wedding.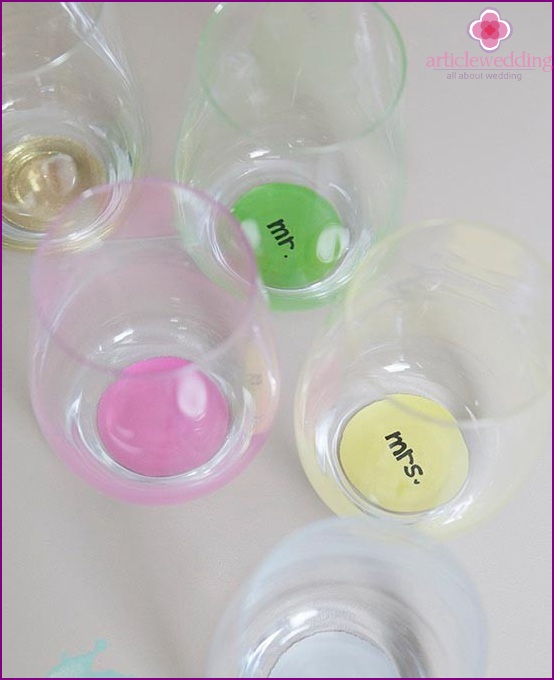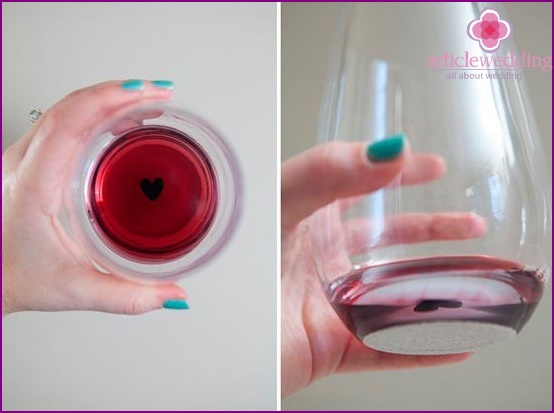 Materials and tools:
crystal glasses with a two-layer bottom;
acrylic paint in different colors (or special paint for painting on glass);
sponge (sponge);
brush for painting;
marker;
medical alcohol;
plastic bag.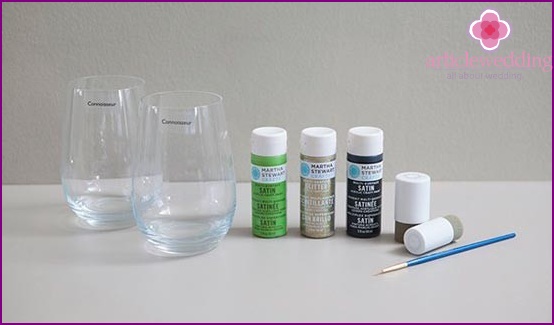 Detailed instructions:
It is best to choose double bottom glasses. This will give additional beauty, as bright color of paints will unusually reflect on the thickened bottom.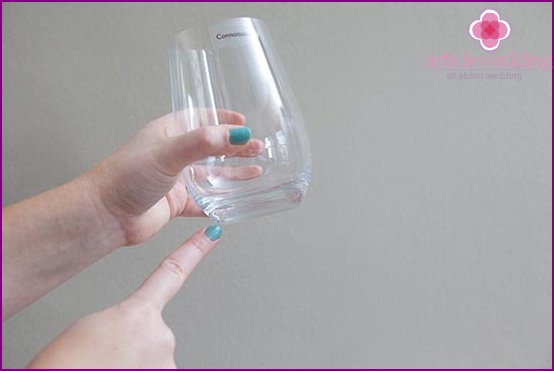 Before applying the picture to the bottom of the glass, wipe it with alcohol.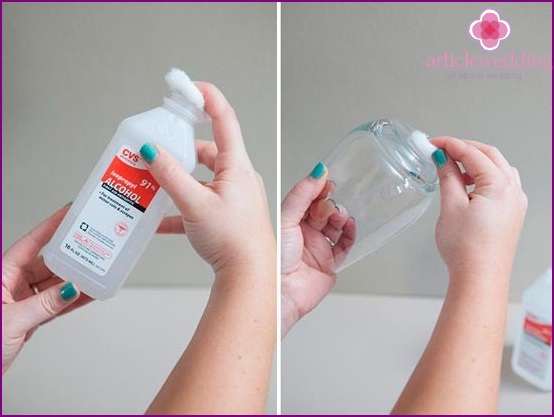 Next, you can proceed to decorate the glass. Apply a small amount of paint of a certain color to a non-absorbent surface. Dip a sponge and run along the bottom of the glass. You can apply several layers of paint to obtain a more uniform and saturated color. In this case, let each layer dry thoroughly.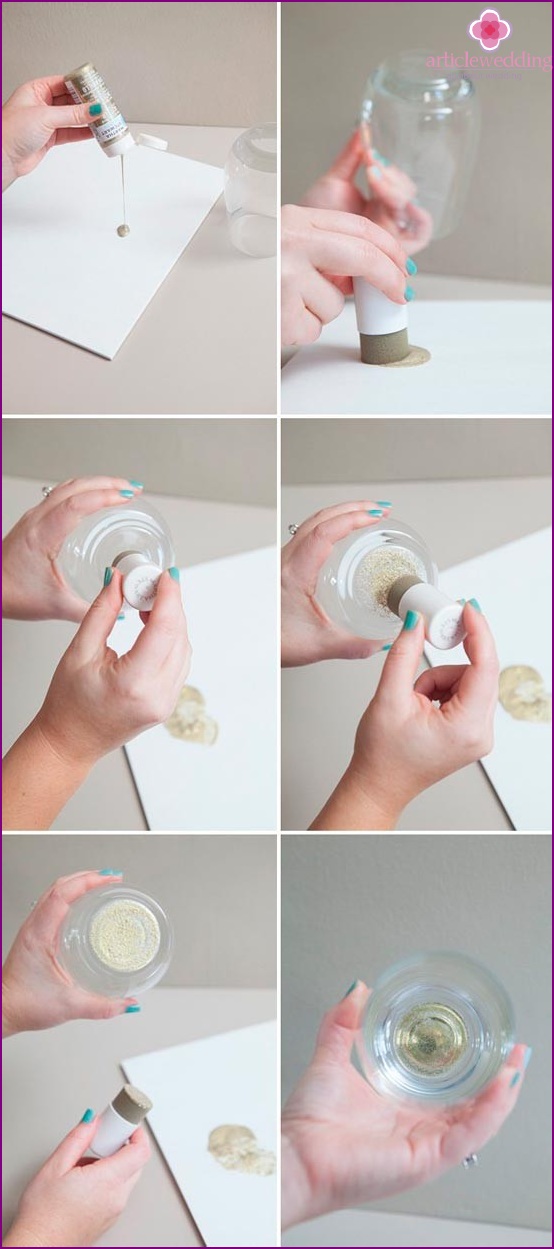 Between staining layers, keep the sponge in a tight-fitting bag. So you save both time and paint.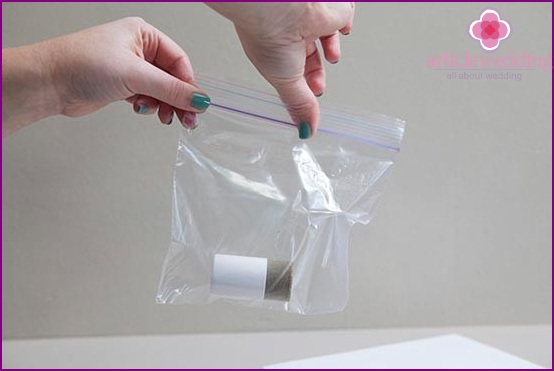 If you climbed over the edges, then remove the excess paint before it has time to dry.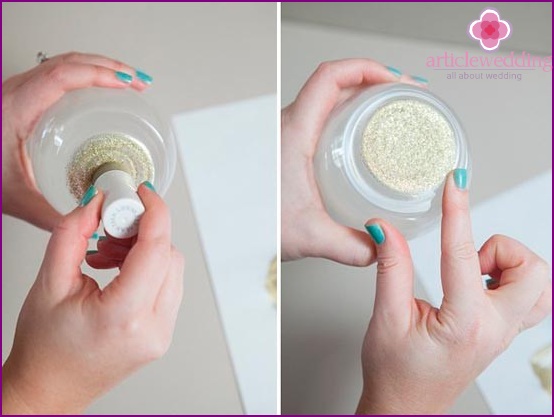 In our case, four thin coats of paint had to be applied to achieve an amazingly shiny and smooth finish. In this way, you can apply any color of your choice.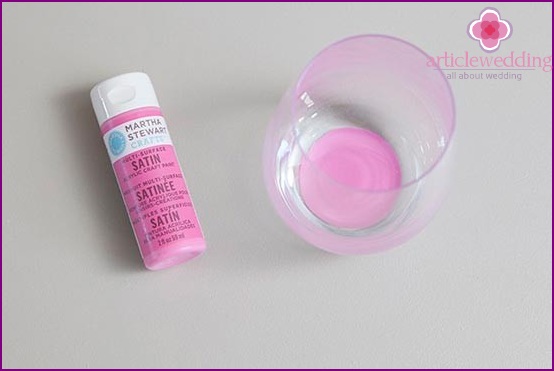 At the bottom of the glass, you can write the initials of the guest. To do this, before painting the bottom, mark with a marker any designations in a mirror arrangement.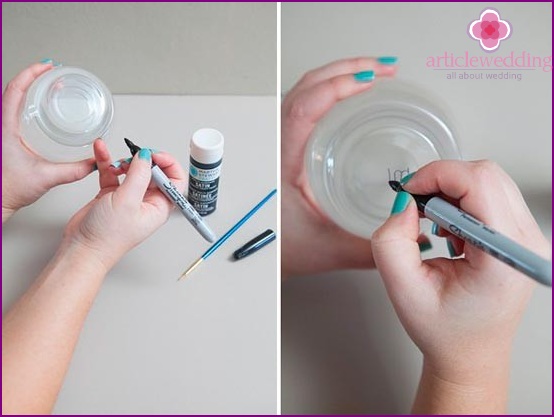 Then, using a brush, circle the outlined letters with dark paint. Depending on the base color of the bottom, choose a harmonious color of paint for drawing initials.

If for some reason you didn't like the way you drew the initials, correct the flaws until the paint is dry.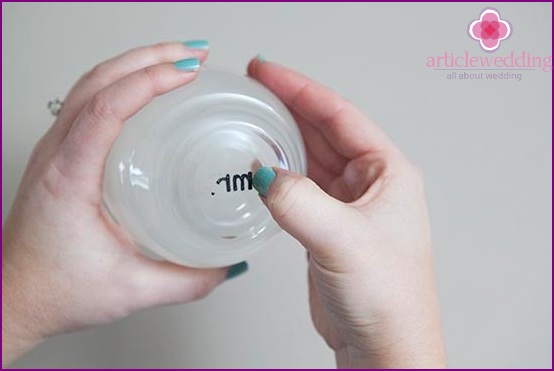 Now follow all the same steps as described above for applying a color layer to glass.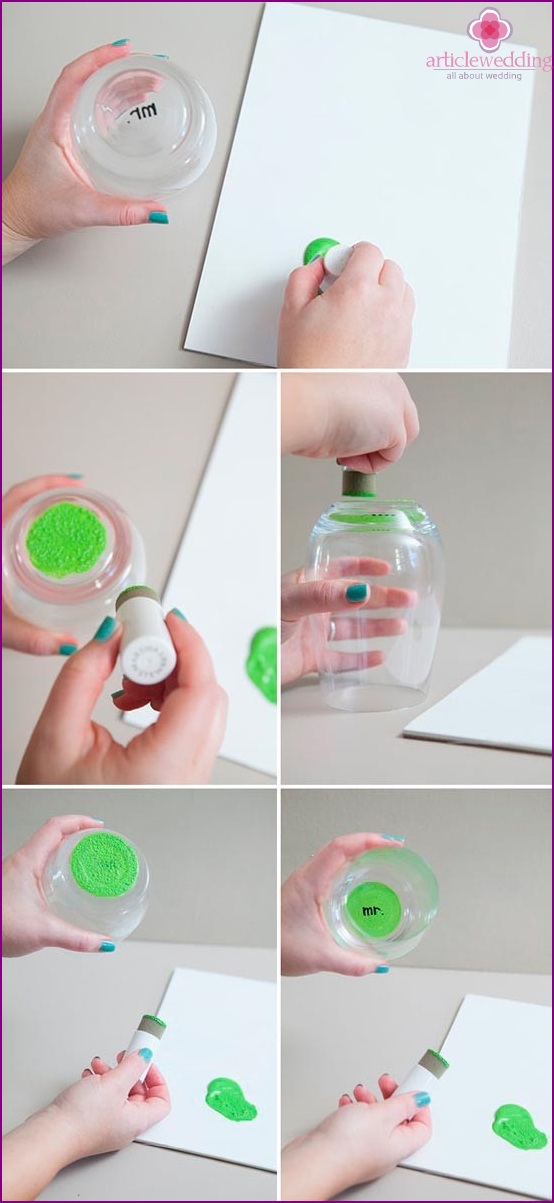 The inscriptions and drawings at the bottom of the glasses can be varied. It all depends on your ideas and what you want to portray on glasses for guests.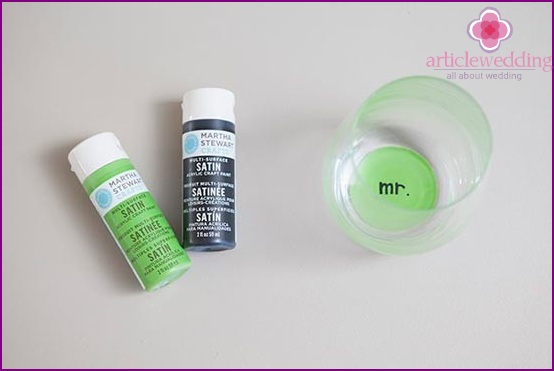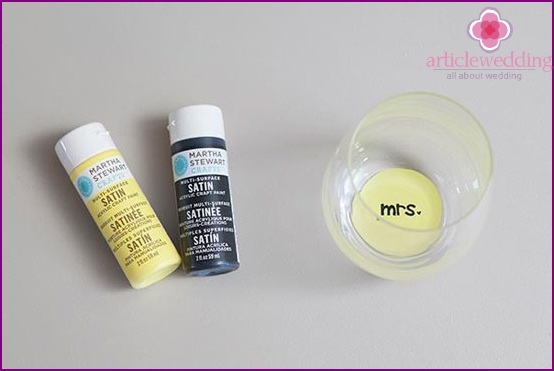 Funny multi-colored glasses for your esteemed guests are ready! Now they can be served on the table. Such decorative and bright glasses will become a perfect decoration for a wedding party in rich colors.
Application options
Even after the end of the solemn feast, one should not worry about the further use of such exclusive glasses. You can extend the joy of guests by giving everyone such a colorful gift in the form of a bonbonniere, which for a long time will remind you of a colorful and unforgettable event.
By the way, the wedding portal www.articlewedding.com invites you to keep these fun glasses for yourself. You can use them in your apartment, both for its intended purpose and by inventing a special function for them, for example, as an additional decoration of your interior. By slightly changing the glasses, they can be used as mini flower vases, or as a storage container, or as the basis for other creative products.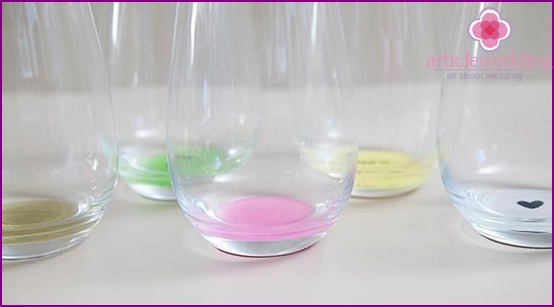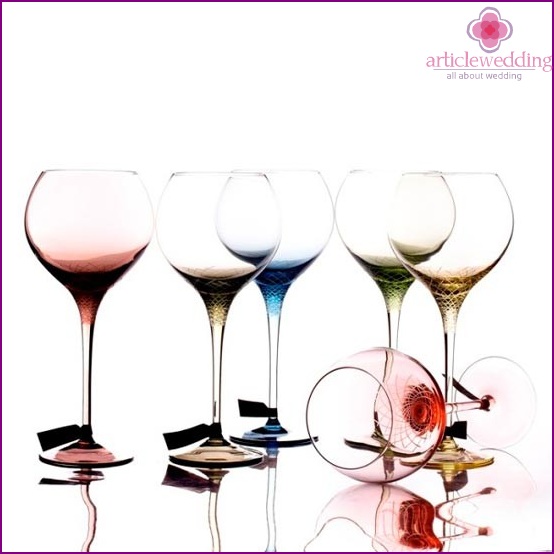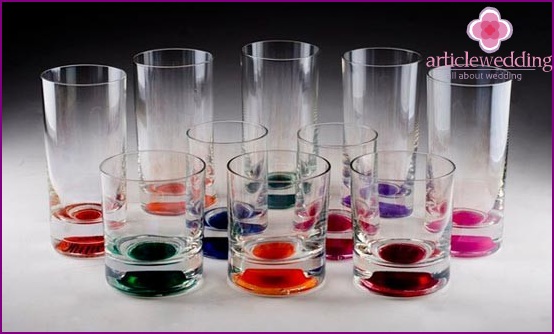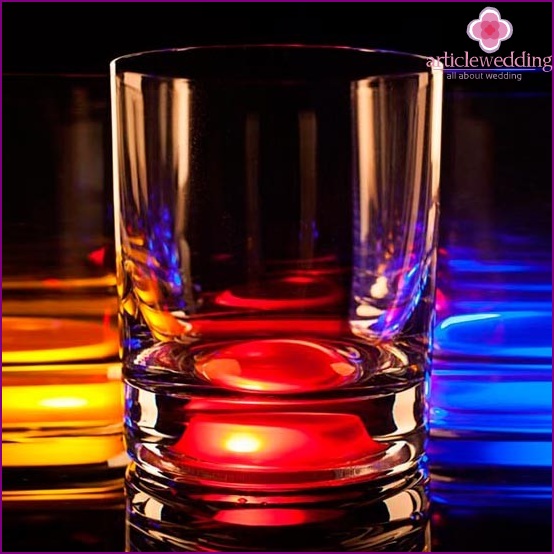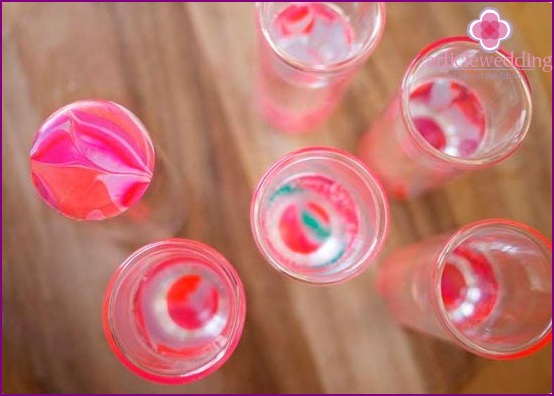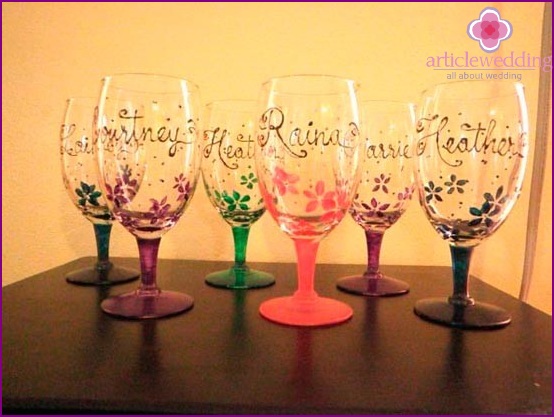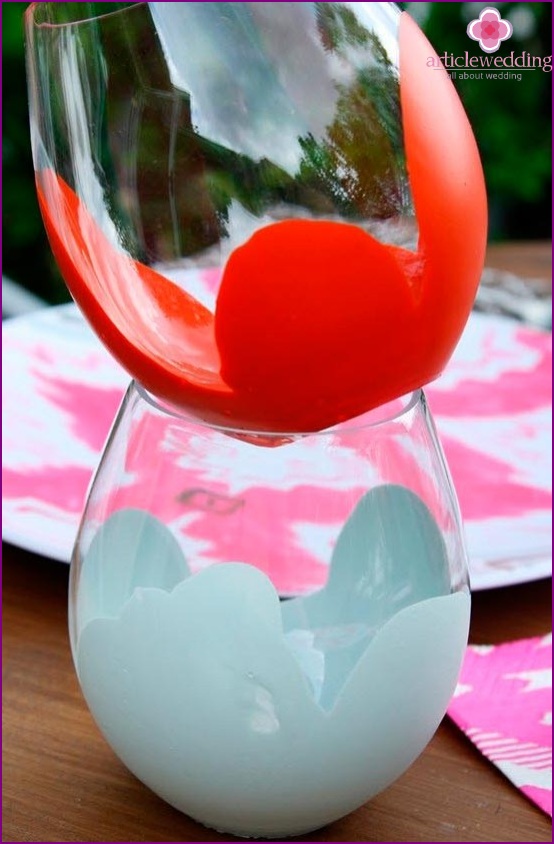 Let your upcoming holiday be as bright and sparkling as the bottom of homemade glasses!