Contents
---
---
In decorating the wedding hall, an important role is given to the design of tables and chairs, because their guests appreciate first of all. The walls can also be decorated with compositions or paintings, and beautiful vases with flowers are placed around the hall. Stylish lanterns or helium balls can hang from the ceiling. However, all this is already the last century, and you will not surprise anyone with such jewelry. Don't you want to come up with something original and unusual?
The site www.articlewedding.com has no doubt that you are a creative person and want to decorate the wedding hall in the same way as they do in European countries. In our wedding master class, we will tell you how to make luminous initials that will make your holiday truly memorable. Luminous letters or whole words are a real trend this year, so feel free to arm yourself with all the necessary materials and start the workshop.
Making luminous letters is very simple, though male strength is required. Feel free to attract a future husband or relatives to help you create such a stylish accessory for a banquet. Having decorated the hall with such letters, you will create a romantic atmosphere, as well as add an unusual twist to the decor.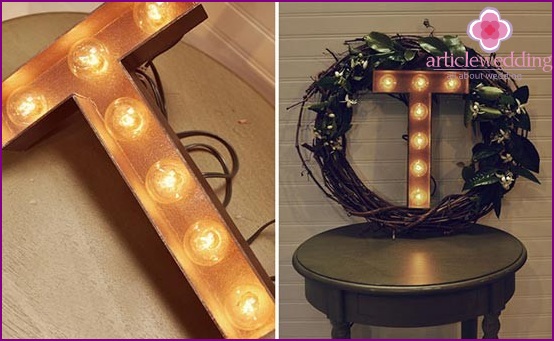 Materials and tools:
New Year's bulbs;
Papier-mâché letters
drill;
spray paint.
Time
: 1 hour.
Detailed instructions:
It is never too late to bring something new and modern to your wedding decor. If you are determined to make luminous letters with your own hands, take care of all the necessary materials in advance. One way or another, making such letters with your own hands is much cheaper than buying finished products in a store. So feel free to dare!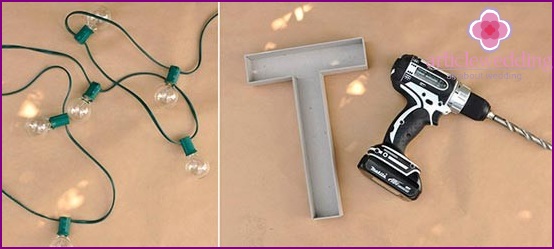 Using a ruler and a pencil, outline and designate exactly where your bulbs will be located. Consider such a moment that the distance between the bulbs should not be less than the letters on your layout.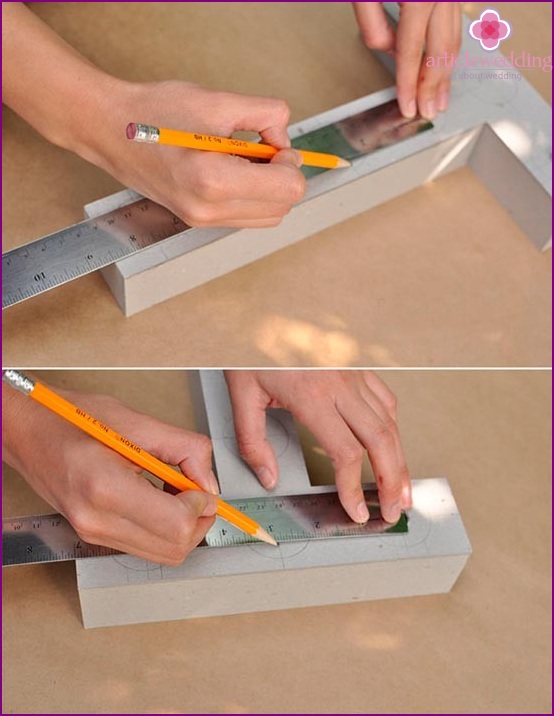 Use a drill to drill holes in marked areas through which the lights will shine. It is best to entrust this matter to the male sex, but if you are confident in your abilities, you can try it yourself.
Now is the time to paint your letter in your favorite color. The choice of shade depends on what style your decoration of the banquet hall will be made. Silvery and golden hues look beautiful. For spray painting use a spray can. This will allow you to quickly and easily paint the accessory. Just don't forget to use newspapers so as not to stain the floor.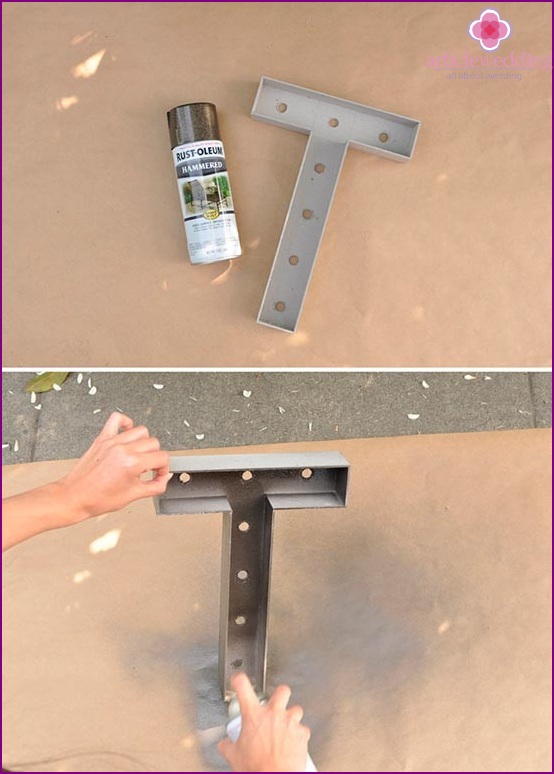 After the paint has dried, you can insert the bulbs into the holes. It remains to connect the flashlights to the outlet - and the wonderful decoration of the hall is ready to please the newlyweds and guests!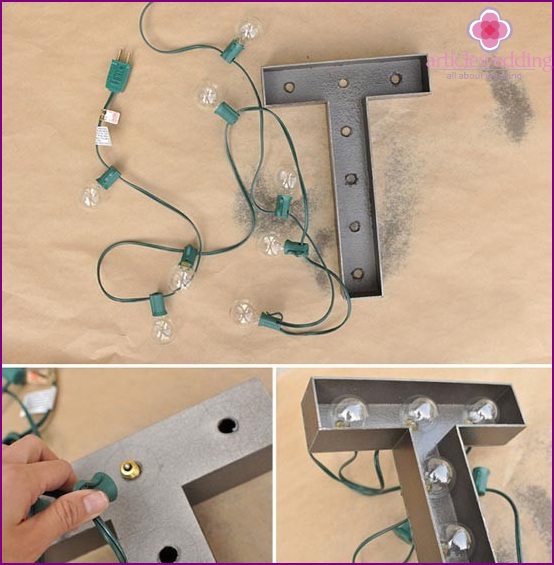 Application options
Guests will certainly appreciate your creativity, they will see how original you came to decorate the wedding hall! The initials can be set on the wall or placed near the banquet table. Also, such an accessory can be used for wedding photography or at a bachelorette party..
From letters you can make whole words, for example «Me and you», «Love», «A family» and much more. Show more creative thinking to come up with an unusual idea of ​​words. To compose an entire composition of letters, involve friends and family. Let them also plunge into a festive atmosphere!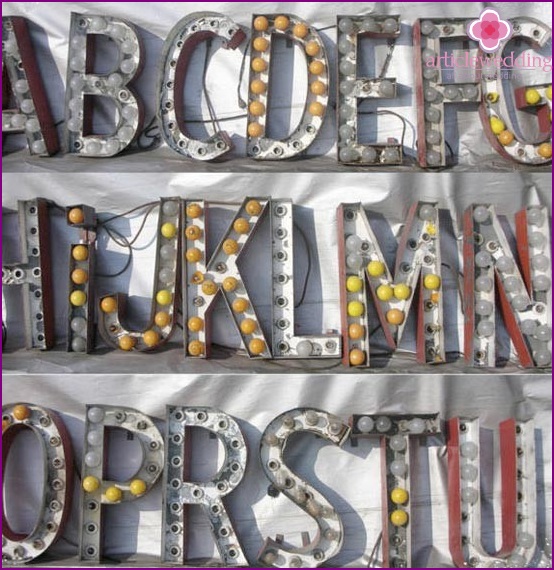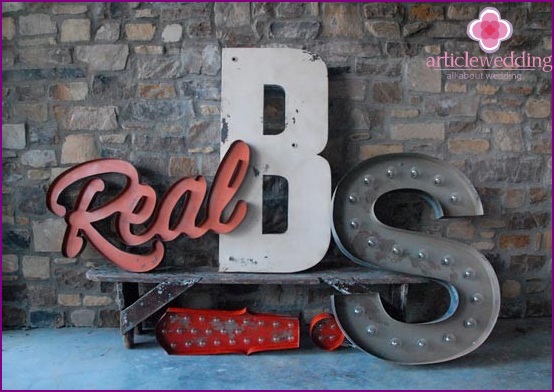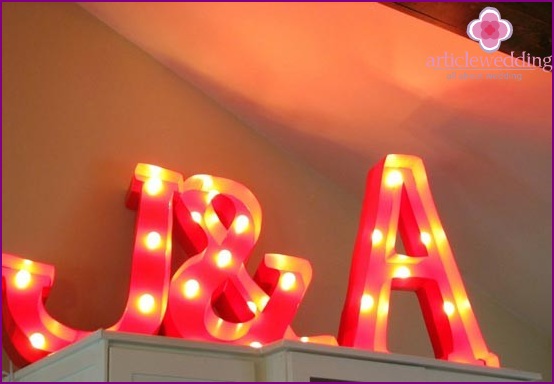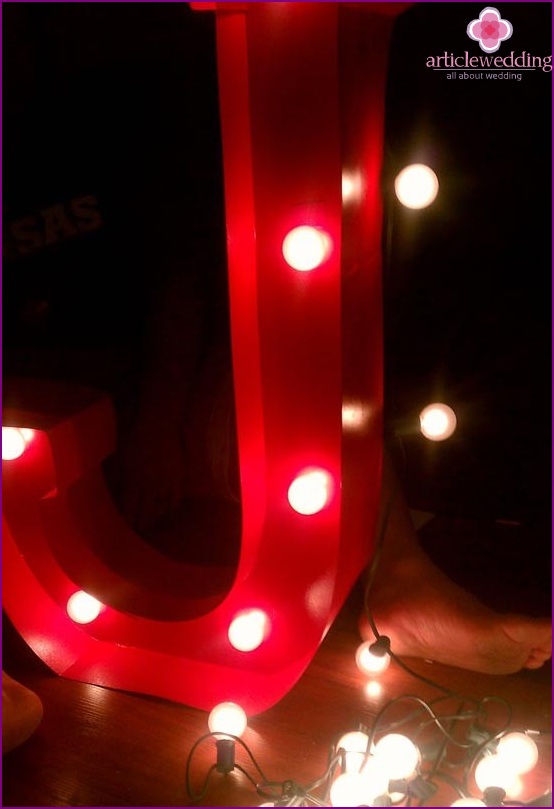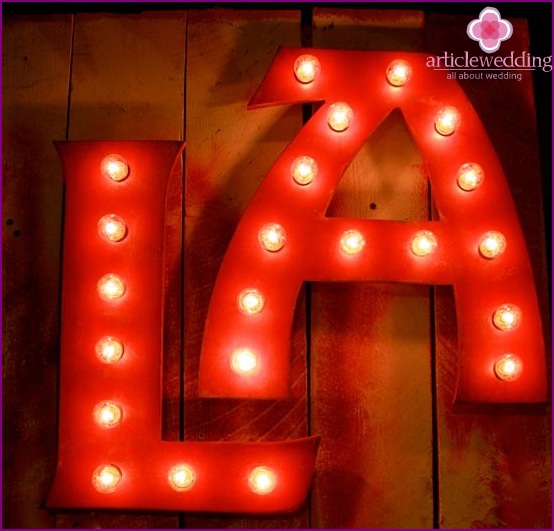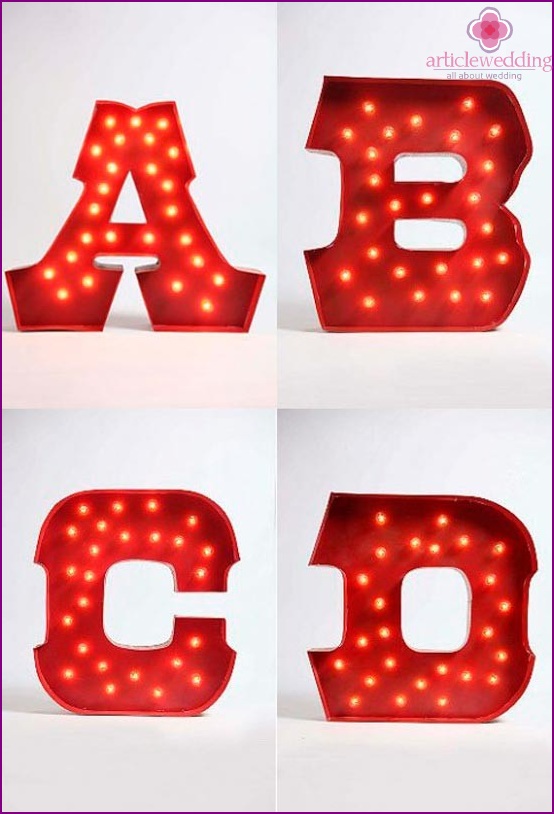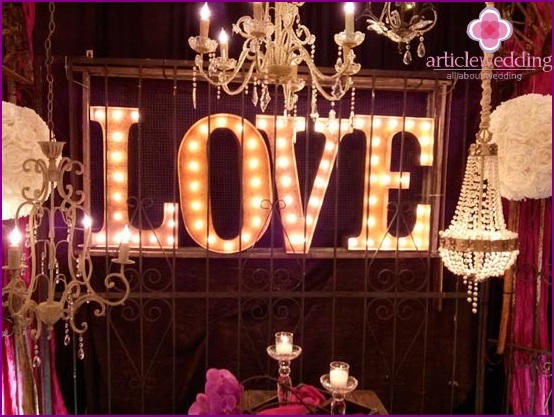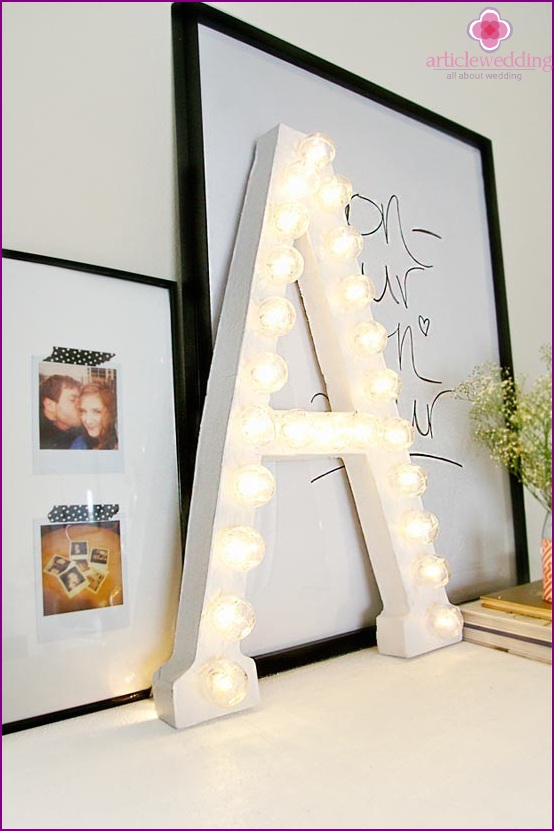 The wedding site www.articlewedding.com wishes you to create the perfect decoration for the banquet hall, where you will have such a pleasant time and fun!