Contents
---
---
The wedding atmosphere is always fraught with something enchanting and magical. This atmosphere can be traced in every detail, in every accessory and decorative element. The way you present your mood and express it in the decoration of the wedding will allow guests to get a first impression of you. It is important to know a clear measure and facet in decorating a wedding, especially if you do it yourself, without the help of professional designers. You can express your vision of beauty and show guests the mood of your wedding, even in such trifles as cards for seating.
The wedding portal www.articlewedding.com has prepared for you a simple master class in which you will learn how to make funny turntables on sticks that remind your dear guests of their childhood. Such wedding accessories will be an unusual completion of the decor of the wedding table. A pin with the name of the guest joins each turntable, so everyone will find their place and receive such an unusual gift. Since the turntables are made of paper, it is worth considering the idea of ​​decorating a wedding hall using paper garlands and lanterns. Despite the fact that paper is an inexpensive and affordable material, it is possible to craft incredibly beautiful cards for seating guests from it.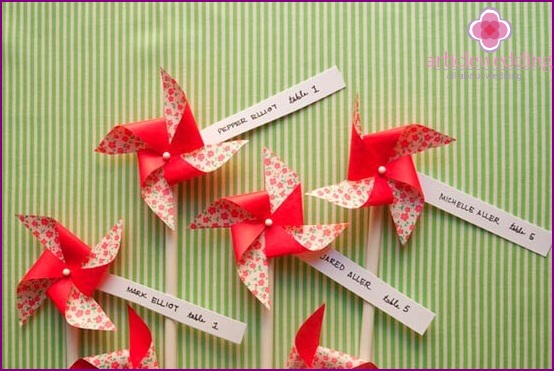 Materials and tools:
beautiful paper with floral print;
small sewing pins;
plastic or wooden sticks;
scissors;
cardboard.
Time
: 15-25 minutes.
Detailed instructions:
The origami technique is familiar to everyone, because this is an easy way to make real jewelry out of paper. It is with the help of this technique that we can make original cards for seating using ordinary paper. It is best to choose a special color paper for origami, however, any options will do. The color scheme depends on the style and overall color scheme of the wedding.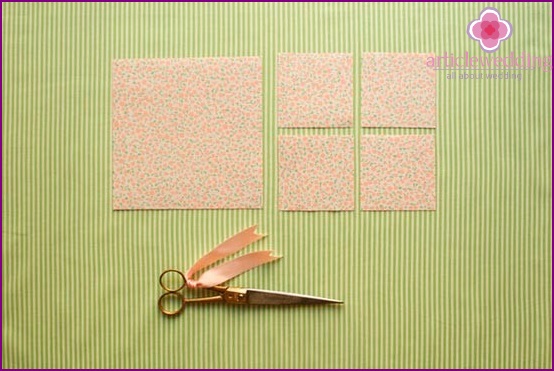 First of all, you need to cut a square out of paper. You can choose the size at will, approximately 7x7 cm. Now you need to bend the square so that you get a triangle by connecting two opposite corners. Align the square again. Bend it into another triangle, connecting the other two corners of the square.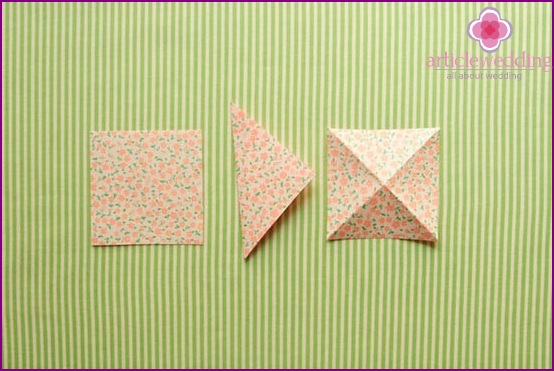 Now the lines will be clearly drawn on the square. Strictly cut along these lines a square from all four corners, not reaching the center. Look carefully at the drawing to make the cuts correctly..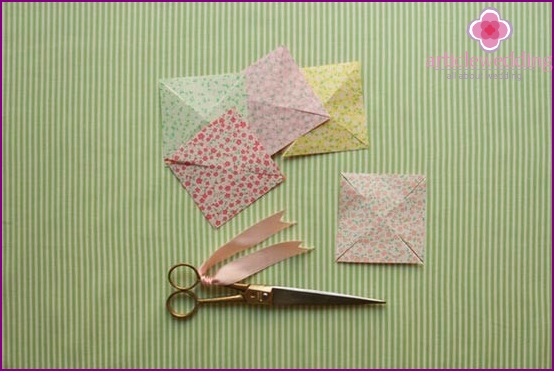 The next step is to form a spinner. To do this, take a corner and attach it with a pin to the center of the square. The same thing needs to be done with each of the four corners. A beautiful effect is obtained if your paper is double-sided and has different patterns on both sides. Securely fasten the pin in the center of the turntable.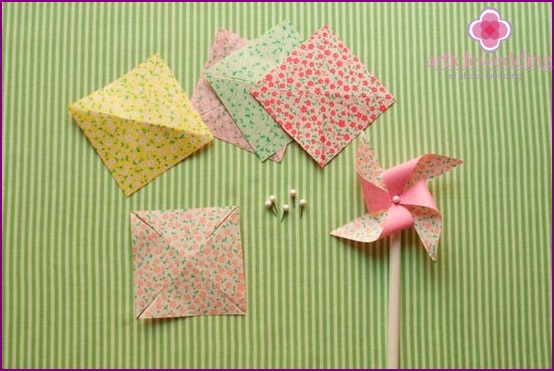 Attach a plastic or wooden stick to the paper turntable so that the accessory can be held in hands. If you direct such a spinner into the wind, it will begin to spin on a pin! Cardboard cards with names must also be glued to the turntable to make cards for seating guests. You can also decorate a garden or a banquet room with such turntables by placing them on wooden planks. To do this, drill holes in the wooden planks and place your turntables in them.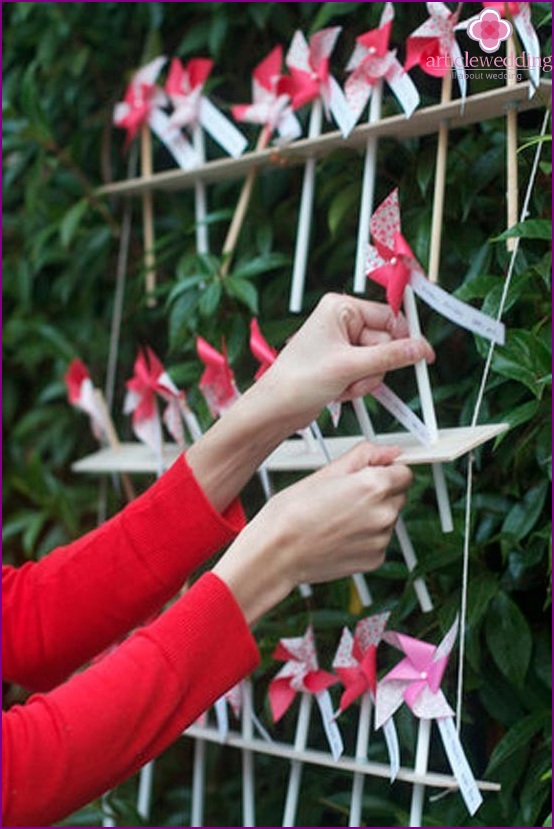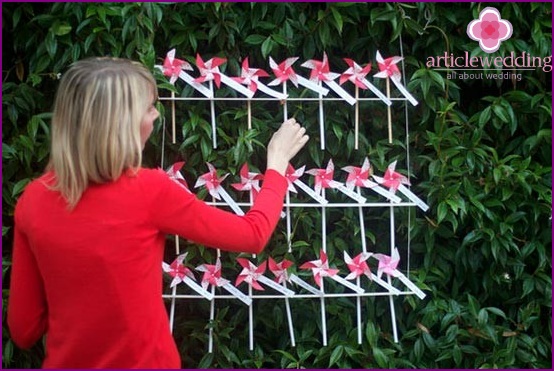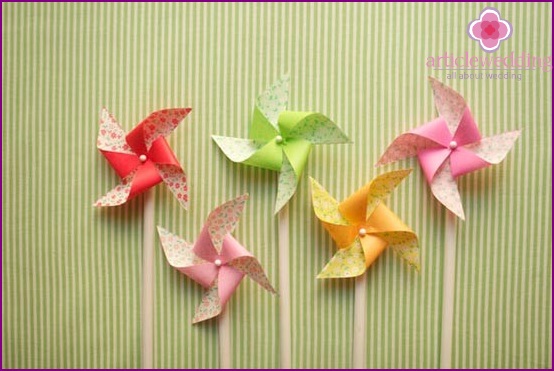 Application options
Wonderful turntables made of paper will remind guests of their childhood and will allow you to recall children's entertainment. If you can make dozens of such turntables, you can make a whole gallery of colorful accessories by placing it in the banquet hall! Such seating cards will surely be appreciated by your guests!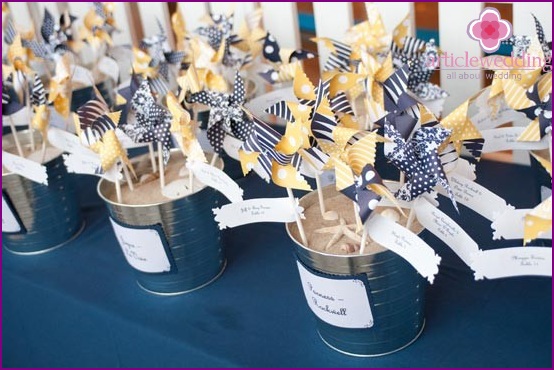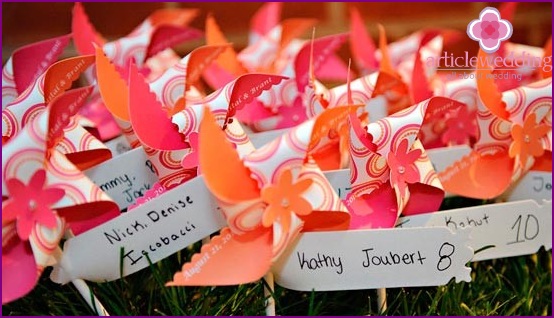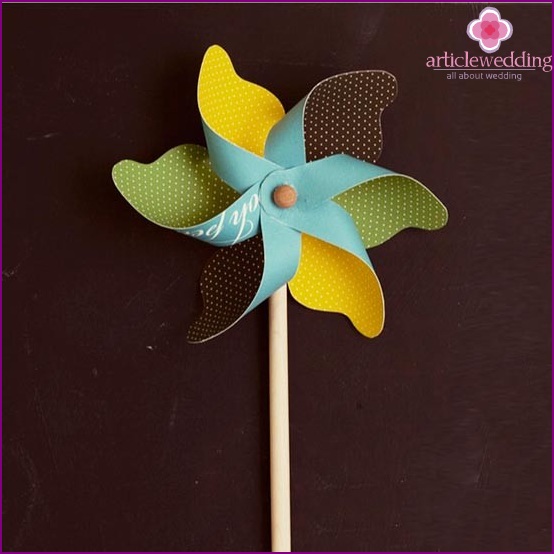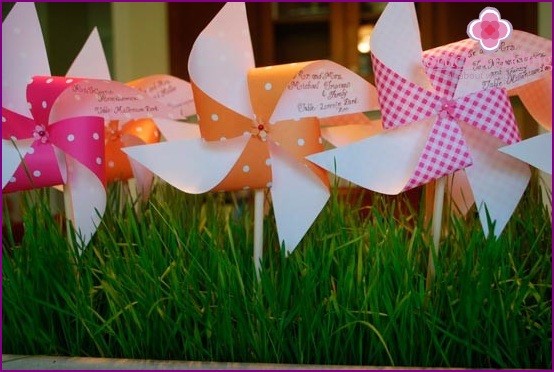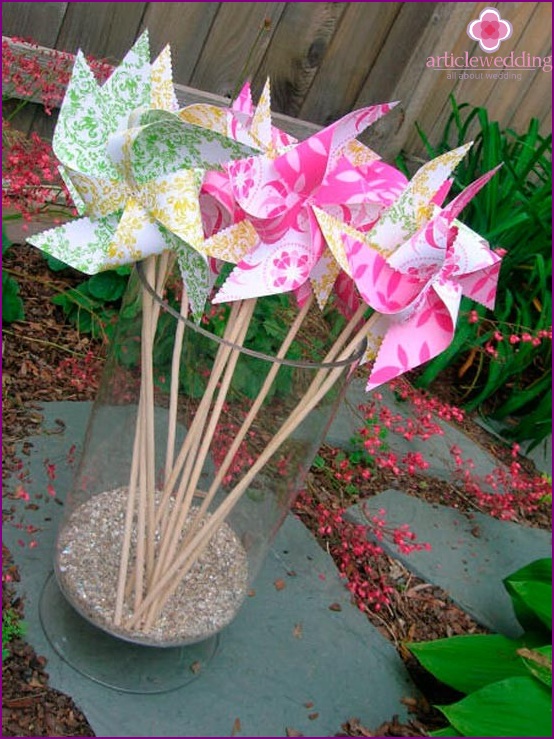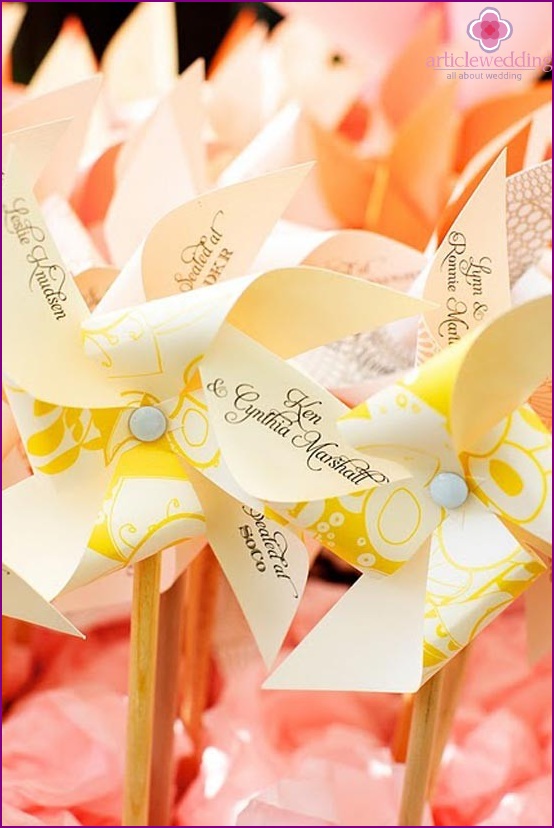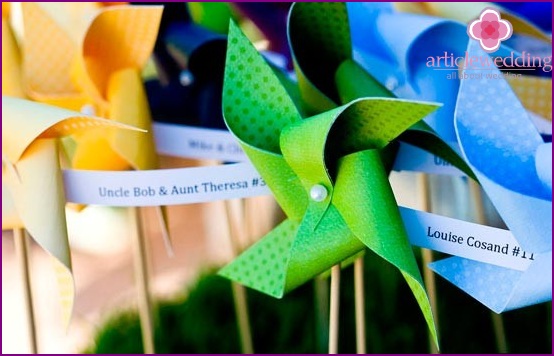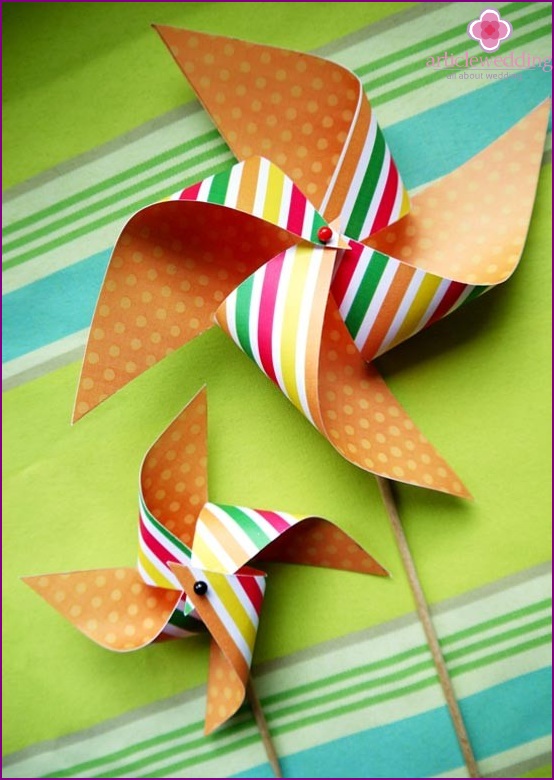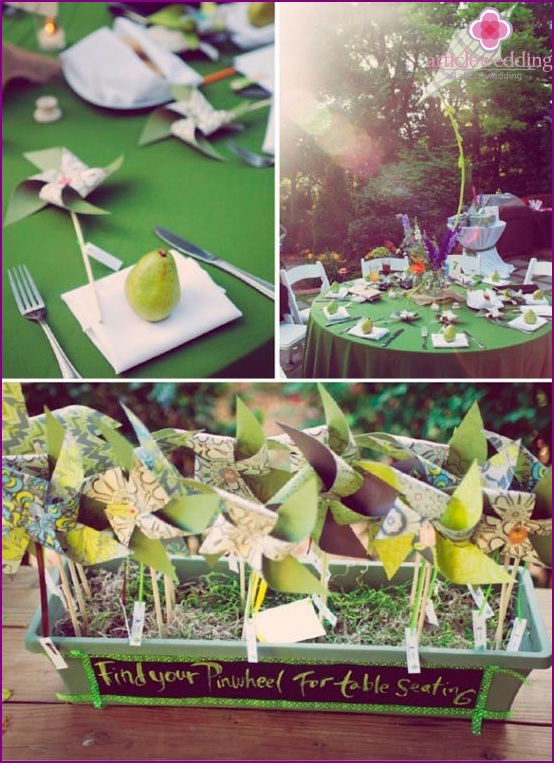 The site www.articlewedding.com hopes that you can easily master this workshop and enjoy it.!