Contents
---
---
If you have some free time, you can devote it to a very interesting occupation. Our workshop will tell you how to make colorful and bright candlesticks using ordinary glass jars and bright sparkles..
The site www.articlewedding.com advises you to start working as soon as possible, but do not worry: candlesticks are made very quickly. Most importantly, you can use improvised materials. Surely every housewife has a couple of cans. You can decorate banks due to your imagination. In a fascinating master class, we will decorate them with bright sparkles in red and pink colors. These candlesticks will attract attention and become a stylish decoration of the wedding hall.
Materials and tools:
bright sparkles;
glass jars;
double sided tape;
a cloth;
brush;
candles.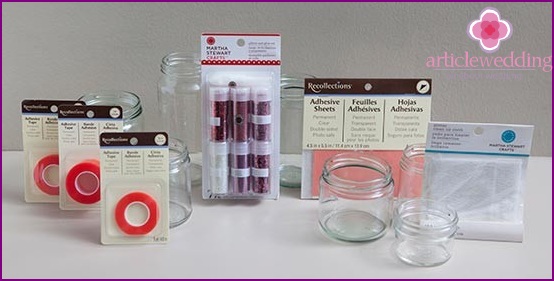 Time:
25-35 minutes.
Detailed instructions:
Beautiful handmade candle holders will be an excellent decoration on the table. Guests will appreciate your idea, because bright sparkles will gently shimmer in the light of candle lights. If you want original candle holders, it's time to start! Prepare everything you need in order not to be distracted from work.
The first step in our workshop will be applying double-sided tape to cleanly washed and dried cans. One side of the adhesive tape will fit snugly against the glass, while the other side of the adhesive tape will allow you to glue the shine on the jar. The advantage of double-sided tape is that you can peel off the protective film when you are ready to go. Stick a few strips of tape on the jar, and then peel off the protective film from the tape.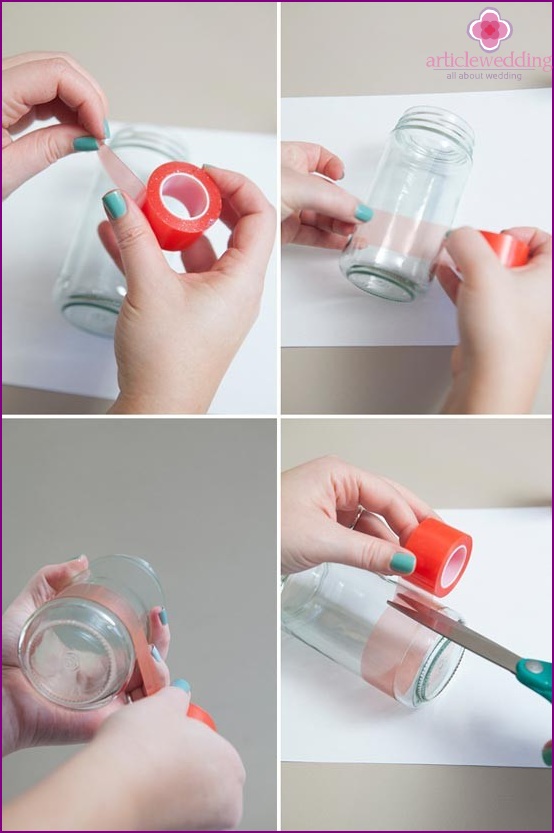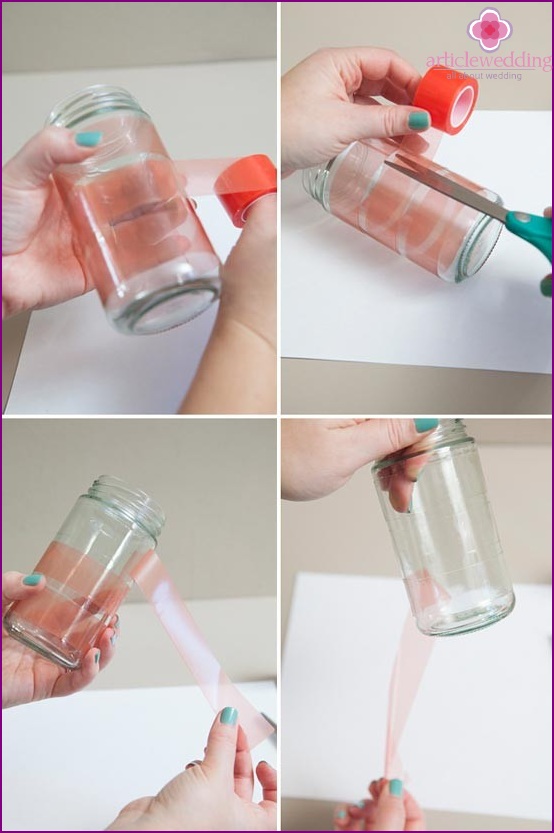 Use your favorite sparkles for your accessory. Just sprinkle the sparkles on top of the can. In sticky places, they are firmly fixed on the bank. Do not forget to put paper or newspaper under the jar, so as not to spill spangles throughout the house. You can fix the glitter layer with your fingers. If white spots remain on the duct tape, use the sparkling jar again.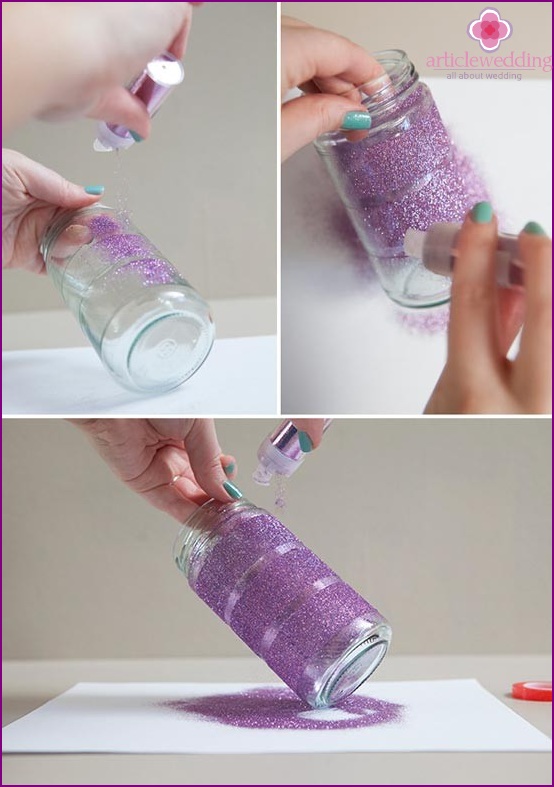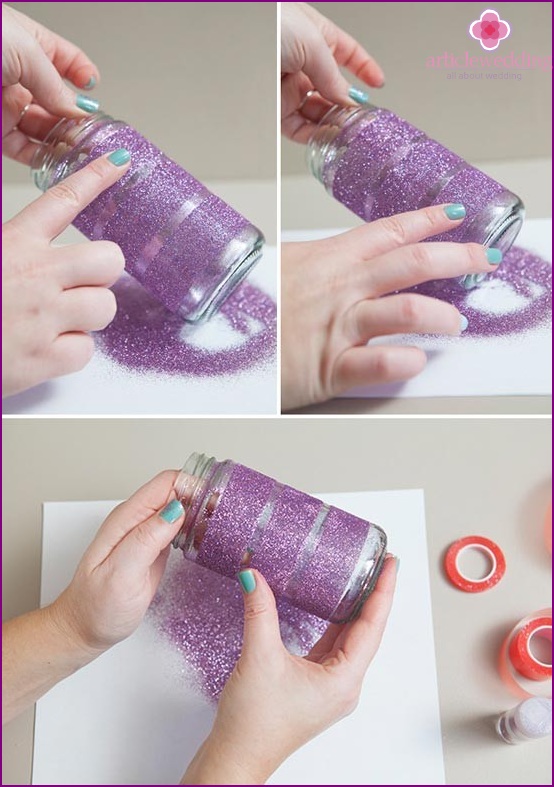 Use a regular brush to remove any excess sparkles. You get a smooth, neat finish. For the remaining sparkles, simply pour them back into the jar and set it aside until the next experiment. Use a cloth to collect the remaining sparkles from the table.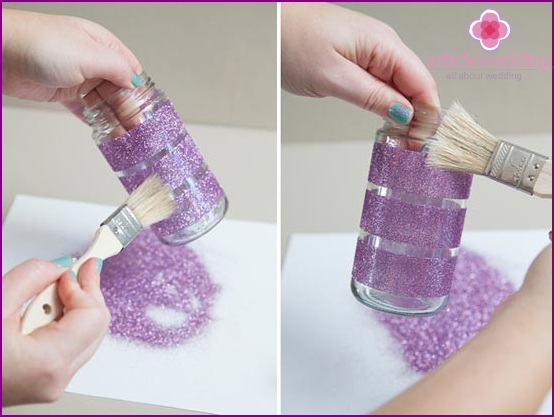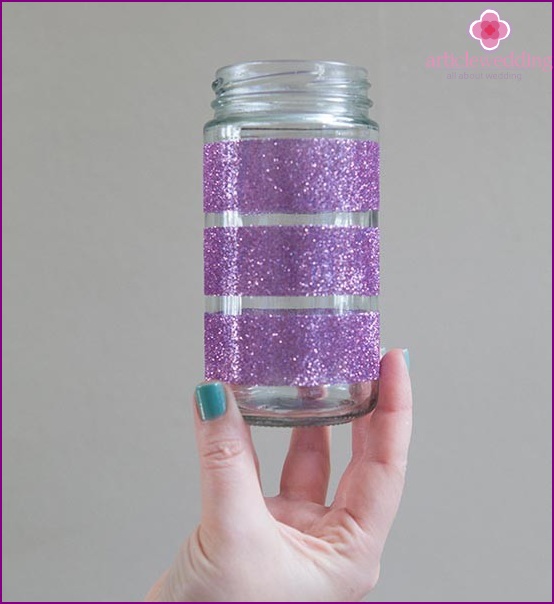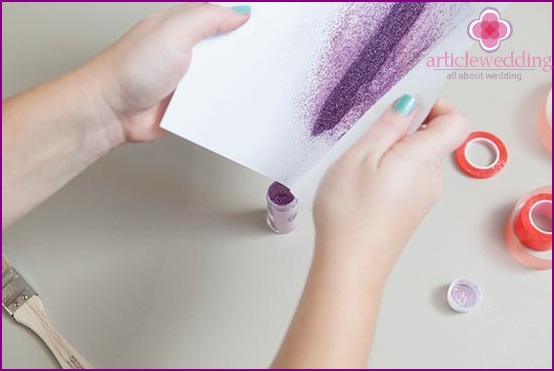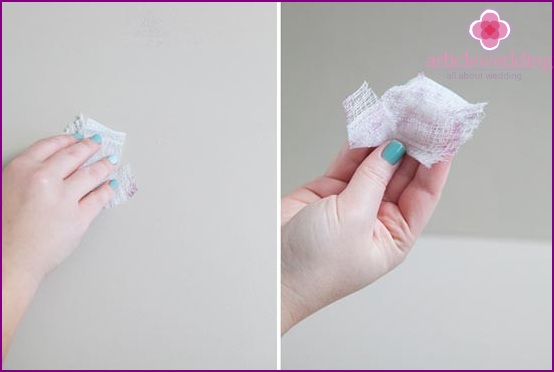 If you want to completely cover the jar with sparkles, use a piece of double-sided adhesive paper. Just cut a piece of tape to the width of your can.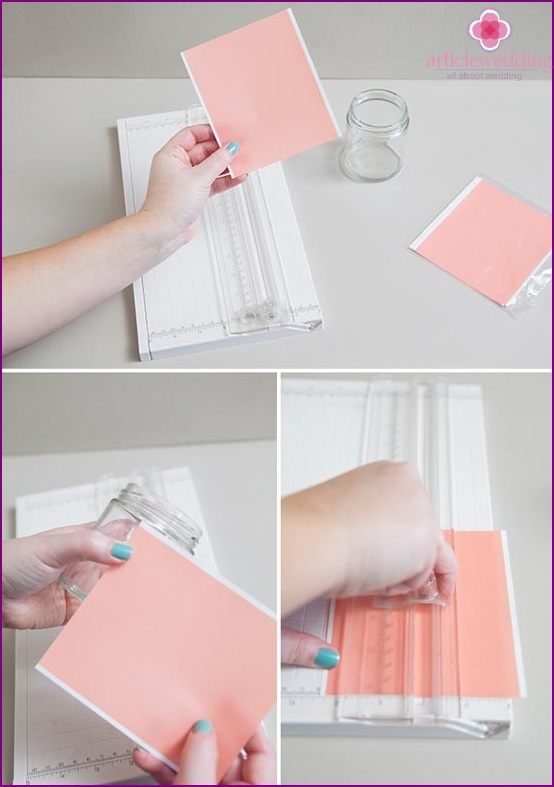 Stick paper on the jar and remove the protective film. The excess end of the paper can be cut with scissors, because the joints will still not be visible.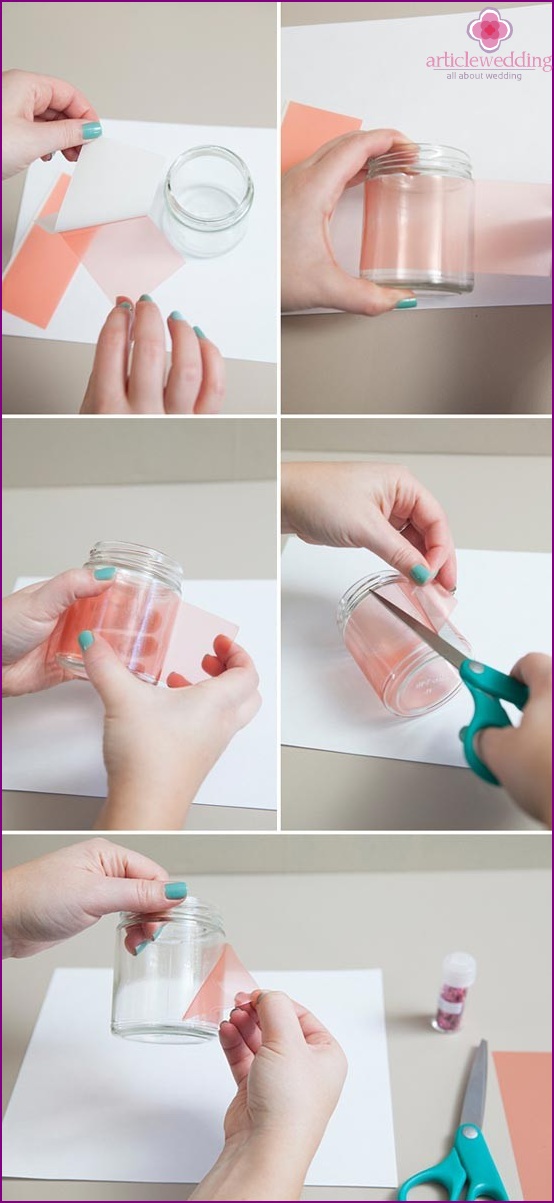 Lubricate the jar generously with sparkles. You can choose a different color and size to make a composition of several candlesticks. Use a brush to remove excess sparkles. Now it remains to place a small candle in the candlesticks and set fire to it. A beautiful accessory for a banquet is ready!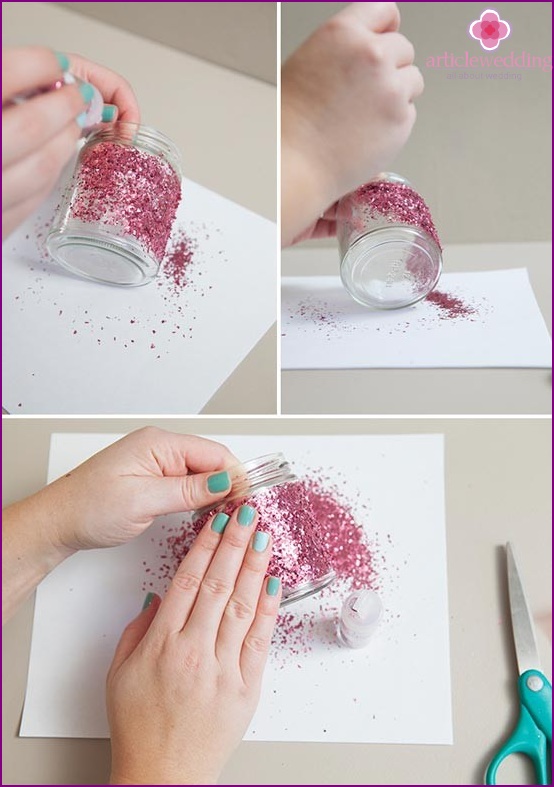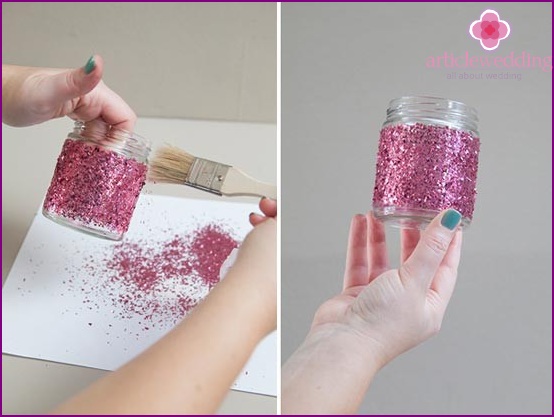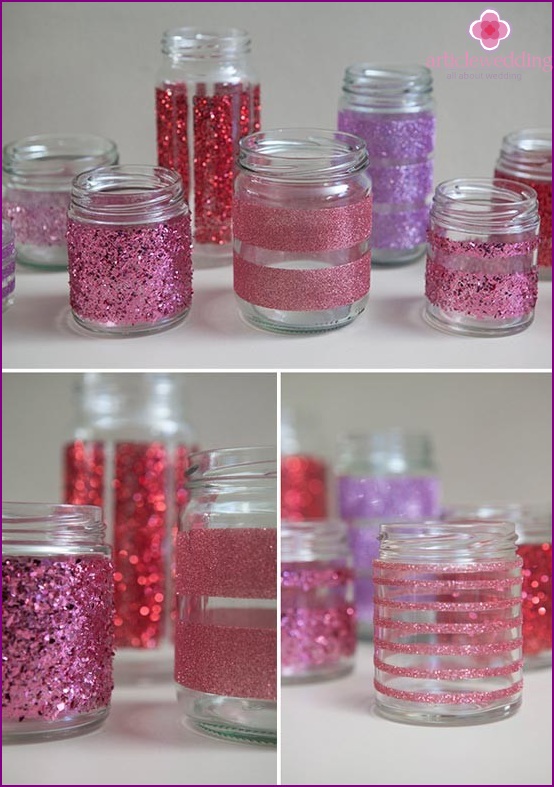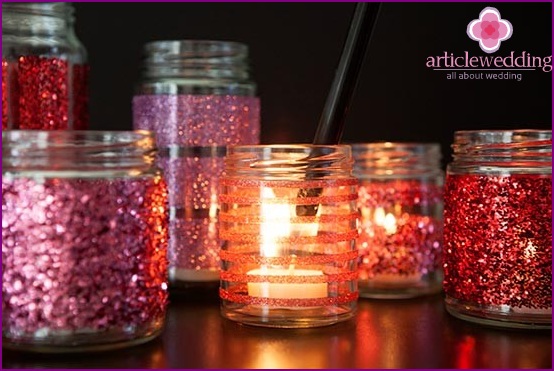 Application options
Glitter candlesticks will become luxurious accessories on the wedding table! You can use a variety of colors and combine shades. With adhesive tape and sparkles, you can create whole patterns and patterns..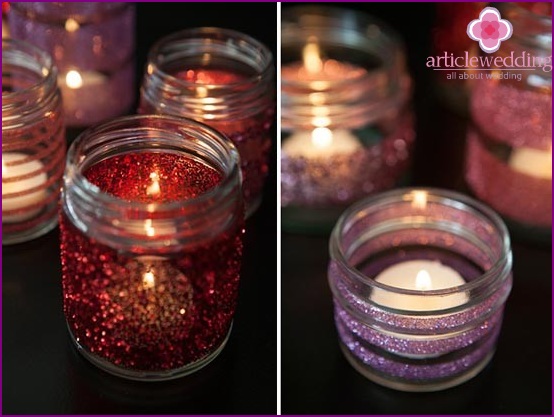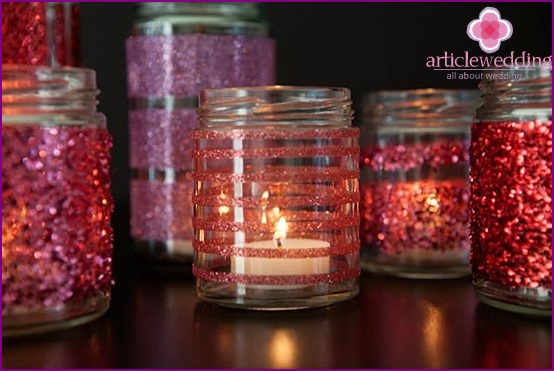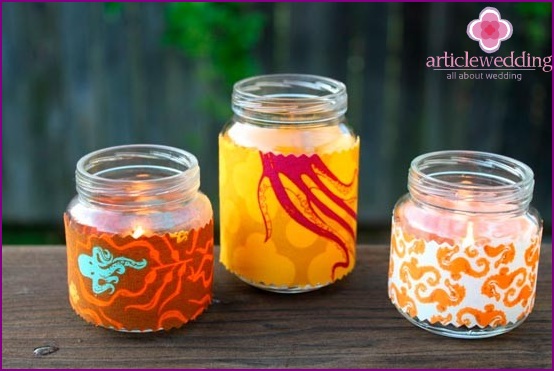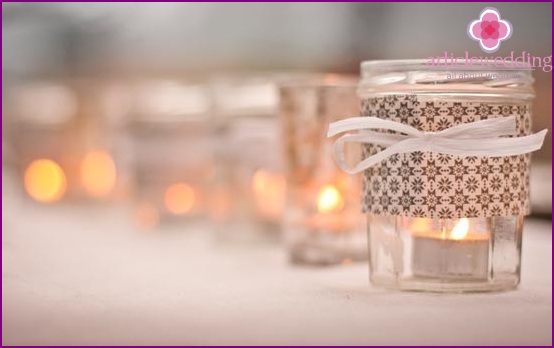 The wedding portal www.articlewedding.com will always help you realize interesting ideas.!