Contents
---
---
Each girl wants to organize an original bachelorette party, which will be remembered for a long time. Often for this, girls organize a theme party with a dress code. In the formation of a certain image, the girls in the party often choose fashionable t-shirts for the bachelorette party with inscriptions. Most stores provide a wide range of such products. Such an outfit is perfect for visiting any institution, whether it be a cafe or a club, the main thing is to have fun on a farewell party.
Unified style and style
Having decided to put on original t-shirts, you need to pick them up in the same style to create a united team of girlfriends. It is good when such outfits are of the same style or are sewn from the same fabric. It will be interesting to look when the girlfriends put on clothes of the same color, and the bride stands out, wearing a contrasting outfit, usually white.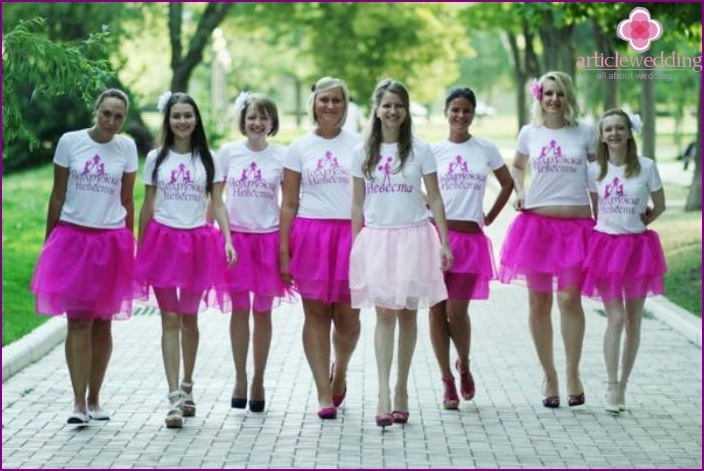 Type of print
It is possible to display a specific record, slogan or drawing on the clothes using print. There are several types of printing. Consider the popular ones:
Screen Direct. This print is high-quality, wear-resistant. To apply an image or text, water or plastisol paint is used. Products that use this type of printing are affordable.
Sublimation. With such printing, the image is initially applied on special paper, and then, under the influence of the thermostat, directly on the product itself.
Digital. Standard printing with a printer, but instead of ordinary ink - special "fabric", and instead of paper - fabric. The base is pre-treated with a solution that is needed so that the paint is well fixed.
For the bride
It is possible for the bride for a bachelorette party to choose one of the options for t-shirts:
With standard signature «bride», «Princess» or with a picture of a girl in a wedding dress, for example, as in the photo.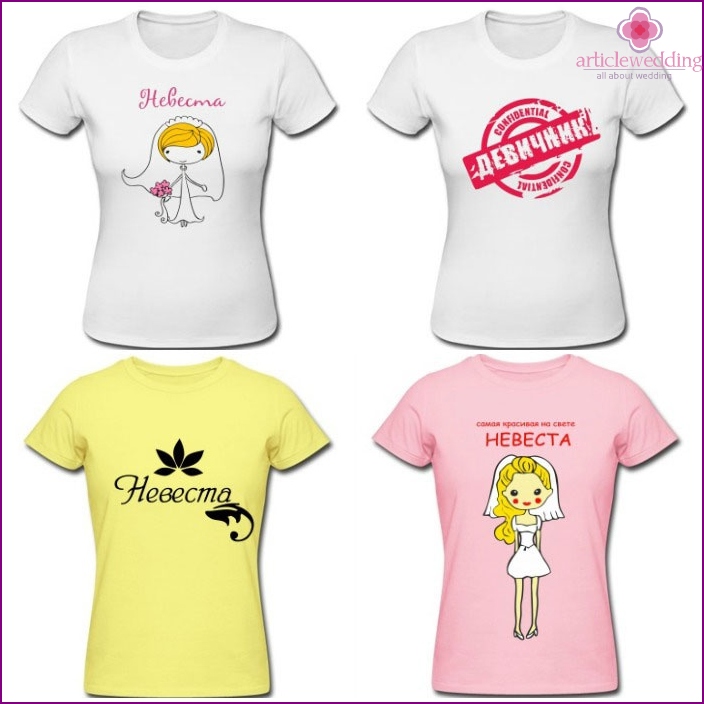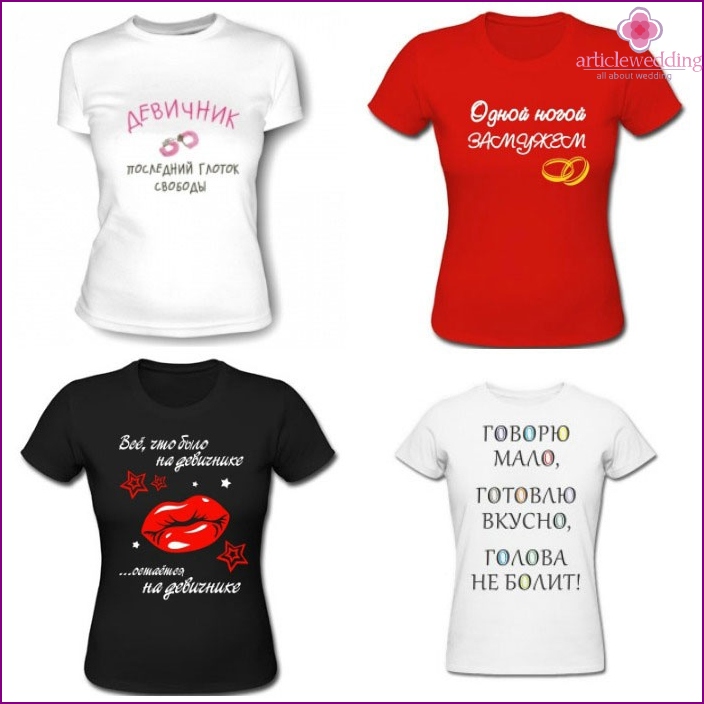 For girlfriends
For girlfriends, inscriptions are considered common «gang of the bride» or «bride team». Often girlfriends put on the same t-shirts for a bachelorette party, which looks interesting.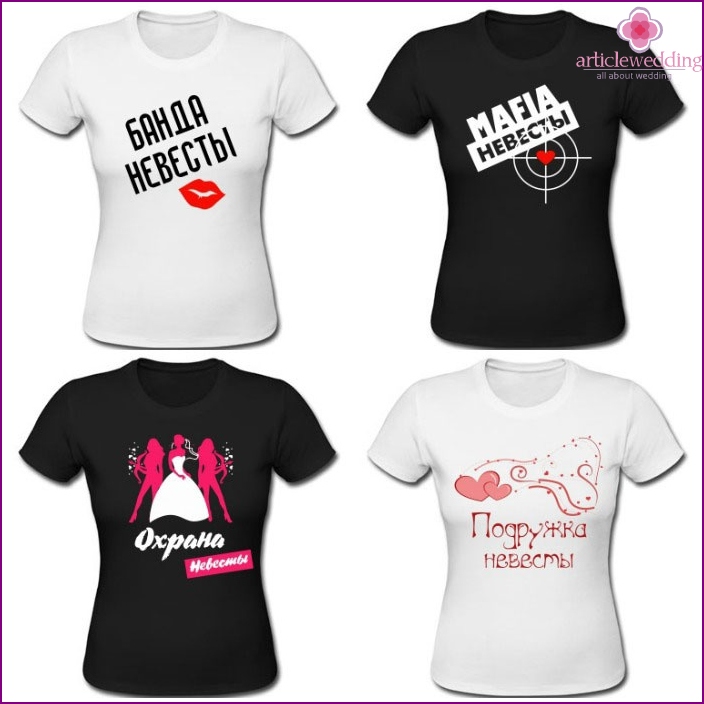 Where can I buy?
It is possible to buy ready-made t-shirts for a bachelorette party with creative and original inscriptions in specialized shops that sell things with print. Among the popular Moscow stores Crazy bride, Text print, mayki24.
Order t-shirts through the online store or make an individual order in places where prints are printed, namely fabrikamaek.ru, homeshirt.ru, footbolka.ru, printio.ru.
By making custom-made t-shirts, you bring your own idea to life by choosing a design that you like. You can also order such an original outfit as a gift to the groom.
Do it yourself
You can decorate such an outfit with original inscriptions with your own hands. For this, various technologies are used: printer printing, bleaching, ink drawing, wax painting. Consider the step-by-step instructions for applying a pattern to a fabric with non-flowing paints. This will require:
a clean base / fabric, the color of which you determine yourself (it is advisable to choose a natural fabric - cotton, waxed cotton);
fabric paints;
a simple pencil, a phantom marker;
fabric contour or applicator;
cardboard;
Scotch;
a bit of fantasy.
1. Before you begin to paint a T-shirt, decide on the inscription or pattern. After choosing an image, evaluate your capabilities - if you can draw, then feel free to start drawing a picture with a pencil or marker. The second way is to circle the printed template image..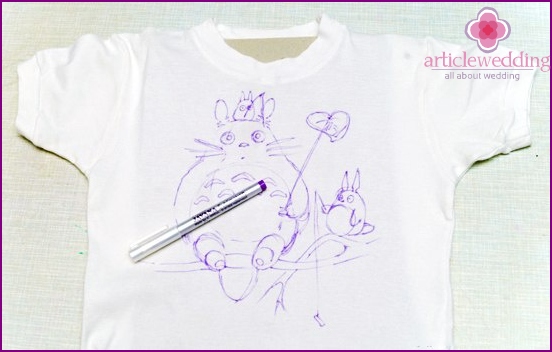 2. Lay a piece of thick cardboard inside the shirt so that the pattern does not bend to the back.
3. You can apply the image using a ready-made contour or applicator, where a little paint is poured.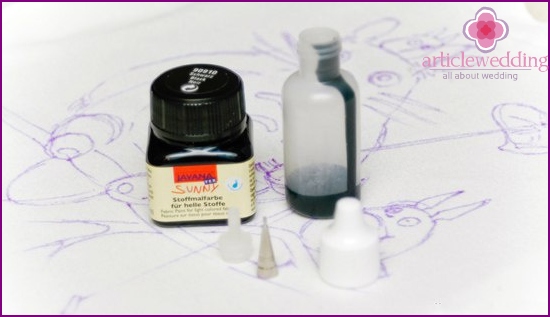 4. Pull the t-shirt on the cardboard so that the image is as even as possible, without tubercles.
5. Outline the contours, saturating the fabric well with paint - this way the drawing will remain clear and the contours will remain blurred for a long time.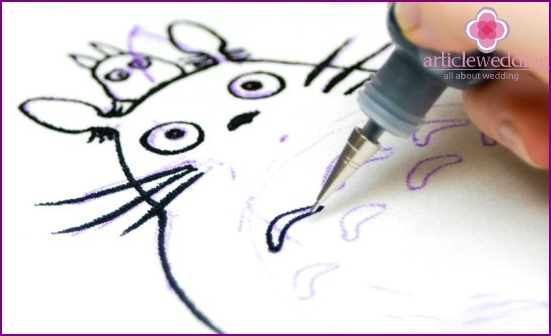 6. After applying the circuit, it must be dried. Use a hair dryer for this purpose or wait until the product dries.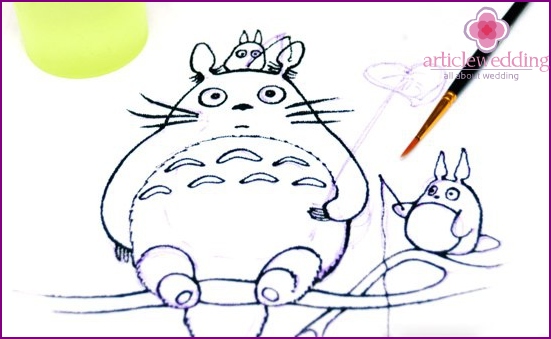 7. Color the drawing with colored paints. For application, an ordinary brush for painting is suitable, and paint with water.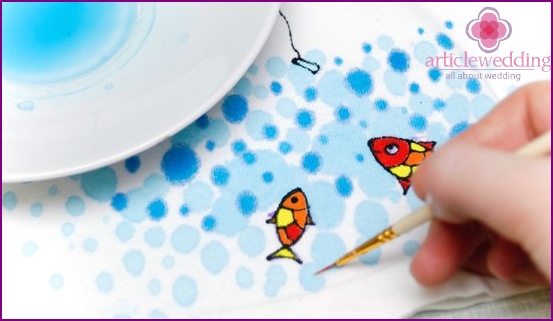 8. After drying, the t-shirt must be ironed using the "cotton products" mode. But lay a cloth between the pattern and the iron so that the image does not melt. When heated, the paint adheres more strongly to the fabric, becoming more resistant to moisture.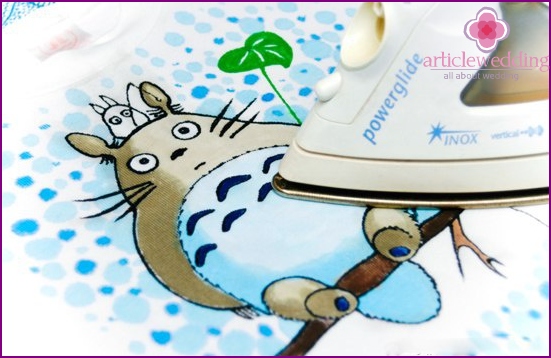 9. The t-shirt for the bachelorette party is ready. You can additionally decorate it with bows, rhinestones, ruffles.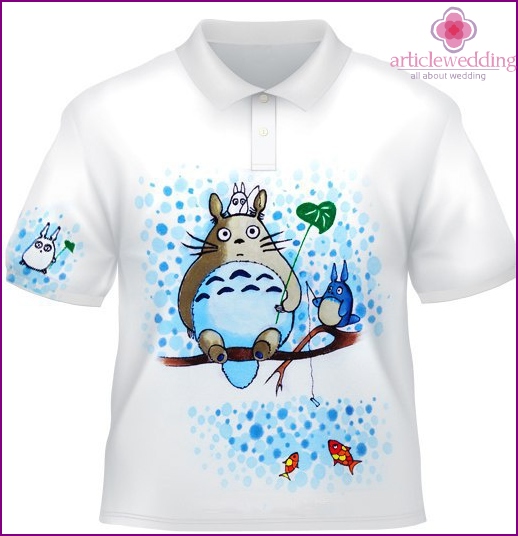 For a more illustrative example, see the correct drawing application in the video below, where a specialist will tell you everything in detail..
T-shirts with slogans - an original outfit for a bachelorette party. You will be different and stand out among the crowd, emphasize your individuality, and also get great photos.
Leave your feedback and comments if this article was useful, and you found good advice in it..