Contents
---
---
Going to a party dedicated to «the last day» unmarried life, it is important to choose the right outfit. Clothing for a bachelorette party can be completely different, it all depends on the idea of ​​the holiday, the wishes of the hero of the occasion. For a theme party, you should choose an outfit that matches the theme of the evening. If the party «free style», then freedom of choice will prevail here - the main thing is that everyone looks delightful, comfortable. What styles of dresses for a bachelorette party can be?
Democratic style of clothing
There is no dress code for a democratic bachelorette party. The bridesmaids, and the bride herself, are free to choose an outfit to their liking. It does not matter who and what to wear - jeans, short evening dresses, casual skirts are appropriate here. Maybe someone wants to put on rags, trousers - there is no difference, nudity is also possible, if you are going to spend a bachelorette party in the jacuzzi, the main thing is that you feel comfortable, and your mood was fine.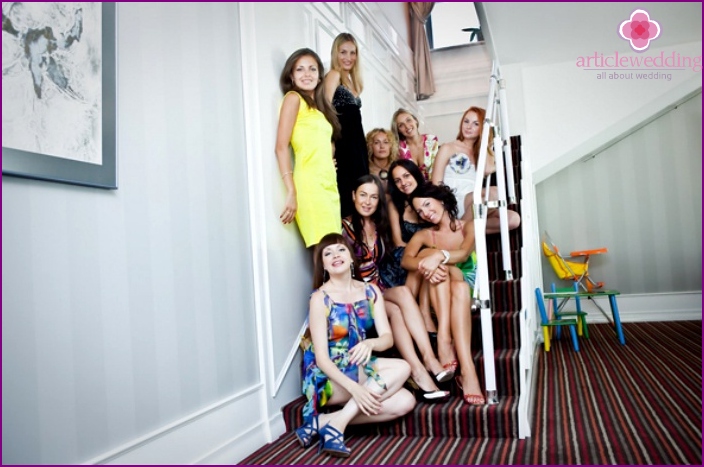 All as one
Many girls prefer to hold a thematic bachelorette party. Here, clothes should have a common theme for both the bride and her bridesmaids. home «chip» - everyone should wear the same outfits, be it denim shorts, T-shirts or pareos.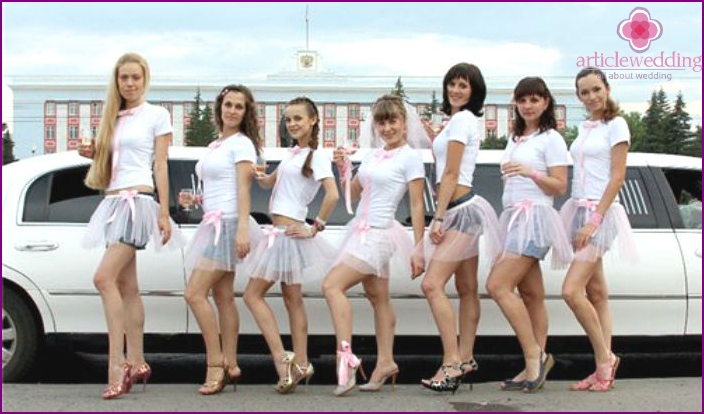 «Side bow»
Outfits are in fashion in which all the girls present at the bachelorette party have the same toilet detail - hats, ribbons, bouquets, bracelets, buttonholes, beads made of natural or artificial stones. It is important that all these accessories are of the same color, style, similar in texture. The main highlight is «bow», but simpler - a distinctive feature inherent in all participants.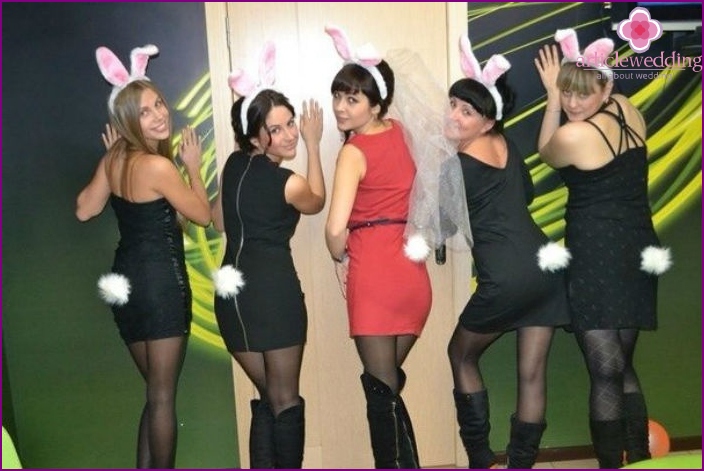 Themed costume version of a bachelorette party
Clothing for a bachelorette party on a certain topic should absolutely correspond to the idea of ​​the holiday. All guests should wear similar costumes (for example, butterfly costumes) or outfits that combine on the subject - costumes of heroines of fairy tales, characters of one fairy tale.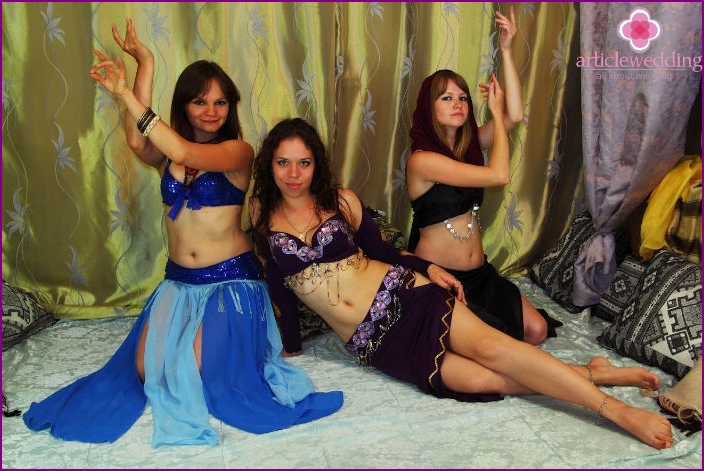 Military
It is best to wear safari style sets for a military hen party - shorts, a jacket similar to a military uniform or a safari sundress. Such clothes are comfortable, they will not constrain your movements..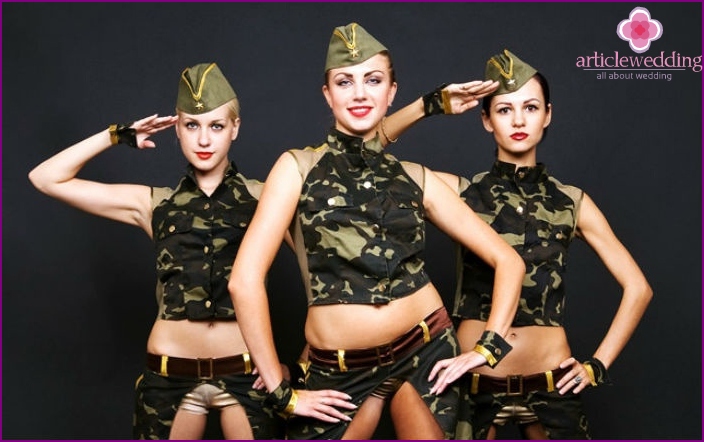 Clothing for a bachelorette party in the style of the 80s
Clothing of the 80s is bright and diverse. What is suitable for such a party??
Leggings, leggings of bright colors. If you combine them with a wide T-shirt or tunic, then your image will be as close as possible to the appearance of the youth of the 80s of the XX century.

Jeans will look good. It is best to wear blue jeans.

Blouses, jackets with wide shoulders, light dresses, tight-fitting silhouette are perfect.

As shoes, it is better to choose ordinary white sports sneakers with bright laces..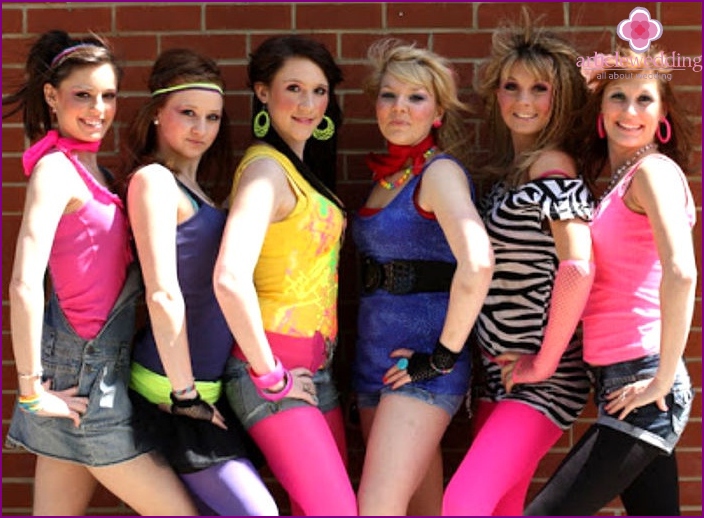 Retro style
For a retro bachelorette party, a fluffy dress is perfect. A fluffy skirt and blouse will also be appropriate. Do not forget about retro makeup and hairstyle to best match this style.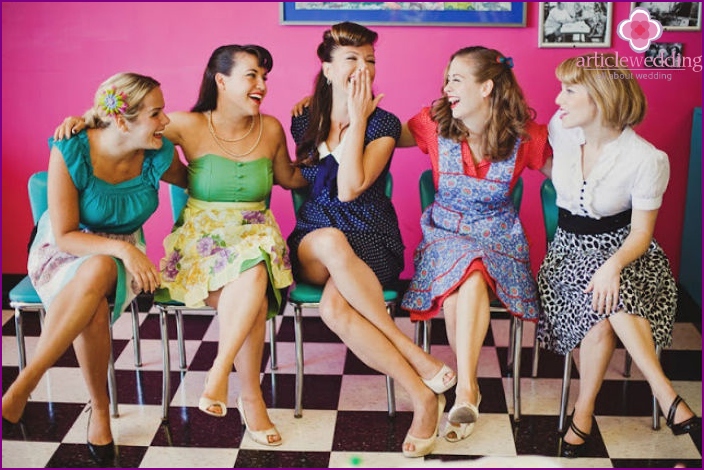 Gangster, Chicago 20s
For a gangster bachelorette party, the following clothing options are best suited:
A strict trouser suit that perfectly emphasizes the figure.
A dress that emphasizes femininity is often made with a high waist to visually make the silhouette taller. The length of such attire can vary from ankle to knee, at the request of a girl.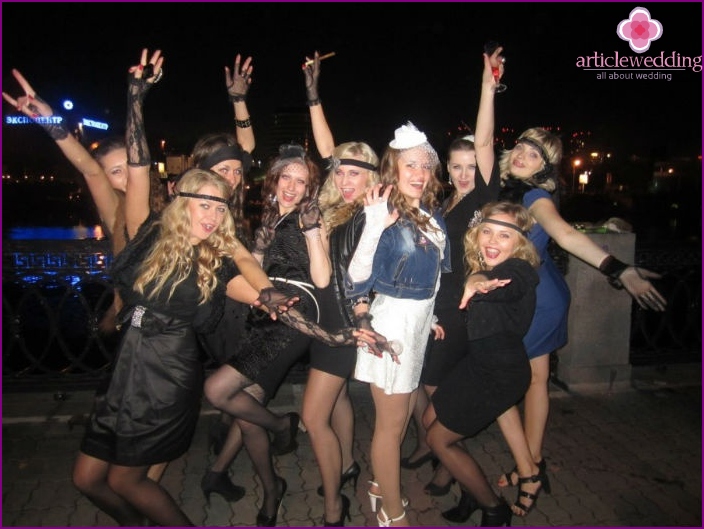 Cowboy
A cowboy bachelorette party is considered very original. For such a holiday, it is better to choose such wardrobe items as worn jeans, a checkered shirt (you can borrow it from your future husband, brother or acquaintance). A mandatory element is a cowboy hat. It's good for the kit to find more cowboy boots.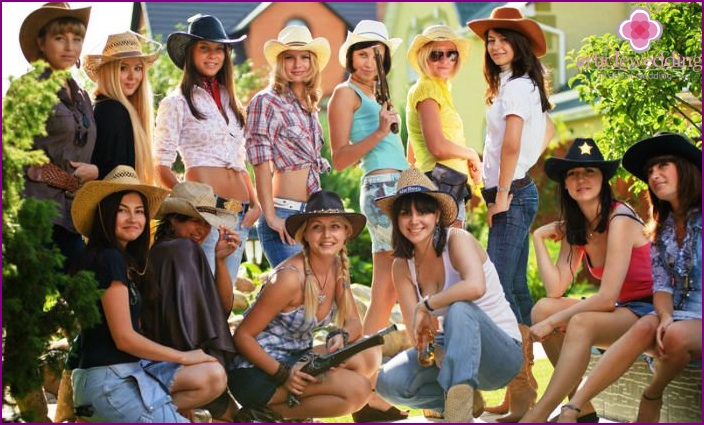 Marine style clothing
It is best to wear striped T-shirts or sweatshirts (vests) for a marine theme. Short skirts, sarafans with a striped collar, which are equally easy to flaunt along the promenade or spend time on a yacht, will look good. Capless caps, sailors' hats are able to complement the image..
Japanese geisha clothes
If the bride is a lover of Japanese art, and decided to hold an event in the appropriate style, a geisha costume would be a suitable option. The main item of clothing is kimono. The brighter it is, the better.
An equally important detail is a wide obi belt, which is tied over a kimono. As a rule, it is bright, with a variety of floral, abstract patterns. Shoes with wooden shoes are best, but if you can't find them, heeled sandals or shoes are perfect.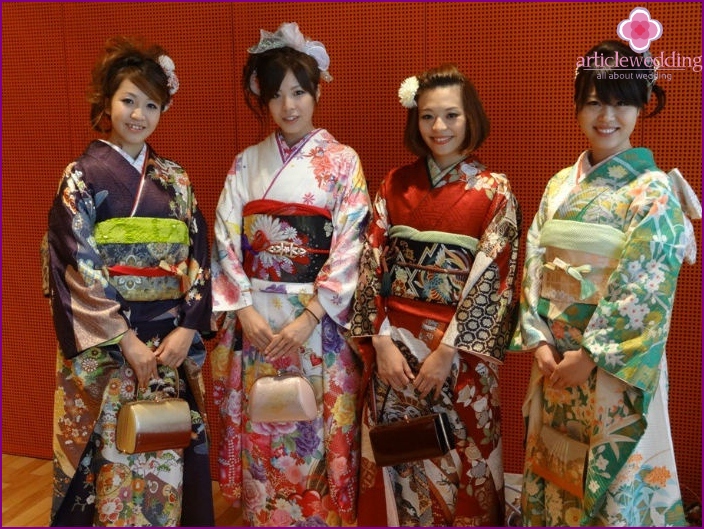 Dudes
An option for a bachelorette party in this style should make a woman as attractive as possible. Dresses with a fluffy skirt to the knee and a fitted, fitted bodice are perfect. Wide varnished straps that accentuate the waistline will look good. In such a robe you will look spectacular, attracting the views of men, but do not forget that you will soon have a wedding, and you will find the groom.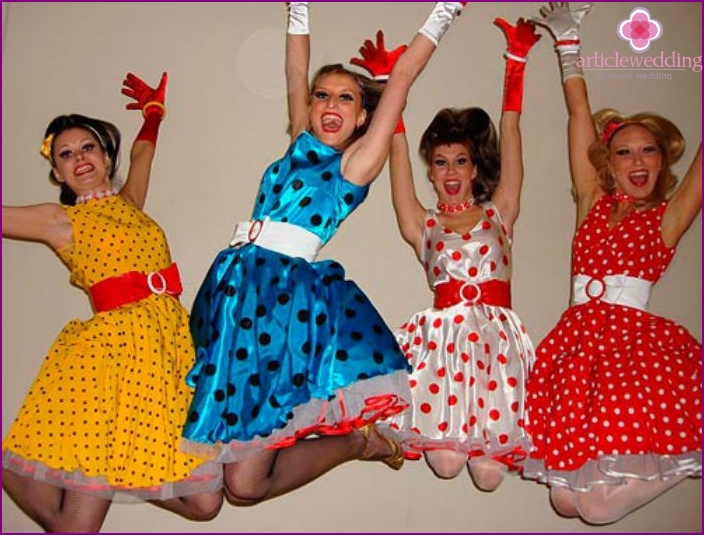 «Male» hen-party
On the «male» a bachelorette party is better to wear a suit similar to a man's. Put on a shirt, tie, hat and create a kind of mischievous male gang. It will look good and just pants with a shirt.
Hawaiian Bachelorette Party Clothing Ideas
A great option for a bachelorette party is the Hawaiian party. Well, if the bride is rich and there is the opportunity to arrange a bachelorette party directly in the Hawaiian Islands. If this is not possible - do not despair, you will be able to create a suitable environment on our continent..
What to wear at such a party? Here, bright swimwear (joint, separate, bikini), bright and colorful pareos will be appropriate. The skirt will look great «hula» in combination with a bright top, decoration of natural or artificial flowers.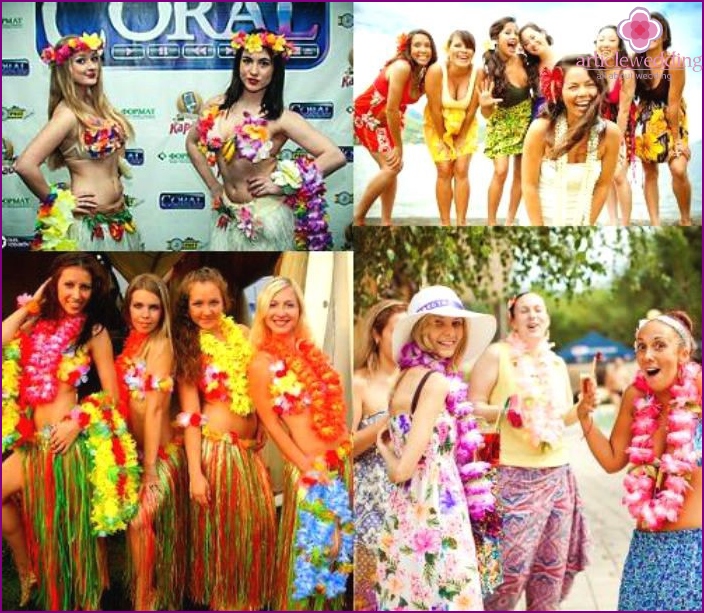 If the bachelorette party will be held in the club, it is good to dress up in bright short denim shorts and short T-shirts or mini sarafans. Mandatory attributes are bracelets, Hawaiian-style necklaces, which you can make yourself by watching the video tutorial on making Hawaiian beads:
For «pokatushek» on a limousine
If the bachelorette party does not have a specific theme for the celebration, and it is planned to ride a limousine, the clothes of the girls can be any. This can be ordinary blue jeans with a shirt, short or long skirts, dresses, sundresses, T-shirts with the same inscriptions. It is important that the clothes do not constrain movements, shoes or sandals should be preferred.
How to dress a bride for a bachelorette party
The bride, as the culprit of triumph, must stand out among her girlfriends. It doesn't matter if the party is themed or regular, it should look better than anyone, the outfit should emphasize its merits. The main distinguishing feature of the bride is a veil (as an option, you can make a turban for fun).
Hairstyle, makeup and accessories.
To participate in a thematic bachelorette party, hairstyle and makeup must be selected according to the theme of the party:
So, for a Japanese bachelorette party, you will have to whiten your face, bring your eyes in black pencil, and paint your lips with bright red lipstick. Hairstyle - hair pulled into a bun, fixed with a comb, hair clips. A vivid example - in the photo.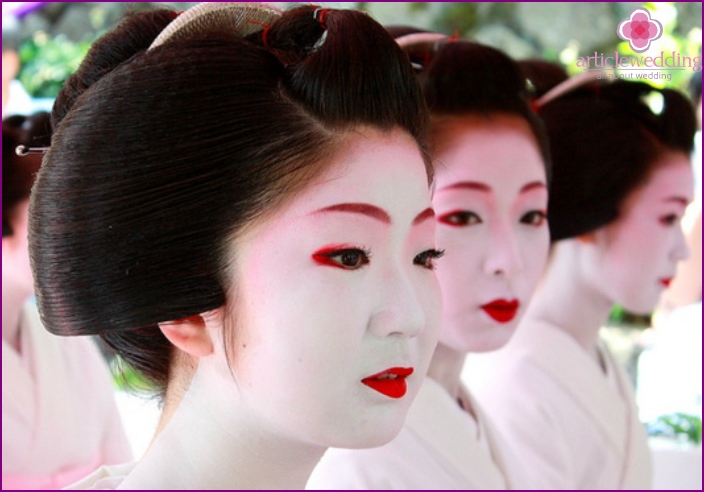 Loose curly or straight hair is best for a bachelorette party in the 80s.

The style of the pajama party allows you to do without makeup, and you can make a hair in the form of a ponytail.

As for the rest of the styles - there are no special requirements for hairstyles or make-up, therefore everything needs to be done as you like more.
For some parties, certain accessories are needed to help create the right look, giving the evening a festive atmosphere:
At a Hawaiian party, bracelets and flower necklaces are considered essential accessories.

For a cowboy celebration it's a hat.

For a Chicago-style bachelorette party - boa, gloves, hat.
If you intend to hold a theme party, warn your girlfriends in advance, make a script with a list of relevant accessories and outfits, so that they have time to choose the appropriate clothes. All this can create the right atmosphere and make the holiday fun..
If this information helped you decide on dresses for a bachelorette party, leave your comment. Tell us which clothing option you like..