Contents
---
---
Time flew by quickly - from a once small, naive little girl playing with dolls, a real bride grew up. She is preparing for the wedding, sorting out all sorts of options for styles and celebration scenarios. For girls who do not want to part with childhood, a Barbie-style wedding will be the best choice, giving the bride the opportunity to be a charming princess from an old dream. The newlywed will try on a long-awaited chic outfit with rhinestones, ribbons, bows, balloons flashing around will create a special holiday atmosphere. Romance!
A palette for a wedding in the style of Barbie
If you recall what Barbie dolls are wearing on store shelves, you will definitely notice that their outfits are mostly pink or purple. These shades are dominant at the wedding. When choosing clothes for newlyweds and guests, making invitation cards, a banquet hall, a wedding cake, they are successfully diluted with white, pastel beige, turquoise color. Warm, cheerful colors will create a festive mood. The main thing is not to overdo it with them, so that the holiday does not turn out to be cloying.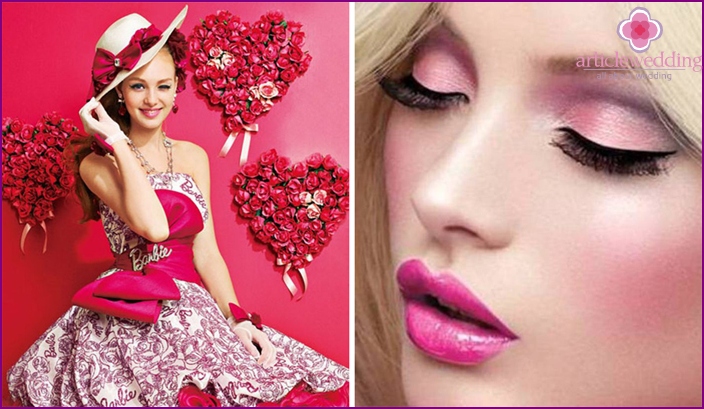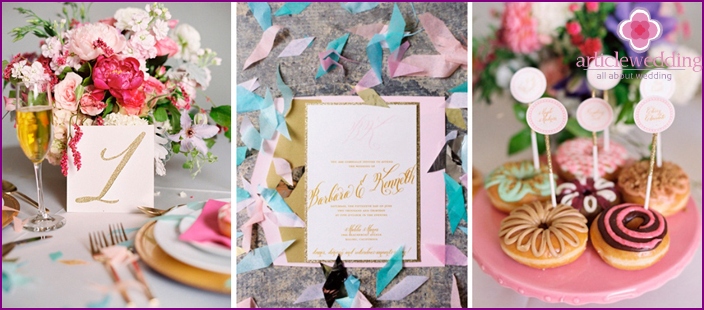 The image of the bride and groom in the style of Barbie and Ken
At a Barbie-style wedding, the bride looks like a famous and beloved doll. A childhood dream has come true - a dress with perfect proportions sits perfectly on the figure, from which one can not take his eyes off. Even if the girl does not have completely model parameters, the correctly chosen dress will make her more beautiful anyway. Take a look at the styles with bare shoulders, a corset, a fluffy multilayer skirt. Fashion designers provide a wide selection of wedding dresses in the Barbie style of a wide variety of colors, this you will see on the wedding selection in our video:
The bride will look great on a white outfit, complemented by delicate pink accessories, or raspberry, plum, up to a rich cherry. Whatever shade for her outfit may be chosen by the hero of the occasion, a dress sewn in the Barbie style will make her a princess. Satin bows, ruffles, lace, beads, a long train will not leave anyone indifferent at the wedding: many wedding salons have such dresses. A light make-up of caramel cream tones and light pink lipstick complement the look. The video will help you to do the makeup correctly:
Barbie hairstyle - loose hair, or soft flowing curls, laid in a certain way. Decorate the festive styling with pink flowers, bows, hairpins. Choose silk or lace gloves of pink, raspberry, white color for the wedding dress. A successful addition to the outfit will be a bright clutch bag. If the bride has a dress with pink elements, shoes of the same shade will suit him. She will revive the image of Barbie, will become a kind of highlight.
The groom, who agreed to play the role of Ken at the wedding, once again proved his feelings to his beloved and his readiness to play along with her in any undertaking. A classic dark tuxedo with a bow tie, a white shirt, a boutonniere matching the color of the bride's dress emphasize the elegance and good taste of the young man. Well, if he is a stylish, relaxed nature, a pink or raspberry jacket will help to show individuality at the wedding..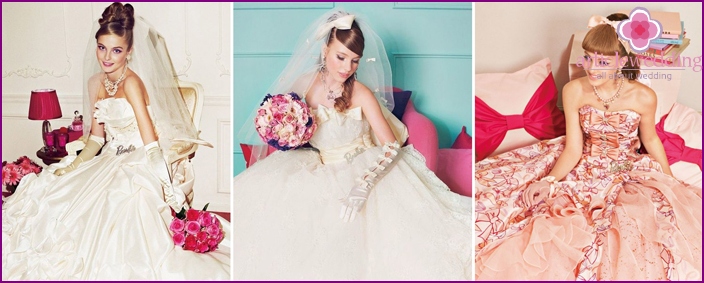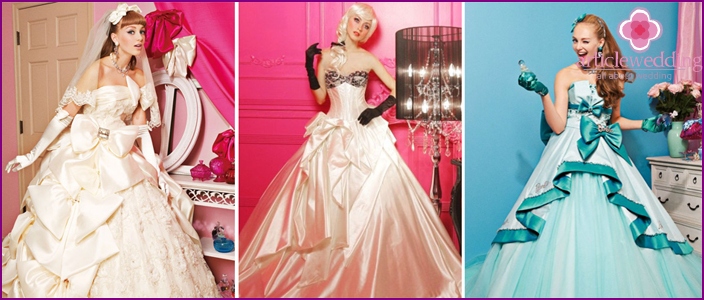 Wedding decoration in pink and gold
The newlyweds' outfits and the premises for the wedding sparkle with traditional Barbie-style tones - pink, purple-lilac, light turquoise, golden. Artificial and natural flowers, balloons, transparent draping fabrics are widely used. Preference is given to these shades when making invitation cards, and when choosing dishes. Combining them with neutral white creates light, eye-pleasing compositions..
In the absence of appropriate skills, for a successful color design of the wedding, it is recommended to contact professional artists-designers of wedding salons. Then the gala evening will be held on the verge of reality and fairy tales, leaving guests and newlyweds with indelible impressions, colorful photographs, breathtaking videos.
Guest Invitations
A wedding invitation is a business card of a young couple, so think about the design of cards in advance. It would be nice to order them at a printing studio according to a previously agreed layout. Barbie-style cards look very nice, made of white or pale pink cardboard, decorated with golden carvings, miniature satin bows, roses, and beads. Pastel colors give them sophistication, sophistication..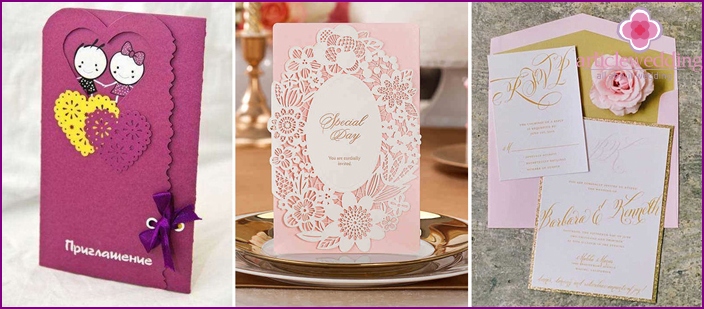 Wedding Hall Decoration
The banquet room for the wedding should resemble an unusual, fabulous palace for the princess. To do this, use garlands of artificial and fresh flowers, balloons, hearts, pink bows on chairs, purple napkins, laid out on white tablecloths. You should not put colored dishes on the tables, limit yourself to transparent plates of unbreakable glass. You need a large number of vases with flowers - white or pale pink orchids, violets, roses. Their pleasant colors and delicate aroma seem to be immersed in a fairy tale..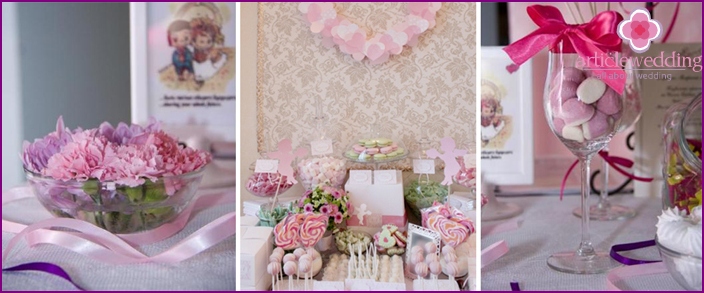 Bridal bouquet in pink colors
The romantic image of the bride would not be complete without a wedding bouquet. The importance of this attribute cannot be underestimated, because it will certainly be present in all photographs. Choose a delicate, sensual bouquet for the wedding, personifying innocence, purity of a girl. Take a closer look at the compositions of soft pink, lilac orchids, other exotic flowers or our domestic roses and peonies. The combination of pink and white fits perfectly with the image of Barbie.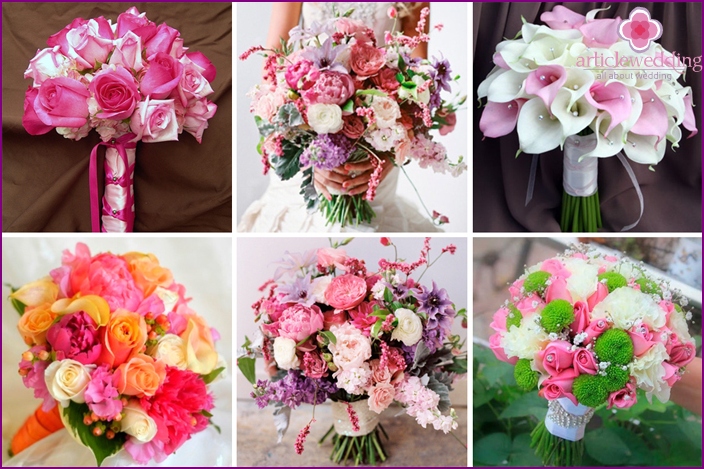 A wedding cake
What a holiday without the long-awaited delicious cake? A Barbie-style wedding involves a special cake, symbolizing the sweet life of a young married couple, so you should carefully consider its design. The best option would be a multi-story cake topped with figures of the famous Barbie and Ken. Having seen such a work of art, the guests will definitely not remain indifferent: the golden-pink cake is decorated with cream roses, hearts, fruits, and other trinkets in the romantic style of Barbie.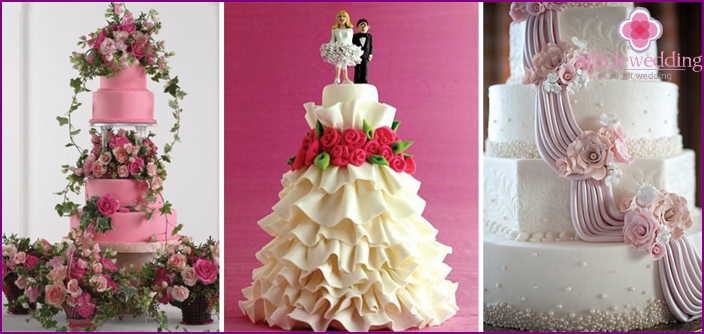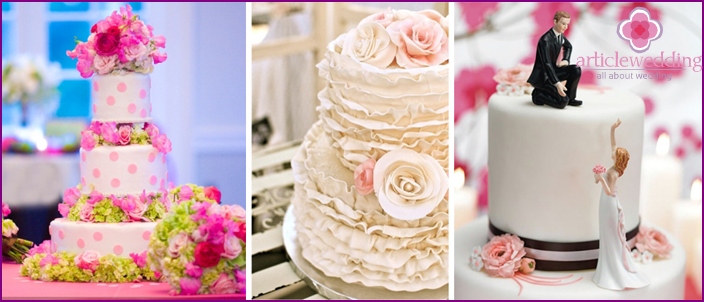 Pink Wedding Accessories
Barbie's style is distinguished by luxury, brilliance, bright and delicate shades, each detail is striking in its sophistication. Arrange miniature pink flower vases on the tables, and arrange elegant dolls. Choose white and pink tablecloths and napkins; chair covers should also contain these colors. Raspberry tone with golden highlights is used in the manufacture of other wedding accessories - invitation cards, table cards for guests, bonbonnieres, wedding cake.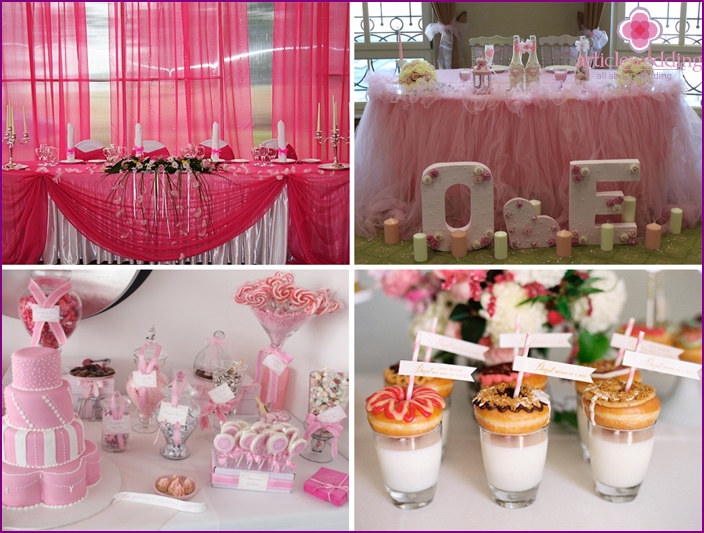 Barbie style wedding car decor
Try to pick up a pink car for the newlyweds, or at least with individual pink fragments. It can be either a retro car or a modern limousine. On the hood, attach a puppet wedding couple - Barbie and Ken, front and sides decorate the car with artificial or living roses, peonies, bright ribbons. Pink and white balloons will look great on cars.

Ideas for a thematic photo shoot
The wedding should be the most unforgettable event in the life of the newlyweds, all the spectacular moments must be captured in photographs and videos. For a Barbie-style photo shoot, head to a beautiful park, country house, river or sea shore. If there is such an opportunity, take care of renting a ship, a yacht in advance. Very beautiful photos are obtained in the night city, which flickers with cheerful lights. Launch a Chinese lantern in the sky and make a wish, you will get an unusual, romantic shot.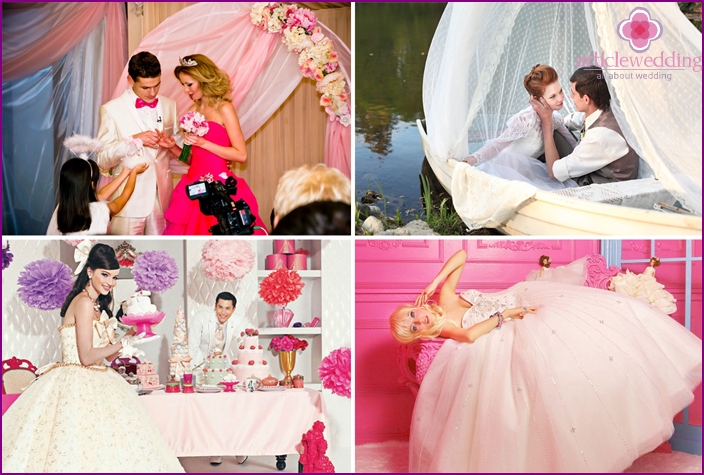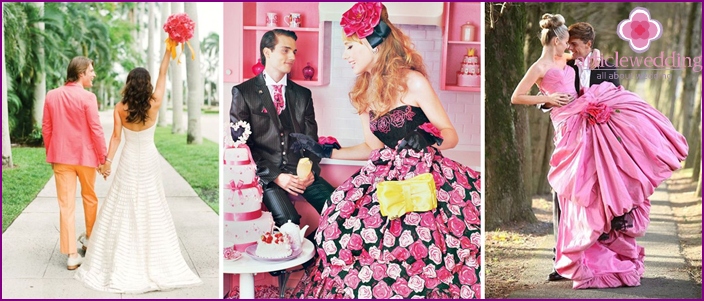 With a harmonious combination of all the details and well-chosen colors, the wedding will be an unforgettable holiday. Beautiful outfit of the bride, stylish suit of the groom, bright accessories, decoration of the banquet hall, the car of the newlyweds - all this requires good taste and a little experience. Wedding agency experts can help you organize your wedding. The idea of ​​such a celebration deserves attention, it is important to observe a sense of proportion in everything, to correctly place emphasis - and then a romantic holiday will certainly appeal to all those invited.