Contents
---
---
A wedding is a celebration of two people in love who decide to start a family, live together in joy and sorrow. In honor of the holiday, our ancestors started dancing by the water, grooms stole their loved ones, and guests walked merrily for several days. The celebration took place on a grand scale. If you intend to recall Russian wedding traditions, you will have many interesting customs at your disposal. Be sure - a wedding in the Slavic style will be remembered for a long time by you and your guests. No one will be left after the holiday without warm, vivid impressions.
How to organize a wedding in the Slavic style
Nature has always been revered by the Slavs, so the organization of an outing holiday will be a good solution for a stylized wedding day. Moreover, it costs to go outside the city to pristine nature. Here, newlyweds can arrange registration - many registry offices agree to provide appropriate services for an additional fee. The newlyweds should warn the guests in advance about the chosen Slavic style of the holiday, so that they familiarize themselves with the rites, traditions, learn national songs or ditties.
Newlyweds can rent a spacious country house from a log house, where guests will have the opportunity to relax after a hearty meal and alcohol. The Slavic wedding traditionally lasted several days and was known for its rich tables. The festival should be accompanied by folk tales, songs, ditties. Wedding attributes can be: a horse harness with ribbons and bells, girls dance, balalaika.
Entertainment for the guests will be mass games in the Russian style. Let the hired musicians play on the harp and balalaika, if possible, the newlyweds can hire parsley and buffoons. There are a large number of folklore groups that dance national dances, sing traditionally Slavic songs in Russian or Ukrainian, play traditional instruments. Newlyweds can even conduct a casting and choose the best artists for their wedding. You can easily find a bear costume for them, which will be in place for the chosen celebration style.
Wedding image of the bride and groom in the Slavic style
It is advisable that the costumes of the bride and groom were made in the traditional Slavic style, look for embroidered shirts, caps with earflaps, shirts, jackets, spacious sundresses. Or you can choose more modern clothes for the wedding - a dress and a suit, stylized to the chosen theme. A bold decision will be a combination in the images of the newlyweds of European and traditional Russian styles.
The bride can put on a wedding in a white sundress, generously decorated with red national embroidery. A white scarf and a kokoshnik or a wreath of herbs and beautiful flowers: poppies, decorative sunflowers, daisies should be put on your head. However, modern bride and groom often prefer a veil or diadem. These are all the same traditions, but modernized..
The groom should wear a white or red shirt (kosovorotka), decorated with golden elements, for example, a fringing of sleeves or buttons of this color. A vivid national belt would be appropriate. As a shoe, the bride should choose polished boots, in which he tucks in dark canvas pants. Wedding Slavic costumes of the newlyweds can sew to order in the studio.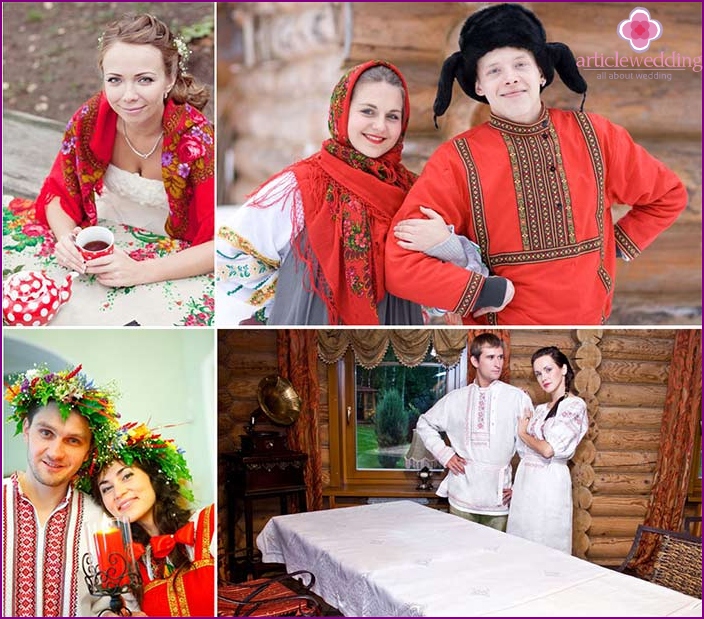 Dress code for guests
What should guests invited to a Slavic wedding wear? Newlyweds can think of an interesting dress code that will not cause much trouble and will suit everyone. The classic style of the costumes will be inappropriate, so warn the invitees in advance about the non-standard format of the celebration, let them be as relaxed as possible in new looks. It is not necessary to sew full-fledged Slavic costumes, the main thing is that their appearance is suitable for the style of the holiday. For example, at the entrance to male guests, you can give out buttonholes from mountain ash, and ladies who come to wear floral wreaths on their heads.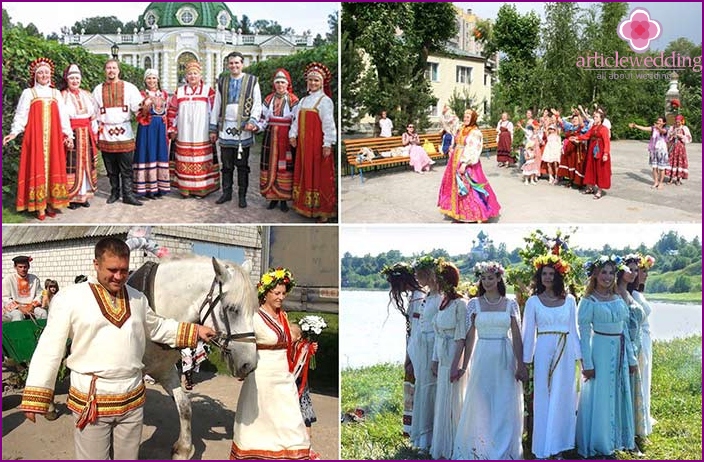 Slavic style wedding decoration
A Slavic-style wedding can look very colorful. To achieve this, you should carefully study the traditions of national weddings and make stylized accents. They can be Khokhloma or Gzhel paintings, bagels, cockerels, a brilliant samovar with a bunch of bagels and traditional Slavic bright shawls. For the Slavic style of the wedding, newlyweds should choose red, green and yellow tones. However, if you prefer to dwell on a specific topic, for example, gzhel, then you should choose a palette based on this.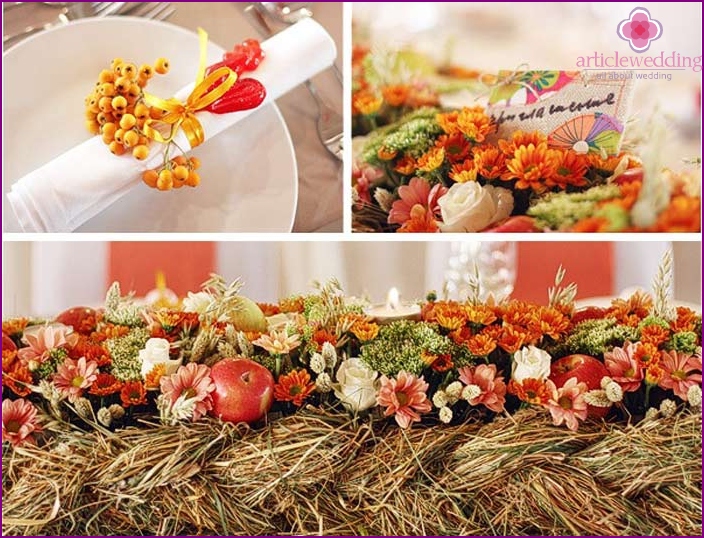 Guest Invitations
Holding a wedding in a folk style impresses those couples who are not indifferent to the cultural traditions of their homeland. And since Slavic traditions are closer to us, this should be taken into account not only when creating a holiday script, but even in such trifles as the design of invitation cards. Let their style be saturated with ethnic spirit, use national elements as a decor - a red pattern on a white background, ribbons, the image of mountain ash, herbs and flowers. You can order invitations in the printing industry or make them yourself.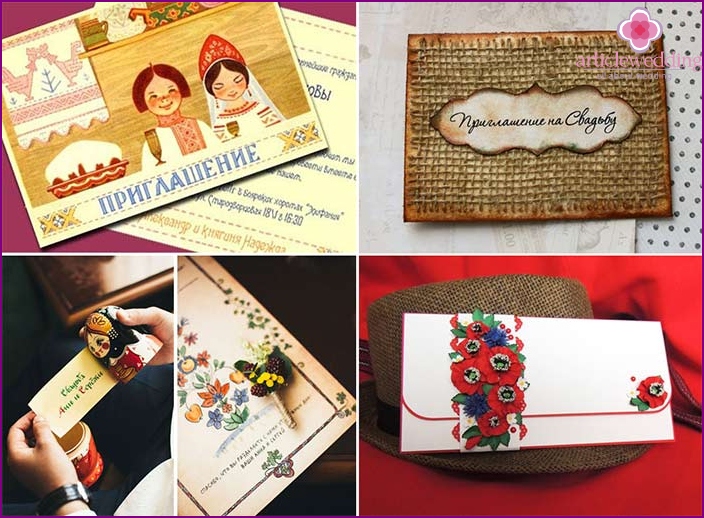 Party Decoration
Slavic wedding is worth playing in a Russian hut, rented specially for the duration of the holiday. It will not be difficult for the newlyweds to find such a house, there are a lot of them in the countryside. The room must be decorated with animal skins, bunches of ears, bouquets of flowers, aromatic herbs. If the celebration is planned for the autumn period, then it is worth adding to the design the colors traditional for this season - gold, orange, red and brown. The decor will be dried flowers, rowan branches, apples, wheat.
Decorate the house with traditional Slavic elements: embroidered towels, painted wooden utensils, clay wings. You can hang straw bast shoes on the walls, and in the corner you can build an impromptu Russian stove. The main decoration of the wedding room will be a wooden table, covered with an embroidered white tablecloth, which is bursting with various dishes: pies, pies, pickles, jellies and other traditional Slavic snacks.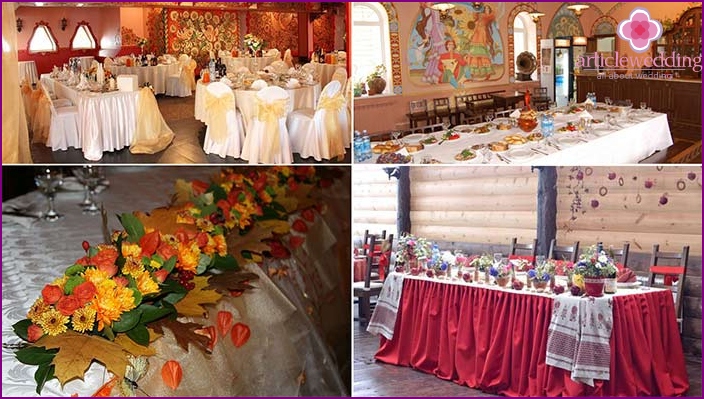 The bride's bouquet
Wedding bouquet is an old Slavic tradition. Previously, the suits of the bride and groom looked completely different, there were no shoes or veils that were familiar to us. The festive outfit had a different look, but the bride had flowers already then. An indispensable attribute of the Slavic wedding was a wreath, the girl wove it from wildflowers and herbs. A newlywed, who will have a celebration in the national style, should choose floral arrangements in white, red or blue - these tones are traditionally considered festive. Daisies, buttercups, poppies, cornflowers will be a great addition to the image of the bride.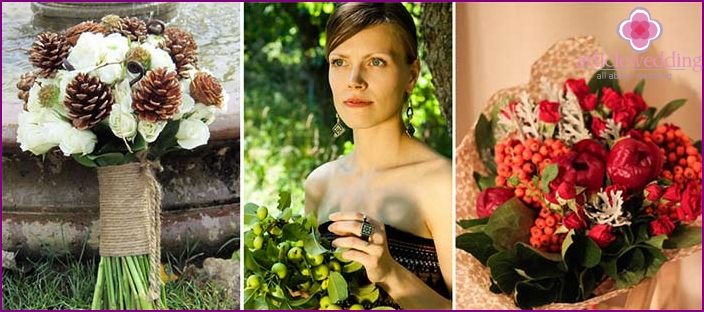 Wedding feast and refreshments for guests
The newlyweds and their guests can feel the atmosphere of the Slavic holiday if the banquet is held in a country house, closer to nature. The feast plays one of the main roles in a traditional Russian wedding. Therefore, when planning the celebration of this part of the holiday, you need to pay maximum attention. Surprise your guests with an abundance of hot meat dishes, salads and snacks - let the table bend under the weight of dishes.
A special place at the wedding should be occupied by a traditional Slavic wedding loaf, an analogue of modern cakes. Bakers can bake it in any confectionery, however it is important that the loaf is beautifully decorated. Sometimes newlyweds prefer to bake it on their own or such a gift is presented to the bride and groom by their parents. If you want to follow Slavic traditions, remember that only married women can cook a loaf.
Since the Slavs love not only to eat deliciously, but also to drink, alcohol is indispensable. For a celebration in the Slavic style, buy a large number of drinks. So that guests do not get bored at a wedding party, the bride and groom can call for a host. The artist should be dressed in a suitable costume, well, and if he is familiar with Slavic folklore, this will be the perfect option for your holiday.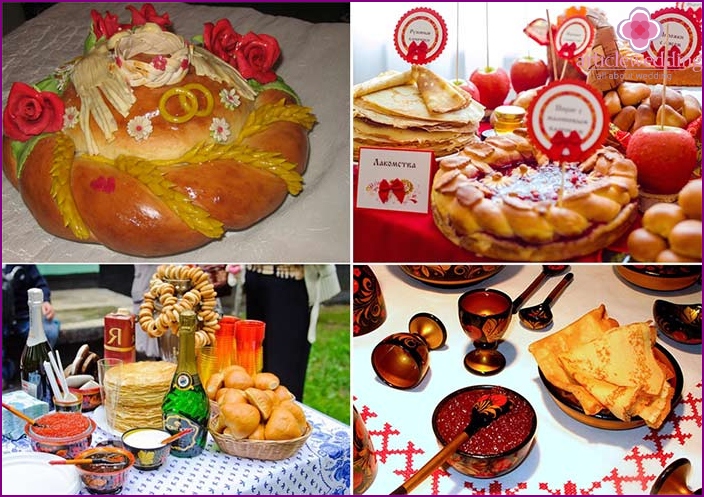 Slavic style wedding accessories
What gives the wedding a Slavic flavor? Not only costumes of newlyweds, national dishes and traditional entertainment. Any chosen style of celebration, including Slavic, is emphasized by well-chosen trifles. These are dishes for guests, treats on the table, selected colors and much more. At the festival in the Slavic style must be:
felt boots or bast shoes;
Samovar with bagels;
loaf, dishes with caviar;
colorful scarves, floral wreaths or kokoshniks;
things with national embroideries (paintings), for example, rushnyks;
horse or team of three.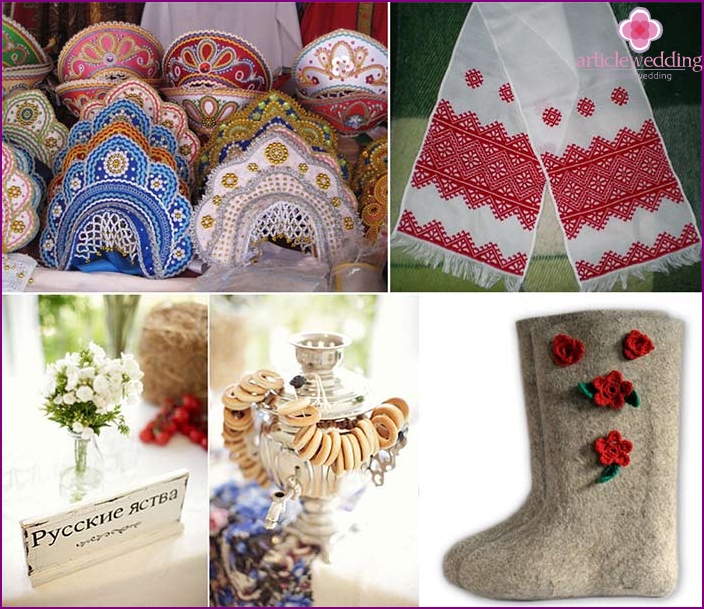 Video: holding a wedding in the Slavic style
Newlyweds in Slavic costumes will be inimitable. Unity in the style of festive clothes will help to create a magical atmosphere and an elevated mood at the wedding. Observing all the traditions and customs of the wedding day, you will provide yourself and the guests with vivid impressions and emotions. Not a single guest will forget the Russian bathhouse, incendiary dances on the banks of the river, tables in a real hut. A well-designed Slavic wedding will be one of the most memorable events of your life and leave a lot of pleasant memories. Look in the video below how it can turn out.
Themed wedding photo shoot
Newlyweds can make a wedding photo shoot in a stylized restaurant, however, beautiful landscapes - a river, a forest, a wheat field, and the countryside will be more appropriate for the Slavic celebration. Together with the photographer, consider different ideas for shooting. Perhaps for this purpose you will want to beautifully decorate the lawn of a private house or decorate the backyard of the restaurant.