Contents
---
---
Wedding fashion is gradually moving away from classics, stereotypes and patterns. And most of those couples who adhere to the traditional style, bring something new to it that is in line with modern trends. Gzhel style wedding is a fashionable trend that is gaining popularity not only in Russia but also in the West. Colorful Russian blue and white motifs managed to fall in love with wedding decorators from around the world. If you want to make your holiday in Gzhel style, then first of all take care of the outfits of the young and the decoration of the banquet hall.
The image of the newlyweds for the wedding in the Gzhel style
Gzhel wedding is a celebration made in the Russian folk style. Since its main colors are white and blue, when creating costumes for the bride and groom, you can not do without them. When planning a holiday of such subjects, young people should warn guests in advance so that they have the opportunity to choose suitable outfits taking into account these requirements. And before choosing suits with Gzhel's motifs, the bride and groom must decide whether they want to recreate old traditional dresses or decorate modern models with ethnic patterns.
Dress for the bride
Girls who want to hold a celebration in the Gzhel style should consider not only dress options with embroidery of a white-blue pattern, but also any classic models. They can be supplemented with a suitable accessory: scarf, handbag, belt. Moreover, the wedding dress can be classic or unique, sewn to order and introducing Gzhel elements into the product. The overall style of the bride must meet all the components of the image, starting with shoes, ending with a haircut and manicure. However, do not weight the costume with a large number of decorative details.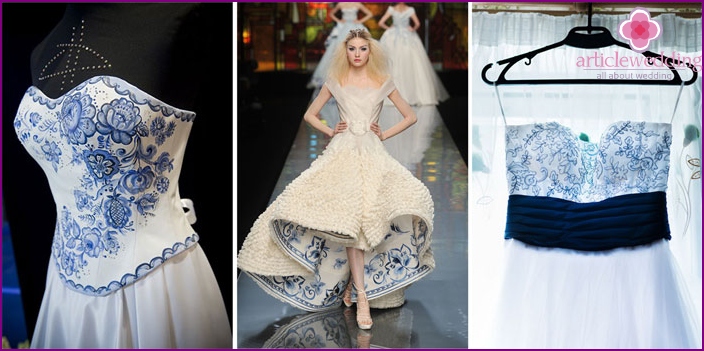 Suit for the groom
Traditionally, the bride should be brighter at the wedding, all eyes are riveted to her, but the groom often has a more restrained image. However, having decided on the Gzhel style, young people can move away from this rule, making both images equally colorful and vibrant. And yet, a man must cede the right of first choice to his beloved, and pick up an outfit to suit himself. If the bride preferred a folk style with traditional Gzhel embroidery, then the groom should wear either a shirt and trousers, or a classic suit with a stylized tie or bow-tie.
The young one has a significantly smaller selection of wedding clothes than the bride, but there are always alternatives. A Russian braid is an excellent solution if the bride chose a simple ethno-sundress. If the image of the girl is more official and solemn, then the man should not put on a rustic style. Do not be afraid to experiment with images, you can focus on a classic suit of dark or light colors, a white shirt and a colorful sleeveless jacket. A watch with a Gzhel ornament will become an appropriate, practical acquisition and will remind you of a happy day.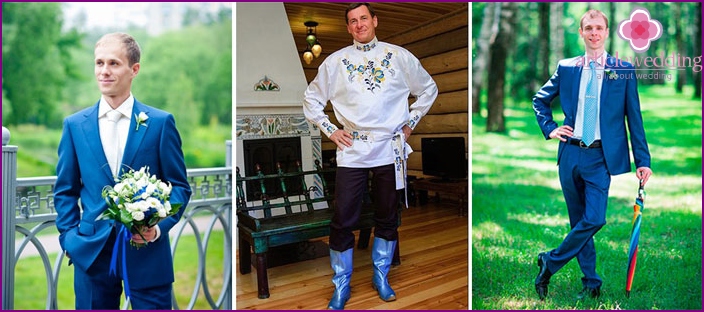 Gzhel style wedding ideas
Gzhel-style wedding is saturated with folk traditions and filled with the colorful atmosphere of Russian villages. Many have the word «Gzhel» It is associated with the beauty of porcelain, which masters from Moscow region were famous for. Young people who are close to such a palette celebrate their marriage in blue and white. Traditional motifs of Gzhel painting are flowers (cornflowers, roses, bells), herbs, other plants. Patterns made in white and blue will be the basis of the wedding concept.
Invitations for guests
When the young decide on the wedding day, guests should be invited. For this, invitation cards that are appropriate in style will be needed. Since the celebration will be held in an original Russian manner, the cards should contain elements of Russian theme. For their decor, cones, nesting dolls, berries, painted scarves, gingerbread cookies, kalachi, samovars with dryers, pancakes, cockerel lollipops, etc. are suitable. A simple and budget option would be an uncomplicated soft postcard made of thin smooth paper made in the Gzhel style, folded in a tube and tied with a blue ribbon.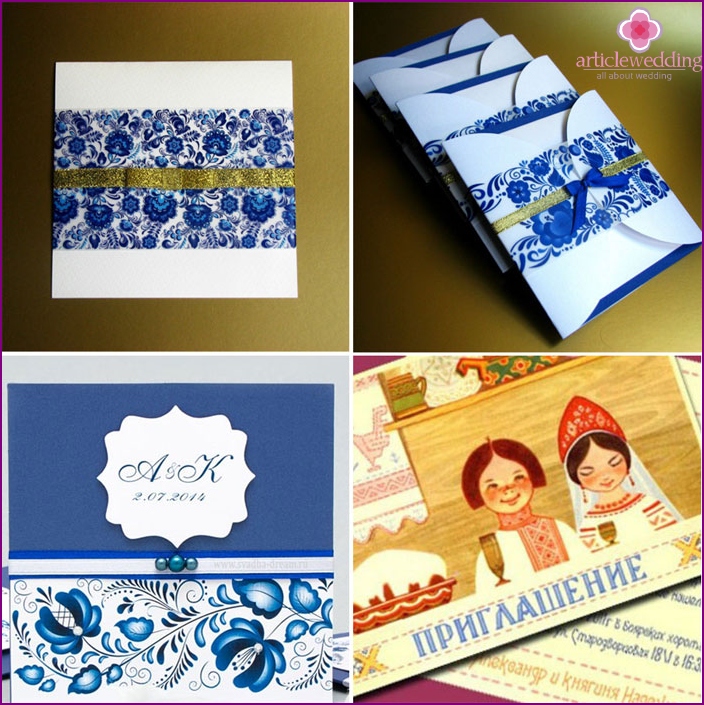 Banquet room decor
When choosing a banquet hall for the Gzhel wedding, it is better to stay at an institution made in the Russian folk style - with wooden furniture, samovars, stuffed animals on the walls. Otherwise, rent a regular restaurant and take care of its decor. With the color scheme, everything is clear - gzhel involves the use of white, blue and blue colors. Find the right tablecloths, vintage dishes, banquet cards, napkins, flowers in vases, and other decorative elements. Develop a menu, seating plan, arrange table numbers.
If the young decided to arrange a Gzhel wedding, then the atmosphere in the banquet hall should be appropriate. The triumph made in this style looks very beautiful and original. Due to the abundance of traditional details that are rich in Russian culture, your wedding has the opportunity to become very vibrant and long remembered by guests. Famous masters created not only dishes, but also decorative panels, dishes. So why not decorate the hall with them? Since holiday tables are more often the epicenter of the holiday, their decoration requires special attention.


Decoration of holiday tables
To decorate wedding tables, traditional Russian souvenirs come in handy - samovars, towels, nesting dolls. Remember that the main colors for decor should be white and blue (blue), so vases, dishes, utensils and a tablecloth must contain gzhel painting or be thematic colors. Banquet tables can be decorated with white or blue candles, napkins, vases with colorful wildflowers. Seating cards can also contain Gzhel paintings.
An ideal option for this kind of wedding is to order dishes of Gzhel production. However, for a holiday, ordinary porcelain white dishes with gold will be a suitable option. Champagne bottles (moonshine), glasses, money boxes, napkin rings, the bride, if you have creative abilities, can paint with gzhel manually or make a stylized decoupage.


The bride's bouquet
A suitable bouquet would be a composition of varieties of fresh flowers with an overwhelming number of wildflowers. If the wedding in the Gzhel style takes place in winter, it is better to give preference to frost-resistant varieties of flowers or create a bouquet of mountain ash branches - it will perfectly complement the image of the bride and contrast with her outfit. Artificial handmade buds created using marble, clay or paper look original and stylish. They are no less beautiful than natural ones, but they do not fade or break..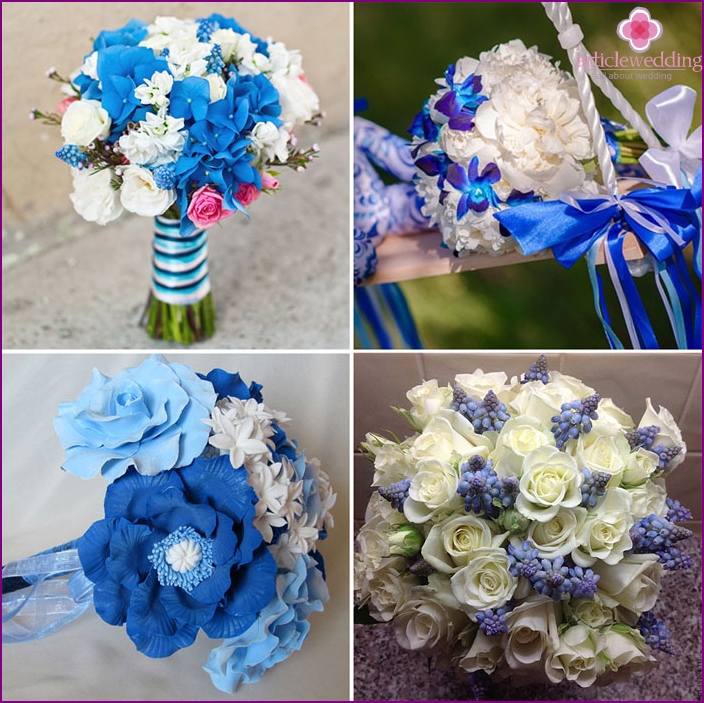 A wedding cake
A sweet culinary masterpiece will be the culmination of a wedding celebration. The shape of the cake for the Gzhel wedding can be completely different: round, square, rectangular. Baking can be single-tier or have several steps. The main thing is that the cake should be sustained in the main motives and be tasty. An original alternative to the cake (or an addition to it) can be traditional Russian sugar cakes or modern cupcakes decorated with cream of the corresponding color.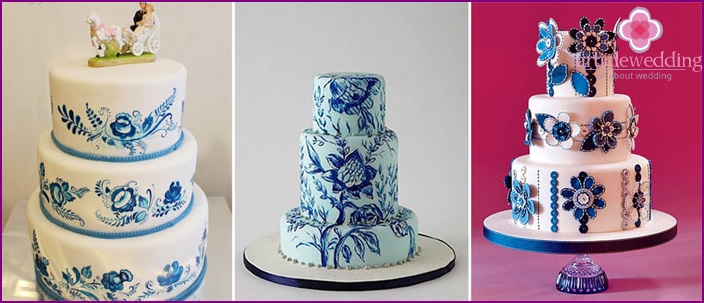 Wedding photo session in Russian in Gzhel style
For a photo shoot of the bride and groom, who chose Gzhel's style for their wedding look, they will only need a beautiful winter or summer landscape, because their unusual, stylish appearance does not require additional attributes. However, you can find a more interesting place for wedding photography. In some cities, there are specialized institutions representing the national culture. They will be an ideal solution for competitions (for example, the redemption of the bride) and photo shoot.