Contents
---
---
More and more newlyweds are choosing theme parties to organize an interesting, unforgettable wedding. There are a lot of options on this topic. For example, a wedding in the style of rock and roll is the ideal theme to guarantee fun, arrogance, extravagant style and interest even the most conservative guest. A similar style can attract people with certain tastes and preferences. Consider options for how to decorate the room, choose outfits and much more for such an unusual wedding ceremony.
Location
When addressing the issue of choosing a venue for a rock and roll wedding, restaurants and cafes of the same style would be suitable. As a rule, this is an interior made of natural wood, from floor to ceiling, ending with tables with some utensils, which in itself is already original, looks colorful even without additional decorations. Such establishments are popular for the constant playing and singing of rock musicians. There is a special lively, cheerful atmosphere of the necessary style for this celebration. Therefore, a rock and roll wedding will be an impressive event.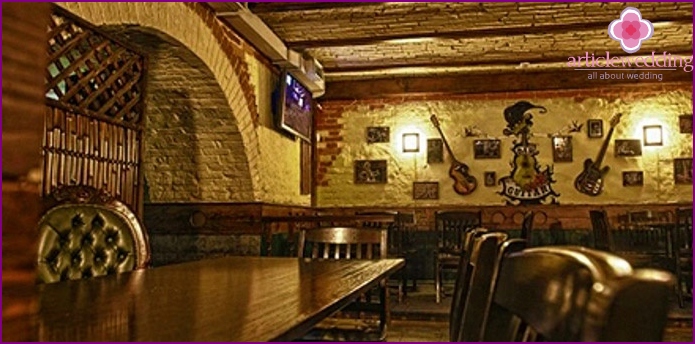 Rock and Roll Wedding Decoration
Take care of the design of the hall where the banquet will be held, using the style of rock and roll. It's possible to get the necessary accessories for your wedding in different markets of antiques, old musical instruments (saxophone, trumpet, drums), interesting silk men's scarves of bright colors, leather patterned gloves with cutouts for pits on your hands are perfect. What will come in handy for the perfect decoration of a rock and roll wedding banquet:
Choose bright colors of helium balloons: red, white, pink, black, green, balls can be with inscriptions and drawings of guitars, Elvis Presley, etc .;
Decorate the tables with small compositions of bouquets of the same color scheme;
It will be great to use vinyl records instead of stands for appliances for each person;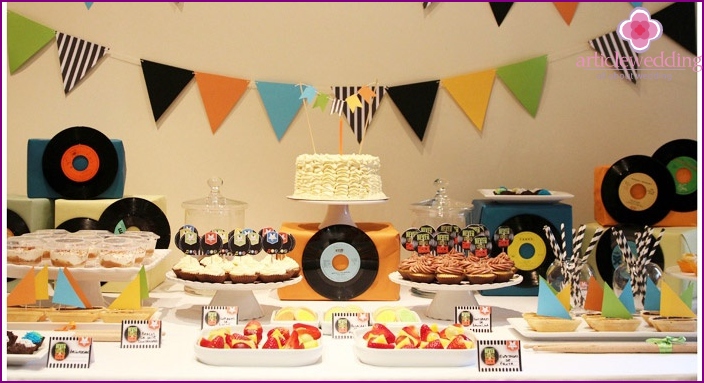 Hang real guitars, motors of old cars, motorcycles or their models on the walls;
Decorate romantic bouquets decorating tables with rock and roll elements, for example, small skulls with pebbles;
Vinyl records of different sizes, colors and materials hang from the ceiling;
But for the tuple, either an unusual wide biker motorcycle with two seats or a black open-top jeep is suitable. Decorate it by tying a lot of tin cans to the rear bumper with a long cord, and install a huge shiny rock guitar on the front cover of the hood.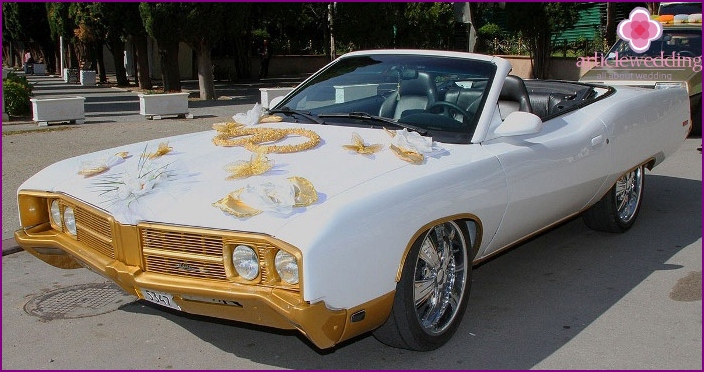 Outfits of newlyweds and guests
If you have a wedding in the style of rock and roll, it will be appropriate to use the appropriate outfits for the newlyweds and guests. Firstly, guests must be informed in advance about the themes of rock and roll and that they will need to dress appropriately. Do not insist that the guest only looks like this, it is important to feel free at a rock and roll wedding.
If guests come to the wedding, not matching the desired style, resolve this situation by preparing bright scarves and ties in a single color scheme with the wedding in advance;
For the bride, a knee-length dress made of white lace with a black wide leather belt is ideal for her own wedding. A long train attached to a short dress will be appropriate, in makeup, give preference to wide arrows, bright red lips, let one shoe be white and the other red (so you emphasize the theme of rock and roll);
A classic black suit with leather inserts on the elbows will be a great option for a rock and roll outfit. Complete the look with patent leather black shoes, put a yellow or pink scarf in your breast pocket, and style your hair by imitating Elvis Presley. Remember to wear yellow or red dimming sunglasses.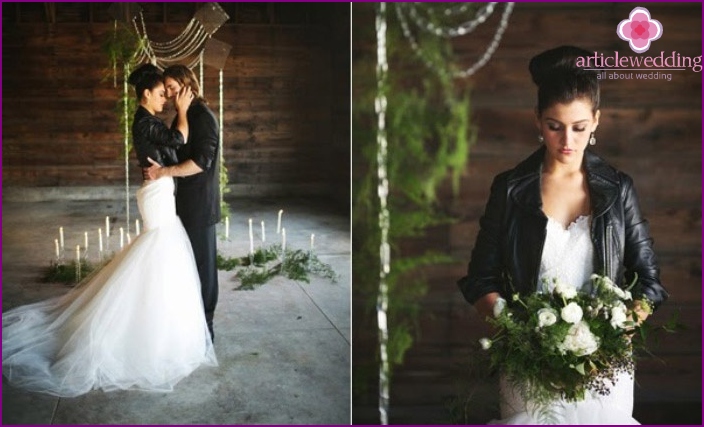 Rock and Roll Wedding Accessories
The highlight lies in the details, so take care of wedding accessories. First of all, think about invitation cards in the style of rock and roll and their design - what materials are suitable, what text to enter. The next important attribute will be a wedding cake. Think about his style and idea, decide on the recipe and add decorations (figures of the bride and groom, etc.).
Wedding invitations
The idea of ​​rock-and-roll weddings should also be kept in invitation cards, so think up and discuss how to arrange invitation cards for your dear guests. After all, it all starts with an invitation, carefully consider the image and presentation of information, use the actual decor, thematic pictures, create the necessary atmosphere for the celebration with the first opening of the envelope. Here are some ideas:
Cut out colored cardboard in the form of a plate, write an invitation text in a circle on it, put it inside a square envelope, completely imitate vinyl music records of rock and roll of the 60s;
You can make the envelope of the wedding invitation from a dense translucent film, decorating it with black and white carved figures of guitars, shards, the first rock stars.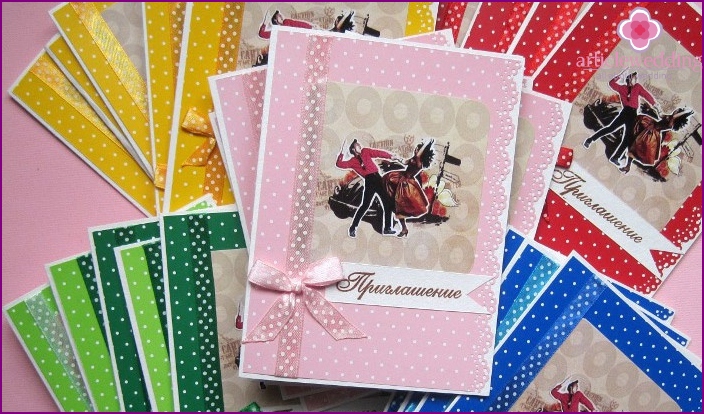 A wedding cake
A wedding in the style of rock and roll obliges you to withstand the style with the help of a wedding cake. Modern confectionery opportunities will help to realize in real life any, even the most daring idea. This wedding attribute allows you to roam fantasy and create a real masterpiece. When ordering a cake for a rock and roll wedding, it is extremely important to determine not only how to decorate, but also the filling, what taste and recipe it will have. Use the recommendations below:
Think ahead, draw yourself the shape and look of the future wedding cake.
Arriving at the place, make an order, discuss with the confectioner what filling you want to see, see that it matches the style and is tasty.
Think, maybe it will be a single-tiered, but large cake, on which you can depict a vivid picture of rock and roll style.
If this is a multi-layer cake, then give it the shape of a guitar, or several stacked drums of different sizes.
Think about what colors you will use to decorate, whether small figures of young people will stand on top..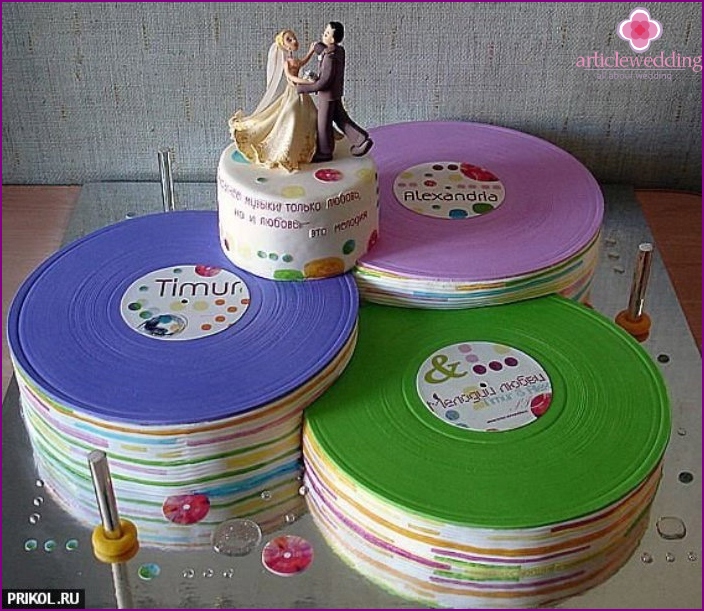 Musical accompaniment
Be sure to think through the entire repertoire of music that will play at your wedding. It completely creates the atmosphere of this kind of festivities and the chosen rock style of the wedding will not leave indifferent any guest to such music. Try to use not the most progressive music with the style of rock of the last generation, but look for something from those times, in a light modern processing.
Live music. Nothing is more impressive than the lively sound of instruments and a singing voice at a wedding, so do not forget about the rock music of domestic artists. There are many compositions that appeal to a wide audience of different ages. Allow guests to order their favorite songs and be able to perform them themselves at the wedding.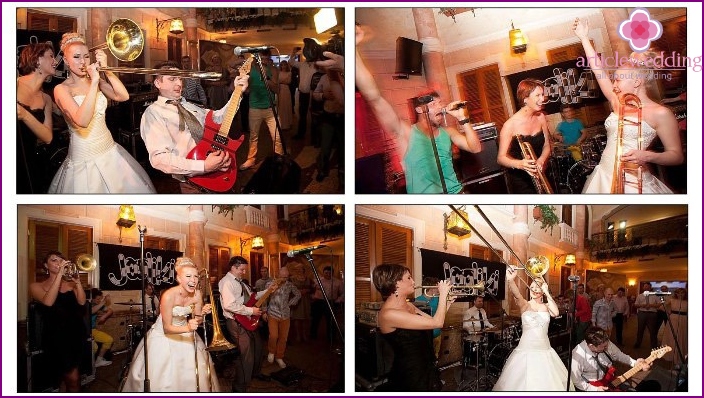 Rock and Roll Photoshoot
After registration of the marriage union in the registry office, organize a photo shoot with rock and roll. Show imagination, do not neglect spontaneous moments, be inspired by each other and romantic atmosphere. And here are some tips on how to beautifully surround the situation in the desired style:
Improvised rock and roll. Studio wedding photography, where a professional photographer must have attributes of any style. Let the bride take a rock guitar, sit the groom behind the drums, handing the sticks;
Photosession in motion on a motorcycle. Very unusual shots that colorfully fit not only into the context of the wedding, but also a memorable family album.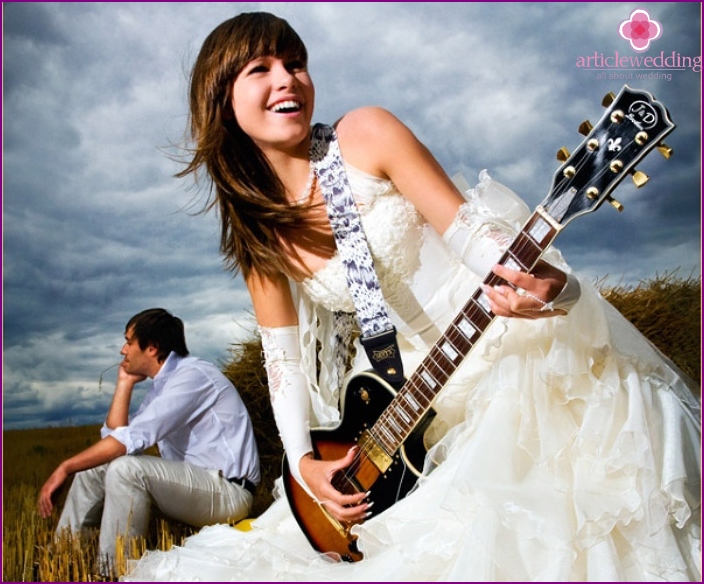 As an example, watch an interesting video of a rock-and-roll themed wedding, the recording of which will give you a small idea of ​​how to beat this topic up to the end in a peculiar and fun way, to think through every detail, use some elements, get acquainted with the style. However, you must remember that your wedding will be the most unusual, memorable and interesting..
A rock and roll wedding is a really interesting idea. Yes, all preparations are very important for the perfect scenario of a special day in your life. But the most important thing is how you create the mood of this day, regardless of style. Be happy, give this happiness to others, enjoy every moment, remember it and love each other. And then a positive mood, a lot of vivid impressions of the wedding you are guaranteed.