Contents
---
---
Lovers, who at least once happened to visit the Mediterranean coast in the province of Provence, will forever remember the magical feelings, sensations and emotions that this region of France gave. Boundless fields with blooming lavender, simplicity of architectural buildings, hospitality of people attract everyone, so a wedding in the Provence style is becoming more popular. The newlyweds, planning a celebration, wish to organize an elegant, chic event, where aristocratic style and simplicity are combined together, which gives the holiday a special charm.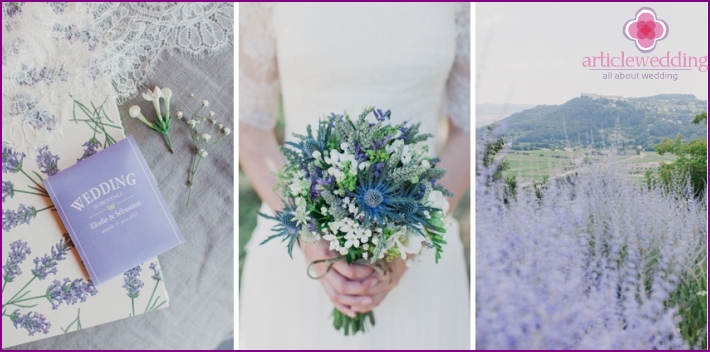 How to organize a wedding in Provence style
To organize a wedding celebration in the Provence style, it is necessary to take into account and foresee many points, nuances, to convey the atmosphere of the French province to the maximum, to give guests unforgettable feelings during the holiday and memorable emotions:
First of all, you need to determine the venue of the holiday. The ideal option is open space, nature, fresh air, which will help convey the atmosphere of Provence to the maximum and enjoy the picturesque beauty of nature..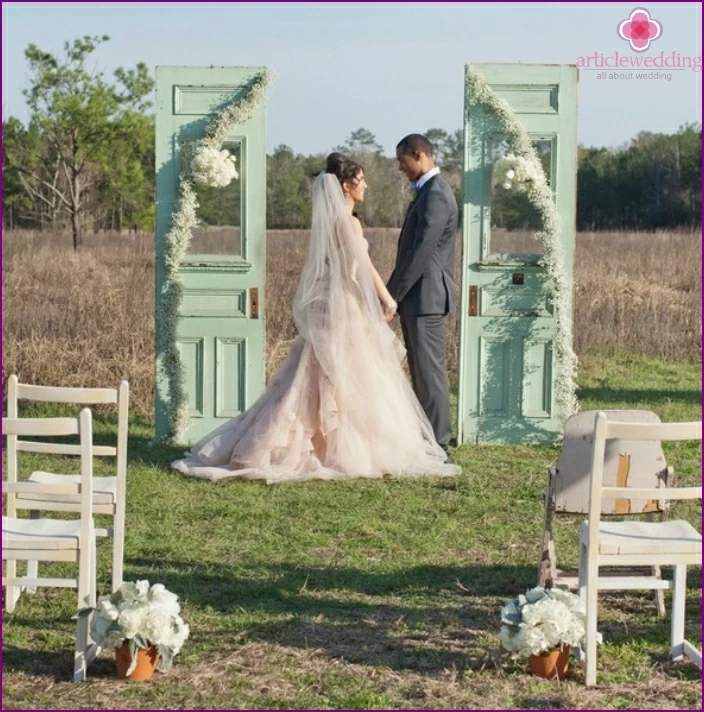 If there is no opportunity to arrange a holiday in the fresh air, then it is worth looking for a beautiful, and most importantly, spacious, bright banquet hall. A little decorative details, accessories - and you can create «provence wedding».
The outfit and image of the heroes of the occasion - the bride and groom - should correspond to the chosen topic. This applies not only to clothes, but also to additional elements of wedding clothes, accessories, jewelry, hairstyles, makeup.
A wedding in Provence style involves the use of certain colors inherent in this region. These are pastel shades - milky, light gray, beige, purple. Do not use bright colors, this will violate the magical romantic atmosphere of the holiday.
Particular attention should be paid to the design of the banquet hall, wedding table, menu, where must be present if not traditionally French dishes, then treats using Provencal herbs.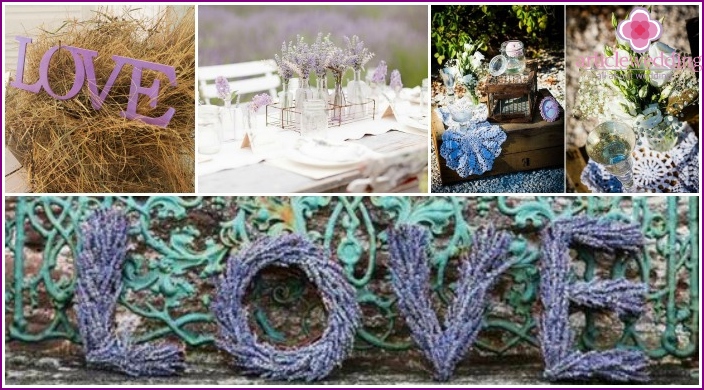 The image of the bride
To create a complete entourage, it is necessary to choose the right accessories, clothes for the bride. First of all, maximum attention needs to be paid to the choice of a wedding dress, and already under it to choose the necessary accessories - shoes, jewelry, a bouquet. An important role in creating the image of the bride is played by a correctly selected hairstyle and stylish makeup that would correspond to the theme of the holiday.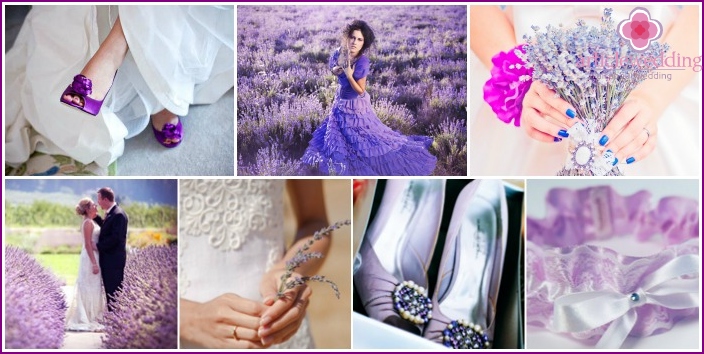 Wedding dress and shoes
The bride's wedding outfit is a beautiful dress of a fitted silhouette, which, although it does not differ in exquisite jewelry, decorative elements, but looks romantic. For a wedding in the style of Provence, inappropriate lush styles, robes with a train. The ideal option is a long dress of a simple cut from light, flowing fabrics, freely falling down and emphasizing the charms of the figure of a young girl. For such an outfit, an ordinary smooth fabric of white, milky colors is perfect. As a decor, lace can be used to give the dress a special charm.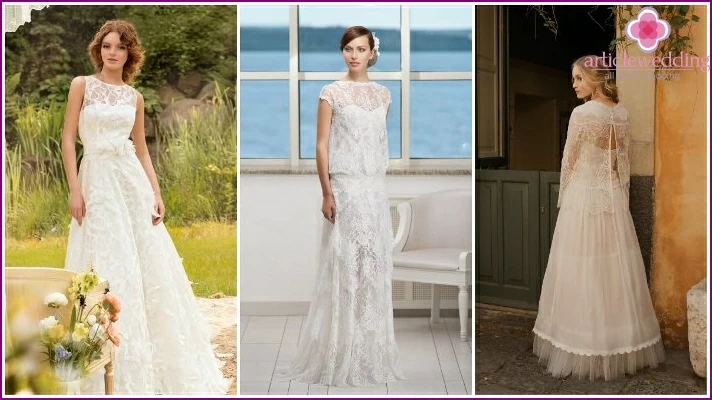 For a holiday, you should not buy shoes with too high heels or stilettos; for an Provencal wedding, this will not be entirely appropriate. Simple elegant shoes will look great. The color scheme of shoes depends on the preferences of the bride and other selected accessories, as well as dresses. The bride and groom should resemble a beautiful fairy who emerged from the beautiful lavender fields of Provence. Tandem of simplicity and sophistication, harmony of luxury and «rural» ease is what you need to create the perfect bride look.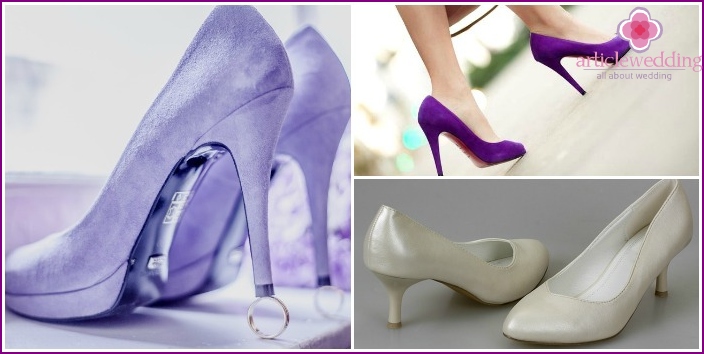 Hairstyle and jewelry
For a wedding celebration in the Provence style, it is better to abandon the classic high hairstyles, fully collected hair, buns, tails. To create a stylish image of a girl from Provence, it is better to choose a hairstyle with her hair loose. Large curls will look amazing with a charming dress and a light romantic make-up. Careless styling, large braids with woven ribbons matching the tone of other decorations.
For the design of hairstyles, fresh wildflowers, a wreath, satin ribbons can be used, sometimes artificial flowers are selected from foamiran, ribbons, polymer clay. It is only important that all these decorations are made in the same color scheme as other accessories. Muted, pastel shades that prevail in the Provence region can be used, it is better to refrain from bright colors.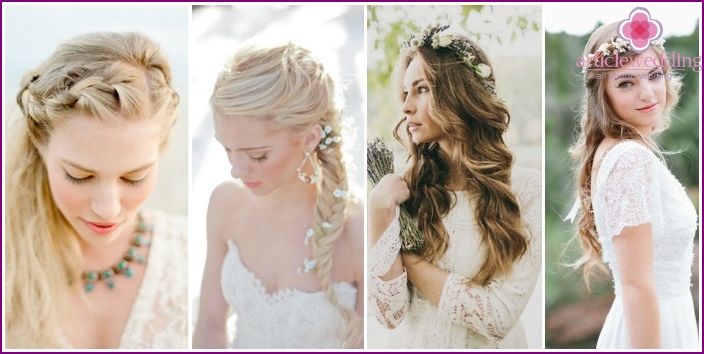 When choosing jewelry, you should not buy too shiny, bulky accessories that with a dress of a simple cut will look ridiculous. A great option is to find jewelry of a grandmother or someone from relatives of the older generation. Such things preserve history, imbued with the spirit of antiquity, and are perfectly suited for creating a tender, touching image of a bride in the style of Provence.
The bride's bouquet
An essential attribute of the bride is a bouquet, and for an Provencal wedding, it has its own characteristics. First of all, exclusively wildflowers are used to compose such a composition, ideally if it contains lavender, which directly grows in the fields of Provence. But if it's difficult to get it, domestic plants familiar to us (chamomiles, cornflowers), which are good to use to decorate the bride's hairstyle, are also suitable. The shape of the bouquet should be as simple as possible, for example, beautiful flowers gathered in a bunch and tied with a purple satin ribbon.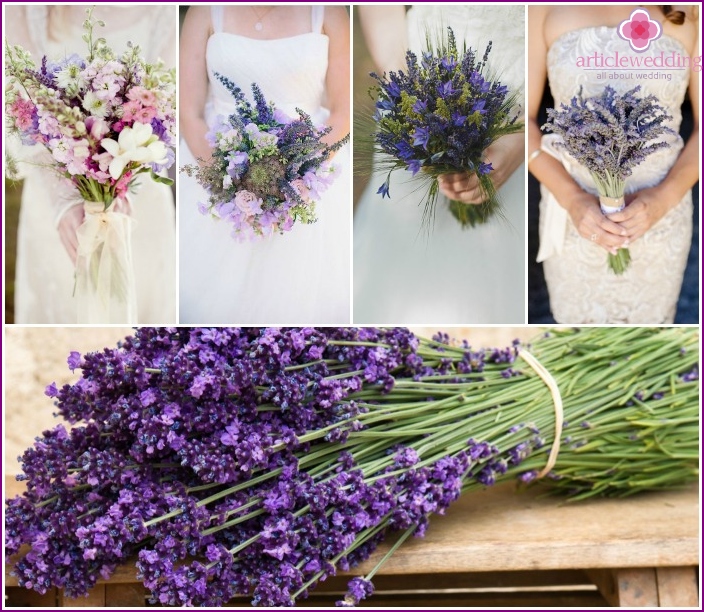 Suit groom
For a Provencal style wedding, strict suits, exquisite tuxedos, french suits will not work. Preference should be given to simpler outfits, perhaps even abandoning the jacket. Do not buy too dark suits, choose shades of beige, gray, milk, which is better suited to the general theme of the wedding and color scheme. It's better to choose a shirt in lilac, light lilac colors with a check or striped print.
It is good to choose additional accessories in contrasting colors to give a special charm, coupled with the original image of the groom, to emphasize them. Such attributes can be, for example, suspenders, a bright bow tie or a stylish tie. Particular attention should be paid to the boutonniere - it should be in harmony with the bride's bouquet, be made in the same style, using the same colors.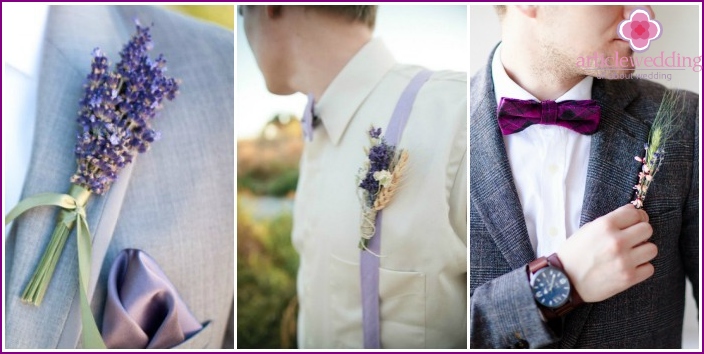 Dress code for guests
Guests invited to the wedding should be warned in advance about the theme and style of the future celebration, so that they can purchase the appropriate outfit and take care of additional accessories. For the fair sex, long dresses of lavender or other pastel shades that are appropriate for a holiday in the Provence style are ideal. Do not forget about the appropriate jewelry.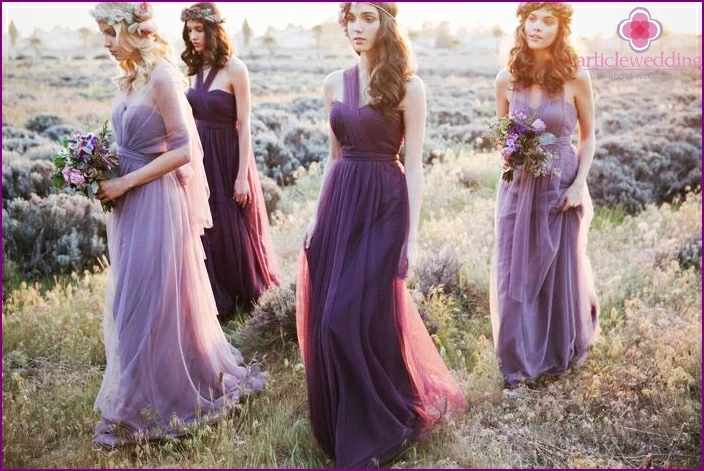 Men will be able to breathe a sigh of relief - for a wedding celebration in the Provence style you will not have to wear so strict a lot of costumes, ties, and classic shoes so unloved by many. For the outfit, they should buy a beautiful shirt in pastel colors (looks great if the outfits of the couple are selected in one color scheme) and simple trousers. Other thematic attributes can be used if desired, which will help to add special sophistication, for example, a fabric butterfly, suspenders.
Provence Style Wedding Ideas
To create a special romantic atmosphere that hovers over Provence, it will take a little effort. Indeed, the main features of this region are wicker, wooden furniture with textile pillows and blankets, forged elements that decorate the room and summer areas, interesting things. When making a wedding, do not forget about the flowers that grow in abundance in Provence and about the use of muted shades. It is important to observe one rule - no pretentiousness, high cost and chic elements.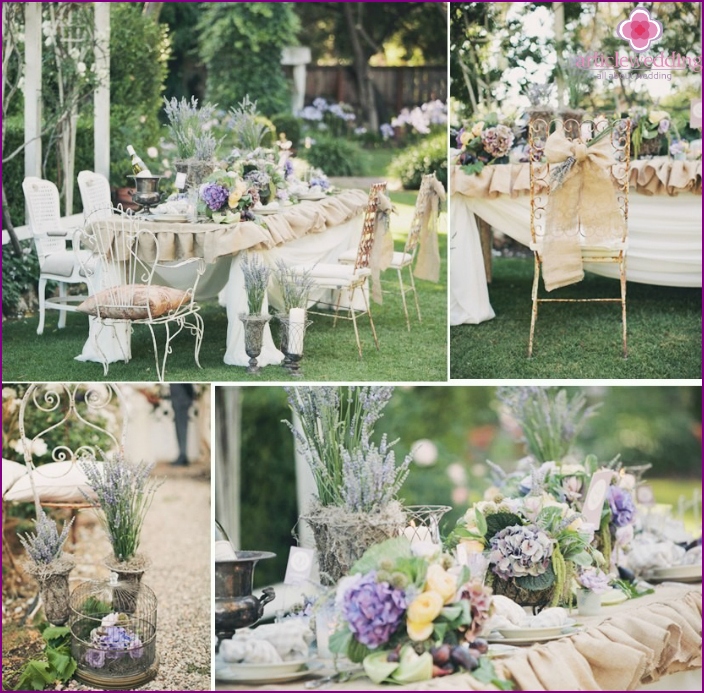 Wedding invitations and guest cards
Invitation cards are an important accessory of a wedding celebration, upon receipt of which guests will learn about the upcoming grand holiday, and from the design style - about the theme of the event. To create an original Provencal-themed wedding invitation, the simplest paper aged with coffee or aromatic tea can be used. A thin rope (twine) and a sprig of lavender or wildflowers are required for decoration. It looks beautiful when invitations and cards for guests are decorated in the same style..
Banquet room decor
To decorate the room where the wedding banquet will take place, you can use special interior items - aged furniture, textile tablecloths made of linen will help create a special mood for the holiday. Holding a celebration in the fresh air opens up more possibilities for decoration. The arch of fresh flowers will look charming, which is perfect for an outdoor ceremony, photo shoot, in addition, any floral arrangements will become a true decoration of the celebration.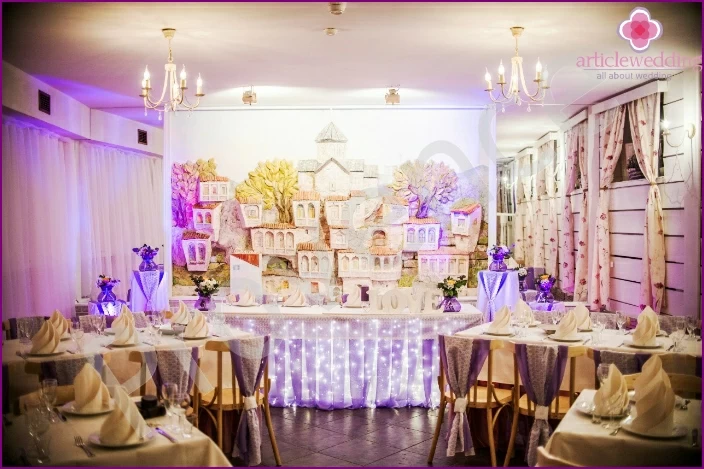 Festive table decoration
To design a wedding table, simple, banal things can be used that were used to decorate the room or create accessories. First of all, these are lovely, charming bouquets of simple wildflowers that will delight your eyes throughout the day. Additionally, vintage elements can be used. But the real decoration of the festive table will be amazing dishes prepared by the skilled hands of the chef.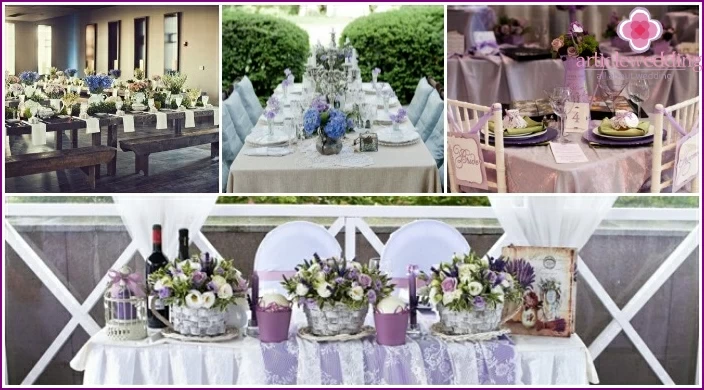 Wedding menu in the style of French Provence
A wedding in the Provence style implies the presence of French cuisine during the feast. Original, unique soups, a variety of hard cheeses, ratatouille, grape snails - this is a small part of what a restaurant chef or catering company administrator can offer. It is difficult to imagine truly French cuisine without the use of aromatic herbs, seasonings, which are an essential component of almost all dishes.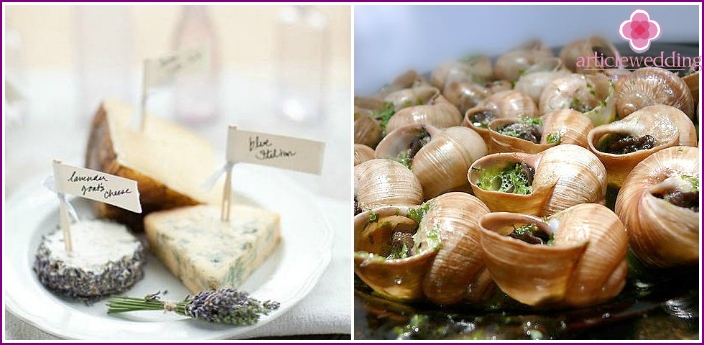 You can not do on the holiday without a cake - the main treat of a sweet table. A Provencal style wedding is characterized by the production of a sweet dessert using honey and milk. To make the cake fit the holiday theme, outwardly it can be decorated with purple mastic, cream. A classic white cake decorated with sprigs of lavender will look amazing.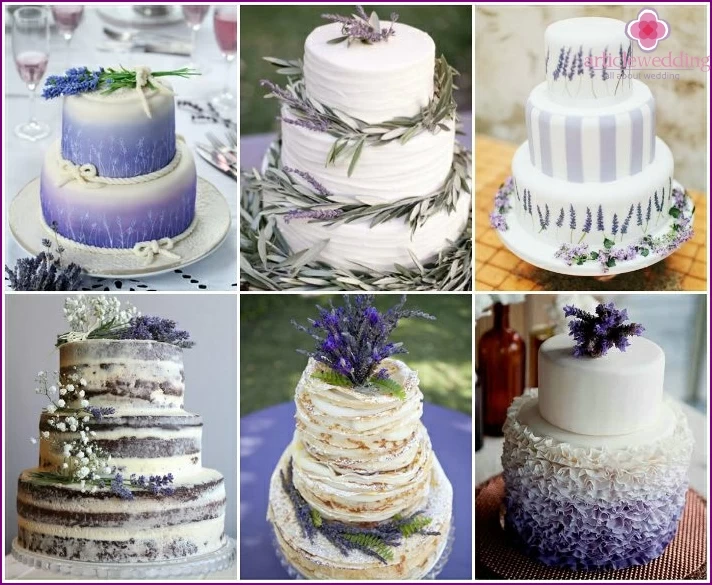 Wedding accessories
A wedding celebration implies the presence of special accessories, little things that help to make the holiday unique and memorable. For weddings in the Provence style, special accessories are needed that will match the theme of the holiday, creating a special mood. For example, a pillow for rings made of lavender branches will look charming, glasses can be decorated with lovely flowers, and a bottle of champagne is decorated using decoupage technique depicting the nature of Provence.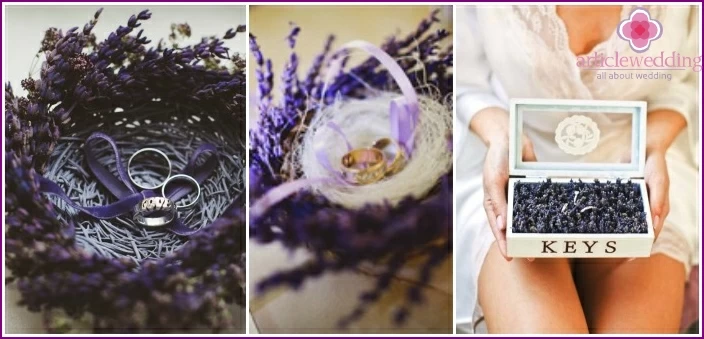 Bonbonnieres for guests can also be themed. For example, lavender soap, a small bottle with fragrant honey, a pillow with Provencal herbs, and vintage accessories are perfect. Such gifts will not only be useful, give pleasure during use, but will be a pleasant reminder of the magical celebration, saturated with the spirit of France, in particular Provence.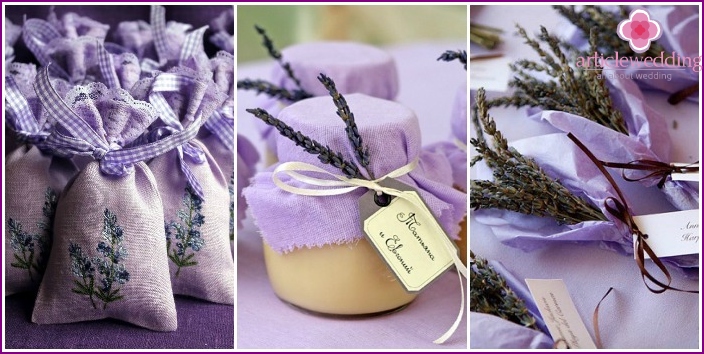 Video: Provence Wedding
A wedding organized in the Provence style will give the newlyweds and all those present guests positive emotions, a sea of ​​joy and admiration. The use of simple, affordable accessories, cute outfits that, despite its simplicity, cause admiration, amazing treats and a joyful, touching atmosphere throughout the day will be remembered by everyone who was lucky enough to attend a grand celebration. For those who want to organize a celebration of the Provencal theme, but have not yet decided, watch a video that will dispel all doubts:
Photo of weddings in Provence style
A beautiful celebration in the Provence style will be remembered by everyone for a long time, but photographs taken by both a professional photographer and invited guests will help to keep this day, including the smallest details. Having filled out the photo in the album, attaching accessories that are dear to the heart, the newlyweds will occasionally review the delightful pictures, recalling the happiest day of life and a beautiful themed wedding with French notes in the Provence style.