Contents
---
---
wedding arch – it is a wonderful accessory for the celebration, symbolizing the altar, heaven, high feelings of lovers. This item – irreplaceable thing used to decorate beautiful visiting ceremonies. Below you will learn how to make a magnificent wedding arch with your own hands. – this will save on the purchase of an expensive accessory, as well as show imagination. A simple workshop will tell you how to create a design yourself and what decorative elements to decorate the result.
How to choose an arch shape
There is not only a well-known version of the horseshoe arch, which we are used to seeing on wedding photos and videos from exit registrations. Depending on how this accessory looks, the meaning invested in it varies. Examples of forms and their meanings:
Arc-arch (horseshoe) – A popular option for a celebration. The arch symbolizes heaven, the proximity of lovers to God and the fact that the union of the newlyweds is approved from above. A similar design also resembles a horseshoe that brings good luck. The bride and groom, trusting signs, may like this kind of arch. In the classic version, it is luxuriously decorated with flowering plants..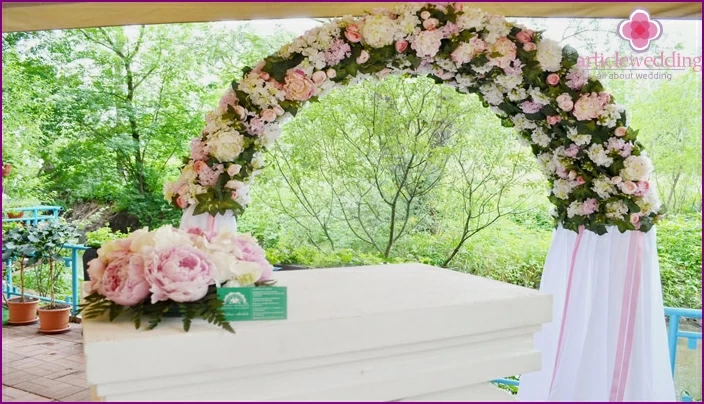 Quadrangular arch. Created with your own hands, such a wedding design will symbolize the well-being of the future family, prosperity, the heat of the family hearth. Often this model is made with a roof, a roof – a symbol that marriage will be reliably protected from ill-wishers, troubles, quarrels.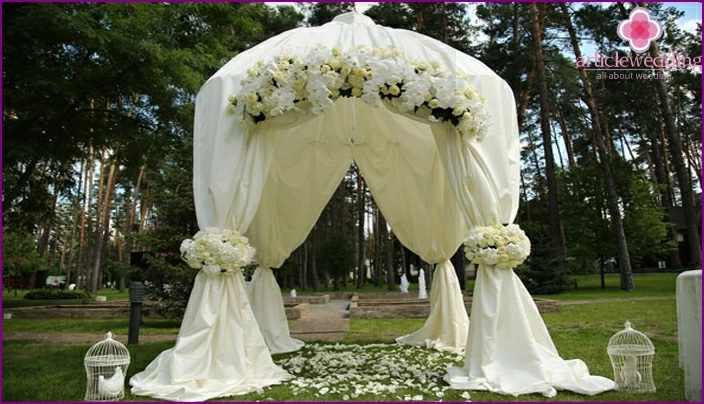 Enfilade Arch – The chic look of event decoration. It will be difficult to make such an arch with your own hands, since it consists of many arched vaults interconnected or simply standing next to each other, forming a corridor. On it, lovers go to the registration table. This spectacular type of accessory is suitable for large-scale celebrations. Enfilade symbolizes long-term happiness in marriage, the endless, strong love of the newlyweds.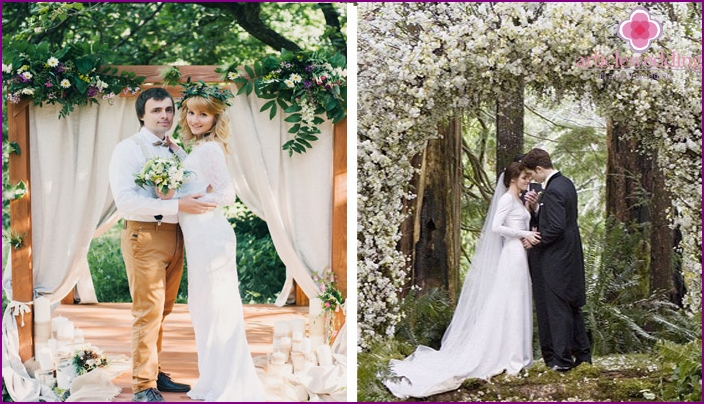 Arch is the heart. To emphasize the love between the bride and groom, the organizers can choose a beautiful arch in the shape of a heart. It can be made of balloons, metal frames, decorated with flowers. An alternative type of accessory will appeal to those present.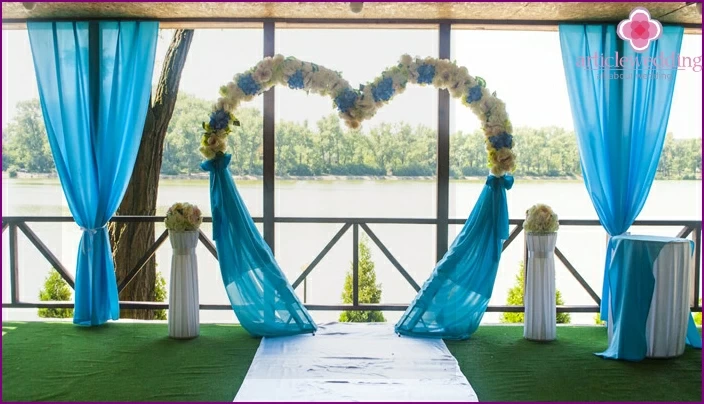 Round arbor. Another alternative to the classic arcuate arch – This is a garden gazebo. Decorated with lanterns, lush flowering, fabrics, gazebos symbolize family comfort, home warmth, intimacy between young spouses. This type is perfect for a vintage wedding.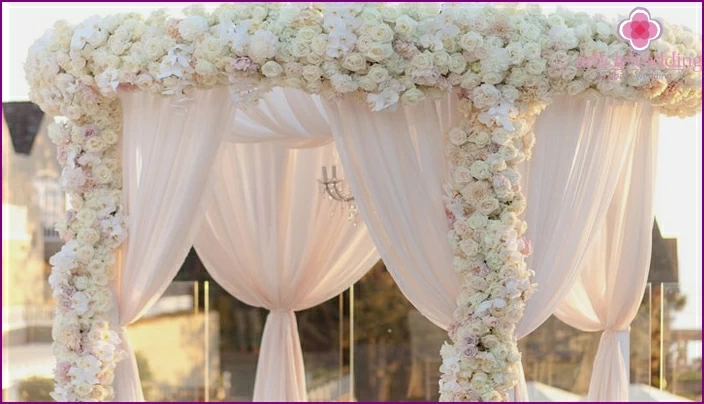 U-shaped arch. A simple, fragile U-shaped design symbolizes the ease, carefree relationship. Spouses who have chosen this type of arch understand each other well and feel great next to their partner. It's easy to do it yourself.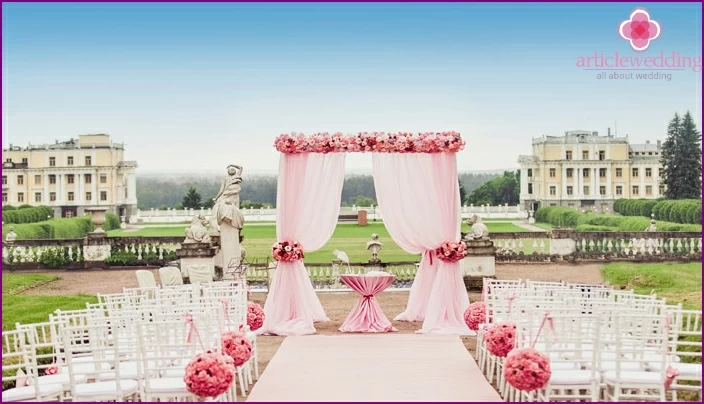 In addition to the shape of the arch, you should think about how decorations will look. You can decorate it in a classic version – create floral decoration, hang colored balls, make all kinds of fabric draperies. If your celebration is themed, use details that reflect the concept of a wedding. For example, you can decorate the arch from a nautical-style wedding with paper fish, figurines, starfish, pearl threads. Show your imagination by choosing decoration details.
DIY wedding arch decoration
Wedding arch decoration – a pleasant process, but first you need to create a reliable design that will keep the decor details of the designer. We will describe a simple way to create an original attribute for a wedding event. What is needed:
Wireframe. Large-size flexible metal-plastic pipe (length – 5-6 meters, diameter – 2.5 cm) or wood. When creating a frame, it should be remembered that under the arch it was easy to pass together or even three together. Standard height of similar design – about 2 meters, if the groom's height does not exceed this mark.
Mount. A fragile arch made with improvised building materials will not hold without reliable fastening. In order for metal-plastic pipes to be stable, you should buy special holders in a hardware store or use a more interesting option – two flower pots (diameter – 25-30 cm, height – 40 cm) with plaster or cement.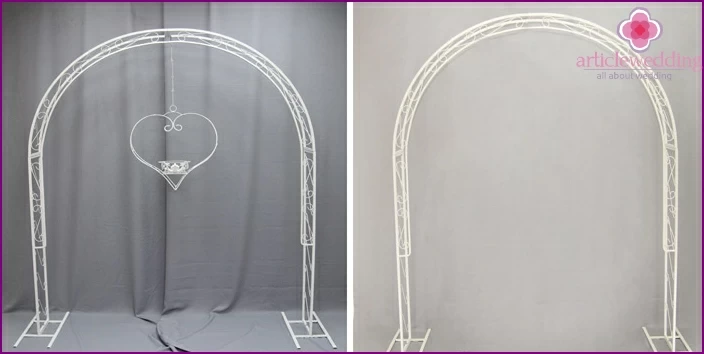 To create a foundation using the proposed materials, follow the instructions:
Shape the plastic pipe.
Pour buckets with cement or gypsum mortar.
Make sure that the end of the pipe touches the bottom of the pot.
Align the structure carefully.
Leave to harden for a day in a dry place, if it is gypsum, cement – for a week.
This option to create a wedding attribute is simple, and also does not require serious financial investments. To facilitate transportation, the metal-plastic arch will be cut in the middle, dividing the structure into two parts. In this form, the subject of the celebration will not take up much space.
Ball Arch
The easiest and cheapest way to decorate the arch with your own hands is the design of balloons. The main advantages of this decoration – extreme cheapness, which allows you to create a festive decor for even the most budgetary wedding, simplicity in design, ease of design (given the lightness, it is worthwhile to provide heavier mountings so that the arch does not fly off from the wind). What is needed:
Suitable balloons.
Fishing line.
Electric pump. You should not use helium pumps when creating a wedding attribute, after a day the decor item will no longer have a presentable festive look.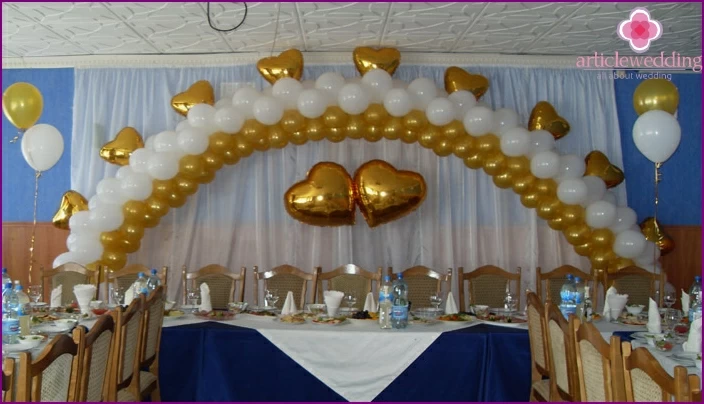 It will be easy to decorate the prepared frame: wrap a fishing line on it, then tie inflated balloons – holiday decoration ready.
From fabric
All kinds of fabrics – a beautiful, solemn and elegant way to decorate the arched frame. It can be flowing light organza paintings or playful colored ribbons, massive silk trimmings resembling expensive curtains, or natural chintz material wrapped around the pipe, decorated with dry flowers, in the popular rustic style. Choose a fabric according to the theme and type of wedding event. To decorate the arch with your own hands, organza and satin, you will need:
Organza (3 meters).
Atlas (two pieces of 2.5 meters, width – one and a half meters).
Pins.
Slanting edging.
Liana.
Scotch.
Instructions for creating a wedding accessory:
Sew the edges of the satin, skip the binding.
With a pencil, mark the center on top of the plastic pipe – organza will be attached there. Also mark the points of attachment of the atlas – in the place where the pipe begins to bend.
Tie the satin tightly to the attachment points, connect the edges with pins from the wrong side.
Fold organza trim in half, tie in the center.
Wrap the upper part of the pipe with liana (use tape for reliability). Attach the ends to the edge of the satin.
Skip organza on both sides – every 10 centimeters insert a fabric between the vine and the pipe. Fix free angles at the junction of the atlas with the liana.
Spread flowers, fabric, check symmetry.
Beautiful wedding arch is ready!
Flower arch
DIY flower wedding arch – A classic version of the decoration of an exit celebration. Choose flowers depending on financial possibilities and style of the event. Expensive wedding attribute design – temperamented living plants that retain beauty for a long time. Thanks to a special tool that prolongs the life of the cut flower, plants can be attached to the arch and look good without water for a long time.
A cheaper and more durable option for decorating a wedding arch – artificial flowers. It can be individual flowers or lush creepers from plants: a wide selection allows each arch creator to find a suitable option. Attach decor details with tape, colored ribbons, fishing line. See beautiful photos of stylish floral accessories: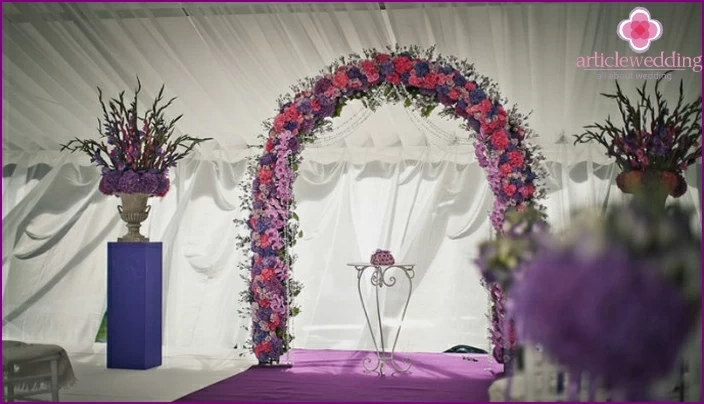 Master class: how to make a wedding arch do it yourself
DIY decoration for this gala event attribute – interesting and enjoyable activity.
DIY wedding arch photo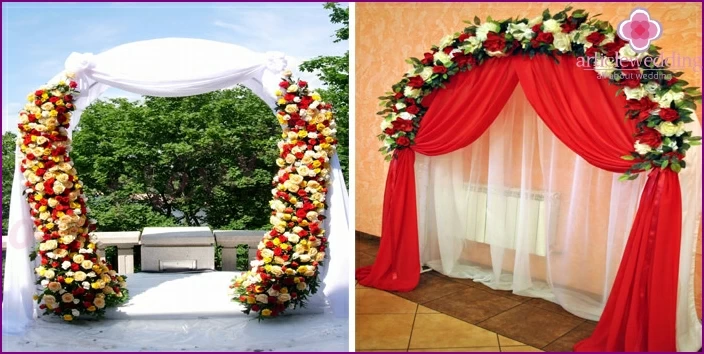 DIY wedding arch – this is not only a way to save money, but also an exciting pastime before a chic holiday. Following the tips for making a solemn attribute, you can create a wedding arch that will be the perfect reflection of your fantasies. Do not be afraid of unusual decisions, experiment and enjoy an interesting lesson!