Contents
---
---
For each person, the wedding plays an important role as a unique and unique event in life. Preparing for the holiday brings a lot of trouble, but a lot of work is rewarded with bright, pleasant impressions left by young people and guests after the wedding. To create a festive atmosphere, you need to take care of the decorations of the banquet hall, and here it is important to observe the measure. You should not use more than two basic thematic colors or load the room with original accents. Unusual decoration of columns will help to create a unique spirit of your celebration.
How to decorate the columns for a wedding with your own hands
The first thing you should pay attention to when choosing jewelry for a wedding is style. It must correspond to the idea of ​​celebration, especially if the young people intend to hold a thematic party. Let the colors harmonize with each other, do not give preference to very bright colors - the holiday will last a long time and your eyes can get tired of excessive variegation. Columns should be decorated one day before the wedding, or the decorations will lose their attractiveness: the balls will be blown away, the sweet decor will dry out and the plants will wilted.
Fabric drapery
Wedding designers believe that using fabrics it is possible to turn an unattractive room into a chic banquet hall in a short time. Textiles help create a completely new interior in any style and color, and all defects in the room will be reliably hidden. Tulle, chiffon, satin, brocade - such a variety of fabrics allows you to create interesting combinations and decorate any hall objects. To decorate the columns, the drapery can be supplemented with flowers or garlands, which will bring a special touch of romance to the interior.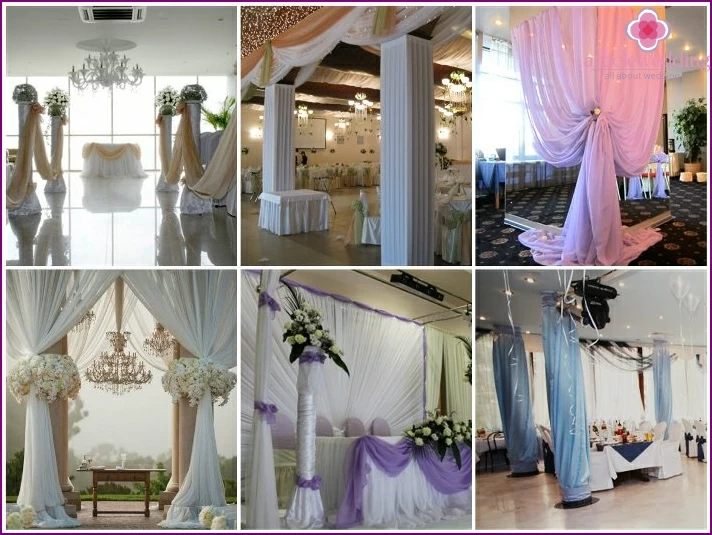 Column decoration in cascading colors
Floristic compositions will cost the newlyweds not cheap, but they will look elegant and festive. Fresh flowers not only beautifully decorate the room, but also fragrant, delighting guests with pleasant aromas. It is advisable to dwell on any one variety of flowers - roses, daisies or ranunculus, it depends on the style and color scheme of the holiday. Columns should be decorated a few hours before the start of the celebration, otherwise the buds will lose their freshness. For greater effect, supplement them with candles or fresh green plants..
When choosing colors, you need to consider some recommendations:
The buds should not emit a strong smell, since not all guests can share your preferences, their intrusive aroma will be annoying.
Inflorescences should be stable, and buds strong, otherwise the petals will quickly crumble onto the heads of those gathered or even to them in plates.
Do not overdo it with floral decoration, let only columns and floor flowerpots be decorated with flowers. Do not decorate wedding cake or other dishes with live buds, as flowers are often treated with chemicals to extend their life.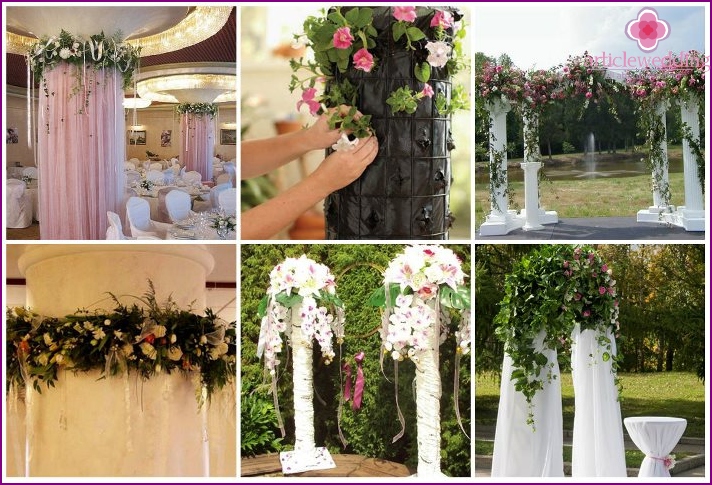 Balloons
Balloons are a popular decoration not only at weddings, but also at any other holidays. They are inexpensive and with proper use are able to transform the room. Combinations of blue with white, violet with gold, red or pink with white or silver look advantageous. To decorate the columns, you can choose balls of different shapes: hearts, animal figures, doves. Try to inflate them to about the same size and take care of a secure fit.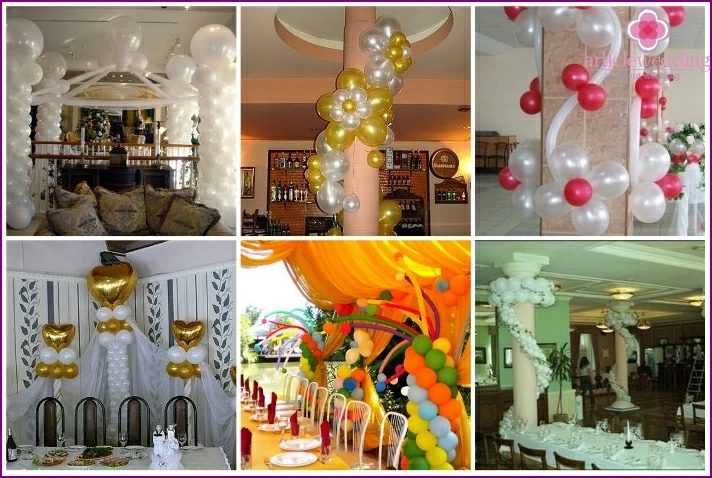 Hanging Satin Ribbons
Using tapes of two different colors it is possible to create a festive atmosphere in any room. They adorn not only the columns, but also the backs of chairs, a chandelier, lamps, and other interior items. Satin ribbons provide the opportunity to create beautiful compositions. Hang garlands of ribbons and artificial flowers or dry leaves under the ceiling. If a chandelier hangs in the center of the banquet hall, you can fix fresh flowers (in the form of a wreath) around it, tie ribbons to the upper bases of the columns. So the festive room will resemble a tent.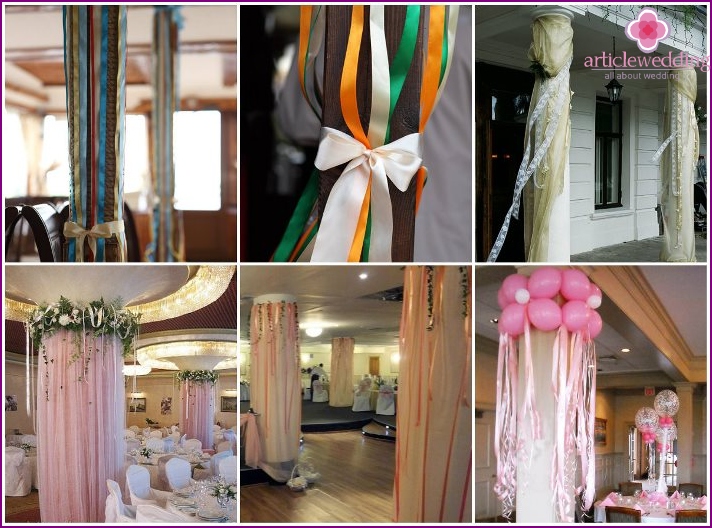 Photo ideas decorating columns for a wedding
The first impression of the banquet hall for guests is formed at the entrance, so do not neglect the decoration of the wedding. Columns, door and window openings, railings of stairs, ceiling, walls - everything should be in harmony with each other and obey the same style. The columns can be covered with drapery or decorated with stripes of a network to which sea souvenirs are pinned: shells, figures of anchors and mermaids. If the design is dominated by flowers and plants, then attach them to the columns, adding ribbons or bows. See a selection of photos: