Contents
---
---
Typically, few people think about the decor of chairs when decorating a wedding, but in vain. Beautifully decorated seats for honeymooners and guests will give a finished look to any banquet hall. Classic decor of wedding chairs – these are various fabric covers, but we will present different ideas for your choice. It would seem a trifle, but a stylish highlight is added to the overall picture of the celebration, from which the wedding only wins.
Ideas for decorating chairs for a wedding celebration
At the wedding, they always pay attention to the style of the room and all the small details, because they create a mood. Beautiful decor of all wedding chairs is easily achievable at the lowest possible cost, because many ideas are embodied at home. For instance:
Manual bright embroidery. Many girls can embroider – labor lessons at school should not be in vain. Hand embroidery for decor is always an ideal option: cheap, most pleasant, and it is also a great opportunity to show the future husband what kind of bride she is a needlewoman. But if there is no time to embroider all the chairs in the banquet hall, then confine yourself to the newlyweds.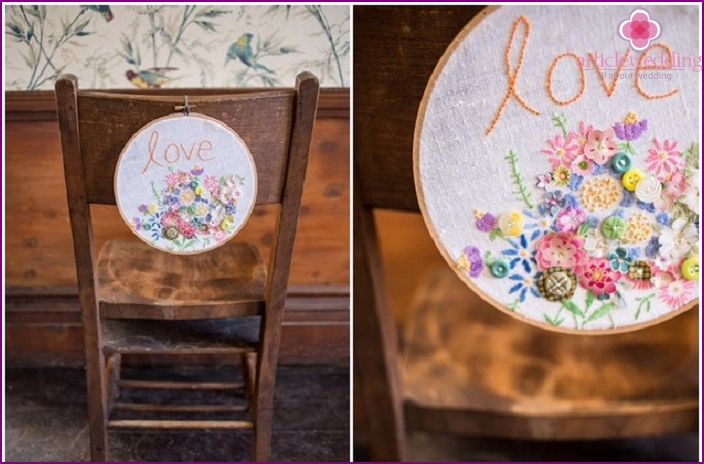 Decor with beads is also an interesting idea, especially if old beads and necklaces are preserved at home. Feel free to use them to decorate your wedding. And it doesn't matter that the beads are not of the same color and size, as a result, this mix will look in vintage style, and guests will definitely pay attention to this creative.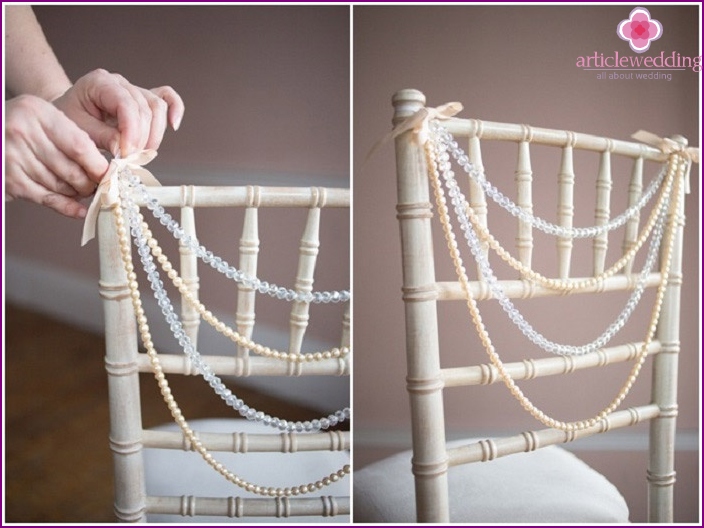 Colored paper. Paper details that look like fans, flowers or pompons look very stylish at any holiday and the wedding is no exception. On the Internet there are many master classes on how to make them yourself..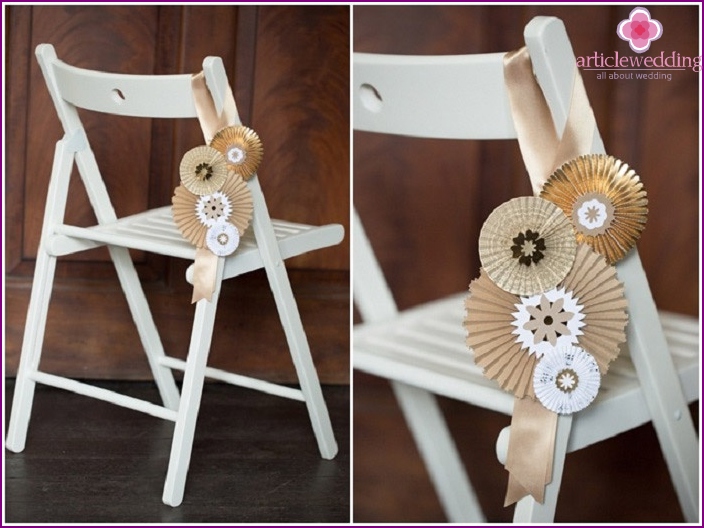 Leaves or greens look especially good if the wedding ceremony is held in the open. This boho or rustic design is sure to be appreciated by guests..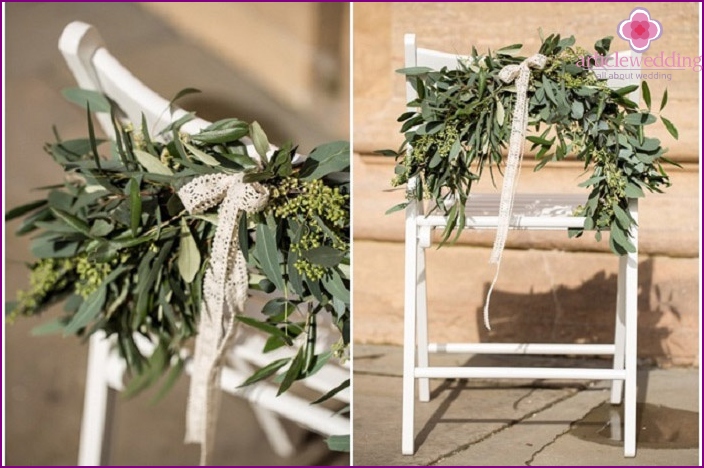 Photos. Joint photos will look romantic, touching, sincere on the chairs of the newlyweds. Original idea – attach photos of guests to each place where they will sit.
Cloth
Often for the design of wedding chairs use fabric. Classic welcome – these are the same fabric covers tied with a bow from tulle or satin. Variety of covers with various draperies: ruffles, shuttlecocks, tucks. In this way, it is easy to hide not very presentable furniture under a beautiful fabric. The color and texture of the fabric is selected for the outfit, the bride's bouquet or for other decor of the banquet hall. Light shades are common: white, peach, beige, pink and other pastel colors.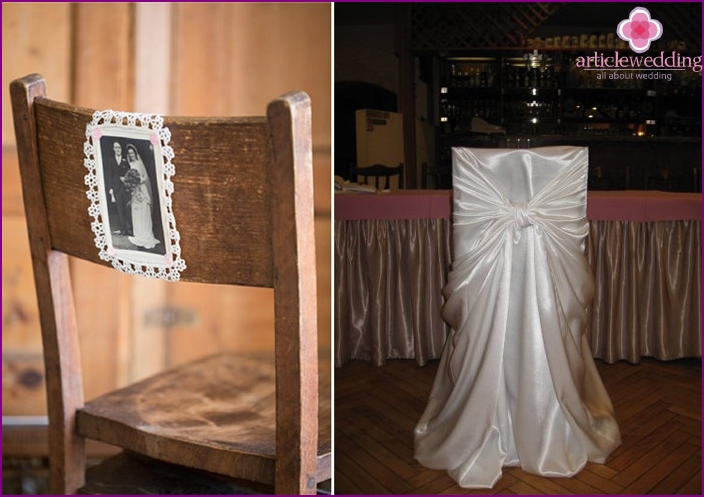 Flowers
Floristry looks especially chic in a wedding interior, where plants with different shapes and colors, along with decorative elements, are used. If you choose flower decoration for your celebration, then the wedding will be exclusive, because each composition is unique. Floral arrangements are linear, round, garlands, wreaths, with candles, whole wedding arches in the shape of a heart or a semicircle and all this is attached to the chairs of the groom, bride, invited guests.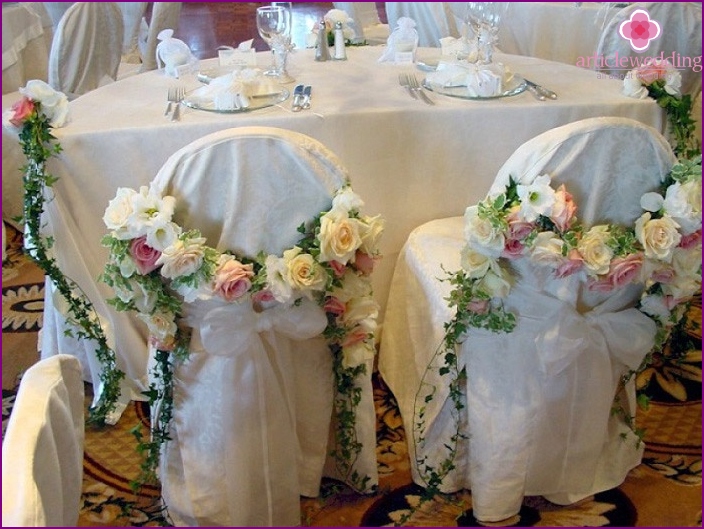 Chairs are draped with both living and artificial flowers, assembled in a bouquet or in the form of capital letters of the names of the newlyweds. Usually the flower arrangement on the chairs or tables of the banquet hall is the same and is made in full accordance with the chosen color scheme and the style of the wedding celebration. The main task of flower arrangements – set the groom, bride and all guests in a solemn manner, without interfering with enjoying the holiday.
Bows and ribbons
It is easy to turn an ordinary chair into an elegant subject of a wedding hall using completely simple methods: ribbons or bows. They look great on folding wooden chairs tied to the back. Tapes are used monophonic or color. Such decor looks especially colorful in nature: colorful ribbons will develop in the wind, creating an atmosphere of joy and positive.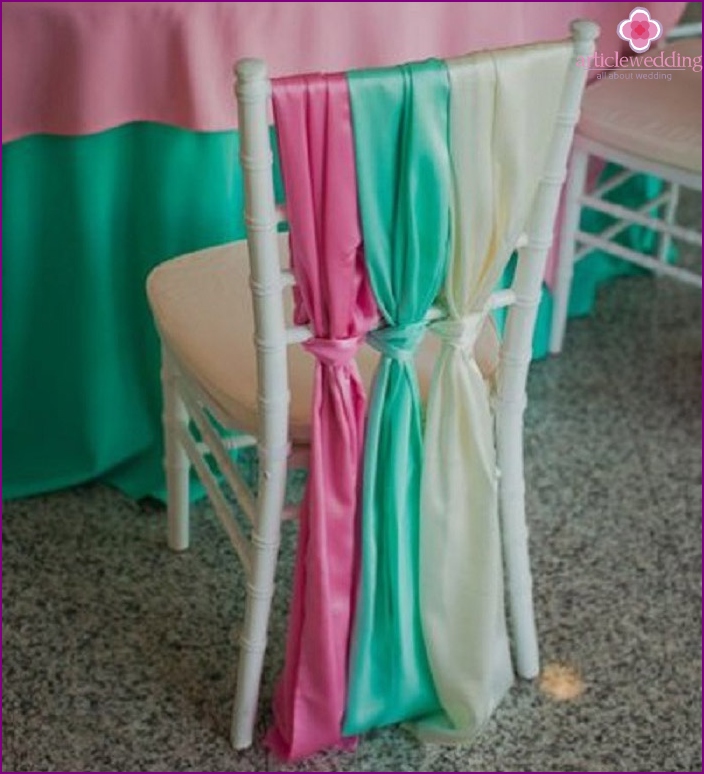 Bows are tied on top of covers or simply on a chair. As a rule, if the cover is a light shade, then the bow is selected contrasting. With the help of bows, it's easy to save on wedding decor by simply tying them on each guest's chair: it will look less elegant than with a cover, but more soulful. As a material for bows use:
silk;
guipure;
chiffon;
organza;
atlas.
Tablets and inscriptions
The most daring and unusual decision – decor of wedding chairs for all participants in the celebration with signs with inscriptions. They are easy to make at home, and then attach to the backs of chairs in the banquet room at any convenient time. This is the most budget option of all, just select an interesting font, background and print the guest name in A4 format on a color printer. Don't like nameplates? Use different male and female silhouettes or inscriptions, for example, «Prince», «Princess», «Madame», «Mr» and the like.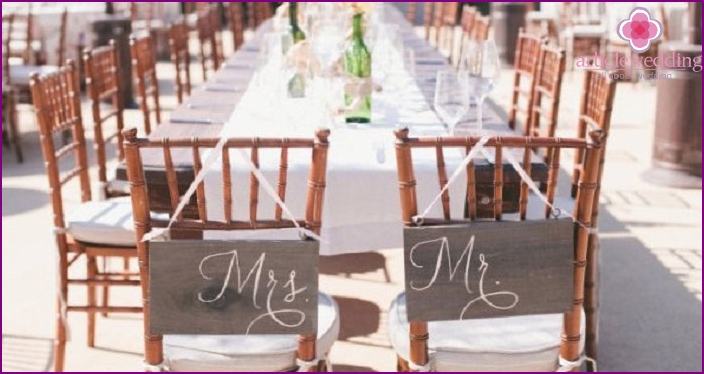 DIY workshop for decorating chairs
The decor of any wedding element can be done independently. We offer the manufacture of do-it-yourself lace garlands of paper napkins. For this we need the following materials:
threads
pieces of any tape 2x15 cm;
21 pcs. lace paper towels for 1 chair;
glue gun.
Step-by-step instruction:
Roll paper lace napkins into a triangle, and then glue 3 pieces per base to make a volume.

For standard seating, 7 paper flowers are enough, through the bases of which pass a thread. From both ends of the garland there should remain a loop, for which the thread will cling to the back.

Fasten paper flowers on a chair and decorate with colored ribbons. Add one paper napkin to each plate for a harmonious combination of decor.
Photo selection of originally decorated chairs
In addition to flowers, ribbons, textiles, lace, bows, there are many original ideas for decorating a wedding interior. Among them: garlands of fruits, guipure, tulle, palm twigs, decorative handkerchiefs, colored pillows. We have selected photos of the best ideas, in our opinion, that will interest you. Watch and enjoy!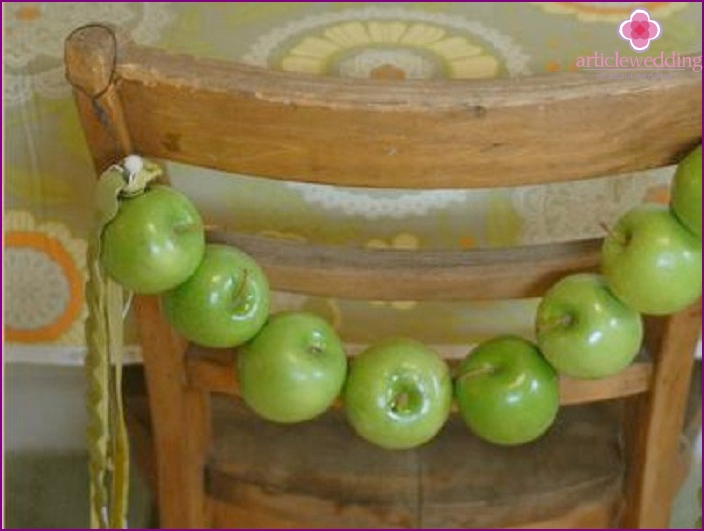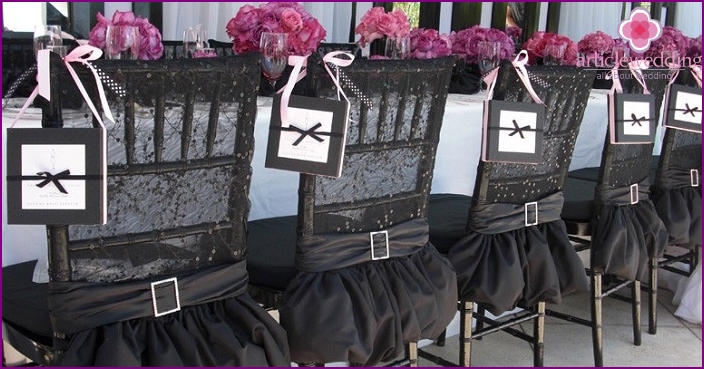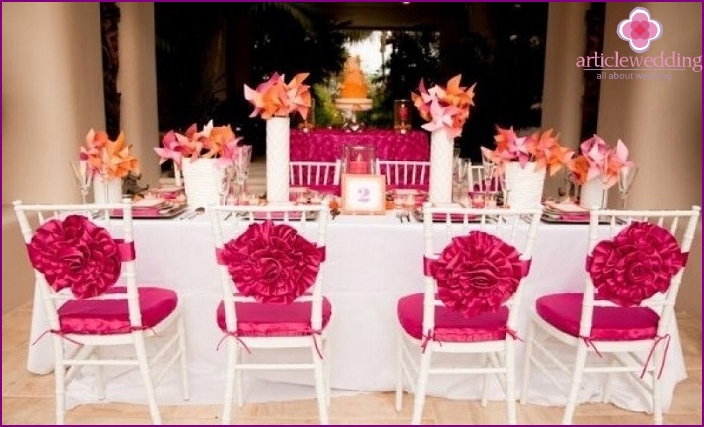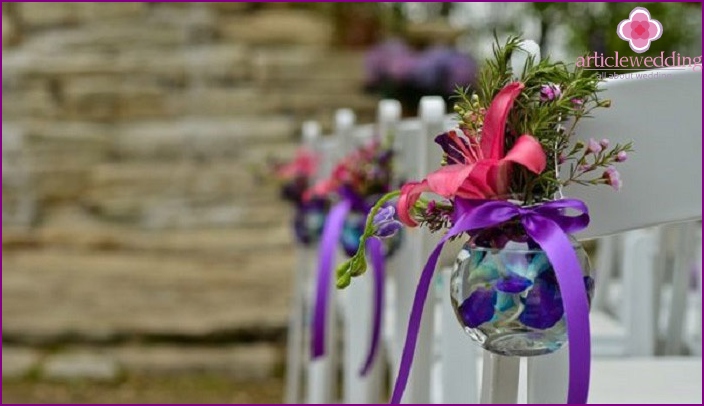 Options for drapery and decoration of chairs
It is impossible to create a harmonious and full-fledged decoration of the wedding without the decor of all the elements of the banquet hall. A professional designer from the school of decor A. Mehedova wants to share options for decorations and draperies for wedding chairs: