Contents
---
---
Most couples arrange a wedding in the warm season, when the holiday can be held in nature. But there are newlyweds who are specially waiting for the winter to play a wedding, and they are not afraid of frost and snow. It is believed that the New Year time is very romantic, and the winter wedding photo shoot on a snow-white background comes out magnificent. Just keep in mind that snow – it's a monochrome background, and for wedding photos to be interesting, you need to select the appropriate accessories.
Accessories for winter indoor photo shoot
A high-class professional will be able to create unique photographs not only outdoors, but also indoors. A wedding photo session will not be complete if you only take street pictures, and there is no need for the newlyweds to stay in the cold for a long time, especially if the family is expected to replenish soon. There are a lot of rooms in which photo shoots for a wedding in winter are successfully held:
restaurants
large shopping centers;
art galleries;
furniture salons;
mirror halls of discotheques;
dance hall.
When discussing plans for a wedding photo shoot, do not forget about indoor skating rinks, aquariums, dolphinariums, planetariums. Special place – church: in the reflection of candles the newlyweds look romantic, only for such wedding pictures it is better to arrange with the priest in advance. Unique photos are taken in the banquet hall, and to make them interesting, you need to decorate the interior using accessories. As a winter wedding props, Christmas tree decorations, tinsel, and other Christmas accessories are used..
Decorative candles
The idea of ​​using decorative candles for winter wedding photography is not new. Photographers have long been using this accessory in different versions to create a warm, cozy atmosphere. For vivid photos, candles are decorated with colored sea salt, fresh flowers, snow-white lace, bright ribbons or other original accessories. Candles do not have to fit into the style of the banquet hall. On the contrary, the brighter, more original they will look, the more interesting the wedding pictures will be..
During the winter photo shoot, candles are used as additional lighting if there is not enough light in the room. The results will be very unusual when there is a winter cold on the street, and the fire on the faces of the bride and groom flickers with a warm light. Just do not forget that a burning candle – it is an increased source of fire danger, therefore it is better to use non-combustible materials for their decor. It should be borne in mind that the candle is only an additional accessory, and not the main element of a winter wedding, so everything should be in moderation.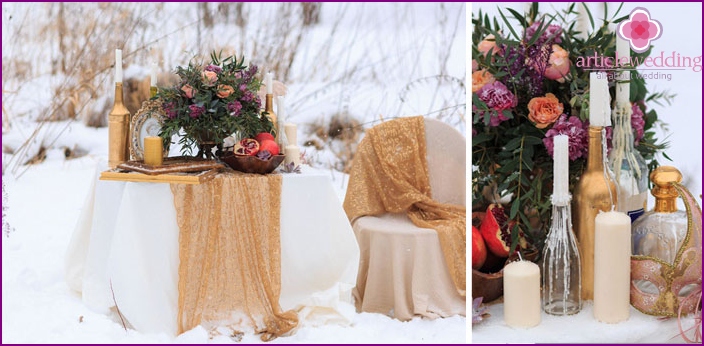 Blankets and knitwear for a photo by the fireplace
Photos by the fireplace are the best suited for a winter wedding. Near the source of fire it always becomes cozy, and with the help of a plaid and knitted things, lovers will look even more romantic. Beautiful picture – a couple without wedding dresses, in bright knitwear or wrapped in a plaid, drinks champagne near an old fireplace. Another option – the plaid is laid out on the floor, spreads out on a rocking chair, and the newlyweds, sitting on the floor, look at each other. Photos with a plaid and red knitwear will come out beautifully and against the background of winter white snow.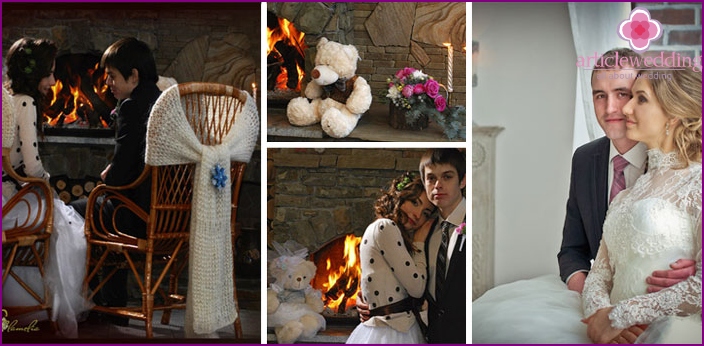 Samovar and bright cups
If one of the acquaintances among the kitchen utensils has a colorful samovar, then a professional will make magnificent wedding photos. Bagels on the table, bright cups and saucers and a traditional Russian samovar – all this will add national flavor and make you recall the generosity of the Russian soul, which has survived to this day. The photographer must properly seat the newlyweds, give them deep saucers, of which in ancient times they drank tea with sugar or jam in Russian tea drinking. Hold the saucer in hand in a special way, with ostentatious chic.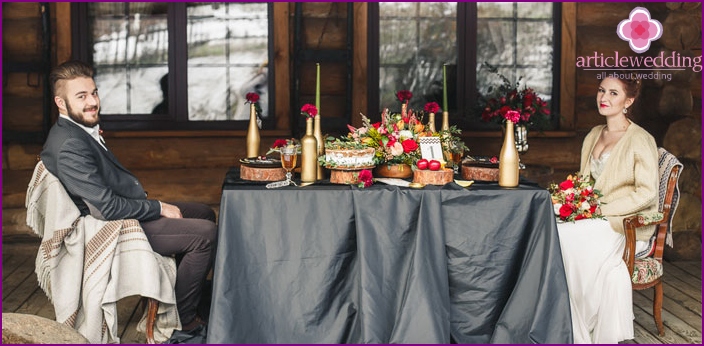 Heart shaped pillows
With the help of funny pillows in bright colors, stunning photos are made. For example, the fun of the young is played out with these wedding pillows: they playfully beat off with color accessories, insert them instead of the face or keep them at the level of the abdomen. With pillows it's easy to sit on a beautiful rug or in an armchair. The photo on the windowsill will look original when the bride gently hugs a beautiful pillow and looks through the glass at a snowy winter street. Great idea – throw pillows on the floor, sit near the original glass table on which fruit and wine stand.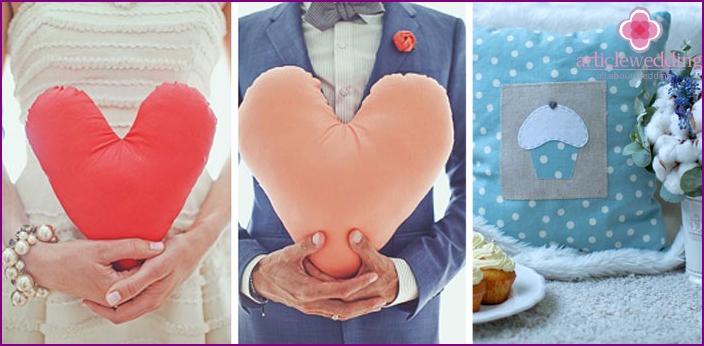 Accessories for a wedding photo shoot on the street
Winter photo shoot – this is a wonderful way to not only cheer up, but also get unusual wedding pictures. White snow gives fabulous nature, so in any city or village there are good places for shooting:
City Park,
snowy promenade,
new residential quarter,
cozy shop under a burning lantern.
Winter pictures on the street are made due to contrasts. In this regard, you need to think in advance what accessories will be used for the photo shoot. To create the right atmosphere for wedding street photography, warm mittens, scarves and sweaters, beautiful fur products, sledges, skis, bright fruits and an unusual bouquet of the bride will help.
A professional photographer will choose a pose based on the idea of ​​photography. Talented photo masters clearly know how to express the idea with the necessary accessories, it is beneficial to emphasize the winter mood of the newlyweds and put or put their models in winning poses. Therefore, it is very important for the bride and groom to find a professional, a true master of their craft.
Bright fruit
The hallmark of winter – it is white. It would be nice to add contrast, for which you should use a red apple or a bright orange as a props. Bright flowers in the hands of the bride will also create the desired contrast. Find a small forest or several trees covered with snow, lean against one of them, holding a bright fruit in your hands. A good winter shot will be if the lens still captures a bright berry on a tree, for example, wild rose, viburnum, hawthorn or mountain ash.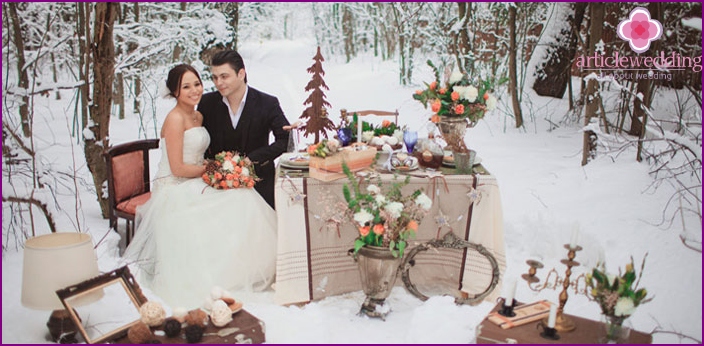 Sledding, skating or skiing
Winter – A great time for outdoor wedding entertainment, so on a ski, sled or skate, the newlyweds will look wonderful. To maximize the transmission of mood, it is necessary that the bride and groom first get into a fuss, and then they begin to photograph them. The winter sleigh is easy to have fun, so a series of true portraits will be guaranteed! The liveliness of the moment is easy to capture while riding a pair with a high snow-covered hill. Delight will be spectacular and emotional. We offer some more ideas for cool photos:
Play snowballs.
Flounder in the snow.
Run among the high snowdrifts.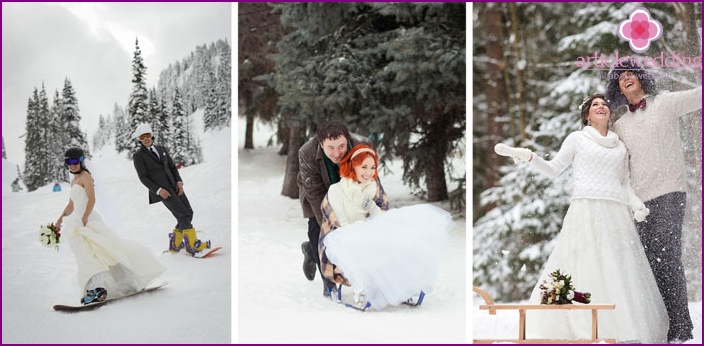 Knitted scarves, mittens or gloves
On a sunny winter day, shooting is no less fun and dynamic, and in order to create bright accents on white snow, you should use colored knitwear: mittens, scarves, gloves. It is not necessary to look for nature, trees or parks. With the right approach in the urban landscape, the pictures also feel an amazing winter atmosphere, only for this the photographer needs to conduct a preliminary analysis of the streets in order to find the snow-covered.
When choosing a wardrobe for a winter wedding photo shoot, pay attention to details to focus on accessories. For example, a fluffy scarf and eccentric mittens, a knitted hat with a large pompom and a Russian national scarf, soft headphones and bright ugg boots ugg boots do an excellent job. Stuffed plush toys that blend in with knitwear are perfect for embodying good ideas..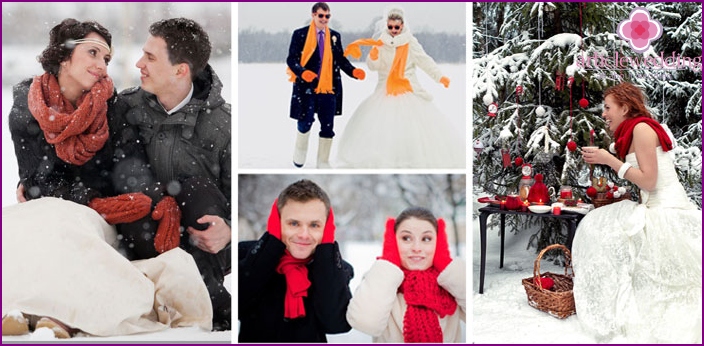 Bridal bouquet of cones and fir branches
At a winter wedding, photographs of the bride with a bouquet are mandatory, and the groom's boutonniere in the same style will not hurt. So that the white wedding dress does not merge with the snow, the bride's bouquet should be bright and unusual. A well-chosen accessory will harmoniously complement the image and make photos expressive. For a winter bouquet, choose the appropriate materials of this time: cones, spruce branches, cotton, rosehip berries. It is allowed to dilute the bouquet with flowers, only you need to treat them carefully, because not every flower can withstand the icy wind and frosty cold.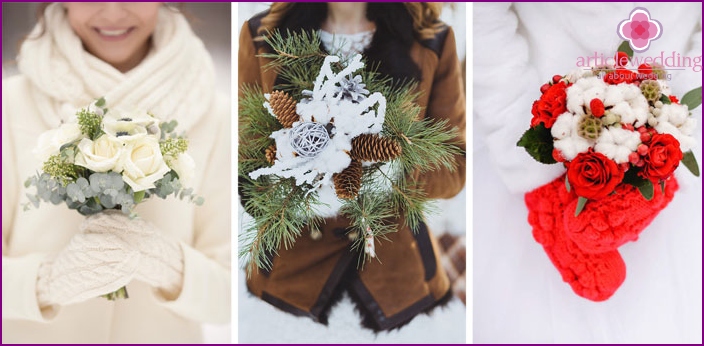 Flags and tablets decorated in a winter style
In order for one wedding photograph to tell the whole story, special accessories are used at the photo shoot: flags, tables, garlands on which the words are written. For winter shooting, tables around the edges are painted in the New Year's style, and inscriptions are made in the style of: «I love you!» or «When I first saw you…» and all in the same vein. With bright banners and tables at the wedding photo shoot, it's easy to beat the plot of a winter fairy tale. In any weather, wonderful pictures are taken, if you take it into account: the fog will help beat love melancholy, and snowfall – joyful meeting of heroes.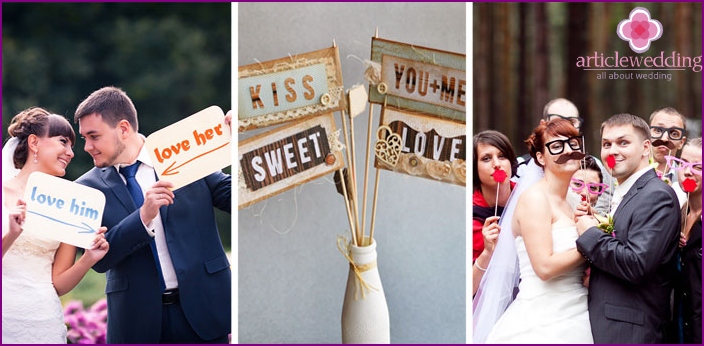 DIY accessories ideas
Finding interesting accessories for a wedding photo shoot is not a problem, but the newlyweds have even more opportunities to make cool decor for beautiful winter pictures on their own. There are a huge number of ideas for the creation of which requires a minimum of effort and time. For newlyweds the main theme – it's love, so at the winter photo shoot you will need hearts of different sizes, cut out of red polystyrene, color cardboard, sewn from fabric and even made of snow.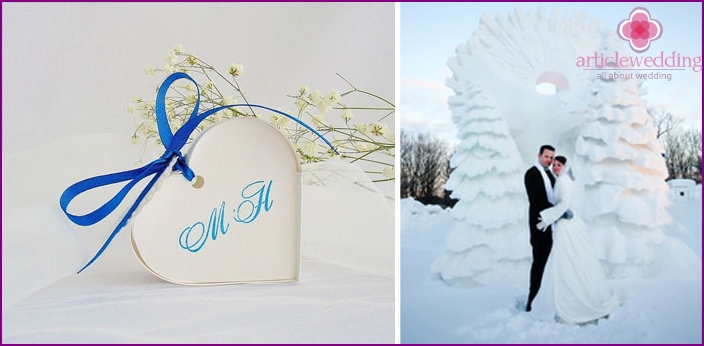 To make a successful winter photo shoot of the pregnant bride, accessories such as cut out paper butterflies, nameplates or ribbons for beautiful bows will go. Great idea – make special makeup for the bride and groom, which will require paints that do not cause allergies. To keep the image longer, it is covered with a fixative. Drawings or inscriptions on the body can be very diverse:
butterflies on the cheek;
emoticon on the stomach;
little baby;
inscription about love.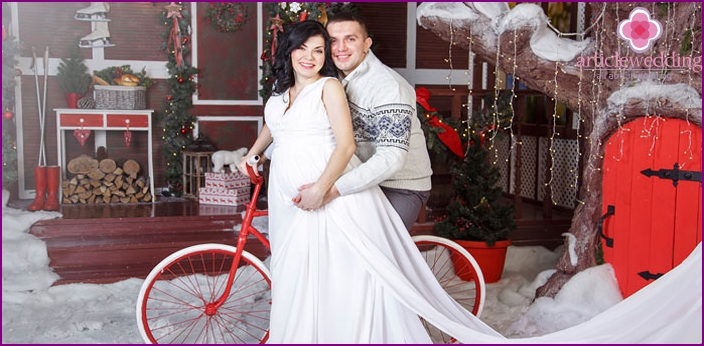 A wedding photo beloved by all newlyweds with a mustache, glasses or lips on a stick is easy, because making these accessories with your own hands will not be difficult. The background for such pictures can serve as a snowy winter street, and the room in which the photographer will pull contrast fabric. To create a mustache or lips you will need colored cardboard, a template of the desired shape, glue, a wooden stick.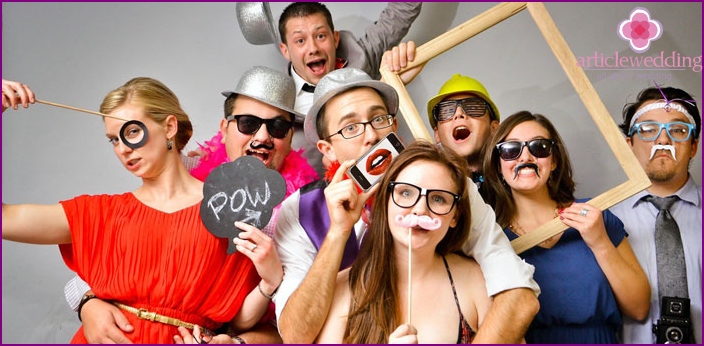 Photo of a winter wedding photo shoot
Winter photo session is fabulously magical, unpredictable, sparkling. Nature in winter fascinates us with rigor, splendor, tranquility, cold beauty. In the winter season, all creative ideas are realized, which the newlyweds dreamed about all spring, summer and autumn, because winter offers endless possibilities for a wedding photo shoot. Contrast accessories will help to increase the winter mood in the pictures. Accessories selection – this is an important moment for winter shooting, when red, purple, blue or green looks especially advantageous in the photo.
The most intense wedding photos come out when the photographer catches natural contrasts: a gorgeous winter sunset, evening dawn, when you can see the amazing relationship between white earth and red sky. Winter photographs built on the geometry of buildings and snowy trees are also successful. A red scarf tied to a tree trunk or a newly-married couple's photoset against a winter field with a red cup from which steam from a hot drink will look great.
Universal background for a winter wedding photo shoot – gazebo. Amazing portraits and art photos are made in it. If there is no snowfall on city streets, then in addition to contrasting accessories, any animals that have fallen into the frame or even their tracks will save the situation. Go for it, show all your imagination – and unusual winter pictures are provided for you!