Contents
---
---
The color of Marsala is a bright, stylish, attractive shade that is suitable for interior design, industrial, fashion world, decoration of celebrations. This unobtrusively seductive tone attracts with its own wrapping warmth. It got its name by the color of dessert sweet Sicilian wine. A wedding in Marsala is a luxurious, royal celebration. This shade creates an indescribable atmosphere of chic, nobleness, sophistication at the holiday.
Marsala color palette
Like fortified wine, in whose honor the color is named, Marsala embodies the pleasure of a delicious dinner, and the red-brown base of the shade radiates exquisite naturalness. Panton color experts have chosen it as their main trend in 2016. This rich rich red-wine shade with a brown tint looks natural, naturally, so it can become a symbol of confidence and calm.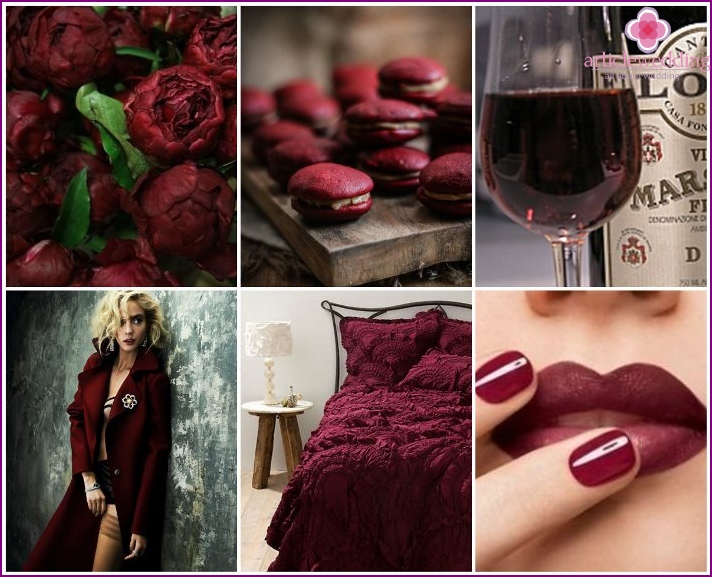 The marsala color fits easily into any palette. He is defiant and courageous, ardent and noble, languid and sensual. This shade belongs to the natural palette, it resembles a wine, burgundy, dark red, but differs in that it is complemented by tones of yellowish-brown flowers of weak strength. More precisely, Marsala is characterized as the color of red wine with a terracotta tint.
The image of the newlyweds in color Marsala
The image of the bride for the wedding can be complemented with bright accessories made in a suitable color scheme. Especially beautiful look wine patterns on a white dress. The bride and groom can pick up a snow-white wedding outfit, complementing it with accessories of the color of Marsala: manicure, shoes, gloves, lipstick. If the bride is an eccentric person, courageous, not afraid to shock the audience, then let her choose a wedding dress, fully made in this color.
Marsala-colored jewelry and other accessories look like perfection itself and are able to satisfy the tastes of any young lady. Pay attention to the shoes of this color, because they look gorgeous, especially from suede. Combining burgundy details with a white wedding robe, you will become a fateful bride and will look stunning. Think Wedding Makeup: Bright Wine Lipstick Adds Seductiveness.
If the bride decided to go in a dark red outfit, the groom can support the outrageous future wife and put on a suit of the same shade. So the bride and groom will look rich and chic. Under such a suit, the shirt is chosen in light colors. If the groom does not want to buy a costume, let him put on Marsala-colored trousers, complement them with a bow tie, tie or other details of the same shade.
Outfits for bridesmaids and guests
Bridesmaids will look stunning in dresses, short or long, the color of Marsala. The remaining guests of the fair sex should bring to their image a wine shade in the form of details of the outfit and accessories, for example, a Marsala chiffon blouse, a strict pencil skirt, a silk neckerchief, gloves, a hat, shoes, a handbag. Friends of the groom can create a classic look using this amazing shade in a tie. So the male half will look beautiful and stylish, supporting the fashionable tone of the celebration.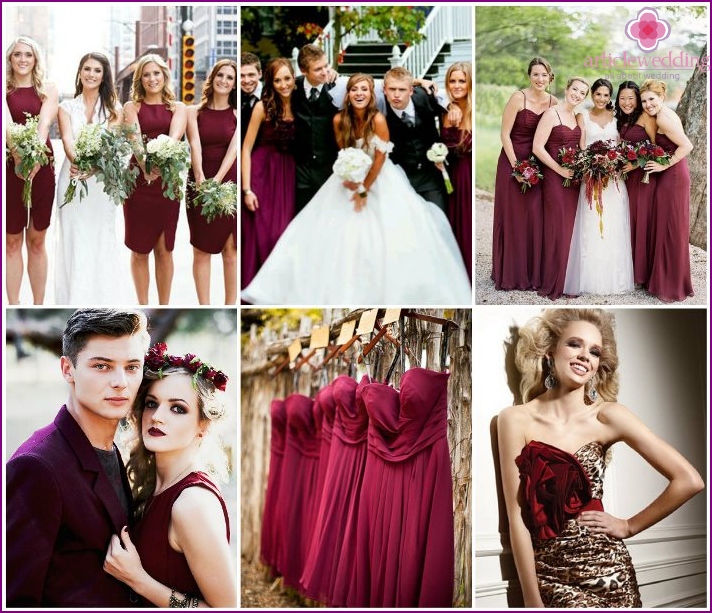 Marsala style wedding ideas
When choosing a venue, for example, a restaurant, you should pay attention to the general design of the hall, since it will be easier to supplement the existing decor with suitable decorations and details, rather than creating the appearance of a banquet hall from scratch. Choose rooms with chic Marsala curtains or beautiful furniture. If you yourself will decorate the hall, then order decoration with expensive fabrics of the color of Marsala and, for example, gold.
Decorative details, wedding textiles, invitation cards, dishes, Marsala color table cards will help you recreate the appropriate festive decor. You can use a combination of shades, for example, wine with gray, white, gold, beige, blue, blue, silver, all shades of burgundy. Be bolder and experiment, because noble Marsala is difficult to spoil.
Guest Invitations
The color of Marsala makes it possible to create spectacular wedding invitations. If you decide to completely cover the card with this color, then the use of gold stamping and a calligraphic font will be an interesting move. Excellent look monograms and chevron wine shade. Do not forget about the appropriate envelopes that will elegantly complete the style of the invitation card.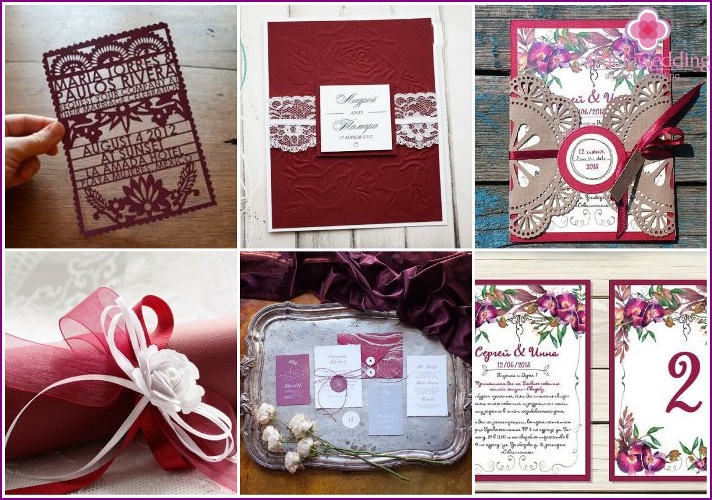 Decoration of the venue
Airy ribbons, massive heavy fabrics, napkins, tablecloths, dishes, marsala-style floristry, draperies help put the necessary emphasis on the wedding. The decor of the wine shade can be elegant and at the same time very creative. Focus on candles, flower arrangements, vases, add unusual accessories and details to the room. To make the color even brighter, use its combination with white, coral, bright red, green, burgundy.
When planning the decoration of the wedding venue, use the color of Marsala as the main idea of ​​the decor and style of the ceremony or as a bright accent. Thanks to the deep, warm shade, you can create exquisite delicate decorations or glamorous, bright ideas. This color scheme is suitable for decorating a wedding ceremony in any season: the Marsala winter ceremony will give warm notes, in autumn and summer it will add colors, brightness to the overall design. The main thing is to use color carefully, stylistically and consistently.
Floral compositions to decorate the hall of the shade of Marsala with a thoughtful idea and proper design look elegant, colorful, original. Florists are able to create interesting decor options using all kinds of plants, which will become an excellent banquet decor. Do not forget about the textile design of the backs of chairs, windows, tables and walls of the hall.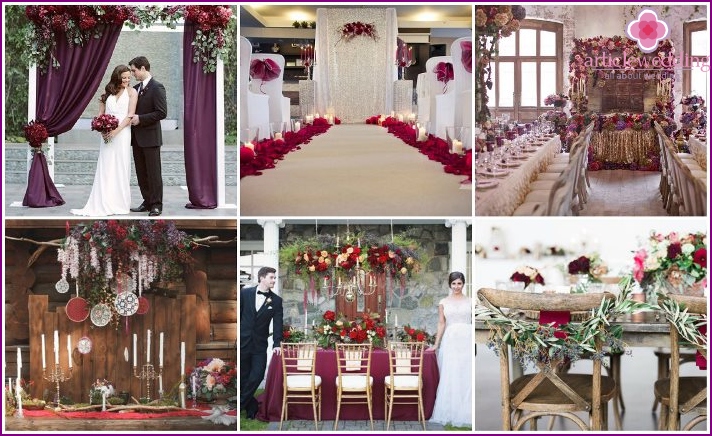 Marsala color in the decor of the festive table
Decorating tables with the color of Marsala will decorate the wedding, making it more refined, and food, wine and other drinks of similar tones will support the general direction. Arrange the floral compositions of wine shades so that they do not interfere with the guests communicate with each other and transmit dishes. This wine tint makes the design very original and creative..
Put emphasis on floral arrangements, candles or utensils the color of Marsala. You can't count the options for the festive decor: these can be wine tone cards, menus, tablecloths, napkins, and more. To make this shade play brighter, choose contrasting combinations, for example, with green, white, coral, etc..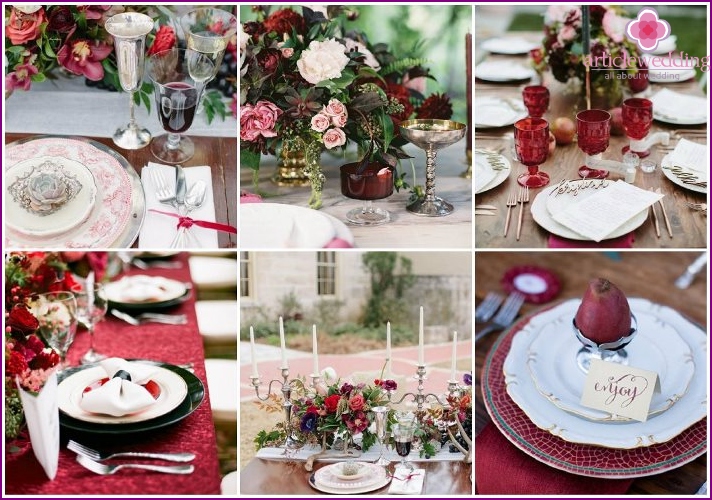 The bride's bouquet
There are not so many red-brown flowers, but don't forbid to use a similar palette in the bride's bouquet. For example, the necessary shade can be found among roses, dahlias, callas, tulips, ranunculi, peonies, carnations, hydrangeas, amaranthus, orchids, peony roses, astilbe. Use a combination of pink, white flowers with wine berries. Such bouquets look very original, unusual, elegant. As a fallback, you can dress the snow-white bouquet with a satin or lace ribbon in the color of Marsala.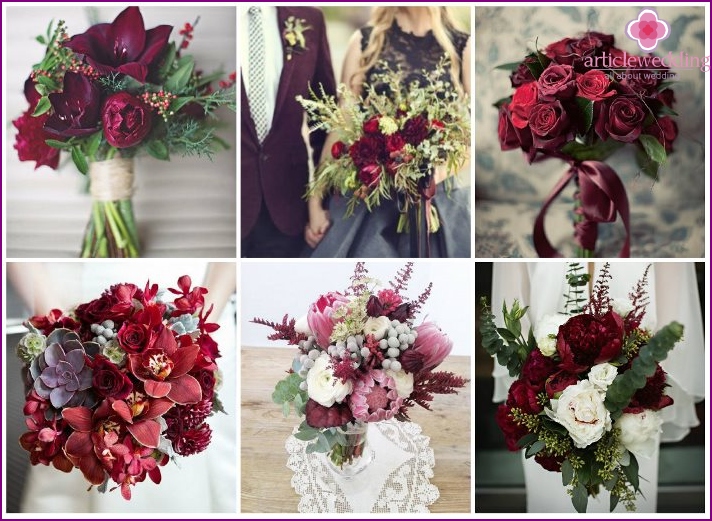 A wedding cake
A wedding cake can be made using different up-to-date techniques. For example, to maintain an official, strict style of your wedding, opt for plain pastries with a minimal set of decorations. To recreate the playful, romantic mood of the wedding, order art painting of the cake, use popular patterns for wedding treats. In addition, pastries can be coated with white glaze, decorated with wine-colored berries, which will support the main style of the celebration.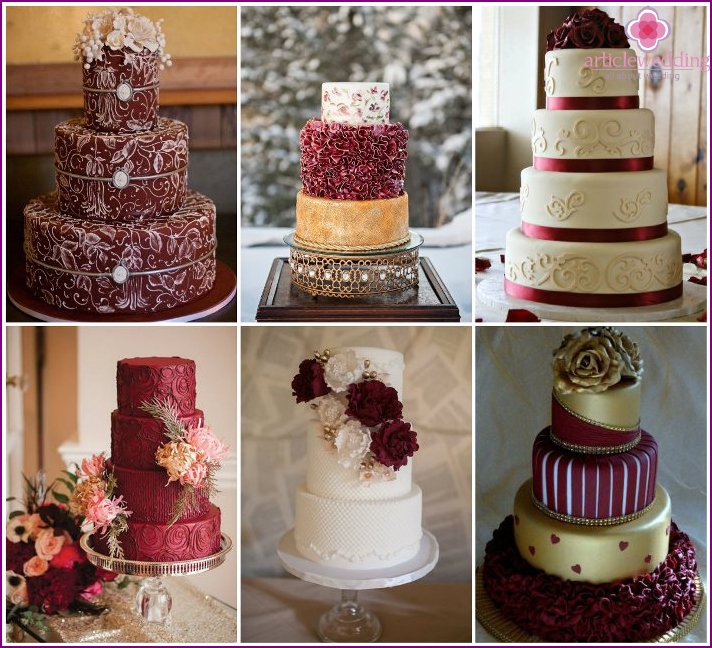 Wedding Accessories in Marsala
The choice of accessories for a wedding is a creative work, akin to design. This is the final chord of the image of the bride and groom, in general, the whole celebration. There are a lot of wedding accessories - plug in your imagination and dozens of all kinds of options will come to mind. To maintain the style of the celebration, we offer the following options for details:
Cushion for rings. The moment of exchanging rings at a wedding is very touching and the most important, when all eyes are fixed on the newlyweds. And the pillow should be a harmonious conclusion to the overall picture.
Wedding garter - can be narrow, wide, fully made in dark red, or decorated with rhinestones, wine-colored lace.
Wedding jewelry can bring an indescribable charm into the image of the bride, so you should responsibly approach her choice. Jewelry inlaid with burgundy stones looks noble, stylish.
A bonbonniere is an elegant box for sweets or another gift for guests. Such a reverence from newlyweds to guests for their attention and gifts should match the style of the wedding.
Accessories for the groom with the right selection can give a special gloss. An elegant boutonniere with wine-colored flowers, cufflinks, a tie work to create a stylish, festive image of a man.
Marsala color combination with other colors
With what colors does Marsala look good at a wedding? First of all, these are such neutral tones as warm beige, gray, shades of blue and blue, pink, green, brown. Since Marsala is a complex color, it changes before our eyes when applying other tones. In spring and summer, complement it with light blue, green, cream, pink, and in autumn with gold, gray, blue, beige, peach, plum. Combining the main tone with bright colors is careful, because the color does not tolerate competition.
The use of green, burgundy, coral shades makes the wine palette richer and deeper. But pick competently bright colors, otherwise they will merge into a stain and clog the main shade. Be sure to use calm, soft colors during the wedding. To create exquisite combinations, white, beige, peach, sand is suitable, for lush ceremonies use silver, pearl, gold.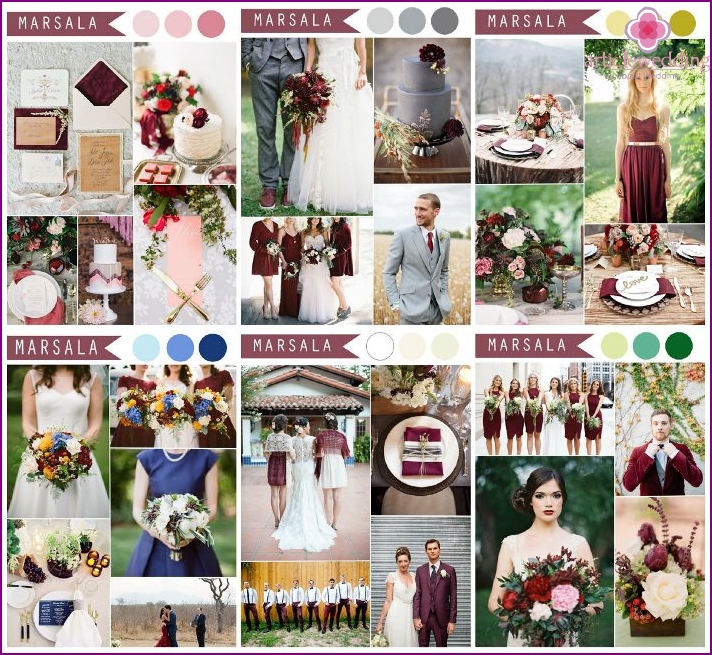 Wedding photo shoot 2016
As for the wedding photo shoot, the background can be a natural landscape, since this wine tint is close to nature, it is real and natural. In addition, this concept will fit into the urban space, since with all its naturalness, this tone shows brightness, dynamism. You can choose old manors for a photo shoot, create among the nature a photo zone with antique furniture, elegant candelabra, gold, burgundy, bright pink decor details.